For me, the dining room in our home has always felt special to me, as it is the place where we celebrate all the holidays and big events in our family. But when I looked at it recently I realized it didn't look too special and was in desperate need of a makeover.  So, I rolled up my sleeves and re-did the room; and the only thing more amazing than the results was all the great DIY projects I found to upgrade it; seriously, I would have used them all if I had the time and space.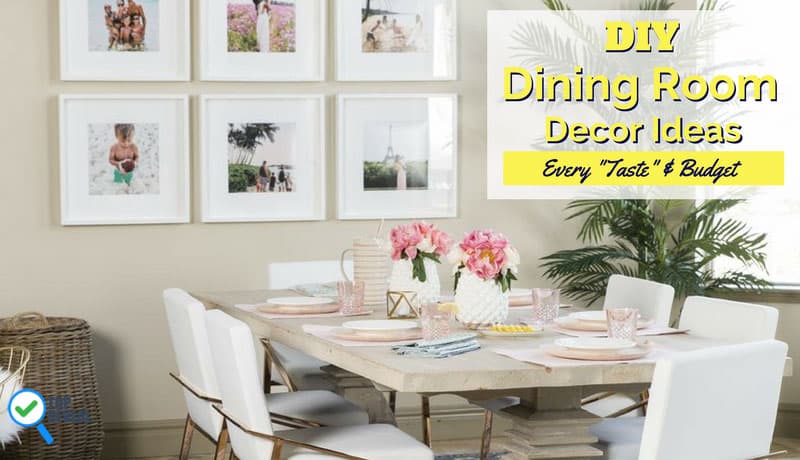 But my loss is your gain because I'm going to share all the fabulous DIY dining room decor ideas I found with you. From unique wall art to rustic tables there is something here for every skill level, taste (see what I did there?), and budget.
Cozy and Creative DIY Dining Room Decor Ideas
1. Turn Old Into New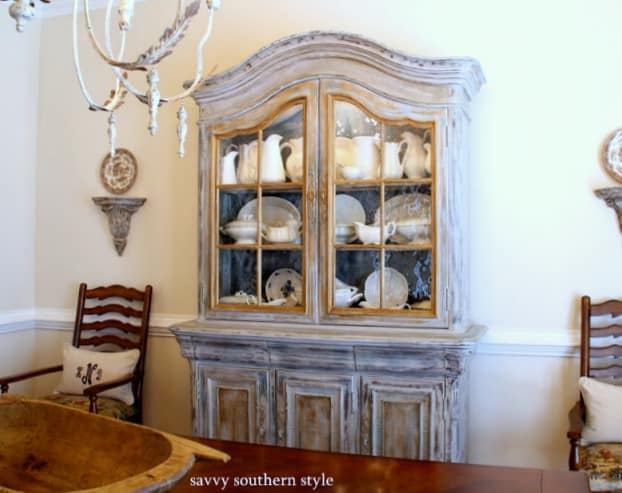 Courtesy of savvy southern style
Do you have an existing piece of furniture in your dining room, like a hutch, that you want to change but don't know how? Well, it's easier than you think; just distress the wood or add some wallpaper inside to instantly transform it.
2. Pull Up a Seat

Shanty2Chic
Why buy a table when you can build your own for less than $100? And a striking one at that! The best part about this project is you can tailor it to the size you need and the bench ensures they'll always be a seat at the table for unexpected guests.
3. Time's Up
Courtesy of  adirondackgirl@heart
A statement piece like this clock will give any dining room an air of rustic yet refined charm. You can choose the color wood and accent shades you like best and the whole project is surprisingly easy and quick. Which just proves that a little effort goes a long way.
4. Wine & Say Cheese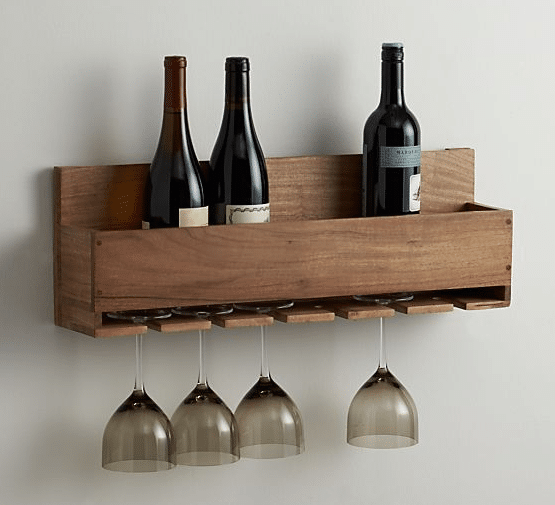 Courtesy of the House of Wood
Wine lovers can now drink without having to go back and forth to get a bottle and glasses thanks to this easy-to-do bottle holder and glass rack. What I love most about this one is that it holds fragile glasses securely and has a quiet elegance that can work with almost any style.
5. Looking Up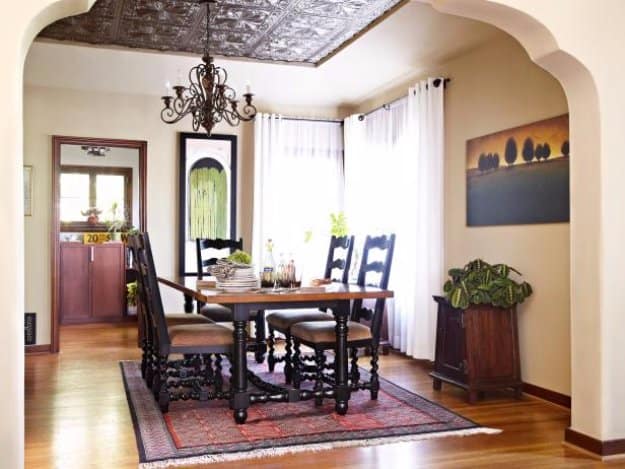 From diynetwork
The ceiling tends to be overlooked by most homeowners when reinventing a space which is silly because it is prime space to put your mark on. This tin ceiling is posh and fun and gives a traditional space a bit more artistic flair. And FYI: tin can be painted so you can leave the metal look or if you're feeling brave paint it a striking color.
6. Hanging Around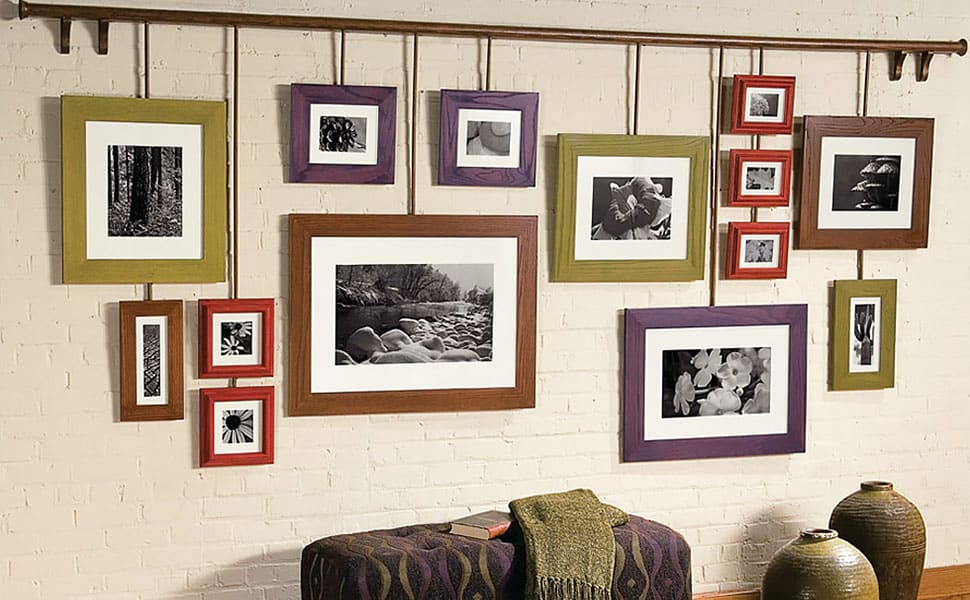 Courtesy of Miniwax
The dining room is a nice spot to hang family photos, but why just nail them to the wall when you can create a cool picture hanger like this? Not only is it simple, but you can swap out, add, or take away photos whenever you feel like it.
7. Wine-Not?

Pallets Designs
If you have space a wine bar is a nice addition as it gives you storage and extra seating. This project is not as easy as some of the others, but with a little time and patience, most DIY'ers can get it done. And if you are an experienced builder you can tweak the size and shape to your liking.
8. Coffee, Tea, Or Me?

Sincerely Marie Designs
Enjoy a cup of fresh-brewed cup of coffee while you read the paper at the dining room table with this ingenious set-up. Using wood and marble gives this piece a rustic yet classic vibe that is great in a modern or urbane dining setting. Assembly is not complicated and the finished look is refined and sleek.
9. Chair You Are!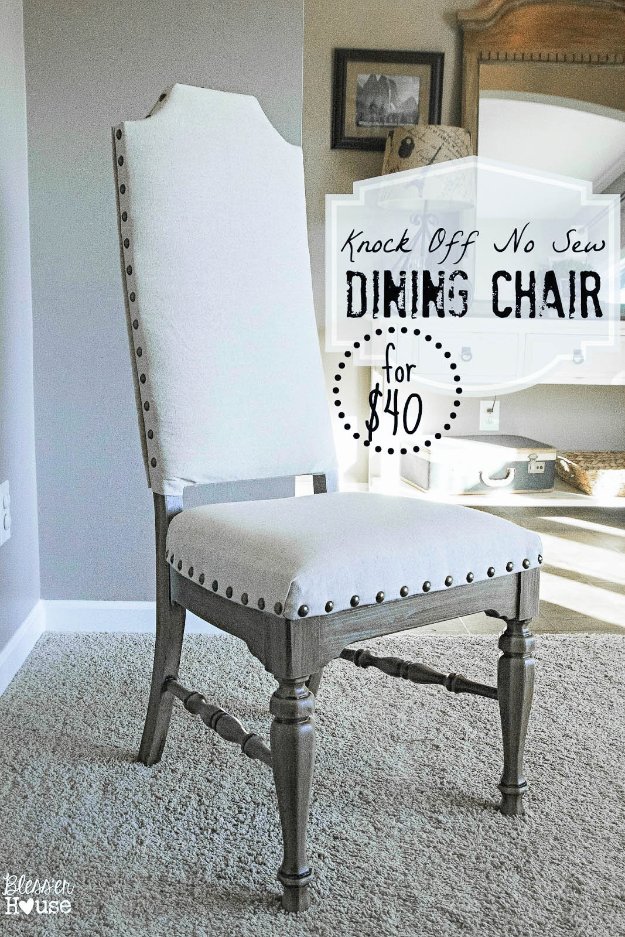 blesserhouse
These rivet style cloth dining chairs are everywhere these days, but they can be costly. That's why I was floored when I found this project, which helps you make them for a fraction of the cost. All you need to buy are the materials and metal studs and voila; just be sure the materials and rivets match your existing chairs like they did in the picture above.
10. Feed All Your Senses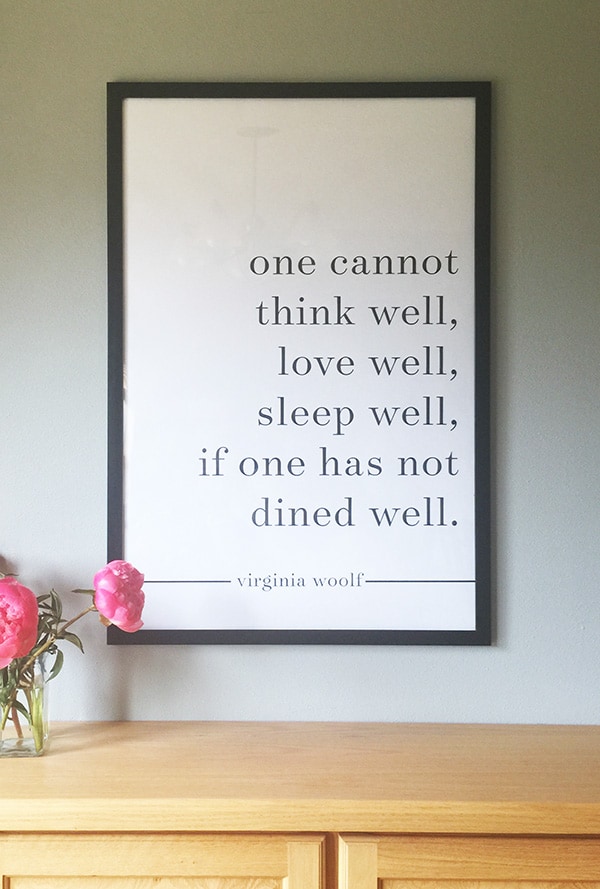 Courtesy of: thyme-is-honey
They say you eat with your eyes so why not create a stunning piece of wall art to look at while you and your loved ones chow down? You can find any quote you want, or use a family saying, and have it printed in any size you need at Staples or another similar place for pennies. Finish it off by making a custom frame from wood and your all set.
11. Illuminating Details
From Batchelors Way
If you want to add a vintage touch and old-world feeling to your dining space this chandelier is a great way to do it. The Medallion center is what makes this light fixture stand out and can be found at estate sales or antique shops; all you have to do is paint it any shade you want and customize the light fixtures and you're ready to go.
12. Sweet Storage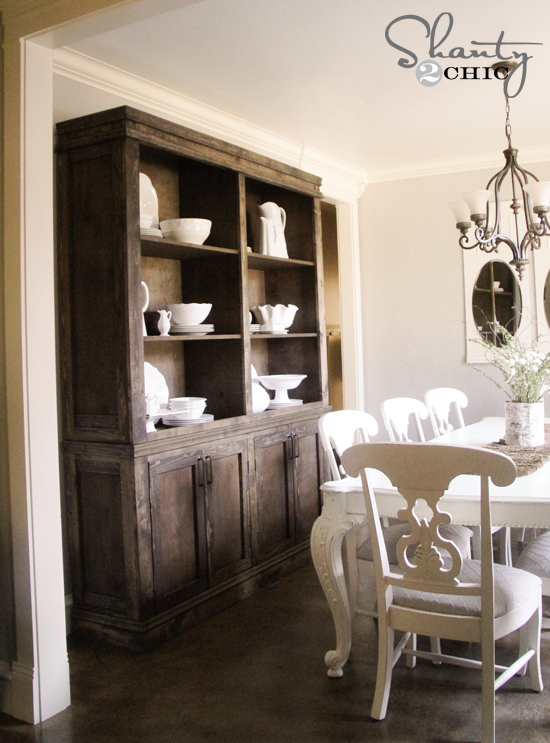 Shanty2Chic
If you want to add storage to your dining room a hutch is an excellent way to go. As you can see from this project, today's hitches are modern and charming. Yes, this project is a bit involved, but the steps are easy to follow, so with a little help you can have it done in no time. And of course, you can choose to use natural wood or paint it- whatever fits your style.
Did you think our DIY Dining Room Decor Ideas were as fabulous as we said? Let us know what you thought and share these great ideas with your family and friends like I did!