I don't just decorate for the holidays. Anyone can do that. I attempt to turn my home into a holiday escape, filled with joyous colors, warmth, and creative holiday cheer that makes people never want to leave. Typically my formula includes a delicate balance of classic Christmas charm combined with unique and festive decorations that no one has ever seen before.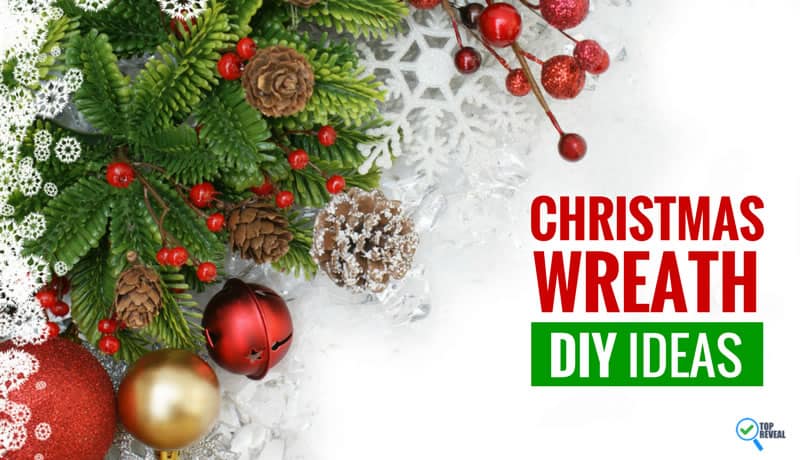 So this year when I pulled out my box of decorations and opened it up to find plain old evergreen wreaths, I knew something had to be done. I have used these wreaths for years and in an inspiring attempt to spruce them up I searched the internet for Christmas wreath DIY Ideas. They were so good I could not keep them to myself. So here are some of the most amazing ones I found.
DIY Christmas Wreath Decorations this Holiday
Simple Wreath With Few Add-Ons
Click here to see this wreath
In my search, I came across plenty plain yet beautiful wreaths. Ones you could put together quickly and required very little creative know-how. Like this one, very beautiful and much more creative then a traditional greenery wreath The use of pinecones, lights, and berries are simplistic while adding a nice balance of natural colors.
Burlap Rudolph Christmas Wreath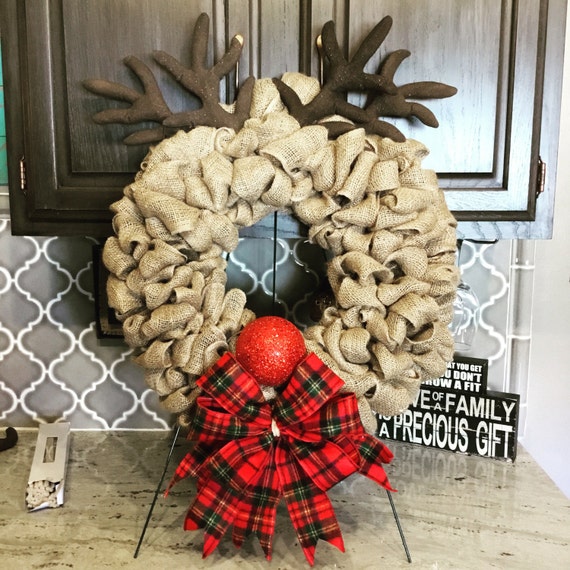 Find this wreath here on Etsy
Of course, not ever wreath started with a Christmas tree base. When you think out of the box you can use all sorts of items to build a wreath. It turns out burlap was a pretty popular tool to create all sorts of wreaths. This one is particularly sweet and I can just see children getting the biggest kick out of the bright red nose
Simple Burlap Wreath
Wreath courtesy of Juliana Palosini
Now burlap does not need to necessarily reference a beloved Christmas character or turn a nod to a country theme. It can actually be very beautiful and reference a natural wreath. This can be useful for those with pets trying to eat wreaths or those with allergies.
Christmas Ornament Wreath
Click here to learn more about this wreath.
If you want to save the trees and burlap is not for you try Christmas ornaments. It is particularly festive for the holiday season and there are so many beautiful combinations to consider.You can go with fun traditional holiday colors like this. Or stick to an ornament palette that complements your home theme to have it blend in.
"Let it Snow" Wreath
Wreath courtesy of The Happy House
Or your wreath can tell a story like this one. Cover it with simple plaid fabric, some white Powderly looking fabric, glue a few small trees and a "Let It Snow" emblem. Voila! You have a wreath no one in the neighborhood is guaranteed to have. You can even get more creative with the figurines and sayings above. Add a little figurine or your family with your last name. There are plenty out there when you look at the Christmas ornament section.
Friendly Snowman Wreath
Click here to learn more about this wreath.
Who does not want a white Christmas? This one can be fun by putting a slightly smaller wreath onto of a larger one. Add a few lights, branches, bow, and hat. Now you have one of the Most beloved Christmas characters.
Snowman Head Wreath
You can find this wreath by clicking here.
A snowman can easily be put together with items from your home, so why not put together a snowman head with some common items in your home? This frosty the snowman wreath will be there to welcome any and all guests that show up.
How The Grinch Stole my Wreath!
Wreath courtesy of Kitchen Fun with My 3 Sons.
This can be especially easy and fun to make. Reference a great holiday classic with a Grinch wreath. Picking up some moss from the craft store will make very green spooky hair. His eyes can be found from old Halloween decorations or you can simply make them!
Disney Wreath
Wreath can be found here.
Who doesn't love Disney? Create a wreath replicating Mini or Micky Mouse's head if your family is in love with all things Disney. Simple to put together, but can appear very well though out when it blends in with all of your Disney Christmas memorabilia.
Santa Belly
Click here to learn more about this wreath.
This wreath combines the Christmas ornament wreath with a little creativity. Cover a great with plenty of beautiful red globes, then simply create a Santa belt with some fabric. It is classic yet unique and cheerful.
Poinsettia Wreath
Click here for this wreath.
This one will require a bit of knack for creativity, but once you get going it will be very simple. Seek out some red and green felt to create a poinsettia wreath. It may be labor intensive but it will so be worth it when your family comes to your home and witnesses the most beautiful wreath.
Winter Wonderland Wreath
Not all wreaths need to reference a character or tell a story. Some are just beautiful when you add some Christmas flair you just love. If your home holiday color palette includes many whites and blues, aim to create a more winter wonderland wreath. There are plenty of products you can pick up from the craft store to help you design the perfect wreath in mind.
Modern Wreath
For more info on this wreath click here.
Traditional holiday wreaths are not for everyone. While we love the holidays you may be looking for a more modern take on the classic wreath. Well here is my answer. Collect some pine cones and paint them in a fun and create pallet to show your holiday spirit in more undertones. The perfect thing about these sort of wreaths is you could leave them up even after the holiday season.
Gingerbread Love Wreath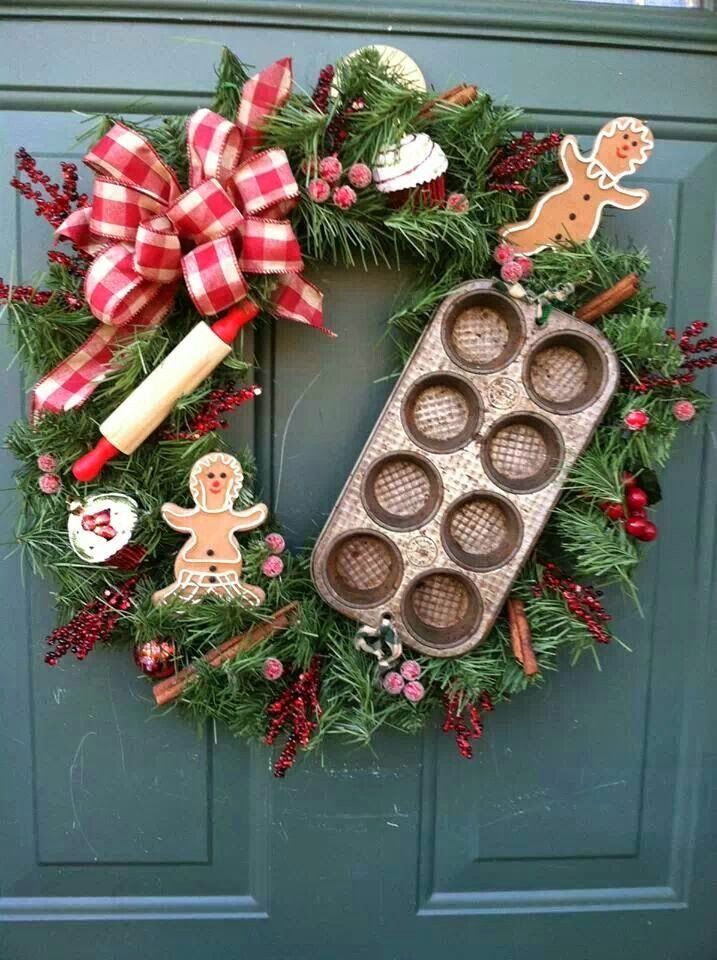 Wreath courtesy of Pretty Designs.
For those of us on a budget, we prefer to not spend too much at the craft store and would like to maximize our wreaths without maximizing our budgets. This is a simple way to do just that. Decorate your wreath with baking and holiday items you already have laying around. This can be especially easy if you have small children with kitchen toys.
Little Town Wreath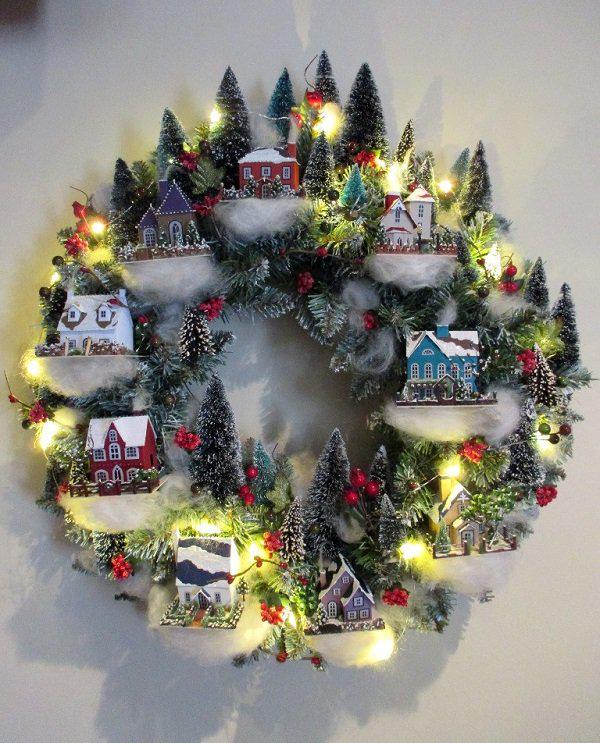 Click here for more info on this wreath.
As mentioned, you can create many wreaths with objects you have around your home. This one, for example, focuses on creating a little town, filled with snow, lights, and Christmas trees.
Presents Wreath
Wreath courtesy of For Creative Juice.
These little present boxes can easily be picked up from your local craft store. This is another one that can quickly and simple to make but can look like you spent tireless hours to create a perfect holiday wreath for your family.
Wine Lover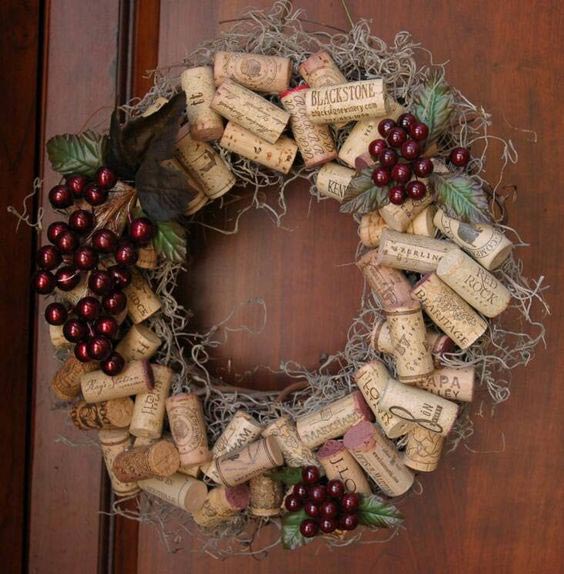 Click here to learn more about this wreath.
Wreaths are just for the holiday fanatics and carolers. Winos need love too, and we have the perfect wreath for you. Recycle some of those wine corks into a classy wreath. As shown, you can create a base of foliage, then layer the corks, then add some beautiful plastic grapes to give it sort of a vine look.
Minimalist Wreath
To learn more, click here.
Do you find these wreaths overwhelming? Do you call yourself a minimalist? Then this is the perfect wreath for you. It can be easily made and tweaked to your liking. Simple, yet O so pretty to look at.
Colorful Pinecone Wreath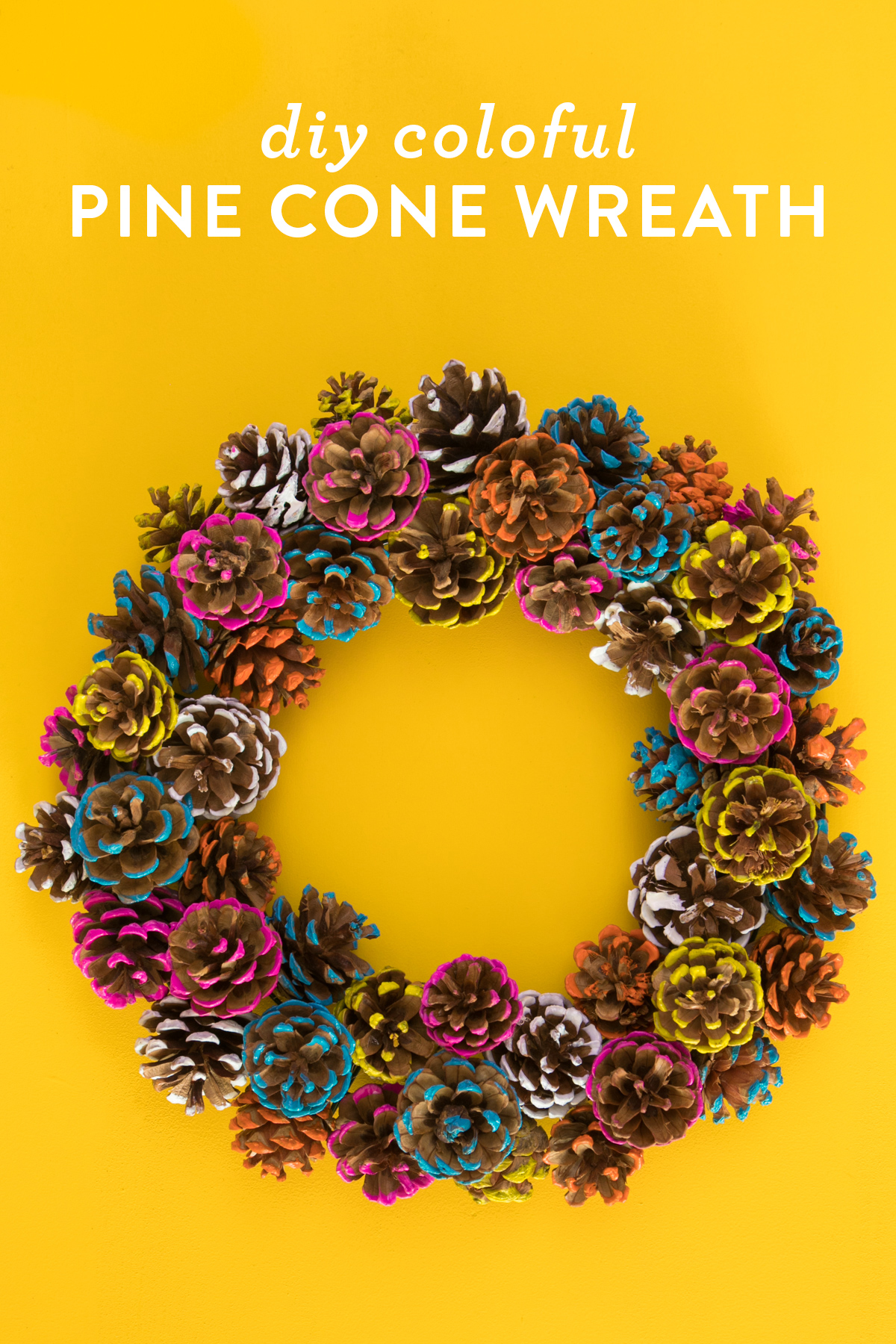 This wreath is courtesy of Sarah Hearts.
Continuing with the modern homemaker, you can add some color and flair to anything! Pinecones, for example, are easy to paint and add some color and festivity without getting too creativity intense.
20. Festive Pinecone Wreath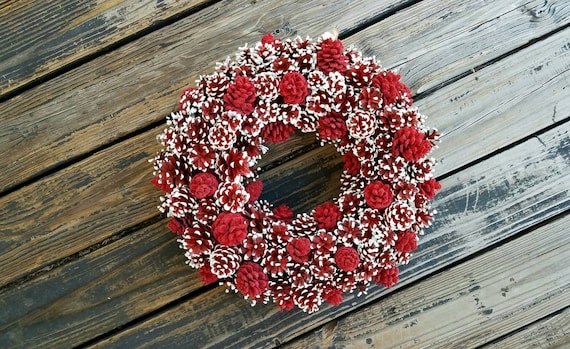 Click here to see this wreath.
But pinecones can be implemented without heading straight to bright and vibrant colors. Stay with the traditional Christmas color palette and first paint all the pinecones red. Allow them time to dry then lightly roll them in some white paint. It will look as if a light snowfall had taken over your red wreath.
Did you enjoy the list? I loved searching for the perfect wreath and discovering all of the creative things people have done to make a wreath their own. There are so many you can design that personalize your style and Christmas decorations, there is no reason not to make your own! Please let me know what you think in the comments below and share with your family and friends!