For woodworkers, handymen, tool enthusiasts, and blossoming do it yourselfers, owning a circular saw is a no brainer. The unfortunate truth, however, is that knowing you need a product, and knowing which product you need are two different things. In a world filled with options, it can sometimes be difficult to determine which is best for you.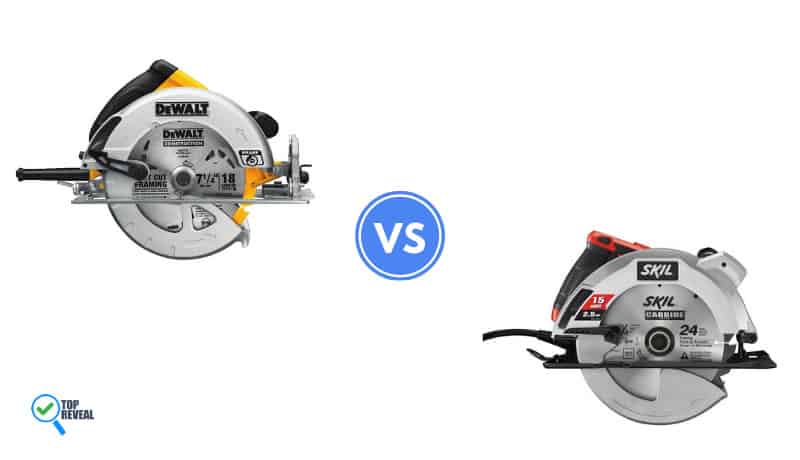 Don't worry, we are here to help! If you have come to the conclusion that you need a circular saw, but just haven't figured out which is the right one for you, read on. Today we will be taking a look at two awesome products to help you find what you need: the DeWalt DWE575SB VS Skil 5280-01 circular saws!
The DeWalt DWE575SB vs Skil 5280-01: A Sneak Peek
In the proceeding paragraphs, we will take a pretty in depth look at both of these great tools, but if you like spoilers, or you just don't have that much time on your hands, I will let you in on a little secret. For my money, the DeWalt comes out on top here.
Don't get me wrong, the Skil is a quality product, and if that's the choice you end up making, you might not regret it, but considering the features and bargain price that the DeWalt has to offer, it seems to me like a clear winner.  Hey, that's just my opinion. You can make your own decision as we take a look at the features.
Features:
Powerful Motor: The 15 AMP motor featured on the SKIL 5280 will make for a powerful addition to anyone's tool arsenal, and offers a distinct upgrade from the previous model's motors. The benefit to this is of course self-apparent. A stronger motor means easier cuts, which means easier work for you.
Lightweight: This model also features a 15% weight reduction from its previous model. Of course, if you never owned the previous model, you won't be able to tell the difference, but you will be able to tell that this lightweight unit reduces user fatigue, and is easy to work with.
Laser: Besides just being really cool, lasers also serve a practical purpose when it comes to woodwork. The laser sight featured on the 5280 will help you line up cuts easily, for accurate cuts every time.
Dust Blower: A good dust blower is a must when it comes to circular saws, and this unit certainly features one. The dust blower will help to keep your workspace clean, so all you need to worry about is the job.
Cut Capacity: The SKIL features a 51 degree bevel with positive stop at 45 degrees. What does that mean for you? A greater range of cuts!
Features
Easy to Use: The user friendly design of the DeWalt, partnered with its deluxe features makes it the perfect buying option both for beginners and veterans alike.
Lightweight: At 8.8 pounds, the DeWalt comes in at virtually the exact same weight as the SKIL, making either one an attractive buying option for the user that values a compact design.
Powerful Motor: Like the SKIL, the DeWalt also has a powerful 15 amp motor for easy cuts.
Larger Cut Capacity: The DeWalt features a 57 degree beveling capacity, with positive stops at 45 amd 22.5 degrees, giving it a slightly larger range than that of the SKIL saw.
Comfortable: This model also includes ergonomic handles that make handling the DeWalt more comfortable. You will certainly appreciate this feature during long hours on the job.
Why a Circular Saw?
If both of these cool products and all of their awesome features sound great to you, but you still aren't entirely convinced you even need a circular saw, let's take a look at some of the benefits of having one.
Versatile: The circular saw is a versatile tool, capable of making a wide array of cuts that will serve you for many different types of projects.
Long Life: Hey, it can be fun buying new tools, but with the right circular saw, you won't need to. Quality circular saws are built to last, and when you pick up the right one, you can use it for decades if that is what you want.

Both models featured today are noted for their durability.
Powerful: The circular saw is a powerful tool, known for being able to make quick work of materials up to and over three inches thick, which is certainly a nice feature to have when it comes to your woodwork.
What to Consider when comparing Circular Saw
Power: Naturally, you want a saw that won't have trouble cutting through your materials. Both the models that we have looked at today feature powerful 15 amp motors that should have no trouble completing whatever jobs you have for them.
Cord: The cord is a basic but crucial component of any circular saw. You want one that is long and durable for ease of use, and a long life span. The DeWalt's cord is both, and even features an innovative design that makes it 3 times more resistant than most units to accident pull outs.
Price: Of course, you don't want to break the bank, but considering how long a circular saw will last, you also don't necessarily want to buy the cheapest model that you find.

Shelling out a few extra dollars can buy you the benefit of deluxe features you can enjoy for decades to come.
What Do You Need One?
If you are going to buy a circular saw, you want to know what to do with it, right?
Straight cuts: The primary function of a circular saw is to make straight, precise cuts through whatever materials you put in front of it.
Plywood, 2X4s etc: The variety of materials susceptible to blades of a circular saw are diverse, but users are particularly pleased with the quick work they make of plywood and 2X4s.
Do It yourself: The circular saw is an ideal tool for the do it yourselfer who enjoys handy work, but not with the same dedication of the pros. A circular saw can be a good stand in for the table saw, and it is much more affordable, and easier to store.
Final Thoughts
Whether you are into wood working, or just doing it yourself, I am sure you will find a wide variety of ways to use a circular saw. The only question is, which is right for you? I've already told you my preference. I think that the deluxe features of the DeWalt are well worth the products affordable price, but ultimately, the decision is yours.
Just remember, you work hard for your projects, so why not pick up a saw that works hard for you?
[rwp-review id="0″]