You're going to visit your bathroom several times every day – both for "business" and pleasure. Since you see it so often, we think it's a great idea to give you some bathroom vanity ideas. Giving your bathroom an awesome vanity will wow your guests, encourage you to keep your bathroom clean, and overall be a super fun project!
DIY Bathroom Vanity Ideas
1. Vanity Cabinet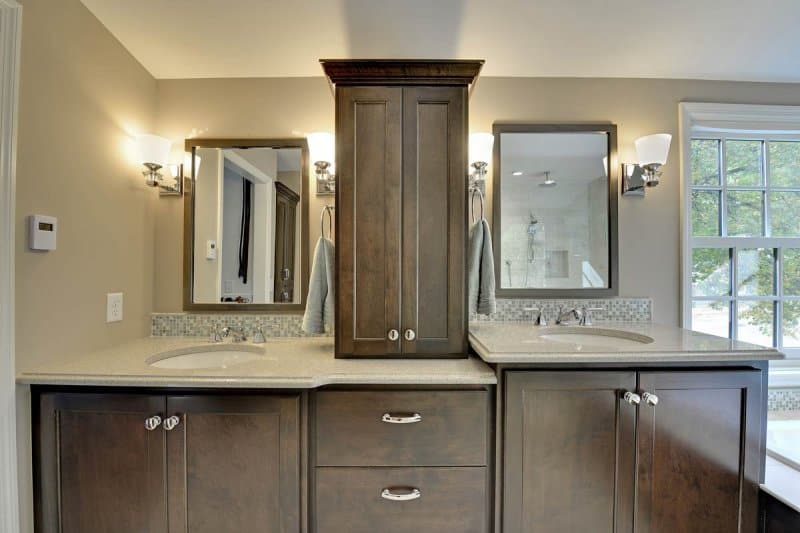 Farns Modern
You may not be used to seeing it in a bathroom but using a vanity cabinet can be an extremely stylish look. This will give your vanity some depth, tons of space for a mirror, and plenty of places for storage underneath the countertop. Figuring out a way to incorporate the vanity cabinet into the rest of the countertop is a plus move.
2. …Or a Dresser Cabinet
For a look that will stand the test of time as well as add a contemporary look to your bathroom, go with a dresser for your vanity. A freestanding dresser with a waterproof top can replace where a countertop would normally be. And the dresser beneath will feature plenty of drawer space to hold everything you need!
3. The Writing, I mean Vanity, Is on the Wall
http://www.lushome.com/modern-bathroom-colors-stylishly-bright-bathroom-design/106927
Nothing will liven up a space in your home like creative placement and some bright colors. That's why we're recommending that you do a floating vanity and add some fun colors to your bathroom similar to what you see here.
4. Mirror, Mirror, on the Wall
From: http://spectraair.com/simple-and-contemporary-bathroom-ideas/
Your mirror doesn't have to be a boringly edged rectangle on the wall. Instead, you can put a frame around it to give it a fancy or whimsical feel depending on your desire. Just make sure that the frameworks with the rest of your aesthetic in your vanity space.
5. I See You…and You, and You, and You
A gigantic mirror that extends the length of your vanity space can be a really cool way to make your bathroom beautiful and feel bigger all at once. And, of course, you'll see your own shining face in widescreen in the morning, baby!
6. Victorian Elegance
From: http://imgarcade.com/victorian-master-bathroom.html
Turn your own bathroom into the fanciest hotel you will ever stay at! A lovely countertop, some stylized mirrors, and fancy trim can turn a boring vanity into a sight for sore eyes every day. Who says you can't stay at the best place in town?! Because you will be once your bathroom has turned the corner into the nice part of town.
7. Antique, Not Old!
Courtesy of: http://www.furnitureanddecors.com/antique-bathroom-vanity-for-classical-bathroom-setting/
While you may be updating your bathroom, you may want to take it as an opportunity to reach back into the past and utilize some old school furniture and countertop sets. Antiques coupled with the right modern fixtures can create perhaps the most beautiful look that you can get in your bathroom. Just make sure you get the right combination for you
8. Simply Stylish
From: http://www.handmadewoodworks.com/Open-Style-Vanity-Three-Drawers.html
It's also possible to make your bathroom look bigger with the right kind of vanity space. Keeping the space on your counter open and keeping fixtures to a minimum is a great way to create openness in your bathroom. You'll end up with an elegant design that may even be easy on the wallet.
9. Trough Style Sink
From: http://envirostarwaste.com/trough-sink-bathroom-vanity-intended-for-residence/
Trough style sinks are an awesome, modern design that are great for the right person. Some people love them, others don't particularly appreciate them. But they are absolutely a great looking part of any modern style bathroom. Couple a trough sink with modern fixtures and a granite countertop for the most up to date look around.
10. Classic Meets Modern
From: https://www.raftertales.com/rooms/bathrooms-rooms/gallery/attachment/bathroom-decor-vanity-glass-tile-top1/
A classic tile countertop is never a bad move. Whether you prefer large tiles or small ones, this can become a DIY project that can be completed in a day. The tiling can also continue up onto the wall to create a great backsplash for a finished look. Pair it with a modern steel sink and you're ready to go. Make sure you match your tiles to your fixtures!
11. The Corner Sink
From: http://www.welcometofleet.com/corner-bathroom-vanity-maximizing-ideas/modern-corner-bathroom-vanity/
If you don't think you'll need much counter space, a corner sink can be a perfect choice. This will give you the chance to have two or three mirrors at different angles as well as leave you more space in your bathroom for other things. Your corner sink can be just the sink itself (like in our picture!) or feature a little countertop.
12. Raise Your Game!
From: Source
A sink is, of course, normally inset to your countertop. But bringing your sink up and out of the counter is a unique way to get an elegant look for your bathroom. There is also the added benefit that your sink will be higher up so you can reach it a little better and keep the water where it belongs!
13. Asymmetrical Design
Moving your sink out of the center of your counter and tilting it at a unique angle is an elegant, but fun way to change up your bathroom space. And we promise, as crazy as it looks, nothing will spill over!
Wrap Up
We know you found at least one vanity on this list that you love. The problem probably is that you found too many that you liked and now have to pick between so many good options. We're glad we wrote this list to give you some inspiration on your bathroom vanity ideas – and it's got us thinking of doing some work ourselves. Let us know in the comments what you loved most and share our article if you liked it!