Bikes are a great mode of transportation whether you're young or old. Relatively inexpensive to maintain and a great source of exercise, they let you enjoy the outdoors and get where you need to go 1-2-3. The one downside, believe it or not, is storing it. Leaving it outside exposes it to the elements and it could be stolen, even if it's chained; and bringing it inside can be hard if you live in an apartment or condo with limited space. Heck, it can be a hassle even in a bigger home with the tires tracking in mud and other debris or in a garage overflowing with stuff.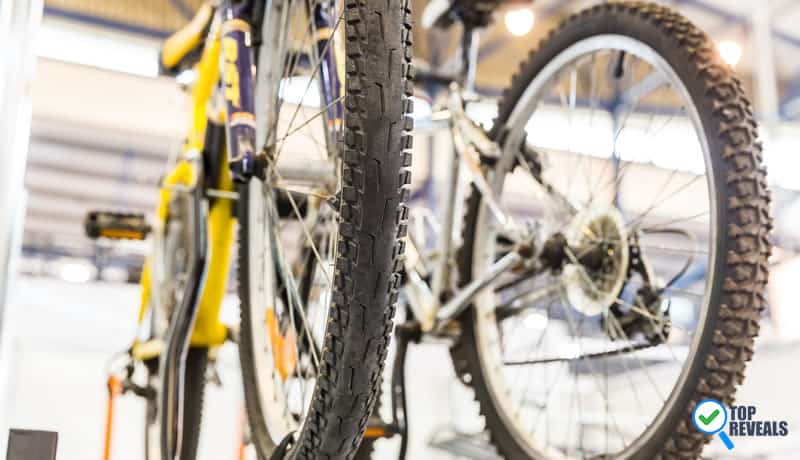 At least, that's how it used to be. These days, there are some innovative bike storage options that make keeping your bike safe and your home clean easier than ever, and we're going to share them all with you. Read on to find out what's out there, how they work, and which is right for you.
 Bike Storage Basics
Before we get into the various options, there are factors you need to consider when looking at storage options. What you choose will largely depend on these factors:
Do you plan to keep it indoors or out? If you have no indoor options, then you'll want to look at something like a shed if you have space outside whereas if you can use any indoor space a wall mount or bike tree may be the way to go. Also, if you live in a rental or apartment you will need to check if you are allowed to bring a bike indoors or I there is a designated space outside for it.
Do you need permanent storage or a unit that can move? There are storage devices that are permanently mounted and ones that can be moved from room to room. Again, space will be the main decider as to which you need. Say you have an apartment and want to keep your bike in the living room most days but be able to move it to your bedroom if company comes. In that case, a ceiling-to-floor rack is a smart option as it can be put up and taken down as needed.
How much space do you have? Whether you are storing bikes inside or out you need to measure the space you have to ensure the device you choose works. There are horizontal and vertical racks, so you can maximize almost any space as long as you plan and figure out where you want to put it ahead of time.
How many bikes do you need to store? If you have multiple bikes, you may need a larger rack or shed. Or, you may need to get creative and use different types in multiple rooms.
Bike Storage Options
Now that you know what to look for, let's review your options:
Permanent Indoor Storage
Vertical Wall Mounts:
Wall mounted storage, like these from the Park Catalog, are great for making the most of limited wall space and the most common choice for those who need to store more than one bike. Think larger homes, apartment building basements, offices and more. They allow you bike to hang at a 180-degree angle and lock it into place, but come out several inches from the wall, so dorm rooms and small apartments are not ideal for them.
Wall mounts are easy to use and anchor into drywall, wooden beams, and more giving you lots of options. You can also buy locking arms for 3 points of locking contact – the bike frame, the front tire and the bike rack. They come in several sizes and are budget-friendly.
Horizontal Wall Mounts:
For those with more wall space and less overall space, a horizontal mount is a solid option. These also anchor into your wall and hold your bike flush against it, so you can easily pass back and forth without it being in the way.
They hold the bike under the top tube and can lock it at 2 contact points and are best for those who have a dedicated space for their bikes or a dorm room where they may need to store it up higher and out of the way.
Bike Lockers
Those who need to keep their bike outside and want added security and protection from the elements would be wise to invest in a bike locker. The one shown, and others similar to it from the Park Catalog are made of a durable fiberglass plastic composite that is resistant to UV light (so it won't fade) and graffiti or vandalism.
Even better, the shed comes in different sizes and shapes, including square and pie-shaped, so you can fit more than one bike and use even odd-shaped spaces. It is a bit pricey but it is worth the investment as it gives you a stable and permanent storage solution.
Non-Permanent Storage
Ceiling-to-Floor Rack
These poles can adjust and fit flush against your ceiling and floor, making them ideal for temporary or mobile storage. They store up to 2 bikes and are used mostly in apartments and offices where bikes are allowed indoors.
Free-Standing Racks
As the name implies, free-standing racks look almost like a metal Christmas tree, with a weighted base and arms that extend out along the main center pole. For those with multiple bikes but no permanent place in their home, this unit works because it can be moved when people are over, so you don't sacrifice aesthetics or space when you need it.
As you can see, there are a lot of great options for bike storage these days that fit every space and budget. Now that you know what's out there all you need to choose the right one for you and your family.