Do you want to dress up your dining room? Is it time to find a new look? When I first bought my home, I just needed something to work with, but then the dust settled and it was time to spruce it up a bit. Put your personal stamp on your home and give it that loving cozy feel. Whether your dining room is in need of a facelift or you just moved in, these DIY dining room projects will have you feeling proud as a peacock to entertain or just to enjoy with your family.
1. Start with a Farmhouse Table Focal Point (DIY Under $100)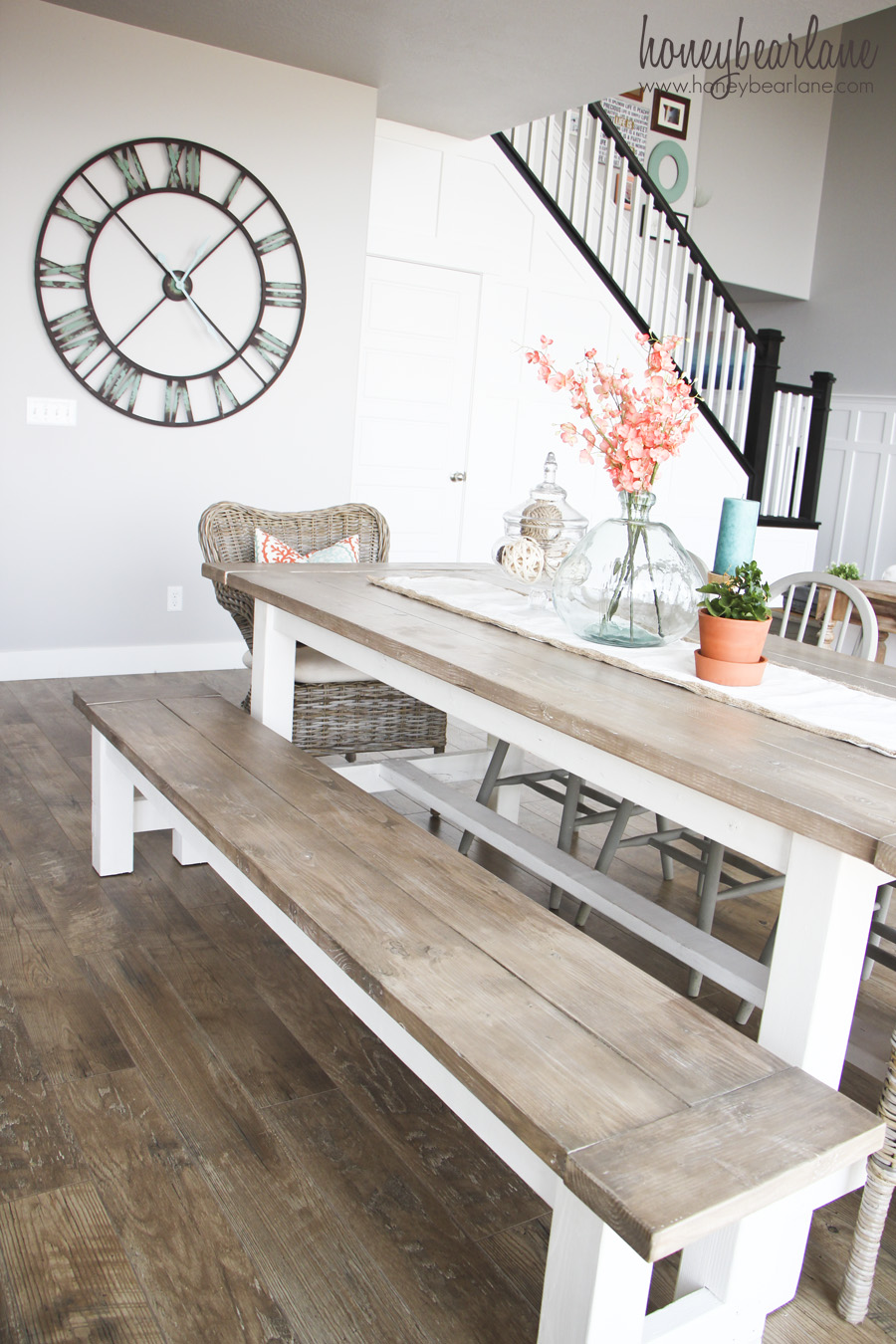 Source
Your table is the item everything else works around, so you need to start off with a great piece. This DIY adds charm and you don't have to break the bank to do it.
2. Make a Statement with Reupholstered Chairs

Diy Network
There is nothing worse than chairs that look like they've been through the wringer. Kids, pets and just basic wear and tear on the upholstery can bring your dining room look down. Anyone can reupholster chairs. Really. Anyone.
3. See the Light – New Lighting FIxtures Can Add Dimension and Texture

Love And Renovations
Ever feel like a room took you back into another century? Highly possible that the lighting fixtures created that effect. Dated fixtures should be changed and updated as soon as possible but sometimes money stands in the way. This tutorial shows you how to create a warm glow in any dining room. Of course, you can browse home decor stores and pay top dollar, but saving money on fixtures could allow you to put it into other items.
4. Add Sophistication via Place Settings

Source
Ever heard of a charger? No, not the football team! It is an element of beautiful, multilayered place settings that takes your dining room table to another level.
5. Top it Off with Crown Molding

Source
Although adding crown molding may look difficult, this DIY illustrates that really anyone can do it. It adds sophistication and character to your home in an instant. There are many different crown molding styles to suit any taste and create every tone from extremely formal to traditional to whimsical.
6. Paint with Personality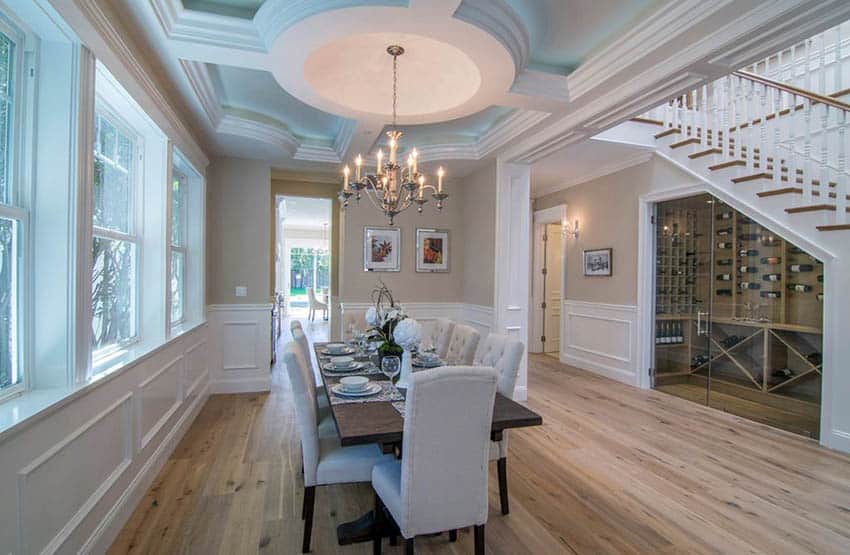 Designing Idea
Do you want the look to be subtle, dramatic, or cozy? Paint is one of the quickest ways to affect the mood of a room and also one of the most inexpensive. It is definitely an instant gratification win.
7.Side table

The Spruce
Because dining rooms tend to have little furniture, the pieces you do have will really stand out. Also, it is so much nicer to have the storage space right there in the room for table settings and accessories, so a sideboard or buffet is the way to make a visual impact while adding function at the same time.
8. Add a Centerpiece to Showcase Your Style

Source
Creating a table centerpiece is fun, low cost and allows your creative juices to flow. One thing I love about making my own centerpiece is the ability to change it regularly to suit the holiday, season or my mood.
9. Bring Life to the Room with Plants

Source
Whether you add potted plants, cut flowers, or dried ones, plants add a decorative touch and bring pops of color.
10. Never Too Many Candles

Southern Living
It may seem a bit cliche to say that candles will add glamour to your dining room table (think every movie date scene), but candles do add warmth to any room.
11. Simple Adjustment by Adding a Table Runner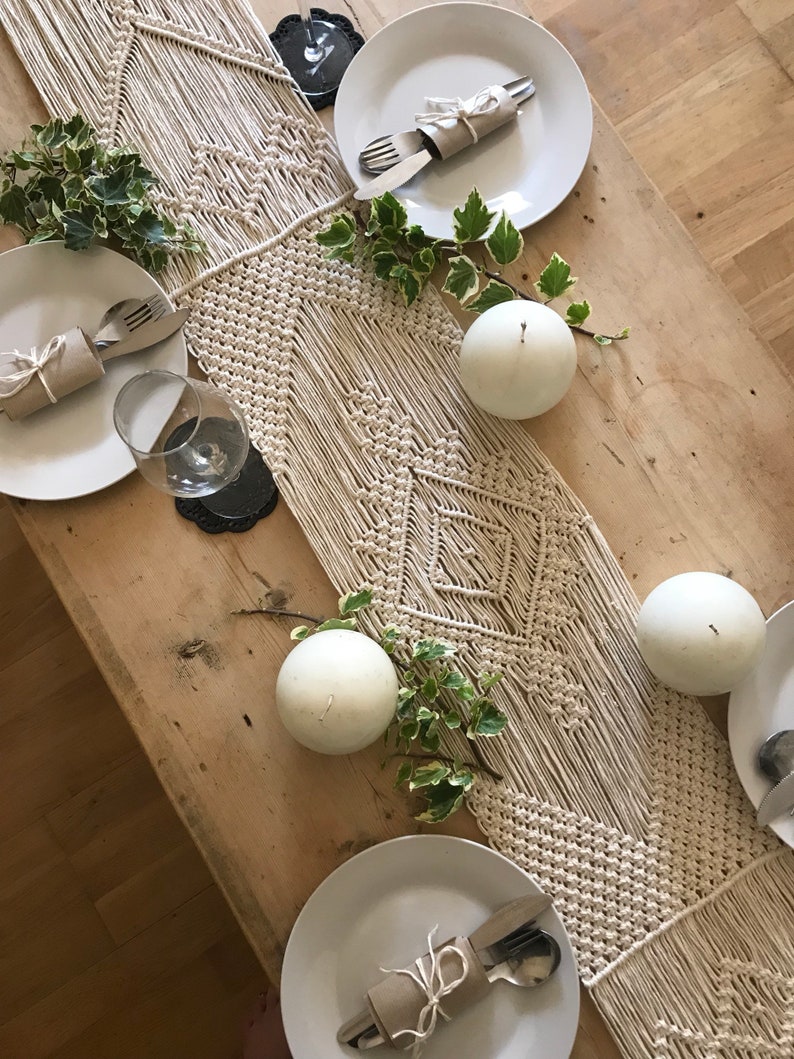 Source
There are many styles of table runners, but the addition of one of these can bring out colors in your room and add texture to your table.
12. Wall Texture

Next Luxury
This one made me say, "Whoa!" because I didn't realize how many options there are for embellishing with wall textures.
13. Choose a Spectacular Art Piece

Source
If you prefer the minimalist approach, a single piece of wall art will have a big impact.
14. Bring Outside In

Do you like to pick up interesting rocks, driftwood and other items when you are out and about? If so, the dining room may be one place to showcase your finds artistically.
15. Framed Family Photos

Source
The dining room should be a place that family love is felt in every element, so decorating with beautiful photos is another way to ensure that love is in every morsel.
16. Travel Treasures

Source
A perfect use for travel souvenirs is creatively displaying them in your dining room – you will never run short of conversation ideas as you wax nostalgic on family trips.
17. Pizzazz in the Form of Napkins

Taste Of Home
Colorful or classic, napkin folding, positioning, color matching or pops of color all help create the ambiance in your dining room.
18. Words to Live By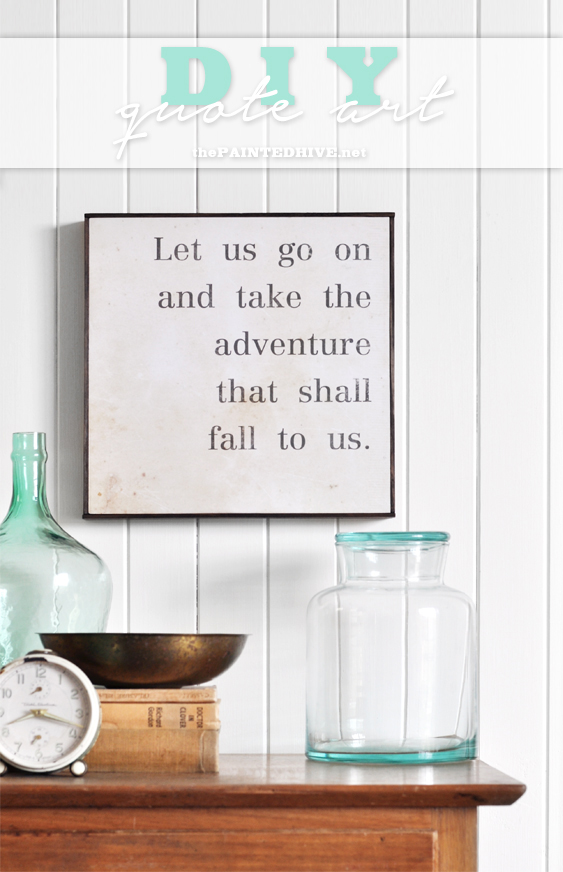 Source
Turn your favorite inspiring quotations into art with this DIY blog.
19. Rugs add Warmth and Coziness to any Room

Omega Coin
Aside from having to move everything, changing or adding a rug under your dining room table is probably one of the easiest DIYs there is while still making a statement.
20. Chandeliers – there is lighting and there is lighting!

Source
There is lighting and then there are chandeliers. If you really want to get the wow factor, a chandelier is certainly one way to get it.
21. Thrift Store Dining Room

Remodelista
Gorgeous doesn't have to be expensive. This blog can make anyone a thifting success to decorate cheap without being tacky.
22. No Room, No Problem – Space Saving Dining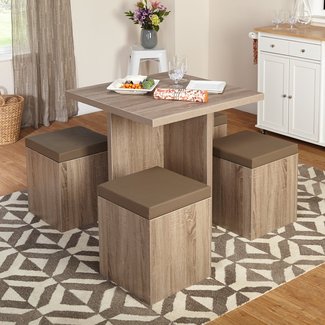 Visual Hunt
No need to eat off of tv trays if you have a smaller dining space to work with; some of these tables might be the ticket to still have a full dining experience.
23. Purposely Mismatched Chairs

Homesthetics
Normally we all stress out trying to perfectly match items when decorating, but this technique involves purposely choosing different chairs styles to achieve a whimsical effect.
24. DIY Flooring

Source
Although this Bob Villa blog is full of impactful flooring projects, it is on the upper end of the difficulty level and certainly are not one-day projects. Done well, however, any of these would be sure to drop some jaws.
25. Ceiling embellishments Create the Illusion of Added Height

Interior Designing Home
Ceilings are often forgotten and ignored when it comes to decor, but some of these ideas can make your ceiling a statement.
26. Floating Shelves

Source
This step-by-step guide for shelving creates a perfect place to display decor items or store place settings in a creative way.
27. Wall Sconces add Drama

Source
Wall sconces come in so many shapes and sizes that there are some to fit every sensibility; what they all do have in common is a formalizing, sophisticated tone.
28. Storage Bench Seat

Making Home Base
For smaller dining rooms, you can maximize space by using a bench window seat with built-in storage.
29. Draw Eyes Upward with Tall Corner Plants

Pro Flowers
Tall corner plants help to build a vision of spaciousness with the bonus freshness of greenery.
30. Mirror, Mirror on the Wall

Source
Ever walked into a seemingly large room only to realize half of it was not really there because a mirror was on the wall? Mirrors are yet another way to create the appearance of volume.
31. Water Your Soul with a Water Feature

Go Writter
The soothing sound of water enhances the homey feel of your dining room with a touch elemental peace.
Bringing it Home
Did you find some ideas that would work in your home and inspired you to get started on your dining room? I hope you did because just creating this list made me want to get some project materials and redo my own dining room.
Sometimes we all just need that inspiration and a reminder that what sometimes sounds like a big project to create the ambience and mood in our homes, really isn't all that hard. You just need to get started! I think you will find that once you do that, your own creative ideas will start to shine through and your personal touch is what will make your house a home.
If you have any comments or would like to share, we would love it if you did! We always like to hear what you found helpful or need to see more of, so be sure to let us know. We appreciate any reposts and shares of the article, and I think your friends and family will appreciate it too.