What is Amazon Prime Day?
For those who are new to Amazon, or considering joining, let's go over what Prime Day is and why it's such a big deal. Now in its 3rd year, Prime Day is the day when Amazon gives back to its Prime members by offering huge deals and discounts on everything, from their prized line of Echo products to the latest designed clothing. If you're not a Prime member, you can sign up for their 30-day free trial membership and there is no obligation; just cancel before the 3-days are up if you decide you don't want to remain a member.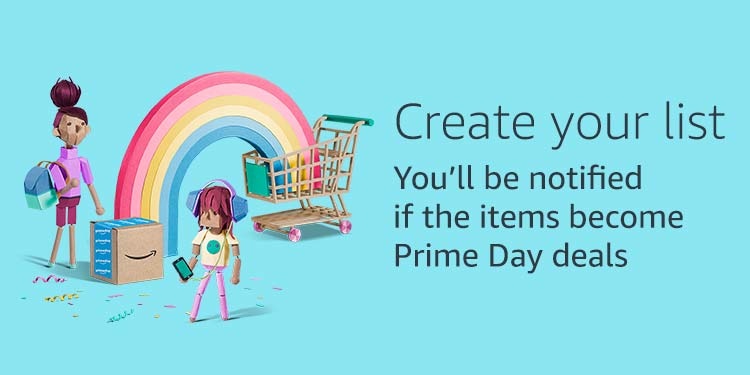 Prime Day Deal Categories
As great as all the discounts are, it can get a bit confusing because of the varying deals; some run all day, while others run beyond Prime day or for a small window of time. To make sure you don't miss out here's a rundown of the different categories, including the coveted Alexa-exclusive offers. You can also sign up for the Amazon app to get alerts about the deals listed.
Lightning Deals
With lightning deals, you have a limited amount of time to claim an item (usually between 1-3 hours) and only one item per customer is allowed.  These deals pop up throughout the day and quantities are limited, so the best way to catch the item you want is to sign up to be alerted when you're item is on sale.
Early-Bird Specials
Then there are the early-bird specials, which run now through Prime Day on everything from music to Kindle memberships. Here's what's currently available (check back as new deals may be added):
Shoppers, mark your calendars and get your fingers ready because the chaos and excitement that is Amazon Prime Day is happening once again. Set to begin on Tuesday, July 11, with deals starting 9 P.M. EST on Monday, July 10, Prime Day will feature early bird deals, hourly-lighting sales and for the first time, Alexa-exclusive offers.
And I'll help you navigate it all with my Guide to the Best Amazon Prime Day Deals of 2017. I'll break down how it works, run through the best sales and tell you when and where to find them so you're not stuck watching your phone all day long waiting for the deal you want.
Stream a video from your Prime video library to your TV and get a $10 Amazon credit that you can use on any Amazon item.
Love to read? Then take advantage of the 40% off Kindle Unlimited deal and binge away this summer on the beach. Kindle Unlimited is normally $10 a month, making this deal a real bargain.
.
For those who want to "hear" their books come to life, Amazon's Audible service is now on sale for $8.95 a month for 6 months.
Prime Pantry shoppers can get 35% off with on-site coupons on select food and household items.
Get a $10 Amazon Bonus when you reload $100 or more on your Gift Card Balance for the first time.
From The Goonies to Full Metal Jacket, movie buffs can see many of their favorites for mere pennies.
Alexa-Exclusive Offers
For the first-time ever, anyone who owns an Amazon Echo, Echo Dot, or Tap can save even more by ordering through their device. Just say: "Alexa, what Prime Day deals are available?" and shop away. Amazon will offer over 100 Alexa-only deals and you can also get $20 off a Prime membership by saying: "Alexa, sign me up for Prime." Alexa deals are available on a rotating basis now through July 17 and include:
Don't Forget to Receive a $10 Amazon credit when you order for the first time using Alexa.
Best Amazon Prime Day Deals of 2017
With deals that are expected to beat out Black Friday and Cyber Monday, there will be a lot to choose from and while Amazon discounts products from every make and model, it is their own items that are usually the feature. Amazon has not officially released this year's deals, but here's a sneak peek of what to expect based on previous Prime Days:
The Echo is their biggest seller and was discounted by $40 or $50 dollars for the past Prime Day; this year it is half off, which means you can try out the Echo and its infamous virtual-assistant Alexa. Fitted with powerful speakers and able to control just about any smart device, the Echo is great for listening to music, ordering an Uber or even helping with math homework. Seriously, once you experience what Alexa can do, you'll be thrilled you got it for such a bargain.
A smaller, but equally efficient version of the Echo, the Dot's price has been slashed by $10 in past Prime events and during holiday sales. The Echo Dot can do everything the Echo can, the main difference being its speakers aren't as loud. Which means if you host a lot of parties you have to hook it up to a speaker to play music; otherwise, you won't even notice the difference.
If you're in the market for a new tablet you should jump at the chance to snag the all-new Fire HD 8 tablet, which now features Alexa, at a discount. It was slashed by $30 for Black Friday, so odds are it will be again for what is being billed as Amazon's version of Christmas in July. And as someone who already owns a Fire HD 8 let me tell you the incredible battery life alon3 makes this purchase more than worth it.
Amazon's tech products are always front and center on Prime Day so it's guaranteed that their newest darling, the Echo Show, will be on sale. Featuring a video screen to see videos, music or cooking instructions from Alexa, among other things, the Show should retail for around $199.
The Voyage was discounted by $50 during last year's Prime Day and odds are it will be again, making this sophisticated E-reader available for around $149.99. Anyone who loves to read or needs to read on the go should look out for this amazing deal because the Voyage, with it's super-slim design and glare-free screen makes reading a pleasure.
If you're looking for a more budget-friendly option, maybe for your teen, the Kindle 6″ E-reader is a smart buy. With the $30 discount it will sell for around $49.99 on Prime Day and has a touch screen and glare-free screen, so you won't sacrifice quality for price. It was discounted by $30 during past Prime days.
One of the few big ticket, non-Amazon items to go on sale during Prime Day last year was a 55″ Samsung HDTV like the one pictured. And Amazon doesn't skimp, offering current year models at a real bargain. No offical announcement yet, but keep an eye out.
What do you think of these Best Amazon Prime Day Deals of 2017? I hope you found what you're looking for and my guide has helped you figure out where and when the best deals are. Keep checking back, as we will be updating now through Prime Day and happy shopping!