Forget the living room or "family" room, the kitchen is the place to be in any home. Besides cooking and eating in there, it is also the spot where the kids do their homework, mom and dad read the paper, and family and friends gather to talk and munch. Which explains why it's the first room homeowners renovate and apartment dwellers try to spruce up every chance they get.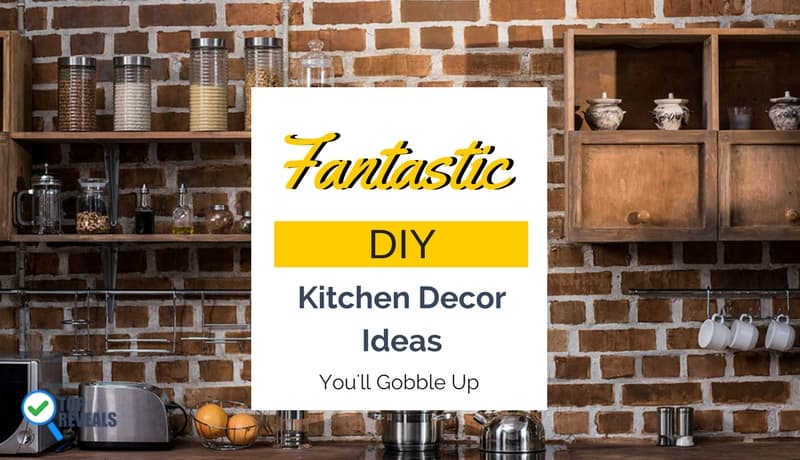 If you're looking to lighten with new fixtures and how to use epoxy resin, brighten with a funky tile floor, or just change up your current island stools, then check out our list of Fantastic DIY Kitchen Decor Ideas.
From checkered ceilings to hidden storage these designs will whet your design appetite and make dinnertime better than ever. We've also imcluded the links to each photo for design credit and to give you instructions for some of the projects.
Fantastic DIY Kitchen Decor Ideas
1) Checkmate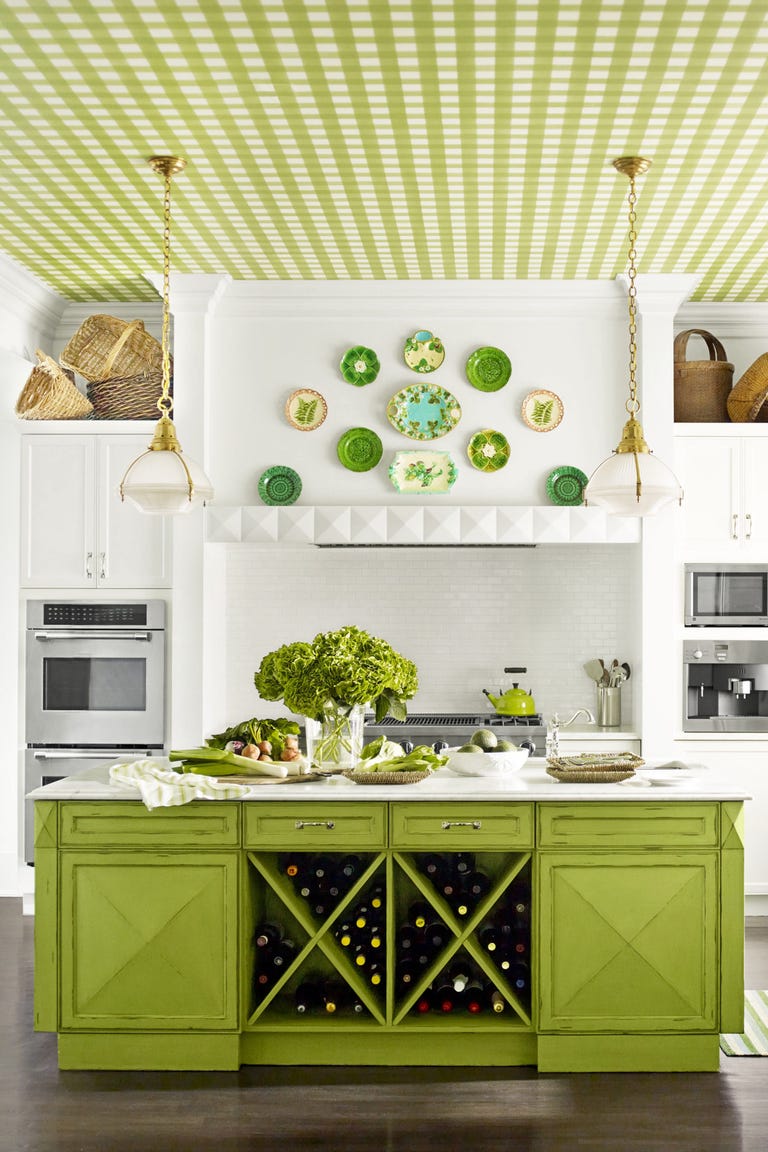 Ceiling design courtesy of Gideon Mendelson
A simple and striking way to add a little something to a monotone kitchen is with a bright checkered ceiling like this one. The checkered pattern is unexpected, making it a fun focal point for family and visitors. And you can get as creative as you want, using any accent color you want or pattern.
2) Rack it Up
Courtesy of Amazon
If you have snazzy copper pots why not display them? This ingenious rack not only saves you cabinet space if your limited but makes a stylish piece of wall art, giving the room a warm and cozy feeling.
3) Chalk it Up to Fun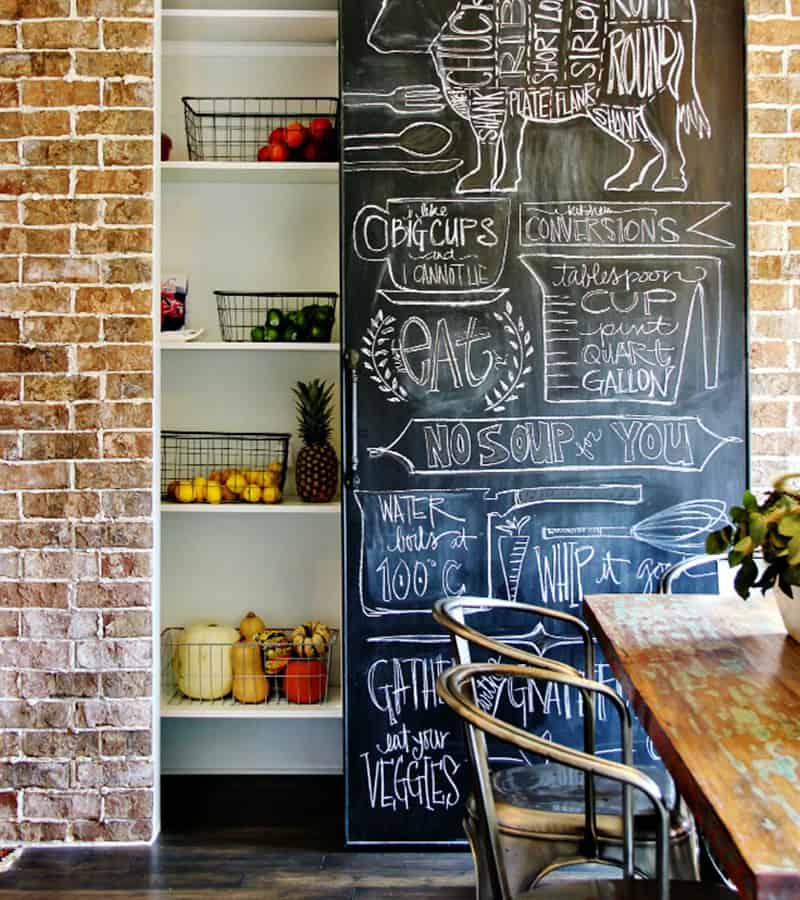 Courtesy of Peace, Love and Decorating
Why use a conventional pantry door when you can create a chalkboard barn door everyone can have fun with? This is a brilliant and practical way to spruce up your kitchen because you can have kids draw pictures, write down inspirational quotes, jot down shopping list items, or put up the day's menu and chores. And this style door is super easy to put together.
4) Check This Out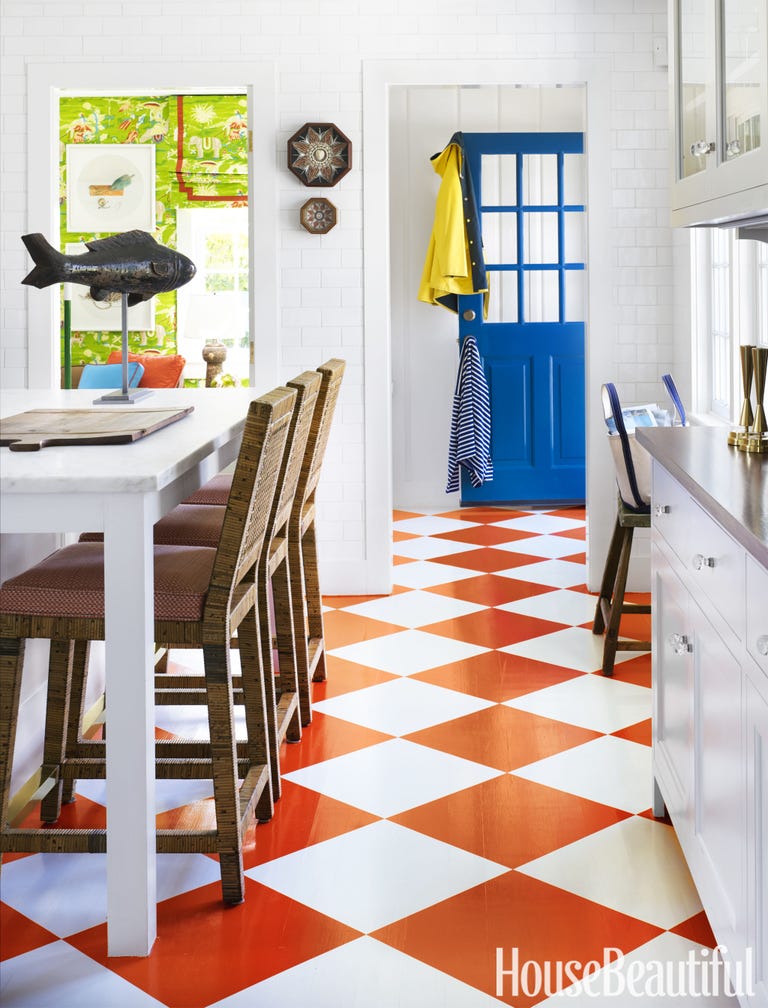 Courtesy of Gary McBournie
Paint is a great way to give your kitchen a different look, especially when you use it to create an eye-catching floor pattern or update a traditional one. A floor like this adds a pop of color and especially nice for spring and fall; the beauty of paint is you can switch it up whenever the mood strikes.
5) Island Magic
Courtesy of Masterclass Kitchens
Islands are on just about everyone's must-have list and this one is sure to be at the top of the list. Adding extra storage to some of the unused space gives it a unique look at ensures you have what you need right at your fingertips.
6) Seeing Spots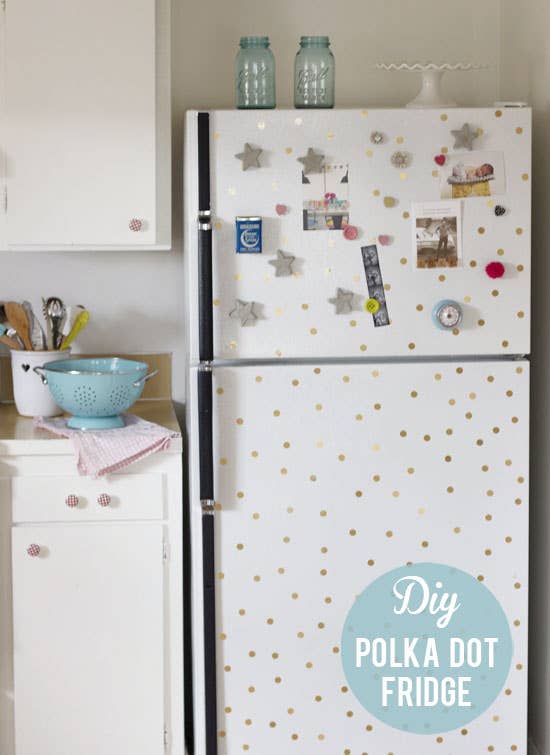 Courtesy of At Home In Love
Your refrigerator is like a blank canvas, so use it to add some personality to your kitchen decor. Using simple contact paper, you can go polka dot crazy if that's your thing. The beauty of this is you can change it out; so you can do Santa paper at Christmas or flags for the Fourth of July. Everyone will love it, especially kids.
 7) Just Hanging Out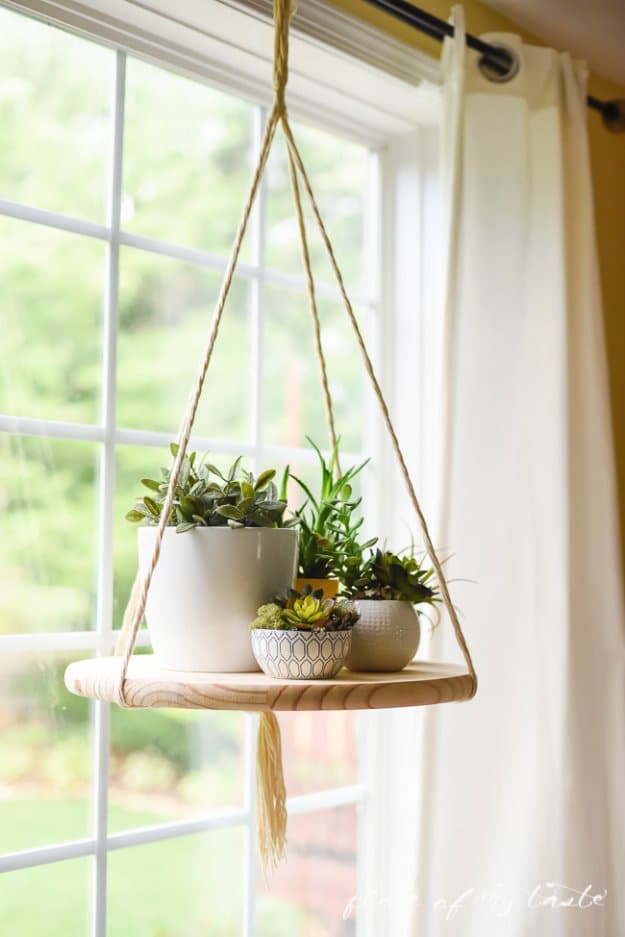 Courtesy of Place of My Taste
Add shelving anywhere with these cute hanging shelves. You can use any material to create them, from wood to plastic, so it will match the current style of your kitchen and you can use them to hold plants, cups, or anything else depending on the size and shape.
8) I Got You Pegged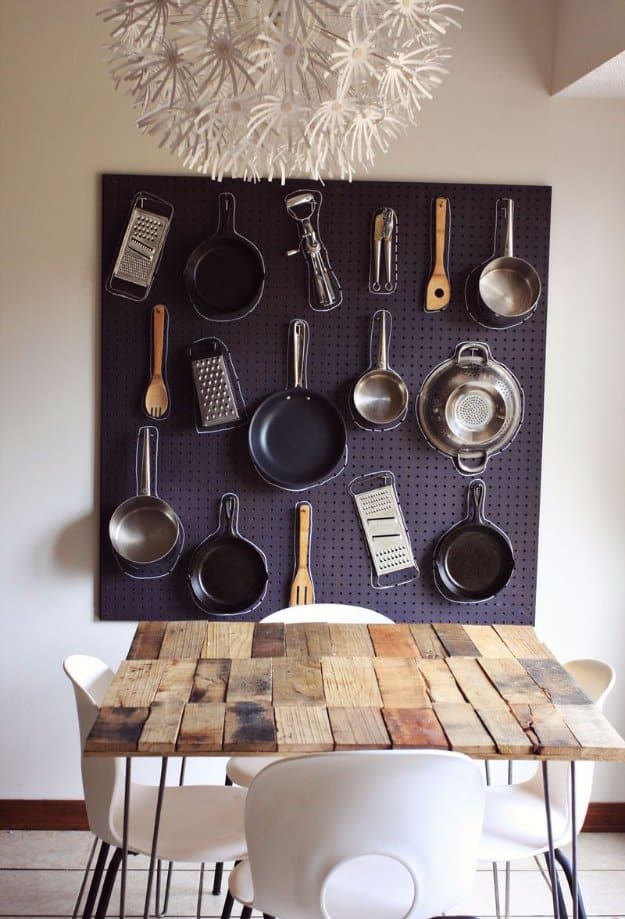 Courtesy of A Beautiful Mess
Function can be fun when you use a peg board like the one above to hold your most used items. It is quick and inexpensive to put together and can be used to add some color to a neutral kitchen.
9) Wine & Dine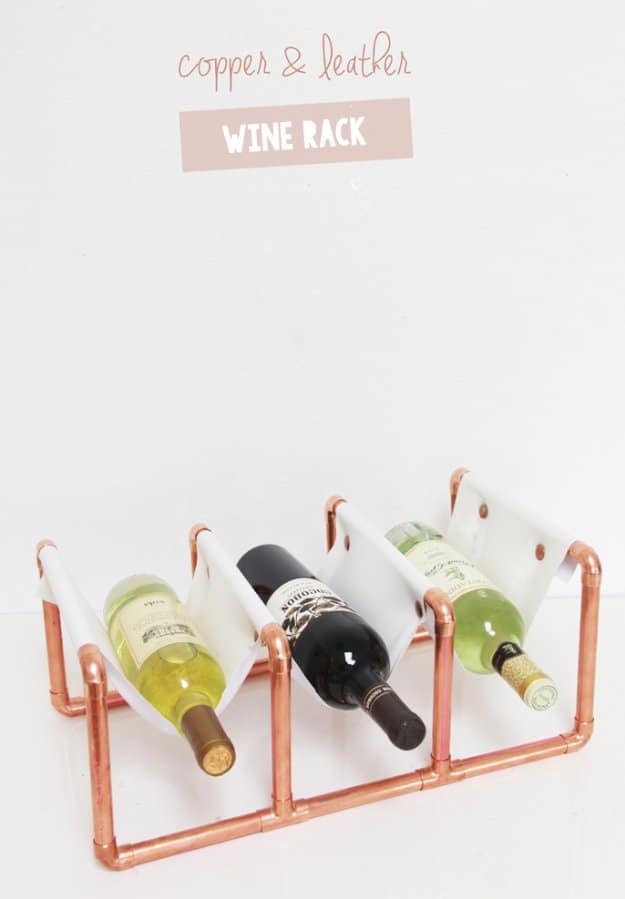 Courtesy of A Bubbly Life
What's a kitchen without a wine rack? Not a fun kitchen if you ask me. This funky, do-it-yourself rack is a great way to display your favorite vino and fits on any countertop. And if you don't have copper or brass you can use a different metal that better suits your tastes.
10) Drink Up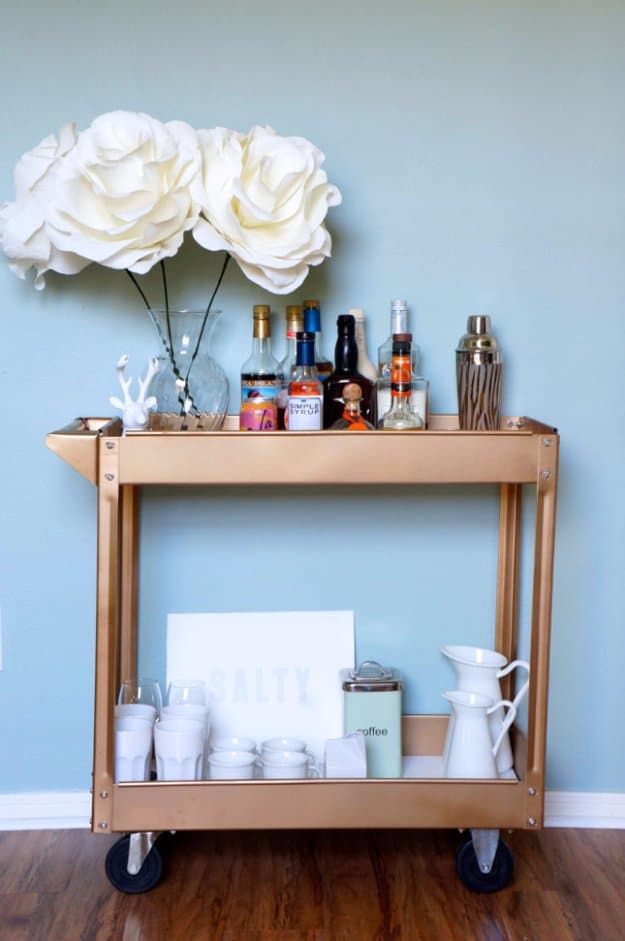 Courtesy of Brit +Co
If you entertain a lot a rolling bar is great because you can keep it in the kitchen and have it double as a prep space when it's just you and the family. You can put plates and serving dishes on it at dinnertime to declutter the table and when company comes use it for drinks or even to transport food to the dining room.
11) Make a Splash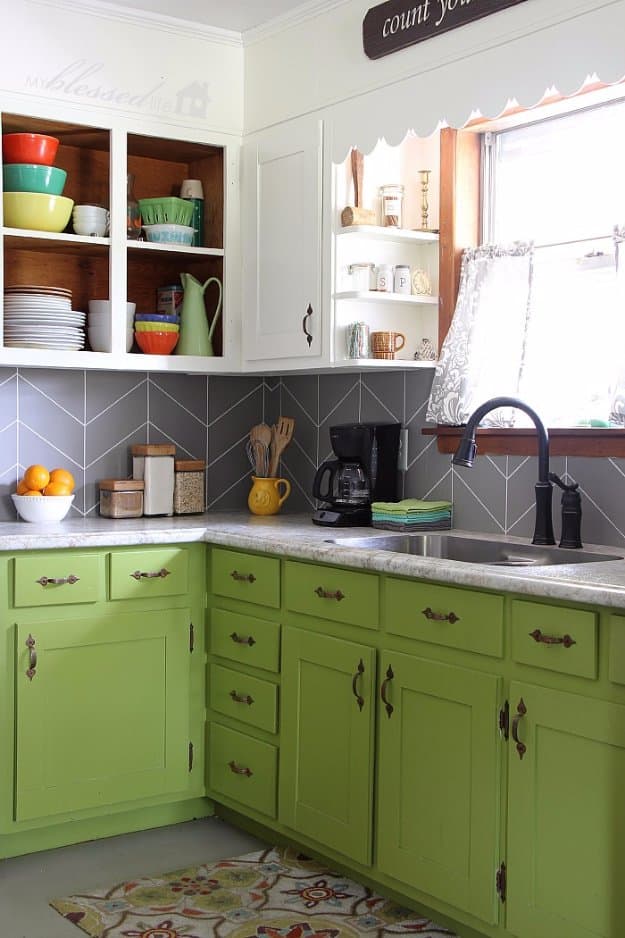 Courtesy of My Blessed Life
Backsplash is seen by many as a permanent design choice, but as this DIY project shows, it doesn't have to be. By using paint and a clever design you can give the appearance of tile without committing to it. For those who like change or tend to switch things up often, this is an inexpensive way to make a creative splash.
12) Sit On It
Courtesy of Remodelando La Casa
Take ordinary stools and make them extraordinary by drawing a vintage design on them like this one. You can really draw just about anything, from a ship anchor for a nautical themed kitchen to baking utensils. The idea is to enhance the beauty of what you already have and add some character to the space.
13) All Sewn Up
Courtesy of A Beautiful Mess
Adding a rug instantly makes the kitchen feel toasty and inviting. And if you make one yourself you can have it be the exact size and color you want; you'll also impress family and friends, who may request one for their own kitchen.
14) Rustic Flair
Courtesy of agreenpointkitchen
Give your kitchen an urban, rustic charm with this pot rack made from a wooden pallet. Not only is this sturdy, but it blends a bit of industrial with some farm elements for an eclectic look that works with most decors.
15) Picture It
Courtesy of  lizmarieblog
A frame doesn't always have to hold a picture. Create one like this to display a favorite saying and hold kitchen essentials like fresh herbs, towels or mixing tools.
How To Create DIY Kitchen Decor Projects
First, you have to equip yourself with the right information. For instance, learn how to use or apply adhesives, epoxy resins, screws, power tools, and carpentry tools at home to ensure a successful project. Good knowledge and skill in carpentry and crafts can make a big difference. You can watch tutorial videos or read related articles online to help you.
Next, prepare everything you need. The basic tools and equipment for a DIY kitchen décor project include a hammer, pliers, screwdriver, and measuring tape. When it comes to the material, epoxy resin is one of the best.
Epoxy resin is a creative material for any DIY kitchen decoration project. It's durable and versatile, providing waterproofing and strength to crafting projects. Once you know how to use epoxy resin, you can create your own kitchen decorations. Using epoxy resin is simple to learn, and you can create other home decorations using epoxy resin, such as Christmas-inspired displays.
Set a time for your DIY décor project. You can do it on your days off, making it a hobby. Enjoy every step and feel the satisfaction of being able to create beautiful home decor using available resources at home.
So, was I right? Were these Fantastic DIY Kitchen Decor Ideas or what? Try one or all of them and I guarantee your kitchen will be overflowing with people and love.