Freezing your tail off in a cold place can turn what should be a happy time into a shiver-filled nightmare. Thankfully, modern technology has come to the rescue with the invention of portable propane heaters. Esasy to set up and use, these little tanks put out enough heat to keep you and your loved ones warm and toasy no matter how chilly it gets outside. Here, we have our list of the 5 best portable propane heaters on the market today.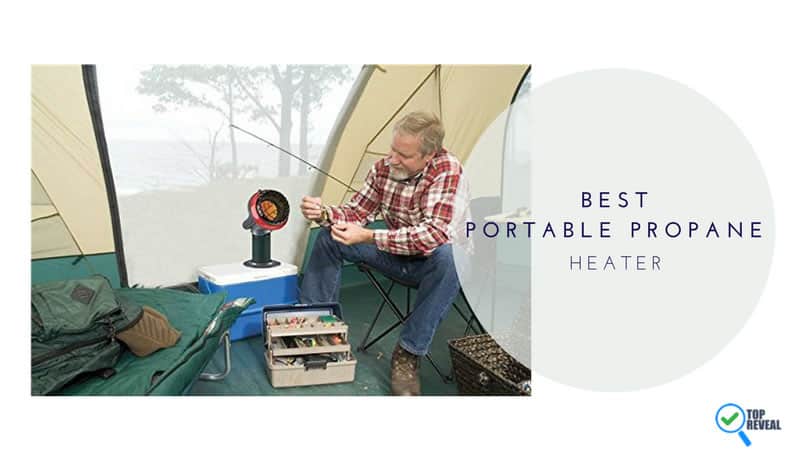 Our Top Recommendation
To make things easier, we're willing to tell you our favorite option straight away: the Mr. Heater Portable Propane Heater. It's our top pick for a number of reasons, the biggest being the multi-directional heat that the unit produces. Pushing heat out as well as up is a game changer as far as we are concerned.
Along with this, the unit is extremely portable for its size and proves to be useful in just about every situation imaginable. For this reason, Mr. Heater Propane Heater wins our top honors, but read on to see all the great options we have for you.
The Difference Between Electric and Propane
While both will keep you warm, there are differences between electric and propane heaters that shouldn't be ignored. A propane heater can cost up to 50% less to operate than electric and can be used anywhere since the propane tank can move right along with you. Additionally, since they run on gas they can function during power outages and even heat up quicker than electric heaters.
Propane heaters, though, should only be used in open spaces with adequate ventilation. With that being said, they are the better option for you as long as you act responsibly.
5 Top Portable Propane Heaters in 2019 – Which one is the Best?
A portable propane heater is – well, exactly what it sounds like! They're small and lightweight enough to take wherever you need them, provided you have an energy source around. They use propane to fuel themselves and boy, can they get hot! Let's take a look at our favorites to see if we can find the best one for you.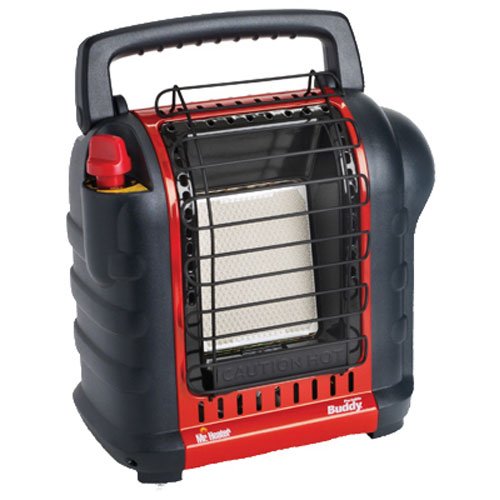 Our next heater is definitely one that you are going to want to pay attention to. This heater provides everything that you could need to love a heater like:
Radiates Upward and Outward: Many heaters radiate heat sideways which is nice – but this one also gives out heat upwards. This may not seem like a huge deal but you are probably taller than your portable heater so this heat will reach up to your body. Heat your whole body instead of just your legs!
Multi-level heat: This product has three heat settings for low, medium, and high heat to cater to your needs in any situation. The heat is steady and ranges between 4000 and 9000 BTUs. Fear the cold no longer.
Indoor/Outdoor Efficiency: Whether you're cold inside or outside, this portable heater is there for you. It is safe for inside and outside use. Additionally, it is almost 100% efficient in every setting, getting you the most out of your propane.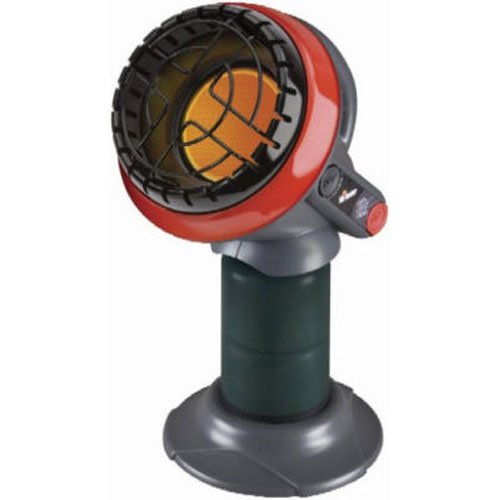 This heater is just about as small as you could expect to see anywhere – but don't count it out. It has tons of powerful characteristics despite its size like:
3800 BTUs of Output: The unit is small but packs a punch that will stave off the chill. It can heat up to 95 square feet and is agile enough to be set on any level surface so it points however you want it to.
Simple on/off button: This heater does exactly what you need it to. Turn on and create odor-free heat for up to five and half hours. It uses one pound disposable propane cylinders to create heat when you need it.
Auto Shut-off: Since this product is small, some may worry about tipping it over. Thankfully, this handheld heater has a tip-over switch and low-oxygen sensor to keep things safe. No worries; just warmth.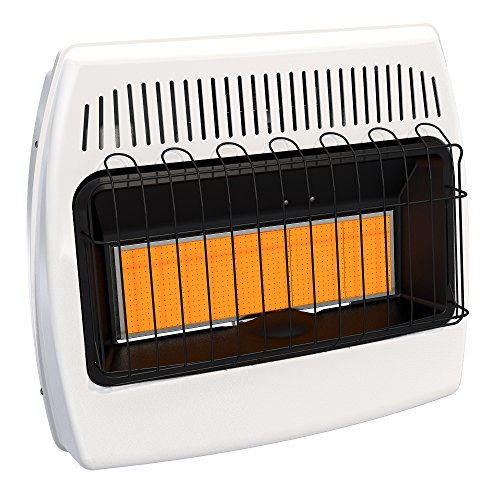 This Dyna-Glo heater is the ideal choice for heating indoors. It is specifically made for hanging on a wall and heating up a large space with other great features like:
Infrared Technology: This sucker is hotter than hot. It uses infrared technology to put out heat, meaning that it stays efficient while it burns the propane. More heat and more savings are a good thing.
30,000 BTU Output: This heater is serious as far as heat output goes. It can keep up to 1,000 square feet warm in the thick of winter and you'd be sure to appreciate the warmth then. At 30,000 BTUs per hour, you won't be disappointed – or cold.
1 Year Warranty: The warranty on this product ensures that you will stay warm. For up to a year, you can send the unit back to Dyna-Glo for manufacturing mistakes.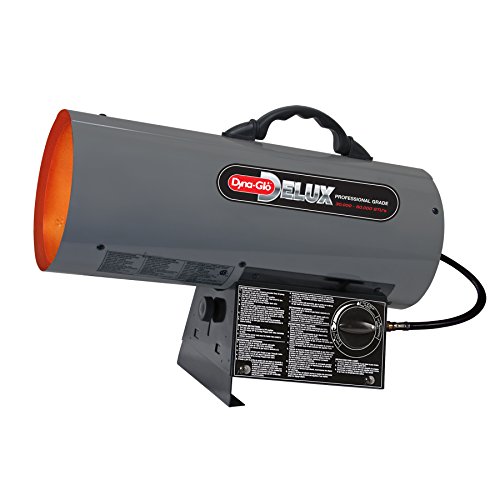 This product is one of the more powerful options and produces massive heat. One of the largest on our list, the Dyna-Glo has a ton of awesome features like:
Continuously Variable Heat Control: This heater puts out between 30,000 and 60,000 BTU to heat up to 1,350 square feet. The controls on the unit make it so that you can control just how much heat you are getting out of this heater for maximum comfort.
Safe for Both Indoor and Outdoor Use: Dyna-Glo has gotten this product CSA Certified so you know it is safe wherever you want to use it. Inside and outside, you can be snug as a bug with the warmth from this heater. It includes a 10-foot hose and regulator for safe use.
Easy Carrying Handle: This heater is probably the largest on our list but that doesn't mean that it is any less portable than the other options. The handle on this heater makes it easy to carry and move with you.

Last on our list is the Dyna-Glo Top Tank Heater. This heater is about as simple as could be as it just attaches onto the top of a propane tank. This compact product is a simple and effective solution for your next heat source for reasons like:
Match Light Ignition: Never be disappointed by a bad igniter again. As long as you have matches handy, this heater is going to work. Light it with a match and start enjoying that precious heat immediately.
Hi-Efficiency Steel Heat Reflector: The heat dish that is the mainstay of this product ensures that every bit of heat produced is pointed exactly in your direction. Watch the orange glow come to life and you will feel the heat you have been waiting for.
Safety Features: Despite being such a simple product, this heater has plenty of safety features. It has a shut-off valve that turns the flame off when the gas flow stops and the back of the heater are guarded by a grill.
Safety Tips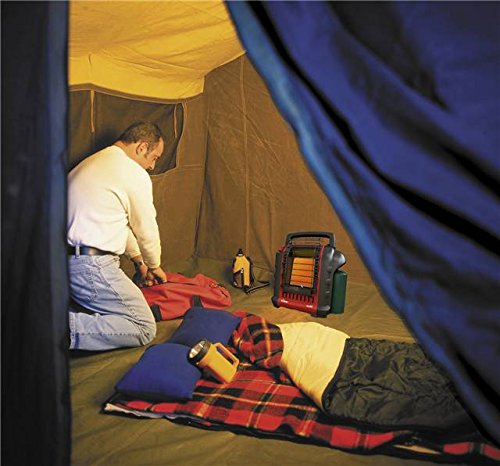 With portable heaters, safety is definitely something that needs to be paid attention to. We only want to produce the flames that keep us warm and that's about it. First, we should make sure that no highly flammable products are near our heat source. There shouldn't be anything directly in front of our heater that can catch fire. This goes for any propane bottles your unit may require to refill it. They should be stored outside the house in a secure place that children and pets can't access.
Second, we should always keep our heater on a stable, level surface so that we can make sure that it doesn't tip over easily. The surface should be flame resistant also; try to avoid rugs and if you do have rugs try not to leave the tank on overnight.
Third, we always want to keep our heater in our sight. If something were to happen to our heater, we would want to know about it immediately and be able to take care of it.  If we follow these three guidelines, we shouldn't have any issues with our portable heaters.
Portable Propane Tank Heater Buying Considerations
A few things that we should consider when we go to buy our own heaters are: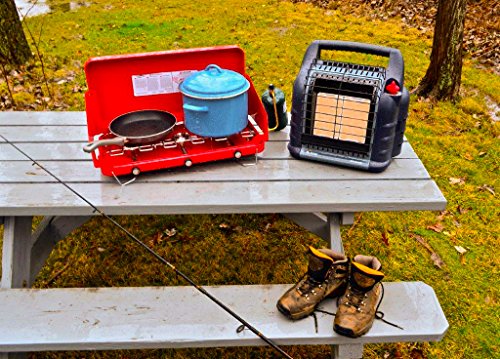 Machine Size: A bigger heater is going to put out more heat which is great. However, this means that it will also probably be heavier, require more propane, and could be less maneuverable. Get the appropriate size for your needs and you will have no issues with this.
House Size: The space you want heated will also affect the size/power of your propane heater. If you have a large area you'll most likely need a machine with a strong output and a large tank and will have the room for it. But of you have a smaller space you may have to settle for a unit not quite as big. Take measurements beforehand so you know what to look for.
Propane Tanks: Be sure that the size of propane tanks that you need for your heater is something that you can find easily.
Price: Generally speaking, bigger heaters are more expensive. Therefore, it is once again, smart to get the right size for your needs.
Caring for Your Portable Propane Heater
One way to get the most from your heater is to take proper care of it. You can't just plug it in and forget it; it needs to be cleaned regularly to ensure it runs correctly and doesn't become damaged. Dust and dirt can cause clogs that prevent it from firing up. Here's how to do it:
Unplug the unit before cleaning; otherwise, you may accidentally put it on while you clean and get burned or damage the unit. The unit should also be away from anything flammable or water.
Use a dry or slightly damp cloth to wipe down the outside of the heater. Rub over every area to get rid of any build-up; you can even use a small brush or toothbrush for the cracks and crevices or any grates. It is important that the unit is clean and dry once you are finished.
Unscrew the front grate, if there is one, and clean the inside of the cover; if you are not sure what part to unscrew or how to consult the manual.  Again, use a dry cloth unless there is a lot of build-up and it needs a little more work. In that case, use a little soap and water and dry it thoroughly with either a cloth or a vacuum/hair dryer.
Using a vacuum, gently go around the inside of the heater, removing any dirt or grime. Do not use water of any type on the inside section. Once it's done make sure the cover is dry and re-attach. Then plug in the heater and fire it up!
Conclusion
It's all hot here on our list of the 5 best portable propane heaters around. The best thing that you can do when you go to buy your own unit is to understand what you need it for and when you will want it. A great portable heater can change your freezing times into comfortable pleasure.
The harshest winters or simply a particularly cold night are entirely different with your new portable propane heater and we recommend you get one sooner rather than later to make sure you can enjoy such a time.
[rwp_box id="0″]