I love Christmas and I love my boyfriend, but I don't love shopping for my boyfriend for Christmas. Or his birthday. Or for any other holiday/event or that matter. Why? Because shopping for him is impossible. Knowing what he likes, and finding it are 2 very different things. Every store or site seems to have the same socks, ties, and other ho-hum gifts that make a girl wanna scream bah-humbug!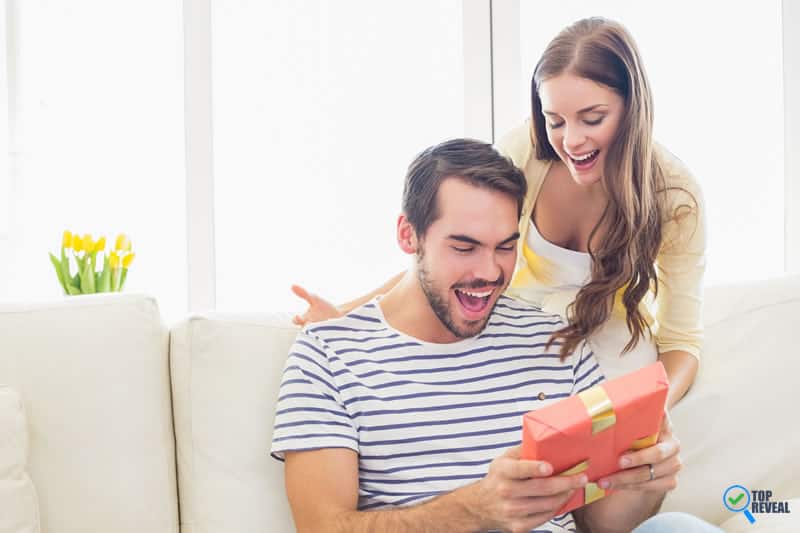 Well, this year is going to be different, for me and for you. My Top 15 Ultimate Guy's Gifts Buying Guide is going to make shopping for my man, and yours, a whole lot easier. From gifts for guys who are chained to their desk to gadgets for tech-loving men, there is something for every lifestyle, occasion and price point. Read on to say good-bye to batteries and gift cards forever!
Ultimate Guy's Gifts Buying Guide
And now, without further ado, her is my list of the best gifts for the guy in your life. These gifts are great for birthdays, Christmas, or any other time you want to buy him something special.
Drones are all the rage and make a great gift not just for tech-lovers, but outdoor guys as well. They can take video or pics as they hike, explore and more.
If your man loves to tailgate or camp, this grill will be a big hit. Has portable wheels for all terrains and folds up for quick storage. Also, it has side tables to hold food and PerfectFlow technology to grill in all types of weather.
This notebook goes perfectly under the tree of any guy who works or travels a lot. Lightweight and portable, it comes with Windows 10 so they can catch up on emails on the train or write reports from bed. He may even send you a love note!
Guys who work or play outdoors will feel all warm and toasty over this jacket from Columbia. It will keep him warm, dry, and looking good no matter what the weather.
Does your guy love to take pictures or videos? If so, then you will want to grab this camera from Nikon for his birthday or Christmas. Perfect for beginners or professionals, the 28x zoom will let him take crystal clear photos and video from anywhere. You could even throw on something pretty and let him take some pics of you! Selling for around $200.
Here's a unique, cool gift that makes a great stocking stuffer. Available for many of the hottest teams in baseball, football and more, your boyfriend will love the thought that went into this gift. Comfy and sharp looking, it will be an instant "hit" with him.
Is your guy a lover of old books or an English teacher? If he is this is a gift he will treasure. Bound in cloth, his boxed set of Charles Dicken's best works commemorates the 200th Anniversary of his birth. Featuring all his classics, including Great Expectations and A Tale of Two Cities, it is priced between $85-$100.
For the guy who loves to work out and has a thing for tech gadgets, the Samsung Gear S is a winner. Compatible with all other Samsung phones, he can track his activities and work schedule, keeping him in touch and in shape. Priced at around $250, it's also a great way for the 2 of you to spend more time together.
For the ultimate man cave gift, this ping pong table is the way to go. Great for him and the guys on a Sunday afternoon, or for you and him to engage in some friendly competition. Hey, you guys can even play to see who washes the dishes.
Movie buffs will appreciate this collector's edition of the Godfather, featuring all 3 movies and a special behind the scenes disc. Packed with commentary and digitally mastered, it is a steal at under $250.
"The Olive Oil Shoppe" Olive Oil Fusti Dispenser Kit
https://www.amazon.com/Dispenser-Gourmet-Infused-Dipping-Accessories/dp/B01LVUUG04/
This kit is ideal for the man who loves to cook and create his own dishes. This kit allows him to create custom blends of Olive Oil, complete with dispensers, dipping plates and different spices. And what's more romantic than sharing a home-cooked meal?
A totally unique and fun giftto give men who like a good drink is this personalized barrel. Made of beautiful oak engraved with his name or a favorite saying, it lets him age or create his own spirits. Comes with instructions so anyone can do it.
Gamers and video lovers will love the Samsung Gear VR for Christmas, or any other holiday. Comfortable to wear, it will transport him to another world and make him feel a part of whatever game or video he's watching.
This beautiful Cherrywood dart set is a perfect addition to any man's home. Fun and easy to use, it will provide him, and his friends, with hours of entertainment. At under $90, you can't go wrong.
Cigar connoisseurs will go crazy for this beautifully crafted cigar cooler humidor. Comoact to fit in any home or apartment, it has cedar draws and shelves, along with a humidity tray and hygrometer for perfect storage.
What to Consider Before You Buy
Before we get into our list of gifts, I want to share with you some buying tips and considerations to help make finding the perfect gift a lot easier. Here's what to think about before you shop:
Hoobies/Interests: Your gift should show your man that not only do you love him, but you KNOW him as well. Is your husband into old books? Then look for a signed copy or special edition of his favorite book. Does your boyfriend love to cook? If so, you can buy him a personalized apron or spice set.
Point is, take his interests into account to up the chances of finding a gift he loves as much as you.
Lifestyle: If your guy works 80 hours a week then a gaming system probably isn't the best fit. Likewise, if your hubby loves the outdoors an indoor cooking class probably won't be a hit either. Make sure you get a gift that fits his lifestyle and tastes.
Common Activities: You can also consider buying a gift to bring you and your man closer- if it's something you both enjoy. For instance, if you both love to workout you could get him a tracker and exercise together.
Budget: No matter how much you want to make your man happy, don't go broke to do it. Make sure you stay on budget, otherwise, you'll stress unnecessarily. Besides, odds are you can find something great and affordable.
With my Top 15 Ultimate Guy's Gifts Buying Guide, boring gifts are a thing of the past for the man you love. Filled with gifts for any occasion, they will make this Christmas, birthday or any other holiday a time to celebrate. These gifts are thoughtful, fun, and most importantly, show you care. They'll make him fall in love with you all over again- and you'll fall in love with shopping all over again too!