Every day, there are around 10,000 babies born in the USA alone. Plenty of these are born to first-time mothers, while other mothers are having their second, third, fourth babies, and so on. This is an exciting, yet stressful, time for mothers and their families.
If a friend or family member of yours is a new mom, one of the first things you want to do is congratulate them. Among the best ways to do this is by giving a gift and sending it their way.
One of the best gifts you can get for a new mom is to send her a beautiful bouquet of vibrant flowers to show your support and congratulations. But what sorts of flowers are appropriate to send? While this can depend on a number of factors, there are a few things to consider when deciding the best flower bouquets for new moms.
Know What Type of Flowers They Like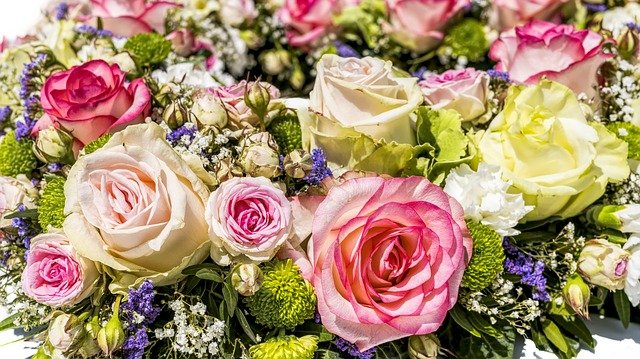 via pixabay.com
First and foremost, it is a good idea to simply get a new mom some flowers that she likes best. There are thousands of different types of flowers that all have different colors, scents, sizes and shapes. If you know the kind of flowers the new mom loves, simply go out and pick them up for her.
In general, you want to keep bouquets generally small and tasteful, as she is likely to be receiving a lot of gifts, and may not have enough space for a giant flower arrangement. If you don't know for one reason or another what kind of flowers she likes, it is a good idea to ask her family or close friends what she would appreciate.
If they don't know, simply getting them some flowers that are a color she likes can be a good idea.
Consider the Time of Year the Baby is Born
via Pixabay
Another great way to decide what flowers to include in the bouquet to a new mother can depend on when the baby is born. There are different birth flowers depending on the month a baby is born, and giving these is a thoughtful way to give her some beautiful flowers, while also keeping her new child in mind.
For example, if her baby is born in May, you could give the new mother a Lily of the Valley or Hawthorn bouquet. This is a great way to give some great flowers, while also making the gift a little more personal and special. She is certainly going to appreciate the extra effort you put into getting the specific flowers.
Make Sure They Are Fresh
Of course, the best flowers are ones that are fresh. Unfortunately, not every flower you find will be fresh. If you get someone a flower that is already beginning to die, it won't last more than a few days with the new mom before it wilts and no longer looks or smells great. Thankfully, if you know what to look for, you can ensure that every flower you buy is fresh.
First and foremost, the petals should be vibrant, and not at all wilted or showing signs of discoloration. Stems should be firm and green, and the buds should be just starting to open, not all the way open yet. The leaves should also be fresh and not sagging. The fresher the flower you get, the longer they will last for the new mom and the more time she will have to enjoy them.
Don't Forget a Note or Card
While flowers are great and surely appreciated, they can often be fairly general in nature. If she gets a ton of flowers, she may not even be able to remember which one was given by you. As a result, it's a good idea to also include a note or card in with the flowers.
This gives you a chance to give her some well wishes, congratulate her and tell her how excited you are to eventually meet her new baby. She will love this personal touch, and these types of things can be just as lovely to receive as the flowers themselves.
In conclusion, we hope that this guide has been able to help you choose the best flower bouquets for new moms.