Cleaning my bathroom's tiling was the one chore I always dreaded. Getting rid of all that built up residue seemed to take ages; not to mention all the harmful chemicals I had to use throughout the process. That's why I was overjoyed to find out about the fantastic cleaning power that steamers offer. One of the top machines on the market is the Wagner Power Steamer and Cleaner. Read on to see how the Wagner 915 can help your home and make cleaning easier.
The Wagner 915 Power Steamer and Cleaner: How It Will Improve Your Home
Having one tool in the house that can tackle many of your home cleaning and maintenance needs is always something people wish they had. Which is what is so great about using a steamer. It does so many things inside and outside your home; it's like the swiss army knife of cleaning appliances. The only problem some people run into is trying to find out which model is the best for their home.
The Wagner 915 is the answer to that question
, offering all of the features found in many other steamers, while also having a few unique features that make it one of the best. Here's what it has to offer:
Advanced Fingertip Steam Control
The Wagner 915 Power Steamer and Cleaner allows you to control the strength of the stream with just your fingertips. Two different powers modes release the steam either continuously or intermittently, so you always have the perfect amount for the job.
Powerful Pressurized Steam System
With its strong 1,500-Watt,120-volt system, this steamer packs enough power to get even the toughest jobs done. It can remove wallpaper, clean grease off kitchen ovens, stoves, and grills, bathroom tiling, fabrics, laminate flooring, as well as kills bacteria for sanitizing workspaces.
Being able to have just one tool for so many cleaning needs saves on space and saves on cost because you're not always running out for another product or device. And since the only material you need is water, there's no worrying about having to fill it up with an expensive, chemical cleaner.
Numerous Accessories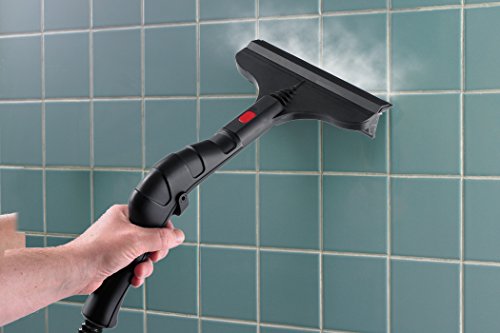 The Wagner 915 comes with an extensive list of accessories to make your home projects easier, like a spray gun, cleaning brush, 2 extension rods, a jet nozzle, steam plate, squeegee, and cleaning towel; a total home cleaning arsenal all in one package. Plus, installing a new accessory is a breeze, saving you time and any headaches.
The possibilities for how to use the steamer are varied
, from making your floors as good as new to restoring old brick fixtures.
Chemical-Free
Because the only ingredient needed is water to get things clean, so it's safe and non-toxic. That means it's okay to use near food areas, around kids and pets, and for delicate items on a lower setting.
Simple Indicator Lights
This steamer comes with a series of indicator lights that makes using the steamer effortless. When you fill the water tank to turn it into steam, the indicator light on the front will turn red while heating, and then only show a green light when you're all set to start steaming. No checking if it's ready to go or not only to waste water, as the steamer does the work for you.
Great Pricing
Priced competitively against other steamers means you're getting the best deal possible, at under $100 it's certainly a bargain.
The Pros & Cons of The Wagner 915
Whenever making any purchase decision, it is always a good idea to know what you're getting. Especially so you don't have buyer's remorse later down the road. Here are a few pros and cons of owning a Power Clean Steamer.
Pros
· Multiple Uses: Because this steamer comes with so many different kinds of attachments and accessories, there are a variety of ways to use it. The continuous or intermittent stream control gives the steamer great versatility to do all kinds of things around the home, from removing wallpaper, to cleaning your kitchen.
· Do It Yourself Set-Up: The included manual is very detailed with simple to understand instructions, to help you get the steamer assembled, to make sure that you are using the steamer correctly. It's nice and straightforward, meaning you can be sure it's working properly.
Cons
· Electrical Cord Length: Depending on how you're using the steamer, you may find that the cord isn't as long as you'd like.
The Wagner 915 Vs McCulloch MC1275 Steam Cleaner
To make any buying decision easier, I like to compare different models together, to see what's best. A good comparison to the Wagner Power Steamer and Cleaner is the McCulloch MC1275 Steam Cleaner.
Both devices are steamers, which means they use high-temperature steam to get the cleaning done. However, unlike the Wagner, the McCulloch does not have a two-mode steam delivery system; the only mode is a continuous stream. This limits some of the versatility you can get out of the McCulloch. Also, the Wagner is great for removing wallpaper, as it includes a Wallpaper steam plate, something that the McCulloch does not have. There's also a large price difference between the two models, with the Wagner costing around $40 less.
What People Are Saying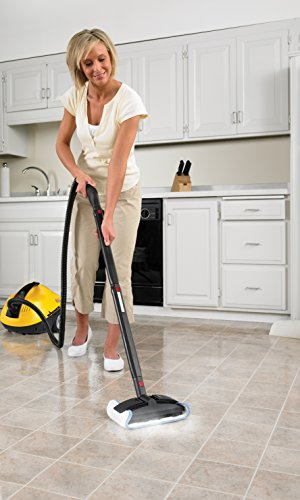 The consensus among people who have used the Wagner is that it cleans their home very well, with ample power to cut through grout in tiles and for removing annoying wallpaper. Others find that the unit lasted quite a long time on a single take, compared to other steamers they had used and found the unit to be solidly constructed and built to last.
However, people do think that it would be even better if there were a water level indicator for the tank, to know exactly how much water was going in.
Questions and Answers
Here are a couple of the most common questions raised by people about The Wagner 915.
• Can the steamer be used to clean wooden floors and wood paneling?
First, check with the with manufacturers of the floors or paneling before using and test on an area before using. The steam cleaner or steaming mop can be used on surfaces that can be exposed to steam temps of 212 degrees.
• Does this clean caked-on grime on tiling?
Yes. The Wagner has enough power to cut through grout and dirt both inside and outside the home.
• How long does a full tank last?
The tank is large enough to go for about 45 mins of continuous use before needing to be refilled again.
Wrap Up
If you're looking for a steam cleaner that's compact enough to fit in your home, but with enough capacity and power to tackle any project for your home, the Wagner Power Steamer and Cleaner is the steam cleaner for you. It outputs so much steam with its 1500 watt heater to make steam hot enough and with ample pressure to get work done.
[rwp-review id="0″]