Amazon Prime day is fast approaching, which means one thing" it's a great time to get some good deals on expensive baby gear. As parents know, baby stuff isn't cheap. Prime day means great deals on hot ticket items that you want and need but can't afford the other 364 days of the year.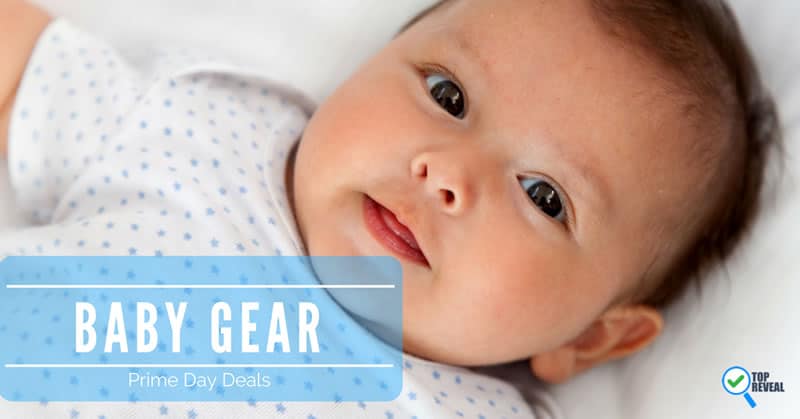 Amazon Prime Day Baby Gear Deals and Sales
But Amazon is nothing if not vast, which means it can be hard to find the deals that you want come the big day. That is what this guide is here for. If you want to save money on some of the best baby stuff on the market, read on!
Cant' you picture your little girl or guy in this comfy lounger? It's the perfect spot to place your newborn: secure and comfortable. Usually, this fancy lounger will set you back a few bucks, but on Amazon Prime day, it's available for a price that can't be beaten. Check it out!
The best thing about this blanket is that in addition to being a snug little item for your newborn to cuddle up with, it's also kind of an heirloom piece.
Thanks to some customization options you can select a color, and also include information about the newborn's birthdate and weight.
Trust us. It will come in handy a lot more than you want it to. Babies get sick a lot. It's a thing. Before you rush out to go to an expensive doctor's appointment that they don't really even need, it can be a good idea to try a home remedy or two. When those situations pop up (and they will) this bag will be your best friends.
It also includes some grooming gear that will be handy for keeping them healthy and (relatively) tidy.
Every parent is glued to their diaper caddy. For the next two years, it will be by your side everywhere you go, so it makes sense to get a good one, right? The Baby Diaper Caddy organizer features lots of room compartmentalized into several different spaces making it easy to separate diapers, lotions, wipes, and whatever other gear you need to bring with you.
Babies get nasty pretty quick. For the first few months of their life, they just aren't big enough for the tub, or even the sink for that matter. This comfort "newborn tub" is designed to keep them snug while they take their baths. It fits nicely into both bathtubs and sinks for your convenience.
It's exactly what it sounds like. Babies are always drooling, and when they aren't, they are about to be drooling. This product serves as both a bib and something of a style piece. As a bandanna, it looks good on your baby, while also ensuring that they don't make their clothes a big mess.
Baby products can be expensive. And you're going to find out why there are just so many baby products out there when you realize how much you want every single one. As a new parent, I have become increasingly aware of that with each passing day. Anytime you can get a good deal on baby products, you are going to want to jump on it right away. Yes, just as much as that nap you were desiring.
For today's purposes, we will be highlighting some of the great bargains you can find relating to baby products with our Amazon Prime Day Baby Gear Deals and Sales Guide.
You could buy a stroller and then go buy a separate car seat on Prime Day – or you could just get both in one perfect package! Graco has invented this product so that you can quite literally take the seat off of your stroller and put it into the car without ever taking your child out of his or her own seat.
The seat apparatus lifts right out of the stroller appartus and goes right into your car. It's honestly a little bit amazing – and a lot convenient. We love it and we know you will, too.
We both know it says gift set – but we also know it doesn't hurt to treat yourself, especially if it helps with your parenting. The #1 recommended brand in Mother & Childcare products is back at it again with these beautiful, fun bottles that will make both momma and baby happy.
With a natural latch-on, extremely soft nipple, and spiral design these bottles are perfect, sanitary, and an all-around great package.
The Infantino Cuddle Up Carrier is an ergonomic strap on baby carrier built to be comfortable and safe. There are a lot of carriers like this one on the market but none quite live up to the quality of this one. The harnesses connect at the chest to make it easy to multi-task while carrying your baby.
Ergonomic is my favorite word here. I've used a number of strap on baby carriers, and while they are all convenient, they are not all comfortable. Good padding is a huge plus.
The Plceo baby travel bed offers a portable, shady spot for your child. If you have ever attended an outside event with your baby, you know that protection from the sun is a big concern, and this travel bed provides exactly that. Use it in your yard, at the park, or any other outdoor area so your baby can enjoy the outdoors in comfort. The best part about it is that it travels so well. Wherever you are, you now have a spot to keep your kiddy safe.
It's hard to find time to exercise with a baby around. Obviously, you can't leave them home alone, and finding someone to watch them for an hour isn't always possible. Jogger strollers allow you to safely bring your baby with you when you exercise. Remember: it is just as important to keep taking care of mom and dad right just like it is with the baby!
A good diaper bag is invaluable. In fact, it may be the most important part of the entire set of equipment that comes with a child. The Hip Club Diaper Bag is a tote that is not only practical but also stylish, which is a big plus. Of course, as a parent on the go, what you will really appreciate is the spacious, convenient storage pockets, that are designed to fit everything you could possibly need to take with you. Convenience is key!
It would be difficult to overstate how much you are going to want one of these if you are expecting a baby. The diaper genie is a convenient storage system for used diapers that suppresses the smell.
Without an insulated storage system, you will either need to take the trash out every time your baby soils their diaper (which as you might know, is constantly) or live with the smell of your baby's poop. Which, uh, you don't. Trust me, you want the Diaper Genie.
Of course, parents will do whatever it takes to sterilize their baby's things, but unfortunately sometimes cleaning them in the sink isn't enough to cut it. It can be difficult and cumbersome which may lead you to give up on the practice altogether. The Avent Steam Sterilizer removes 99.9% of bacteria off of bottles and pump equipment in six minute cycles. Keep baby healthy, folks!
Baby swings rock, especially ones that are loaded with unique settings and toys to keep your baby entertained. The Snugabear Cradle Swing will rock and soothe your baby while you get things done around the house.
Even babies get bored, so the more features that a product has the better. This model can claim plenty of them, to ensure that your baby will be entertained for as long as possible. And, as we all know, keeping baby entertained lets mom and dad have some time to do other things that need to get done.
The jumperoo is a bouncer seat that allows your baby to "stand" securely in a seat that offers 360 degree range of motion. It is packed with interactive toys to keep them interested for as long as they find themselves there.
On a secondary note, I would also just like to mention how cute babies are in these things. Granted, they are cute all the time but there is something really fun about the appearance of standing, as well as how excited all the play options make them. Everyone will get a kick out of them and baby will get a decent dose of exercise, too. Trust me, you'll enjoy it as much as they do.
The baby monitor is another invaluable asset that will help you to ensure that your baby is safe even when you are away. If you've got a baby, you quite honestly have to have a baby monitor around. Of course, traditional monitors function more or less the way walkie talkies do, but this model is a little more advanced.
The Hello Baby Wireless Video Baby Monitor features a camera that works day or night so you can monitor your baby's movements from rooms away, ensuring safety even while you aren't directly staring at your child.
We have this exact seat in my home, and our baby loves it. For infants, it offers a nice padded seat that vibrates to soothe them. As your child grows it adjusts to make a secure place for your child to sit at. We all know how quickly that can grow!
A lot of products claim that they will soothe your child, but I can firmly attest to the fact that this one actually does, at least for your baby – which ends up meaning some consolation for you, too!
Amazon Prime Day
Amazon Prime Day is an online shopping event where literally thousands of products become available for bargain prices. The offers are extended only to Amazon Prime members, but if you happen to be one, you can count on some pretty sweet deals.
Conclusion
Well, I hope you are excited because I definitely am. Like I said, good deals on baby products are pretty hard to come by, but the ten we have looked at today can't be beat.
Whether you are a first-time parent, or a veteran that just needs to update your baby gear, my hope is that something on this list has caught your eye. If it hasn't, don't worry, my guess is that if you decide to participate in Amazon Prime day, you will find something that does.
Parents, take note: Prime Day is the day to snag some sweet deals for your babies. Of course you want the best for your kids, and on July 11th, Amazon is going to help you get it.