Parents, if you are looking for a way to make caring for your baby a bit easier, than a playard is the way to go. These portable contraptions can handle a host of baby needs, from changing them to giving them a safe place to play and sleep, in your home or someone else's.
They are easy to use, affordable and convenient, but choosing the right model to fit your baby (and your) needs can be confusing, which is why I came up with this Best Baby Playard Review. I'll breakdown everything you need to know, and provide you with reviews of the top 5 models to help make choosing easy.
What is a Playard?
What exactly, is a playard? Simply put, it is a cushioned play pen that has netting along the sides to keep your baby safe and contained as they play and explore. Many of today's models also have a changing table and napper that attaches along the top to make diapering and sleeping convenient and comfortable.
Playards fold up, so you can take store them easily, as well as take them with you to a friend's house, on vacation, or even to the park (I did that a few times). Many have wheels so you can move it from room to room easily, taking baby with you wherever you need to be. Most also have storage pockets on the side, so you can have diapers and other essentials in reach.
Top 5 Baby Playard: Which one is the Best?
Now that you have an outline of what you need and what to look for, here is an in-depth review of the top 5 models to help make shopping easier:

Our choice for the best value, this pack n' play gives parents all the essential for under $110, making it a steal.
Designed with a napper and changer, it is perfect for infants and toddlers, growing with your child for years to come. The napper gives your child a safe and nurturing place to sleep while the changer makes changing diapers simple and fast.
The unit itself is sturdy, and lightweight, with a simple bush button design to make it fold up quickly. It is also stylish and easy to clean, with mesh fabric on the sides and thick cushioning, so babies can roam and stand in comfort. There are wheels to move it around and a convenient diaper bag on the side to hold all your must haves.
There's even a mobile attached to it, giving your baby a fun toy that builds motor skills and keeps them entertained when you're busy. Perfect for any budget, especially with the Baby Playard Discount.

Our top pick for the best value on a budget, this model, at just under $70, provide parents with everything their baby needs in a simple, efficient design.
Sturdy and durable, this unit has an easy to fold and unfold system you can access with a simple push button, so it opens and is ready in seconds. The material is strong and wipes down easily, ideal for baby spit-up and other messes.
In addition, the feet and wheels fold in, making it compact and easy to store in your trunk or closet, so you can use it at home or on the go.
It features a removable bassinet, so you can nap your baby in a familiar place even, when you don't use the playard and the unit has a toybar to keep your baby giggling and entertained for hours.
Equipped with most of your must-haves, it is ideal for infants and babies under 2 and is built to last.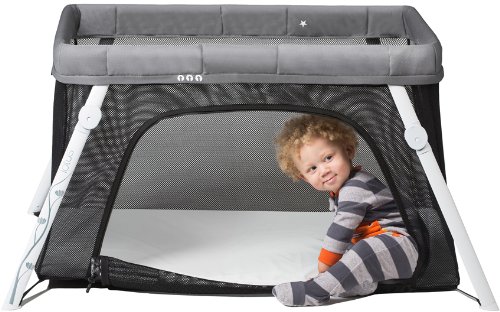 Our choice for best splurge, this is the ideal model for those with money to spend. At just over $200 it is a bit pricey, but it comes with every comfort you can imagine for your child, making it well worth the price.
Designed for infancy through the toddler years, this compact, stylish, unit is the epitome of modern, plush baby products. It folds up and can be carried like a backpack, so you can carry it and your baby anywhere and everywhere.
It opens in just under 15 seconds and has durable mesh sides that go all the way up and down for ventilation and clear sight lines- for you and your little one. Even better, the sides can unzip, so your toddler can climb in and out for hours of fun.
Check the Best Price Online
Here.
The bottom mattress is 25″ deep, for a lush and super-soft area for baby to sleep and play. Measuring 42″ x 24″, it gives your child room to crawl, stand, and play with room to grow, so you will get years of use out of it. It's also GREENGUARD GOLD certified, so you know there are no phthalates, lead, PBE or PBDE flame retardants.
Pricey, but worth it for those with a bigger budget.

Our pick for the most versatile playard, this unit is the lightest and has the most features to meet your baby's needs.
To start, it has a removable changing table an incline sleeper to make sure your child is safe and relaxed wherever you are. The changing table is easy to clean and portable, with a diaper and wipes container attached. So you can use it indoors or out whenever you need it.
The sleeper is slanted, with built-in head support, so baby can nap or just relax at the perfect angle. This is important because it is safer for infants to sleep at an incline and the head support provides stability and head control when they are young.
As for the playard itself, it is the lightest of the bunch at just under 15 pounds, yet remarkably strong. The mesh sides are airy and durable also, so you can interact with your little one and they can see you as you clean or cook.
>> Check the Price and other Customer reviews here. <<
Easy to open and close, with a carry bag for portability, it is an all-in-one model priced right at just over $100.

Our pick for best outdoor model, if you live and active lifestyle and spend a lot of time at the beach or in the yard then this is the model for you. Built for outdoor play, it is great for parents on the go who want their kids to roam without going too far, and without worrying about them getting hurt.
The unit comes full assembled and unfolds in seconds, with a simple carry bag that makes it easy to store and carry on your shoulder. It sets up anywhere without a fuss, and is 14 square feet, so your baby can crawl, stand or walk without limits.
It has a lightweight metal frame with mesh inserts that are weather resistant, so it won't fade or tear, rain or shine. This is true for the bottom part also, so you can set it up on a wet floor or damp grass and your baby will still stay dry.
A great option for those looking for a no-fuss model to occupy their kids.
Buying Guide: What To Consider When Buying A Playard
Before reviewing the top 5 playards, it is important to understand what to look for when buying one. You need to consider your needs and wants, along with key features, to ensure you get the best value for your money. Among the things to look for are
Bassinet: Many playards come with a bassinet that attaches to the top for your baby to sleep in. The bassinet is essential for newborns, as it provides a secure place for baby to rest. Just make sure the bassinet can hold a baby up to 15 pounds.
Changing Table: Another key component is a changing table. Form infants to toddlers you want a model that has an attachable changing board that clips on top. With this you can easily change your child's clothes or diapers without having to lean all the way down into the playard or find a changing area.
Portability/ Stability: A unit that is strong and has built-in safety features is a must. Look for secure locking mechanisms when it opens and locks on the wheels so it stays put. Also, make sure it is tested and the mesh sides are durable and wont tear.In terms of portability, make sure it has wheels to move throughout the house and an easy to fold and carry system is also essential. Many fold with just the push of a button or by pulling it up and have a carrying bag, making it simple to take wherever you go.
Canopy & Storage: ideally, you want a unit that has a canopy to keep baby cool when you're out in the sun and storage pockets on the side to hold bottles, diaper, toys and anything else.
The Benefits of Owning a Playard
Parenting is a full-time, around-the-clock job that you can make easier by investing in a playard. Among the key benefits of owning one are:
[wpsm_list type="star"]
Safety: Babies and toddlers love to crawl and explore, but it's not always safe or practical to have them on the floor. With a playard they can have playtime anywhere and you can relax knowing they are safe and won't pick up something they shouldn't or crawl somewhere you don't want them.
Freedom: With a playard you can go anywhere without worrying about where your child will sleep or how you will keep them entertained. You can go away for the weekend or visit a friend without having to constantly hold your baby or find a place to settle them down.
Convenience: With one of these products you can clean the house or sit in your yard and have your baby right there with you. No worrying about bugs crawling on them or trying keep an eye on them while you mop the floor. Your baby can play and you can get some work done- or just enjoy a beautiful day outside.
Creativity: Babies need time to explore and learn on their own, and a playard gives them the ability to play without being constantly supervised. This allows their creativity to blossom and encourages healthy development. And since many playard come with built in toys or music, it encourages and provides smart, educational play.
[/wpsm_list]
Safety: What Parents must Pay Attention To
When choosing any of these models, there are some safety features to consider. Among the top safety concerns are:
Locking Mechanisms: The unit should open and close securely and not buckle from weight or clasps that unlock easily. You don't want it to collapse on them because it doesn't lock properly.
Wheel Locks: Wheels should have locks so that the unit wont roll or tip over while baby is in it.
Strong Materials: The model you choose should be strong enough so your child can push or bump against it with no tears or rips.
Maintenance & Clean Up
Maintaining and cleaning these units is simple and easy. To clean then you can wipe them down with warm, soapy water and dry to prevent germs and keep it in good condition. You can also hand vacuum the bottom if baby eats or snacks in it.
For maintenance, all you need to do is store it in a dry area to keep it looking like new and clean it weekly.
Q & A
Here are the most common questions about playards, to give you a sense of how they work.
Q1. How long do they last?
A. Most last a few years and can be used throughout your child's younger years.
Q2. Is the bottom safe for sleeping?
A. Yes, once your baby grows a little you can let your baby sleep in the bottom play area.
Q3. Are they easy to set-up?
A. Yes, most can unfold and open in seconds and are usually already assembled when you buy them.
Bought Customer Reviews
To get a sense of how good these units are, let's see what customers have to say. Users on Amazon give them high ratings, saying these units are "a dream" and keep their baby safe and happy day in and day out. Most give them 5 stars and say they are a "must-have" for anyone with children. They call them "safe, reliable, and easy to use" raving about how simple it is to take them anywhere.
As you can see from our Best Baby Playard guide, these contraptions are an essential component to raising a healthy, happy baby. Made to keep your baby safe, secure and smiling, they are compact, portable and simple to use, so you can travel, clean and sleep knowing your baby is okay.
They provide your child with a safe learning environment and give you the freedom to go anywhere with your child without worry. Best of all, they let you spend more time playing with your child and less time worrying, and that's something worth any price.
[rwp_box id="0″]