If you want to take your baby out for a walk, or jog, then you need to invest in one of the best jogging strollers. Jogging strollers, unlike traditional ones, ensure that your baby is safe, happy, and sound while you are running errands or going for a run! With one of these strollers, moms, and dads, can get in their daily exercise without worry.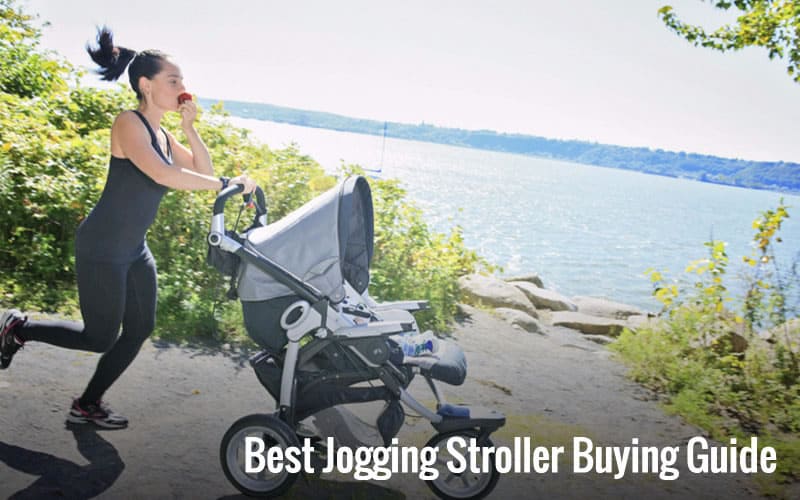 As a parent, it is your responsibility to take care of your body, and your home, which means exercising and running errands. It also means finding the time to do all these things, and with a baby, that can be impossible- unless you have one of the best jogging strollers with you. With one of these strollers, getting through the day will be smooth sailing for you and your little one.
Here are my top choices for the best jogging strollers.
List of the Best Jogging Strollers for Your Choice

When I was looking for the best jogging strollers, I immediately thought of Chico Activ3. It is one of the first strollers that was recommended to me when I had my little one, and it worked like a dream. It has friendly features that make it
both stylish and functional
for your baby, and it accommodates children from as little as 6 months old and weighing around 50 pounds.
Water resistant fabrics and canopy
The weather is the one thing we really can't control, so it is important to have a stroller that works in rain, snow, or sunshine. Otherwise, you will be stuck indoors, or worse, get caught out in the rain with your baby unprepared.  Luckily, this stroller from Chicco has water-resistant fabrics and a fully extendable canopy to keep the elements away from your child. So, rain or shine, you can head out with your baby and know they'll be warm and dry.
Sufficient Suspension
When jogging with your baby, one of the main issues, or concerns, is the type of terrain you come across. Even the seeminlgy smoothest roads can have tiny bumps and cracks that can jostle and shake your babay. However, the Chicco Activ3 Jogging Stroller has a FlexCore Suspension to efficiently disperse shocks and vibrations. So, no matter how many bums you hit, your baby won't feel a thing.
Wheel brakes
One of the most important things to look for in a jogging stroller is control. You don't want it to move around on its own, especially when it is parked or on an incline or hill. Luckily, that does not happen with the Chicco Activ3 Jogging Stroller. It has hand-activated breaks that suspend the wheels from spinning, for easier loading and unloading of your child!
Pros:
Waterproof construction
Quality FlexCore suspension on wheels
Wheel brakes
Lightweight aluminum frames
Have an adjustable handle
Cons:
Some users found the waist straps on this stroller too tight for their babies.

If you are on a tight budget, but still looking for a quality jogging stroller, then recommend the Graco Fastaction Fold Jogger Click Connect Stroller. I used this stroller with my second baby, and I was not disappointed. It has
unique features that allow comfort
, convenience, and functionality, all at the same time. With only a weight of 30 pounds, it is lighter than your baby, but very sturdy. How sturdy? Mine is still going strong with my third child!
Click Connect
One of the best features this stroller has is its Click-Connect system. With this feature, you can easily strap your baby into the stroller: put on the straps, fasten them and click the button. When you hear that clicking sounds, you know your child is safe and secured!
Quality Space for Your Baby
When it comes to strolling different terrains, the Graco Fastaction Fold Jogger Click Connect Stroller is the ideal companion for your baby. It has rubber wheels filled with air, increasing its suspension and ensuring they will saty bouyant for some time.
If you want more stability on this stroller, just lock the front wheels, ensuring it stays in place. Also, it has a multi-position recline so that you can give your baby the perfect positions!
Functional ergonomics
One of my favorite feature on this stroller is a cradle near the handle to put your smartphone, baby bottle, or speakers. This is a great convenience, allowing you to keep your hands free and not have to carry extra bags. It offer extra storage that makes what you need easy to grab!
Pros:
Lightweight and durable
Full suspension on the wheels
Wheels are adjustable for stability and manoeuvrability
Extra-large canopy that is waterproof
Has extra cradle for your devices and drinks
Cons:
Some users report different manufacturing defects on this products such bent wheels or torn fabrics

Finding a durable stroller that has
 extra-large storage space
is easy thanks to the Joovy Zoom 360 Ultralight Jogging Stroller. For me, what makes this stroller so unique is that it is made with graphite aluminum, a straight rear axle and metallic rims, for strength and longevity other strollers can't offer. And despite all those materials, this stroller weighs just 25.7 pounds!
Easy-to-store
One inconvenience of having a stroller is they can take up a huge chunk of space in our house, unless you have an individual storage space or a garage. Good thing, the Joovy Zoom stroller has a compact fold feature that allows you to collapse it, so you can store it in smaller spaces
Riding Seat
Among the strollers that I have seen, this one has the highest riding position. This feature is essential, allowing you to see your child, even if you are running straight. Plus, it can also carry up to 75 pounds of total weight, almost three times its weight!
Quality Wheels
The Joovy Zoom stroller has a front swivel wheel that you can lock and unlock for either maneuverability or stability purposes. Its rear wheels have a quick release feature, too! Aside from that, its wheels are air-filled rubber, which guarantees they won't go flat easily. The quality of suspension and traction of this stroller is great, too!
Pros:
Compact Fold feature for easy storage
Lightweight and has a durable construction
Wheels have functional ergonomics
Pocket mesh is present
Bottle storage is available
Cons:
This stroller is not compatible with a car adaptor

One of the finest jogging strollers you can use for your baby is the BOB 2016 Revolution FLEX. It is the only stroller I know that is capable of handling tough terrains without sustaining jarring motions. Unlike any other strollers, this one can guarantee your child is safe wherever you take him/ her.
Ideal for all terrain
The rugged construction of BOB 2016 Revolution FLEX Stroller can match even the most challenging terrains with ease. The front wheel can swivel gracefully, even in rough conditions, taking every bump with ease. More importantly, its state-of-the-art suspension dissipates any shocks and vibrations, so it's like they never hapenned. It also has a locking system to provide your ride with stability.
Adjustable Handle Bar
When it comes to handling different terrains, you need to have total control of your stroller, or else your baby will suffer. Good thing, the handlebar of the BOB 2016 Revolution FLEX Stroller has nine adjustable positions so that you can manage it efficiently, regardless of your height!
High Impact Wheels
We parents want the utmost protection of our infants, especially if we are taking them outside. BOB 2016 Revolution FLEX Stroller knows this and took every precaution to ensure your baby is as saf as could be. That's why it has wheels with a high-impact polymer filling to provide smooth rides, whether you are on paved roads or strolling along off roads.
Pros:
Swiveling-lock front wheel
State-of-the-Art Suspension on Wheels
Wheels have high-impact polymer fillings
Fully adjustable handlebar
Folds and collapses for easy storage
Cons:
It would be tricky to wash the fabric of this stroller because you can't take them off away from the body.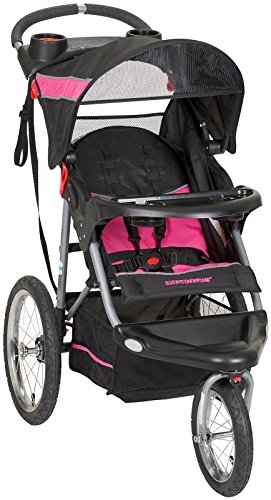 Last, but definitely not least on this list of best jogging strollers is the Baby Trend Expedition Jogger. Even though I haven't tested this one yet, I was still
quite impressed by the numerous features
it has. It is both functional and durable. And although it is not your ideal choice for off-road jogs, this stroller can give you utmost convenience on normal paths.
Large tires
This jogging stroller has noticeably large tires (bigger than those I mentioned already). This design allows this stroller to roll over surfaces with stability and smoothness. Moreover, the front wheel can swivel for maneuverability and lock for security.
Comfortable housing
Finding the right position for your baby is not hard with this stroller. It has a 5-point adjustment system that you can put upright or recline to find the most comfortable seat for your child. Furthermore, it has a large canopy, a tether, and storage basket, which are all necessary to keep your baby comfortable!
Easy-to-store
Once you and your baby are finished running, you can easily put this stroller away thanks to its Compact Fold System. You can collapse it flatly so that finding room for it won't be troublesome for you.
Pros:
Giant bicycle tires for stability
Swiveling and locking wheels
Have a reclining seat and large canopy for your baby
Easy to store and arrange
Durable and lightweight steel frame construction
Cons:
The sitting area of this stroller might be too small for large babies.
Benefits of Owning a Jogging Stroller
I cannot stress enough how much easier life is with one of these strollers. Whether your goal is to stay fit or just to take your baby out for a run, a jogging stroller will always be your ideal companion.
You can run with it – A jogging stroller is designed for fast-paced movements and running. Do not ever think of using an ordinary strollers because they don't have enough support for your baby's head, neck and spine. From the suspension system in the wheels to the canopy, a jogging stroller is built to keep you running without worrying about your child.
Bump dispersion – The body of your child is still very delicate and sensitive. A minor bump for us can be disastrous for them. However, if you have a jogging stroller, each path or road you traverse can be smooth and comfortable for both to you and your little angel.
Fashionable – If you are a mother, your vanity just don't simply diminish, even if you have a child or two already. In fact, your desire to look good increases drastically. Proof? You are doing morning runs! So when you are running with your baby, your overall get-up can define a blissful run from a messy, cringe-worthy exercise. Jogging strollers come with different colors and designs, so looking good with them is not a problem.
Functional ergonomics – Unlike ordinary strollers, a jogging stroller has several features that make them baby-friendly. Some have mesh pockets where you can put small items such as biscuits. Some even have a cradle  where you can put bottles of water or your phone safely. You can even customize them so that your baby can have a comfortable and protected position!
Considerations of Choosing a Jogging Stroller
Here are the essential features that you should look for when choosing a jogging stroller for your baby.
Five-point harness – This act like the seat belts in your car. This type of harness goes over the hips, shoulders, and legs and your baby to secure them adequately.
Tether – This is a strap you can see on the handlebar of your stroller. It has a loop on its end that you can tie to your wrist. In this way, you can prevent the stroller from moving away from you, even if you are not paying attention to it.
Brake for parking – It is an essential feature that every stroller should have. Not all the time you are going to run. There are times that you should rest. And during these moments, locking your stroller in one place is an ideal feature.
Reclining seat – Your stroller should have an adjustment feature that enables recline, so you can find the perfect sitting position for your baby.
Canopy – This is the roof of your stroller. It has to be large so that it can cover not only your child but other areas near him/ her. A canopy is your baby's defense against the heat of the sun, strong winds, and sudden rain. Therefore, it has to be thick and waterproof.
How to clean a jogging stroller?
1. Clean the fabrics using a vacuum. Make sure you do it thoroughly so you can take out any small crumbs or dust. In vacuuming, make sure you pay attention to the area in where the back and the seat meet. Apparently, this is the dirtiest area of the stroller because this is where all the crumbs go.
2. If you can remove the fabric from the stroller, then do it. This way, you can wash the garment and take all the stains out of it. When washing, look at the manual of your stroller to see if the fabric should be hand-washed or machine-washed.
3. If you can't take out the material, then you have to take the entire stroller outside and rinse it with water. In scrubbing stained areas, do not be afraid to do it hard and firm. Your stroller can take a good, thorough cleanng. After washing, leave it outside to dry.
4. There are plastic parts on your stroller. If they are detachable, then take them off and clean them using dish soap. You have to remember that you have to avoid the use of cleaners that have a lot of active chemicals.
5. When it comes to the wheels and rims, clean them using disinfectant cloths. If the wheels of your stroller are sticky or squeaky, then you have to use a lubricant silicone spray. In spraying, make sure that you do it on an open area and well-ventilated space.
6. Part of the maintenance process is inflating the tire with air. Check if there are holes in the tire that needs patching.
Running Tips for Mothers
1. Get a reliable stroller – We all know that taking our baby with us on our daily runs can improve their health too. The fresh air and the beautiful surrounding have benefits to their physical and psychological well-being. Because of that, you need to have a quality jogging stroller that can house your baby safely and comfortably. I have listed them above. All you need to do is to choose which of them you prefer.
2. Consider running as a daily habit – No matter how busy you are, you should not miss a day of running. Remember, it is good for your health (and your baby, too!). There are numerous research studies that outline several benefits of exercising regularly. If you tend to procrastinate, try doing it in the early morning, before any errands or work. I know you can do it!
3. Find a friend or a coach – Running is a science: to maintain a healthy run, and keep you focused, you need someone to guide you (e.g. the distance that you should traverse, the time you spend on running, etc.). These things are important, especially that you are now a mother, and your body is not as the same before. It is also a good idea to have a friend or buddy to take care of your baby for you while you are running! Are these two not available? Get your husband instead!
Conclusion
When it comes to our babies, we can't help being overprotective. Don't worry. It is a natural instinct since you are a good parent. Even in our daily exercises, leaving them is seemingly uncomfortable for our part. That is why you need the best jogging strollers so that you and your little one can explore the world safely and together!

[rwp-review id="0″]