As parents, we constantly wonder and worry if our children are okay, which explains the popularity and necessity of video monitors. Whether you have a newborn or precocious toddler, a video monitor is a must-have, allowing you to have eyes and ears on your little one at all times. The problem is finding the right one for you.
From pricing to features there is a lot to consider, which is why we came up with this guide, testing hundreds of models so you know which ones are worth your time- and money. Our Best Baby Video Monitor guide will provide you with in-depth reviews and analysis so you can make an informed decision that will work for you and your family.
Baby Monitors: A Parent's Best Friend
Baby monitors are on just about everyone's baby register these days and for good reason: they give parents the ability to see and hear the baby day or night, providing them with peace of mind. The fact is, as much as we want to spend all day with our kids, we have to cook, clean, and even sleep, so having an extra set of ears and eyes is a big help- which is where monitors come in.
Made up of a camera that goes in your baby's room and a monitor you can take with you to any room in the house, they allow you to do what you need to do without fear because you will hear your baby cry or see if they are hurting. They are an invaluable device that can help parents relax a bit and ease their worries, as long as you choose right.
Benefits of A Baby Monitor
Now that you have an understanding of what monitors can do and what you need, let's examine the benefits of owning one:
Reassurance: Monitors are almost like having another person with you to help watch your child, giving you some much needed time to catch your breath. For new parents, they alleviate fears and the need to run and check on your baby every 5 minutes.For parents in general they allow you to have a cup of coffee or get some much-needed sleep knowing you will hear if something happens.
Freedom: The right monitor lets you live and function like you should. You can mop floors, make dinner or anything else on your time, instead of around the baby's schedule. You can let your baby or toddler sleep and nap in their room while you go about your chores.No more having to wait for the baby to wake or worrying about waking them as you clean.
Convenience: Monitors make living easy and simple, eliminating the need to stop what you're doing every 2 minutes because you heard a "noise". With a video monitor you can tell if your baby is laughing, crying or climbing out of the crib.No more running up a flight of stairs because your baby has the hiccups.
Best Baby Video Monitor Comparison
Now comes the important part; choosing from the hundreds of models on the market. To help you with that we did extensive testing and narrowed down the field to these top 5 products. They all have different pricing and features, so you're guaranteed to find what you need.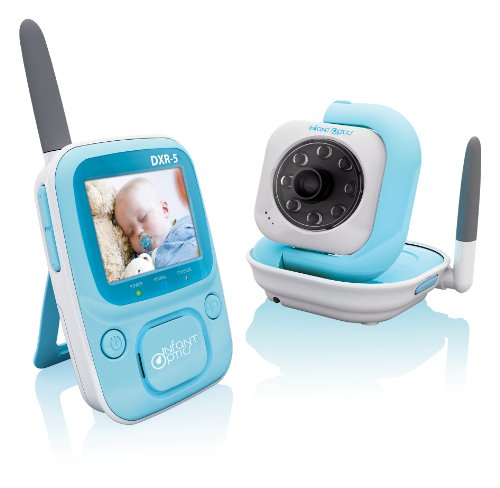 Of all the products we tested, this one is the best value for your money, providing high-quality video and sound for about $100.
Designed to go with you anywhere, this slim and lightweight monitor system gives you everything you need, with a 2.4GHz wireless connection that gives you reception in any size house- or even outside it up to 800ft.
The monitor is a large, 2.4″ TFT LCD screen that gives you crystal clear images in any light. Plus, it has night vision so you can see you sleeping baby and rest easy knowing they're okay. Even better, it features a two-way talk feature so you can soothe or sing to your baby from any place in the house.
To top it off, there are LED lights to let you know if the battery is low, and the system runs on a rechargeable battery, giving you hours of video and audio each day and night. The video is sharp and runs without buffering or lag time.
All this, plus the ability to add up to 4 additional cameras to put around the house makes this a great value and ideal for those with larger homes or those who like carrying their monitor from place to place.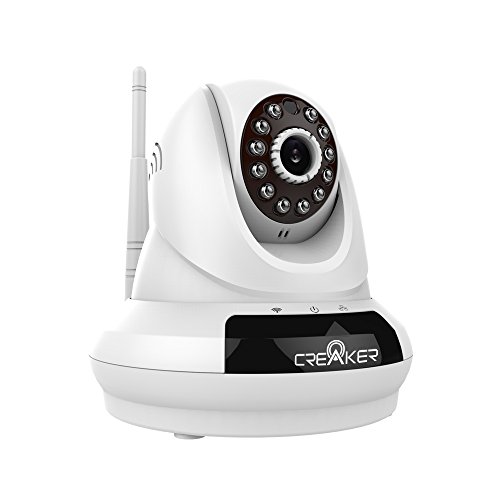 For tech savvy parents, or those who want something a bit more high-tech the Creaker C366 is a smart buy at just under $90. Made to work with your smartphone, tablet or computer it lets you see your baby from anywhere, so you can clean dishes or surf the web and keep an eye on your baby.
The camera relays live video streaming and audio via WiFi to any device of your choosing, providing you with HD 720P video that adjusts for night vision. It is easy to use and sets up fast: just download the app, install the camera, and you're ready to go.
The camera also has motion detection and can tilt and pans 350°, giving you eyes wherever your baby or toddler goes. There is a built-in antenna that allows for clear WiFi connection at all times, making it reliable and affordable. You can always check how your baby is doing with your iPhone or Android phone.
With it's simple set-up and the convenience of seeing your child on your device, it is the Best WiFi baby monitor on our list and a nice fit for parents into technology or those who want a simple way to watch their baby.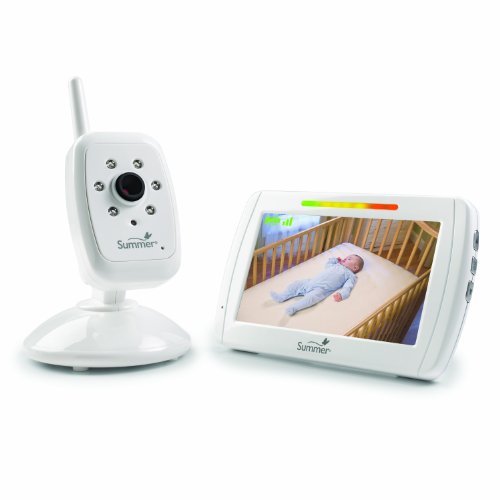 For parents looking for a monitor with customization and a wide range of features, this color monitor gets the job done Under $100. Made to give you options when it comes to seeing and hearing your baby, it has adjustable settings for all your needs. The 5″ color, flat-screen LCD monitor is powered by a 2.4GHz wireless connection, for sharp images that can be adjusted according to the light.
The monitor also automatically detects when it gets dark and switches to black-and-white night vision– no programming required.
The volume is also adjustable, so you can raise or lower it depending on where you are and what you're doing. So you can vacuum and still hear your baby cry. There are also LED lights that show you how loud your baby is crying, giving you a visual indicator of their distress. Plus, it has a range of 600ft., making it ideal for small to mid-sized homes.
Finally, this monitor offers a secure and private connection and indicators of when the battery is low or you're drifting out of range, giving it our vote for the monitor with the best options and the simplest to use.
Parents looking for style and enhanced interaction will love this monitor from Samsung, thanks to an innovative design that literally puts the controls in your hand. Priced on the higher end at $220, this monitor is worth it if you have the money, thanks to a touchscreen design and two-way talk feature that takes convenience and safety to a whole new level.
The 5.0″ touchscreen lets you see, zoom-in and control the angles of the camera, which pans up to 300° and tilts. It also has voice activation, so you can adjust light and noise levels according to what your baby is doing. Plus, it has an extra-long battery life thanks to various VOX and audio modes, so you can save battery and use the monitor when and how you need it.
In addition, the two-way talk feature lets baby hear you when you're not right next to them, soothing and calming when they need it most. Finally, it comes with 4 pre-set lullabies' and lighting to give baby a soft, caressing environment when it's time to sleep.
Our top high-priced monitor and perfect for those with fussy babies who need to hear your voice or toddlers who need to hear you call them.
If you want a monitor that does more than just watched your baby at a great price then this is the one at just over $150. Built with extras to track room temperature and two-way talking, this monitor from Motorola is packed with all your must-haves.
Designed with a 3.5″ color screen that operates on 2.4GHz wireless connectivity, the MBP36SS comes with every comfort you can think of when it comes to monitoring your child. With a secure range of up to 600 ft., you can hear your baby, and your baby can hear you as you cook and clean. The camera can pan, tilt and zoom too, so you can see your child at any angle.
You can also monitor the temperature in the room
, so you know if it's too hot or cold, as well as LED lights to let you know when baby i whimpering or when he/she is screaming. There's even
infrared lighting for night vision
, so you can watch your child without disturbing them as they sleep.
All this, plus 5 built-in lullabies' and low battery detection makes this a top-notch monitor that delivers convenience and quality for parents who need more and want their child's every comfort taken care of.
What to Consider When Buying A Video Monitor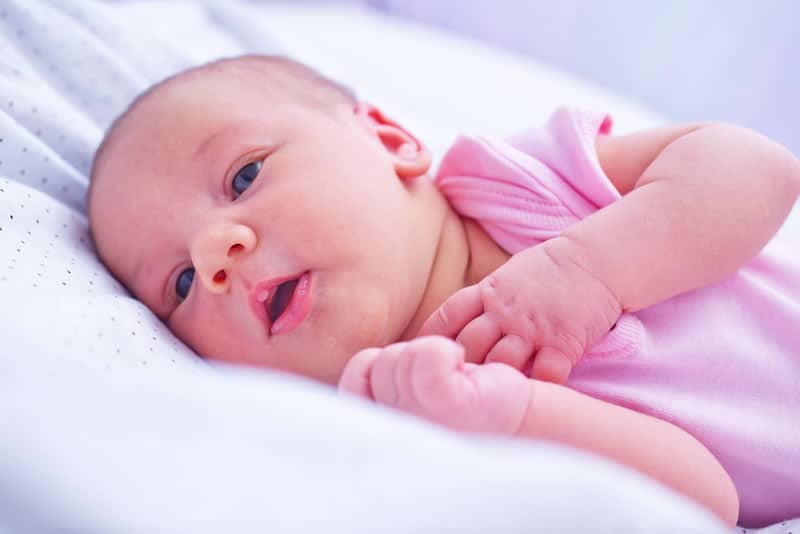 Before purchasing a monitor, it is important to consider what you need and how you want to use the monitor, so you can decide how the device's features fit your lifestyle. Among the things to consider are:
Sound: Sound is the most important feature of any model, even more important than video. Sound is the best way to tell if your baby is in distress. From crying to breathing heavily, it is what will wake you when you're sleeping and alert you that there is a problem. Therefore, opt for one with clear sound and adjustable volume.
Range: Range is another vital feature. If you have a large house or multiple floors, you want a device with a long range, so you don't lose contact. Range also factors into your lifestyle. For instance, if you have a newborn and like to garden you will want one with range that allows you to go to the yard and still have clear video and audio.
Video: The video quality is very important, as you want to see clear, sharp images of your child, so you can tell if they are fussing or up to no good. Video can show you if your baby's blanket is covering it's face or if your toddler is about to draw on the walls with crayons. It fills the gaps audio can't provide and gives you a picture to go with what you're hearing so you can tell when to run and when to relax.
Extras: Things like voice activation (which turns the monitor on with your voice command) night vision, and motion are other factors to consider when buying a monitor. If you want the ability to turn the monitor on from another room or need a camera that moves for a crawling baby then you should add them to your must have features.
Pricing: Pricing is another big consideration. Your needs should match your budget, and with models ranging from $40 to $200 you should be able to get what you need in your price point.
Various Baby Monitor Types and Styles
To ensure you have all the information you need, we need to point out that there are various styles of baby monitors, in addition to the video/audio style. There are ones with just audio, and ones with just video, lowering the price, but also limiting their efficiency.
If there is just audio you can hear what is happening, but you can't see, which put's the noise out of context.
For instance, your baby may be laughing, but it may sound like a whine and since you can't see you won't know and going running needlessly. This is true with just audio too. Without sound you won't be able to discern if your child is crying or screaming, which is why the video/audio combination is the best option.
FAQ
Here are some common questions consumers ask when buying a video baby monitor:
Q1. What is the minimum acceptable range for an average house?
A. Around 600 ft. 600 ft. or above usually works throughout most large houses, and some will even work in the front or back yard.
Q2. How important is panning?
A. Very. The ability for the camera to move and follow your baby is important because you need to see and hear them at all times.
Q3. Can they be used anywhere?
A. Yes, most require no set-up, so you could take them to a friendss house or even on vacation.
As our Best Baby Video Monitor guide shows, these devices are a real help to parents everywhere, providing security and comfort as you go about your day. With their slim and sleek designs and easy set-up it makes watching your child from anywhere a breeze. No more running into another room every time you hear a noise. No more waiting to clean or cook while your child sleeps.
Now, you can do what you need to, knowing your child is okay thanks to these ingenious devices. They give you peace of mind and the ability to do something every parent dreams of: relaxing for a few minutes- and that's worth any amount of money!