Baby's may be limited in their movements, but that doesn't mean they should be limited in how they're entertained. Visual stimulation, physical movement, and other interactions are important for their development and relaxation. Which is where having a baby bouncer comes in. These ingenious devices give your baby a safe, fun way, to explore, test their limits, and wind down, improving their overall health and well-being.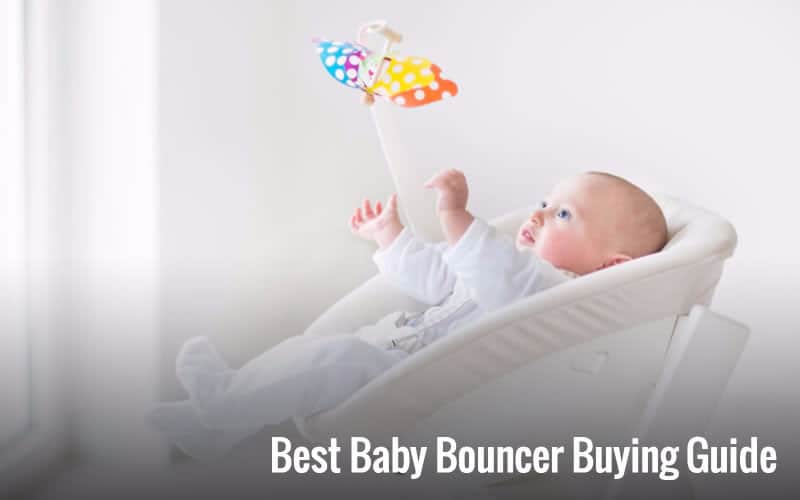 A baby bouncer is a static cradle where your child can play, rest, or sleep. They are strapped in, and there is usually a mobile or toy hanging above it that your child can reach for to play with. When your child moves, the bouncer will gently rock, and you can also rock it gently to help them drift off. Usually, a bouncer is used to give your  baby time for independent play, or to lull him to sleep.
A baby bouncer is your companion to ease every bad mood swing in your infant. The sweet and gentle vibrations it gives of soothes your child, leaving them happy and smiling.
There are different types of baby bouncers you can opt for, selecting from various features to make sure it is convenient and comfortable. Just remember,  when choosing the best baby bouncer, the safety and welfare of your baby comes first!
Top 5 Best Baby Bouncer Reviews: Your Baby Companion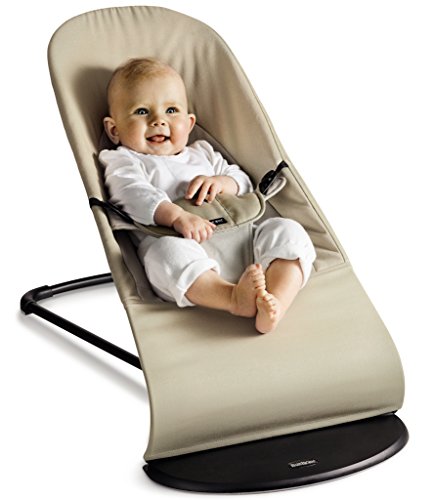 One of the best baby bouncers you can choose is the BabyBjorn Bouncer Balance Soft. This model is a modification of the previous BabySitter Balance, with an improved, fashionable seat lock. Unlike it's predecessor, this seat's locks can be set into three different positions,  so your baby can rest, play, or get some sleep in comfort.
One benefit of the BabyBjorn Bouncer is that you can use it either as a chair for toddlers or a bouncer for infants, making this product versatile and able to grow with your child. If your little angel is still young, the comfortable seat has a support system that takes care of the back, neck, and head. For toddlers, it gives them a comfy place to sit and read or watch TV. The materials used to construct it are impressive too. The base is made using a  metallic frame that has anti-glide strips, so it is sturdy and will stay in one spot- no tipping over.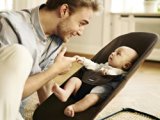 Many parents, myself included, prefer the Balance Soft because it is safe, encourages development, and folds up, so you can take it anywhere, from grandmas to the office if you needed to.
The Balance Soft can help with the development of your baby's coordination and conditioning, assisting in the improvement your child's muscle strength. Plus, this bouncer bounces depending on the motion of your baby, so it will never rock too much. Other brands of bouncers generate their motion using a motor, which can make your child dizzy and cranky.
This bouncer has good height, which lets your child see his/ her surroundings, and can hold  from 8 to 29 pounds, making it ideal for ages 0 to 2 years old.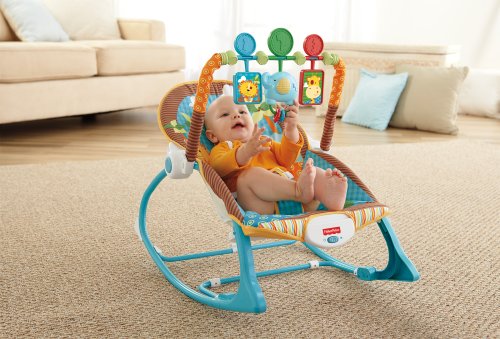 If you are looking for a budget-friendly baby bouncer, the Toddler Rocker from Fisher-Price is the way to go. This unisex baby bouncer can grow with your child, taking them from a newborn until they become a toddler.
Designed for you, and your baby's convenience and comfort, this bouncer has a reclining seat for them to relax, and a fold-out kickstand to make feeding time easy! For playtime, just slide the seat into an upright position so your child can rock and bounce, and there is a toy bar with music to keep them entertained!
When you want to put your baby to sleep, just remove the toy bar and turn on the switch for vibrations. This will gently soothe and calm your baby, helping them to fall asleep. This cradle encourages rest, with a broad curve design and soft, comfortable cushions.
The construction of this cradle is safe and guaranteed to last. It is also free from harmful compounds such as latex and BPAs. Portable and easy to travel with, cleaning it is a cinch thanks to a removable pad that is machine-washable! A great value for your money.
Rock N Glide Soother from the Fisher-Price has four glide motions to soothe your baby in the best way possible. You can let it glide either head-to-toe or side-to-side, depending on the preference of your little one, and there is also a three-gliding speed control, so you can customize the tempo when it moves.
This glider produces soothing and gentle vibrations to hep your precious angel fall asleep faster, along with built-in musical tunes and nature sounds that are excellent in lulling your baby into a peaceful state.
Fitted with a two-position reclining seat, you can easily convert this from a glider to a comfortable rocker for playtime by lifting the seat from the base of the glider. And the seat can pivot up to 360 degrees, so you can always see and check on your baby. It also comes with dangling toys that will encourage your baby to stretch and move his/ her arms. Aside from that, the built-in music in this baby bouncer can stimulate and encourage your child as well!
The Rock N Glide Soother can be easily carried, thanks to its soft and sturdy handle. This makes it an ideal choice if you travel a lot,  because it is made to be portable and easy to transport.
4. Bright Starts Playful Pinwheels Bouncer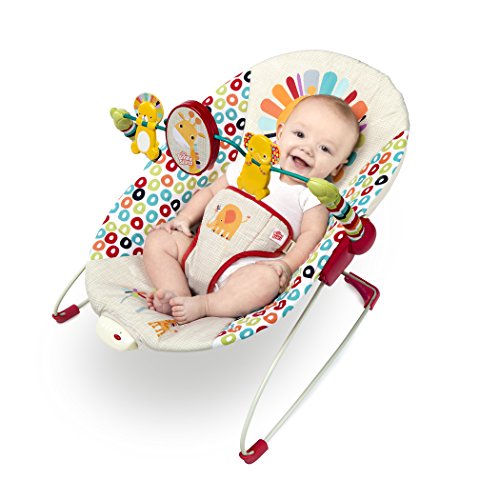 Another baby bouncer you should consider is the Playful Pinwheels Bouncer from Bright Star. It can hold up to 20 pounds, which is ideal for infants and toddlers, and has a colorful, jungle-themed construction which can be very stimulating for your child!
The deep and comfortable cradle provides the utmost in comfort and security for your baby, with a  3-point harness that fits snugly and comfortably to their waist and legs for added protection. The harness ensures your baby will not fall out, no matter how much they wiggle and move around.
It also has lots of great extras, like a removable toy bar for play time and vibration settings. The bar has three cuddly, stuffed toys to keep your baby company, while the soothing vibrations allow for hands-free rocking and guiding your baby to sleep.
Bright Starts Playful Pinwheels Bouncer is a great choice
because it has a gender-sensitive design. A lot of times, parents have a hard time finding infant items that are gender neutral, so this is a great option.
Oh, and its fabrics are removable and easy to clean too!
If  you need a girly-themed baby bouncer, then choose the Disney Baby To Big Kid Rocking Seat Minnie Peek A Boo. Delicate in looks, but sturdy in design, this baby bouncer can handle the movement of your child without slipping or sliding. It has a full-body recline feature that has two positions to keep your baby's body safe and comfortable, and one rocking motion (back and forth), which is ideal for babies who are sensitive to movements.
When your baby is wide awake and looking to play, the toy attachments on this bouncer will keep her happy and occupied. And when she's ready to rest, just recline the bouncer and turn-on the lullabies. Your baby will drift off in no time! Oh, and there is a 5-point harness to secure your child, so she won't fall when awake or asleep!
The fabrics of this baby bouncer are removable, so washing it is easy, by hand or in a machine.  Aside from the fabrics, the seat pad is also machine-washable. AS for the frame and the toys, just take a clean cloth and wipe them thoroughly.
Benefits of a Baby Bouncer
Makes your baby more playful – A baby bouncer has toy accessories that can stimulate an infant's playfulness and energy. Moreover, it enhances a child's cognitive ability as he/ she tries to interact with the toys.
Your baby can unleash his/ her energy – Just like ordinary grown-ups, a baby is eager to move around. During the growing stages, his/ her movements can be more vigorous than expected, so having a bouncer to contain your child while he/ she is playing around is crucial.
Muscle development – It is important that your child can move his legs and hands to develop his/ her locomotive skills. These movements can improve the strengthening of their muscles and bones in a safe and productive way
How to keep your Baby Calm?
Aside from a baby bouncer, there are parent-proven ways of calming tantrums in your little angels. These outbursts are common to newborns and toddlers, especially in babies with Colic.
Approximately 26% of children around the world suffer with colic. Although it is not life-threatening, colic is something that can be irritating. Does your baby cry unexplainably for three hours straight at a time? If so,  he/she could have this condition and you should speak with your pediatrician.
In general, there are ways to ease these episodes and calm you r baby- and you. Here are some of them:
First, you have to know that newborns cry because they are adapting to life outside the womb. Those colors that you think are nice might be too flashy for them. Hunger can upset them too!
These is a 5 S's for soothing a baby. All of them are doable, so you can try any or all of these methods.
Swaddling – You should swaddle your baby but putting him/ her in a baby carrier. This straightjacket-like fabric is a comfortable cocoon for your child. It can prevent a child's limb from twitching, thus calming him off.
Side-Lying – Your baby is used to lying sideways from when he/ she was still inside you. You can take advantage of this by carrying your baby in the same manner. You can also use the football hold when you about to nurse your child.
Shushing – Apparently, you can ease your baby's tantrum by just humming "shhh" sound. The reason for this is because such sound mimics the ambient hums of the womb, which can be very calming for your baby.
Swinging – Rhythmic movements, like rocking, jiggling, or swinging, can adequately sedate your child. Remember that you swing gently, but firmly when your child is distressed. In these moments, a baby bouncer can be very handy!
Sucking – Your child loves to suck. It can be very relaxing and sedating to them the same way as we like we are on the beach. Therefore, having pacifiers with you is a necessity.
How to Clean a Baby Bouncer?
You can clean a baby bouncer quickly if it has washable features. Specifically, I am talking about removable fabrics and seat pads that can be washed by a washing machine. It would be too tricky if you have to clean the entire baby bouncer at once. Cleaning should be done part-by-part.
For a baby bouncer, you should take off the fabrics so that you can wash it up with a bar of soap. Washing it by hands or machine depends on the quality of your material and directions, so read the manual of your product first. After washing, dry the bouncer in an open space with enough ventilation to disperse the smell.
The seat pad can also be cleaned using a washing machine. However, not all brands of baby bouncers have a removable seat pad. That could be a problem. Hence, I recommend only choosing bouncers that have such feature.
Use a clean cloth to wipe the frames and extra accessories of the bouncer. Just make sure that you won't wet too much those battery-operated parts.
Safety and What to Pay Attention When Using a Baby Bouncer
Baby bouncers and swings are safe to use. However, there are precautions that you should follow as a parent. You don't want to compromise the safety of your child. There is no way that you want that to happen.
Age, weight, and height guidelines
All baby bouncers have their respective recommended age, weight, and height usage. Violating this may result to unwanted injuries.
Slip
Even if a bouncer has a non-slip feature, sliding can still happen. This scenario may take place if your baby bounces too much, causing the cradle to slip across the floor. If your floor is quite slippery because of it is made of tile or wood, then you should be extra careful. To prevent this from happening, placing a non-slip mat underneath the bouncer.
Choosing a safe area
If you have a baby bouncer already, finding a safe place to put it is another concern. The surface should be flat and non-slippery. Aside from that, it should be away from your pets. This is because animals can get excited seeing the movements of your baby and try to jump on your child in an attempt to play- which can hurt your baby.
Conclusion
When it comes to our babies, their safety and comfort is our utmost concern. Since our young ones are still unable to take care of themselves, it is our responsibility as parents to nurture them. A baby bouncer is one of the tools that we need to do this important task.
All of the baby bouncers that I have mentioned here are among of the best that I have tried and used for my children. They are comfortable and have multiple functions that are necessary for playtime and rest time. But what I like best about these bouncers is that all of them are packed with safety features. Since we may get temporarily distracted, or caught up with housework, having a cradles that is foolproof is a must.
When choosing the best baby bouncer, always take into the account the features and considerations I mentioned, as they will ensure that the quality of your product will be the best for your baby.
If you are searching finest baby bouncers, any of my recommended brands will more than get the job done!

[rwp-review id="0″]