Amazon leads the competition in terms of smart home automation and with the unveiling of several new devices, including the Echo Spot, it looks like that's not going to change anytime soon. The Spot is spot on (see what I did there?) giving users a compact, sleek little orb that can control other devices, answer questions, and play video clips- all at a price that won't break the bank.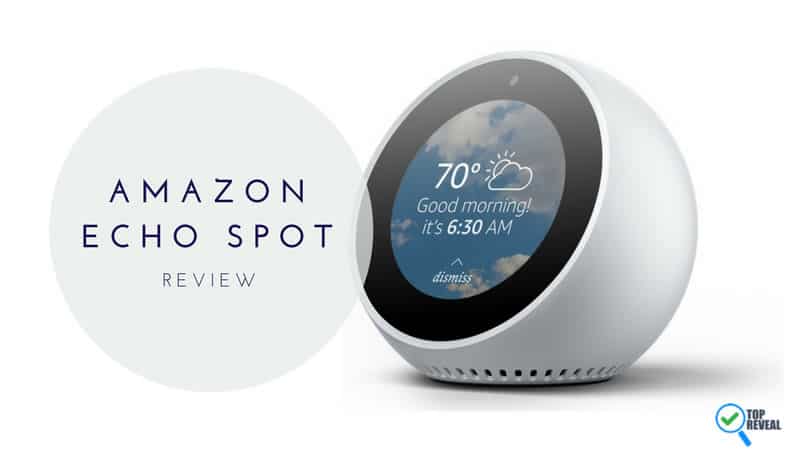 Sound intriguing? Then check out my in-depth Echo Spot review and see just what this latest gadget has to offer so you can snatch one up for the holidays.
The Echo Spot Review: The Future is Now
Like the Echo and Echo Dot, the Echo Spot is meant to enhance your life using virtual assistant Alexa to help you navigate not just your smart home, but your everyday needs and wants. Trust me, I currently have only 2 smart appliances, yet I use my Echo all day long to check my calendar, find recipes, and when I have the time, blast some tunes for me to dance around the house to.
But, as great as the Echo line is, I often became frustrated due to the lack of a screen; yes, the Echo Show has one, but it's a bit bulky, not to mention pricey. So, I'm thrilled Amazon has come up with the Spot, which is sleeker and less expensive than the Show. And with it set to be released right before Christmas, well, let's just say if my husband knows what's good for him there will be one in my stocking!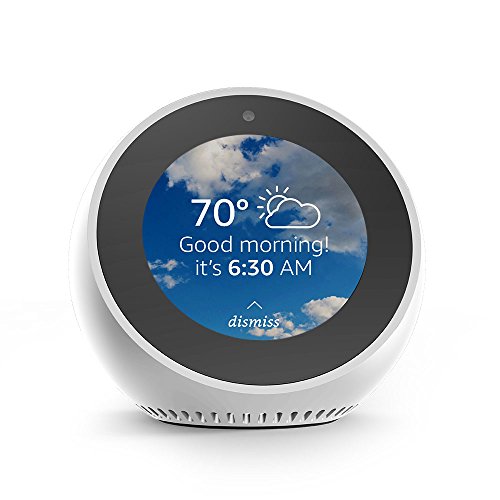 The Echo Spot is sure to turn heads, offering all the convenience of the Echo and Dot, with the added benefit of a 2.5″ screen to show you what you need most. Oh, and it looks good too, all of which we'll get to in a minute. From live video from your camera to the latest news, you can see almost anything, giving you hands-free information that will ease your mind and keep you informed. To understand what makes the Spot so special, let's look at its design and main features and how they benefit you:
Design: Bigger Isn't Better

I love my Echo, but from day 1 I complained about the size; tall and cylindrical, it didn't fit on some shelves or countertops, limiting where I could use it. So when I saw the new Spot, I was beyond thrilled. Measuring 4.1″ x 3.8″ x 3.6″ and weighing just 14.8 oz., you can put the Spot in any spot (haha that will never get old).
All jokes aside, the Spot has a cool look, kind of like a magic 8 ball, so it will match any decor and can fit in any small space. Place it on your kitchen counter to get recipe info or keep it on your desk to pull up your calendar or get a new briefing.And of course, the piece de resistance is the 2.5″ screen, which can show you song lyrics, photos, camera footage and lots more.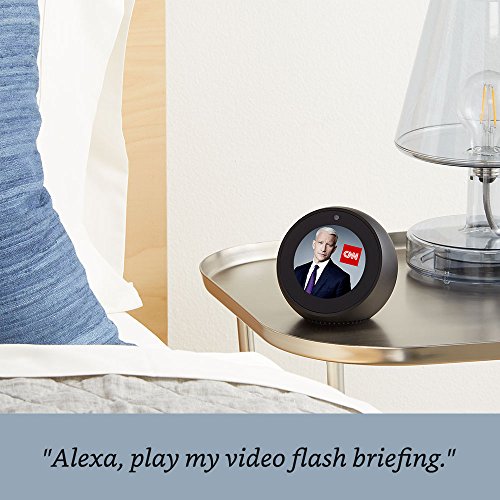 But of course, the piece de resistance is the 2.5″ screen, which can show you song lyrics, photos, camera footage and lots more. Razor sharp and bursting with color, it is considerably smaller than the Echo Show, but what it lacks in size it more than makes up for in quality.
Speaking of which, the 1.4″ speakers are quite impressive; larger than the Dot and almost as big as the Show, they deliver crystal-clear sound that's perfect for playing music or listening to the game.
Features: Get A Visual
Whether you need to see if your loved one is still asleep in their bed (instead of toilet-papering the house) or want to watch a clip of your favorite show, the Echo Spot is the device for you. It does everything the other Echo devices can do, but better. Here's a rundown of what it does best:
Need the latest from CNN? No problem- just tell Alexa you want to see a video flash briefing and you can hear and see what's going on in the world. With the Spot, you can see what appointments are on your calendar, browse books, get a sneak peek of upcoming movie clips, learn the words to your favorite song, and a host of other things the Echo and Dot can't show you. Yes, there are limits-you can't watch a full movie or read a book, but what it can do is more than enough to get you through your day.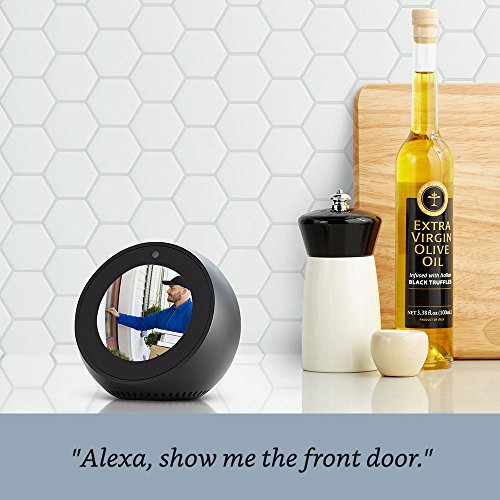 As a mom, I can't begin to explain how invaluable this, as it will allow me to pull up my camera feed and ensure my home and loved ones are safe-even when I'm not there. Oh, and my family will be eternally grateful that I can see a recipe, ensuring there are no mistakes or surprise ingredients, just yummy meals every time.
You can see the day's weather, so you know what to wear, or simply relax and look at pictures of your family; whatever you want or need to see, the Spot can make it happen.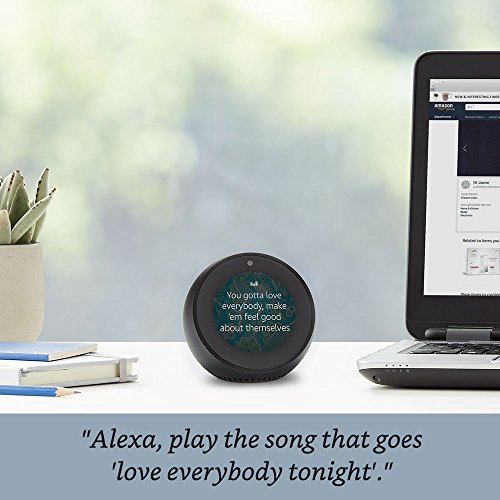 Like the other Echo devices, the Spot can be used, via Alexa, to control lights, appliances, thermostats and more. Just tell Alexa what you need, whether you're elbow deep in pizza dough or lounging on the couch, and she'll make it happen. The Spot works with Samsung SmartThings, ecobee, Wink, Nest thermostats,  Ring, WeMo, Philips Hue, and more.
With the Spot, you can call, message or email just about anyone without lifting a finger. Even better, if you have multiple Echo devices in your home, or friends and family with one, you can use the Drop-in feature to connect to them instantly. So, if your sister has a Dot and you want to know what time she'll be over for dinner, just "drop-in" and ask her! Or try out and compare with Echo Show.
Echo Spot Vs Echo Dot: The Choice is Clear
To better understand what the Spot has to offer let's compare it to the Amazon Echo Dot, which is similar in many ways. The Dot and Spot are both relatively small and light and share a similar design. In addition, they both function similarly, using Alexa to stream music, control other devices and message or call others. However, the Spot has one distinct advantage over the Dot: it has a video screen. The ability to watch clips of the news or a recipe step is invaluable. Plus, it has a bit of a more rounded, stylish look that makes it worth paying a bit more for as opposed to the Dot
I hope my Echo Spot review gave you a good picture of what Amazon's latest device can do for you. Set to be available in December for under $130, it is the perfect blend of affordability and luxury and will compliment any home and lifestyle. From the ingenious design to the spectacular screen, I think it's plain to see this device is "spot" on!