It is often said that the front door is the most vulnerable entryway to a home – but this does not have to be the case. Savvy technology companies have figured out ways to make your front door just as protected as anything else on or in your home and we've got a couple of the most worthy products for your attention right here. Fact is, replacing your current doorbell with today's newest technologies can change the way you keep your house secure and help you sleep easier at night.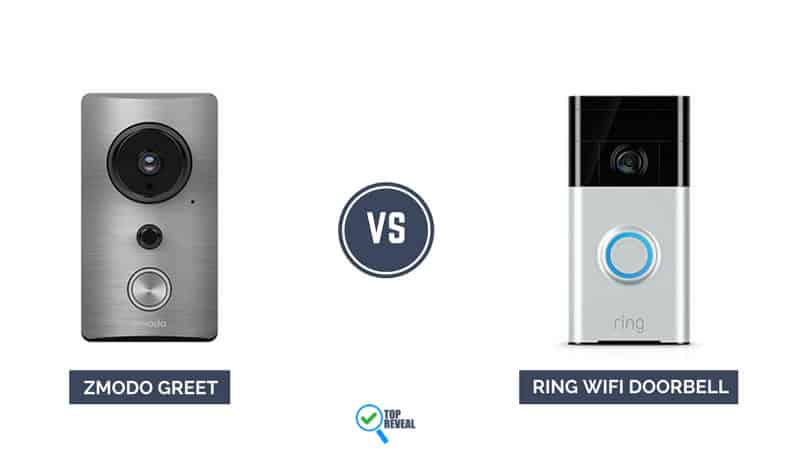 A couple of the best doorbells available are the Zmodo Greet and the Ring WiFi Doorbell, so we are going to put them in the "ring!" and compare them for you – right here, right now. Without further ado, we give you the Zmodo Greet vs Ring WiFi Doorbell Review.
The Winner
Sizing up these two doorbells, it looks like – spoiler alert! – the Zmodo Greet is the better of the two. There are a ton of commonalities between these two products but the Zmodo product has a slight edge between the two.
First, Zmodo's doorbell lets you create a personalized voice message to play when you aren't home. This is something that the Ring product does not do. There is also the added benefit that the Zmodo Greet doesn't force you into a paid subscription to utilize its cloud service.
Because the Zmodo Greet does nearly everything else that the Ring WiFi Doorbell does with the subtle addition of these two characteristics and at a lower price that puts it ahead in our review.
Our first competitor is a strong one. Zmodo has packed a lot of innovative technology into their doorbell, making it a stand out performer in its market. Some of its key features include: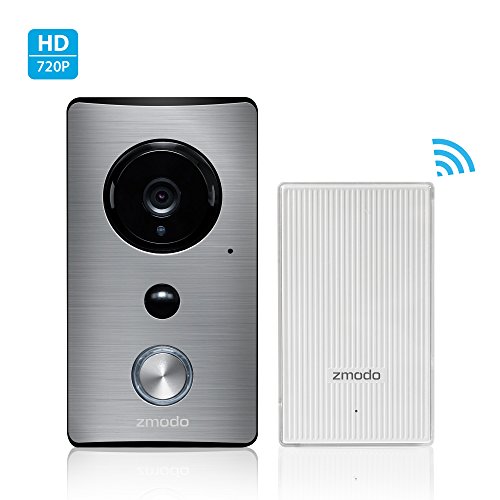 • Remote Viewing: At any time, as long as your phone has service, you can check on what is going on at the front door of your home. At work, on vacation, even if you are home, you've got a way of directly seeing what lurks just beyond your front door.
• Motion Detection: You can set up this doorbell so that it sends you an alert any time there is motion at your front door. Never miss another neighborly stopover, package handler, or malicious guest that pays you a visit.
• Personalized Voice Message: If you so choose, this doorbell can play a recorded message for when somebody doesn't answer your door. Simply hearing a voice from someone who occupies the home can soothe the frustration of a missed connection or scare off any criminal company.
• Two-Way Communication: This doorbell comes equipped with both a speaker and a microphone so that you can talk to whoever is on your doorstep. Through your phone, you can have a nice video chat with your visitor for when you aren't there.
• Easy Setup: The existing wiring in your home is good enough to set up this video doorbell. Simply wire it where your old doorbell once was and hook it up to your home's WiFi network and you are good to go.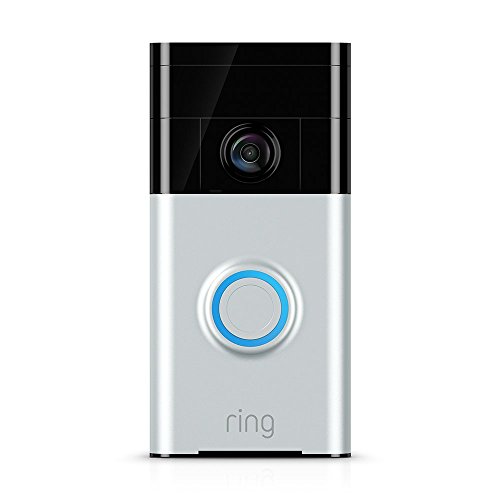 Second, we have the Ring WiFi Enabled Video Doorbell. This doorbell has a ton of great characteristics that you will appreciate once it's installed at your front door. Some of these outstanding features are:
• Instant Alerts: Never be surprised by a presence at your door again. The camera on this doorbell has a motion detector that sends you alerts to your phone for in case you aren't home to answer your door.
• Speaker/Microphone Combo: See, hear, and speak to whoever is at your door with this setup enabled. If you are greeting someone that you want to see, you can simply have a nice chat with them via this technology. Or, perhaps, you can tell someone that you don't want at your door to disappear.
• Live Viewing: Through your smartphone, you can check in on your front door whenever you would like. The camera is always on and always vigilant and you can be, too, by using it. A livestream is always available as long as you have the internet available.
• Day or Night Watch: This doorbell includes an infrared camera. That means that it works just as well at night as it does during the day. As we know, more malicious activity occurs at night so being able to keep watch during the night is just as valuable as doing so during the day.
Zmodo Greet and Ring WiFi DoorbellSimilarities
When it comes to the Zmodo Greet vs Ring WiFi Doorbell comparison, there are a lot of similarities to be seen. While this does make it more difficult to pick a winner, it also means that both of these products are stellar options. Some similarities worth noting are:
• Two-Way Communication: Not all video doorbells give you the ability to speak with your visitors but these are two that do. You'll be thankful for this capability no matter who visits you as you can bring your presence to your home, even when you are not there.
• Remote Viewing: As long as you have access to the internet, you could use either of these video doorbells to take a live look at your front doorstep. No matter where you are, you can be home and watching.
• Motion Alerts: Both of these cameras will alert you when they detect motion. This is something you can be thankful for since it grants you the ability to never miss another guest. What if there was someone standing on your doorstep right this second? Would you want to know who it is?…
 Zmodo Greet vs Ring WiFi Doorbell: Differences
Truly, it is the ways that these two products are different that should decide how you choose between the two. While they are similar in a lot of ways, they are different in many others like:
• Set Voice Message: This is something that only the Zmodo doorbell can say it has. While this may not seem like a deal breaker by any means, imagine giving your front door that personal touch even when you aren't there. Having your visitors understand your presence, for better or worse, is a great thing.
• Included WiFi Extender: There are often issues with the WiFi connection to video doorbells. This is something that Zmodo altogether avoids by including a WiFi extender with your doorbell. Ensuring this connection guarantees that you will never miss a visitor.
• Customizable Motion Sensitivity: This is a major strength of the Ring Doorbell. You can set up the camera to ignore different parts of its view so that you can ignore passing cars or bystanders on the sidewalk. This is an ability that Zmodo's doorbell simply does not have.
• Price: The Zmodo Greet is about $50 cheaper than the Ring WiFi Doorbell. Additionally, it comes with a WiFi extender as a part of your purchase. This sort of value might make a huge difference to those on a budget.
Customer Reviews
The customer is always right, right? Well, let's check out what people are saying about these doorbells to see how well they perform:
• Zmodo: According to customers, this doorbell sets up in a flash and works just as advertised. The two-way communication works great, the camera itself is high quality, and surpasses the competition in many cases.
The fact that it comes with a WiFi Extender is a lovely added bonus that heightens the value of this already lower cost product.
Some people noted that it can take some tinkering to get the WiFi to connect with the doorbell but, once installed, the product is top notch. People also love that they don't have to pay for a cloud service once they own it.
• Ring: Reviews abound that this product is outstanding. The features of this product all build on each other to create a dream product for defending most peoples' homes. Many people like the ability to change the motion zones of the camera so that they can reduce false positives like cars driving down the street or people walking on the sidewalk.
A shortcoming that some customers note is that they often only get videos of people walking away from their door rather up to their door. While this isn't a completely common complaint, it is still something worth noting.
Conclusion
So what should you do with your video doorbell purchase? Well, all we know is that we've got two top contenders here for you to choose from. From our estimations, we think that the Zmodo Greet is the better of the two but this is not to say that the Ring WiFi Doorbell is entirely out of the mix. These truly are two great products. One might be better than the other but this does not make either of them of poor quality.
The true winner in the battle between the Zmodo Greet vs Ring WiFi Doorbell is you – as long as you make the decision to defend your home with today's best technology.

[rwp-review id="0″]