Oftentimes, we get carried away with home improvements inside our houses, and neglect to think about our outdoor spaces.
Spending time outdoors is not only a great option for socialising and enjoying our time off, but it's important for our health too. However, we're not going to be encouraged to spend time outside if our patios and outdoor spaces are unpolished ad uninviting.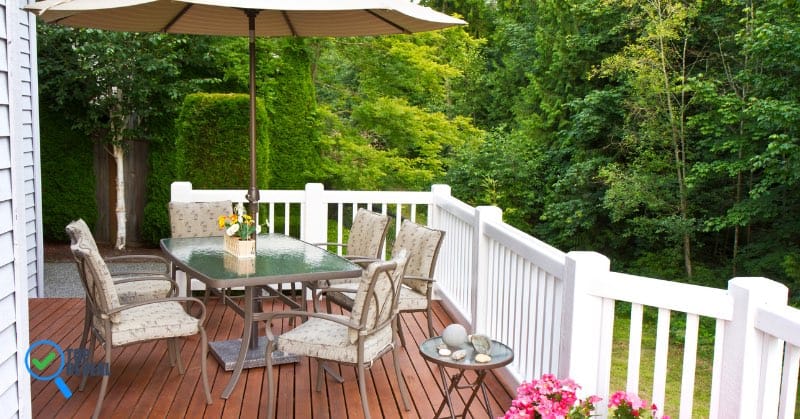 Make the decision to throw some time and money into your patio this year, and really make the most of the space. Here are some things to try.
Keep it Covered
First of all, an uncovered patio is impractical because the time you can really enjoy out there becomes very limited. When the sun is at its hottest, it can be impossible to sit and relax outside, since you won't have any shade. Patio furniture will also be in danger of becoming damaged from rain or the sun if it's not protected.
If your patio doesn't have a roof or awning, spend some money on investing in this essential upgrade. You're notice you're far more likely to spend time out there when it's comfortable!
Cool it Down
Shade is one thing, but if you live in an area with a hotter climate, it might not always be enough, and Summertime might be unbearable outdoors. Finding extra ways to make the area cool is helpful if you want to be able to make the most of your patio, host people or just lounge around outside during the Summer.
A garden mister makes for a great refresher around your patio in the hottest months of the year. Another option could be to install a ceiling fan above your patio.
Make it Comfortable
Investing in comfortable patio furniture is important – otherwise you're not going to be very inclined to sit on it! If you love being outside, reading on the patio, hosting barbeques and even setting your dinner table out there, it's a good idea to really invest in pieces that will look good, feel great and last you a long time.
Whether you opt for casual and comfy patio couches, or more of a sit-down table and chairs, purchase something that looks good and won't wear out quickly.
Create Ambience
Another good idea is to set the mood and make your outdoor space feel welcoming and inviting to both guests and to yourself.
This could be something as simple as placing some candles or lanterns around the area, or something more extravagant like installing a boma fire pit for late-night marshmallow roasting and fireside songs. You might also use fairy lights and set up a sound system outside for some music.
Consider Lighting
Many people neglect outdoor lighting, but it's a crucial element. If you're going to be doing evening barbeques, you'll need decent enough light to be able to see properly. If you'll be having dinner outside, you might want some lighting for that too.
Lighting scattered around your backyard/patio area can help illuminate the space and add some fun elements too. Little lanterns, fairy lights and vintage style lampposts are popular options for outdoor lighting. Make sure you know the purpose or your lighting before purchasing anything.
Be Practical
It's important for your patio space to be practical and serve the purpose you need it to. For example, if you enjoy hosting outdoor dinners, then make sure your seating options are optimized for these types of events.
If you have a pool and love to lounge around out there, rather fit your layout to those kinds of activities, with deck chairs, side tables and perhaps a mini bar too. If your outdoor area isn't practical, you might be deterred from spending time there.
Jazz it Up
We all pay close attention to the décor inside our homes, but most people forget to actually decorate outdoors. Once all the practicalities have been addressed, you have the right furniture, perfect lighting and plans for your outside activities, you can make the space look pretty too.
It's always a nice idea to pick a theme or colour scheme and add décor pieces that fit with your vision. Look online for inspiration and make your space feel put-together!
Final Thoughts
Having a great outdoor space will encourage anyone to get outside and soak up more of the Vitamin D we all need. All it takes is a little time and effort to really bring your patio together and make it a place that you and your family can enjoy.