The difference between a discombobulated kitchen and an orderly one means I can breathe. Literally. A cluttered kitchen gives me anxiety, and I certainly can't cook in it. Nobody likes a kitchen that no food comes out of, so this is rather an emergency situation. That's why you need all these DIY Kitchen Organization tricks and tips.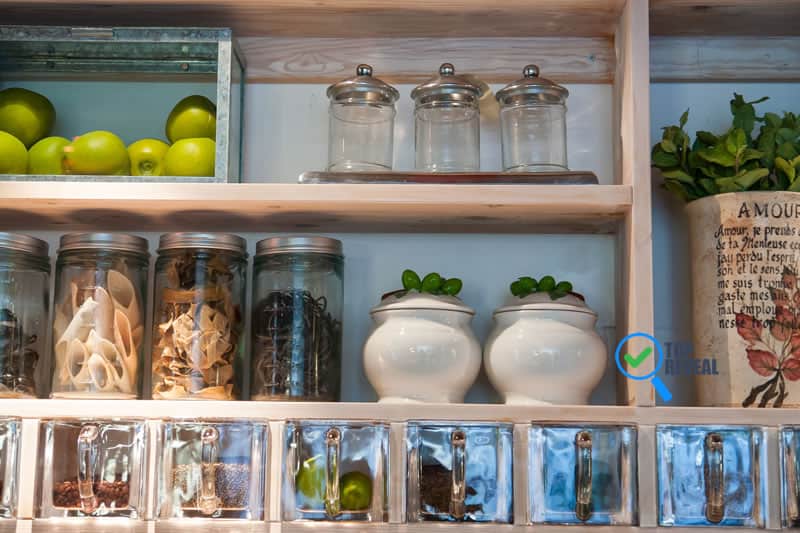 There are so many great kitchen hacks for organizing your gadgets that you really need to go down this list and try some of them. You will be able to breathe better in your kitchen and the best food is made by a peaceful cook. Everyone is happy.
Let's Get Organized!
1. Expandable Under Sink Storage Rack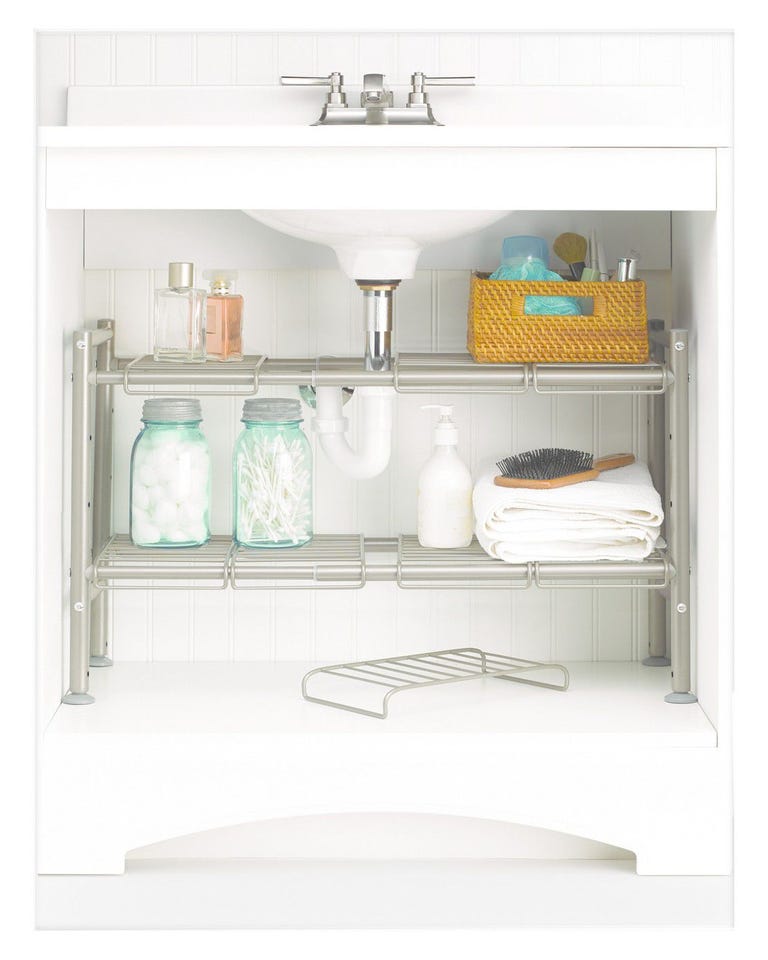 Source
One of the biggest wastes of space that always irks me is under the kitchen sink due to the annoying curvy drain pipe. Work around it and add more storage space with a storage rack that provides more room.
2. Cereal Box Drawer Organizers

Source
I heart repurposing. Truly, I hate waste and when I find any way to reuse something for a practical purpose, it makes me really happy. This how-to details how to turn cereal boxes into drawer dividers to organize virtually anything.
3. DIY Shopping Bag Container

Source
Although I am not a huge fan of the print pattern on the final project pictured on this DIY, you can easily fix that by choosing a different one that is more classic or blends well. Then again, if you like to be flashy, Turn an empty container that would normally go to a landfill into a shopping bag dispenser using decorative paper and Modge Podge. Add some glitz with stick-on glittery letters.
4. Floating Shelves with Clear Jars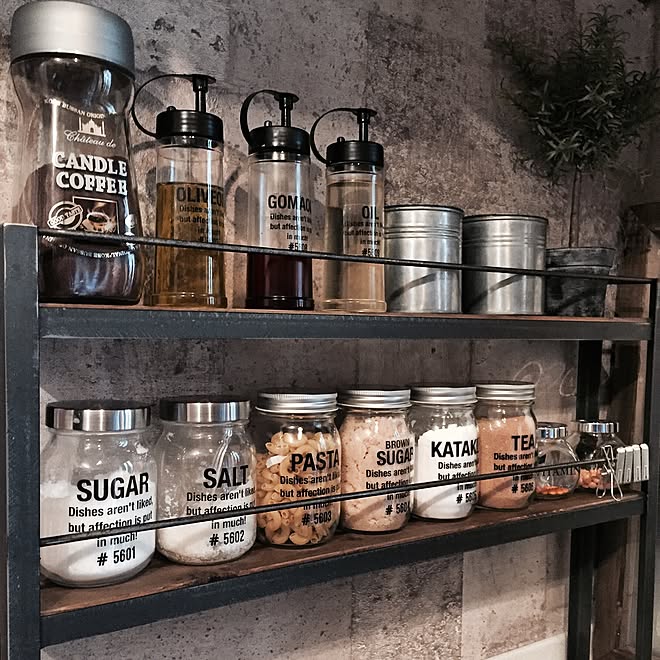 The Honeycomb Home
Putting up floating shelves makes more space by elevating your ingredient or spice jars while making a visually pleasing wall display. There is something inviting about seeing the food in front of you colorfully laid out on the wall.
5. DIYUnder Cabinet Wine Glass Storage

Source
The space is there, so you might as well use it. This hack utilizes molding and screws to create under cabinet grooves to hang your wine glasses in plain sight. It is so easy that the video lasts less than a minute.
6. Wine Plus Glasses Rack

Source
I know I just gave you a hack to store glasses, but this one stores both bottles and glasses if that appeals to you, while also adding to that rustic look by using a wood rack you make yourself. Of course, you can always get creative and repurpose something you have as well!
7. Towel Rack DIY

One Crazy House
Scroll down when you open this link to find out what to do with that dummy drawer in front of your sink. You can make that useless space into one that works for you, and it is in just the right place for it.
8. Hidden Kitchen Utensil Rail

Source
Short and to the point, this video shows you how to make a very little investment make a very lot of organization with your kitchen tools in one of those tall skinny cabinets.
9. Decorative Overhead Copper Pipe Pot Rack

Source
If you like the industrial look, this one is for you. Turn copper piping into a functional and beautiful pot rack that saves a lot of space in your cupboards. Now you have room for that Instapot you have been wanting!
10. Peg Boards to Organize in the Kitchen

Source
Flip your idea of kitchen storage. Using pegboard and hooks, you can make more space while creating an interesting and eye-catching wall display. Things you would normally hide away in drawers become the wall art.
11. Backsplash Tool Storage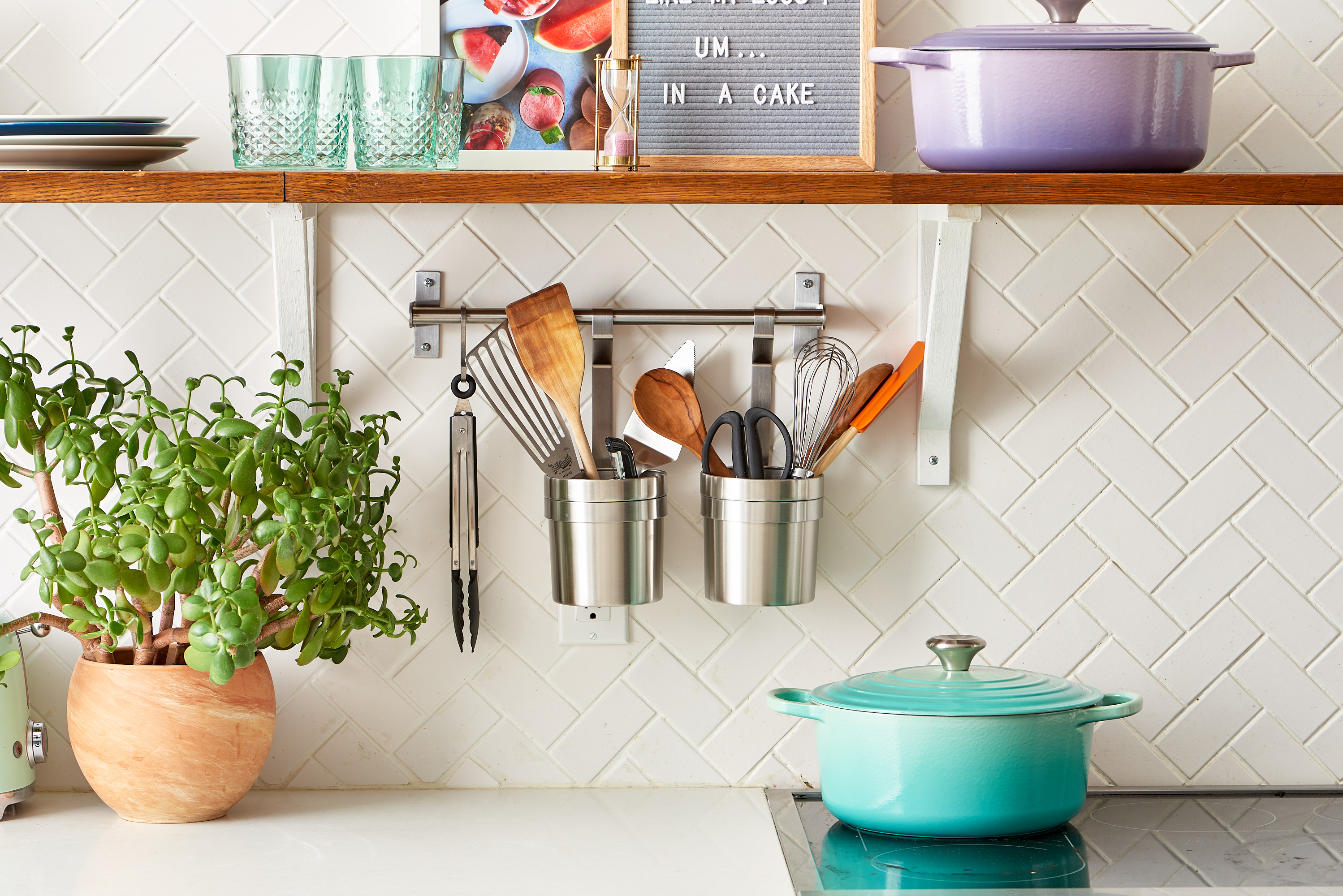 The Kitchn
The backsplash is often just wasted space. Instead, you can turn it into a place to store your most used tools using a simple IKEA Grundtal rail. It looks clean and does the job.
12. Cutting Board Quick

Family Handyman
For easily accessible cutting board storage, use plastic sheeting to create a sleeve to house it for quick retrieval off the cupboard door.
13. Genius Pool Noodle

Family Handyman
I need to use this one in my own house. When you need to stop the silverware tray from scooching to the back of the drawer constantly, cut a pool noodle to size and fill the rear gap.
14. Lazy Susan Help

Real Simple
Make all the smaller bottles and containers easier to see by using turntables. No need to knock things over like dominoes as you search for a specific one; just spin the lazy susan and no mess.
15. Lid Organizer

Source
Don't waste any more time trying to resort your plastic storage container lids. This link provides several different DIY options for organizing your lids – one is sure to work for you.
16. Storing Measuring Spoons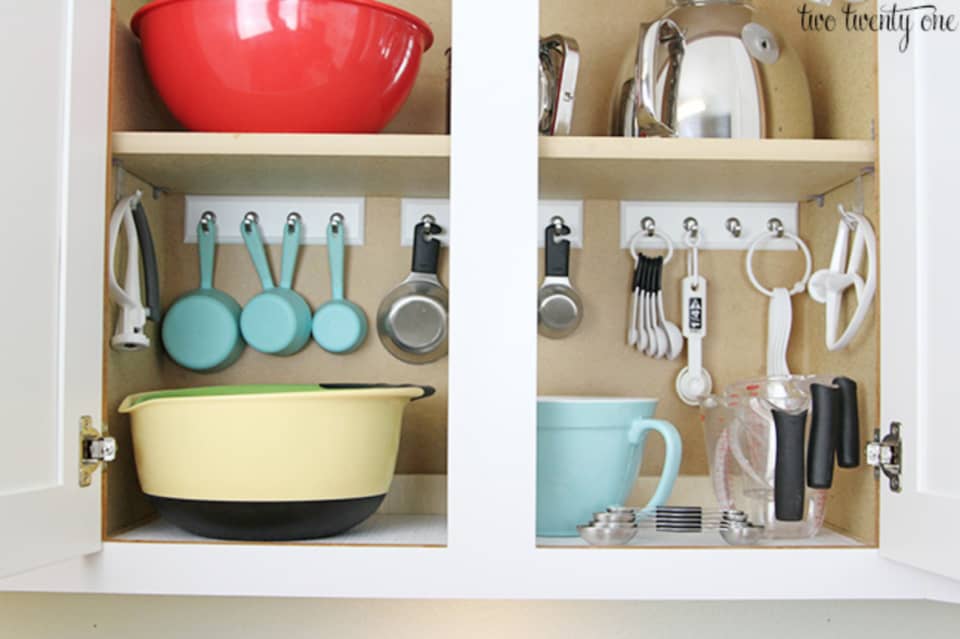 The Kitchn
Using one of these techniques to store your measuring spoons will save time and it is also pleasing to look at in your kitchen. Who has time to waste bumbling around in some drawer?
17. Pullout Trash Cabinet DIY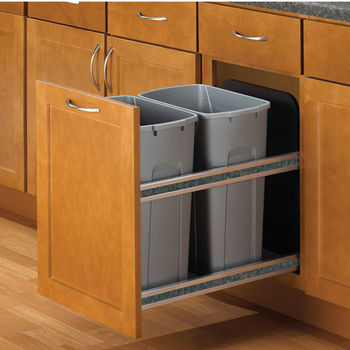 Source
Trash cans are unsightly. Use this hack to turn a simple cabinet into a pull-out hidden trash door. Your pets won't get into the trash and odors are trapped in the cabinet.
18. Trash Bags on a Roll

Simply Organised
No need to hunt around under the sink for the box of trash bags, knocking things over. With curtain rods and minimal tools, you can hang them on a cabinet door easily.
19. Maximize Refrigerator Space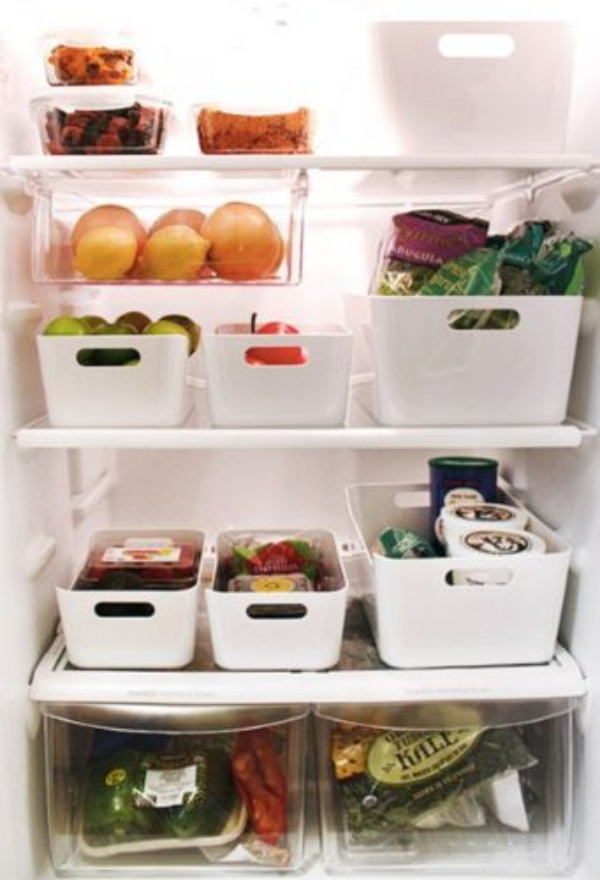 Source
Use plastic bins to organize groceries in the frig. This creates more stacking space, allows you to pull bins out to see contents without having to reorganize the whole refrigerator, and keeps liquids from leaking all over the frig.
20. Vacuum Seal Space Saving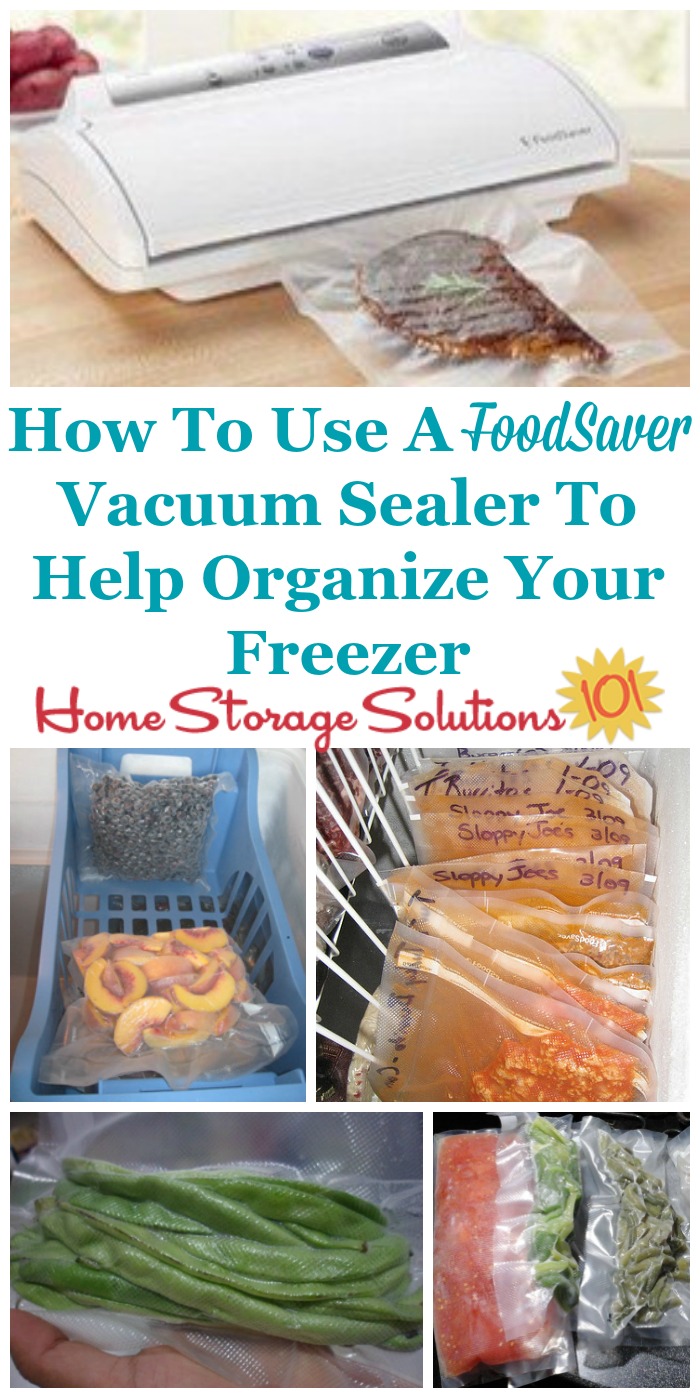 Source
Vacuum sealing food and freezing it flat is one way to save loads of money while making the most of valuable freezer space.
21. Freezer Organization Tips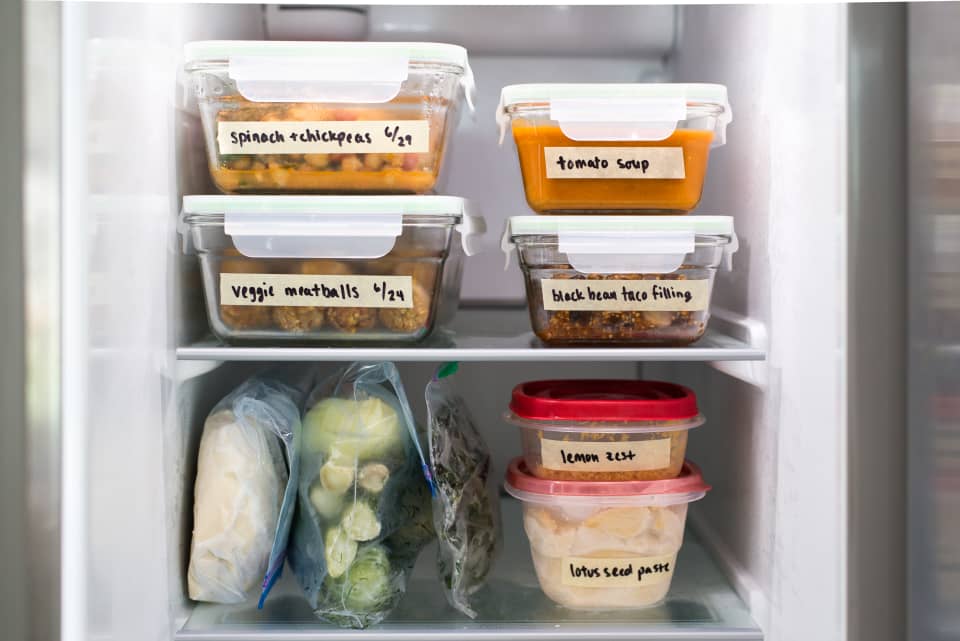 Source
These are some great tips on organizing your freezer. Two of my favorites are labelling and storing in usable portions.
22. Small Appliance Storage

Source
If you have difficulty finding space for all your small kitchen appliances, use this DIY to create the perfect system.
23. Under Cabinet Appliance Installation

Source
Declutter countertops and make room for real counter uses by installing appliances under cabinet. This DIY is one of the pricier methods, but it can be truly transforming in your kitchen.
24. Chalkboard Pantry Doors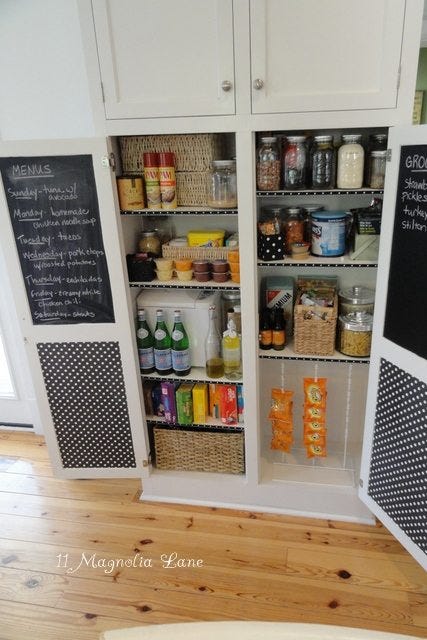 Good House Keeping
Paint the pantry doors with chalkboard paint for creating lists or dinner plans. You can even communicate with family members in a place most people would see.
25. Under Shelf Wrap Storage

Source
Use every empty space by purchasing this inexpensive wrap holder to make use of the space under the shelf inside cabinets.
26. DIY Magnetic Menu Board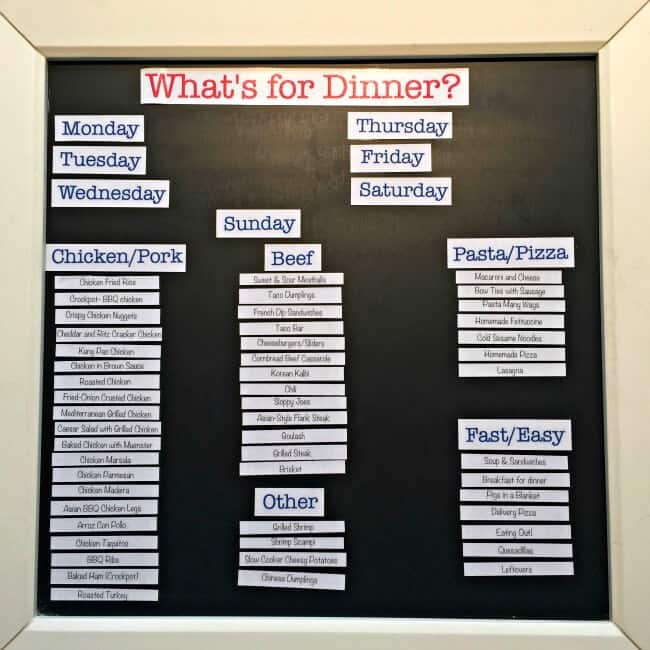 Source
I don't mind cooking but I seriously dread having to come up with the menu on my own. I fall into a rut. Create dinner excitement and buy-in. Make your own menu board and have your family help decide what to make.
27. Easy Magnetic Grocery List

Juju Sprinkles
Combined with #26, you can really get the kids involved in meal planning and grocery shopping. They can learn life-long skills while making your life easier.
28. Over Door Shelf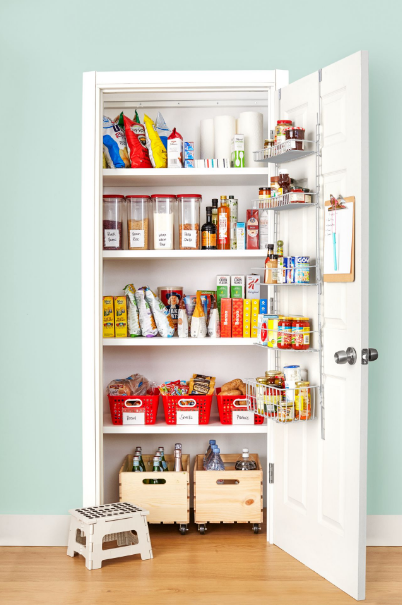 Source
A shelf or rack makes the most of pantry space that would usually just be wasted. Put most often used items here for quick access.
29. Decluttering Cannisters

Source
This is a really creative and visually appealing way to store dry goods while saving space and making an artistic statement. Attach jar lids underneath the cabinet and you have a perfect place to attach them.
30. Canned Goods Racks

Source
This hack shows using closet organizers to stack canned goods while still being able to see all the labels at one glance for easy identification.
31. K-Cup Storage Drawer DIY

Source
This is one of the more intense DIYs in this list as it requires some actual woodworking, but it is well worth the effort to get a beautiful storage for all your K-cups.
Logic Wins
Could you use a better kitchen system? Even the smallest kitchens can hold a great deal of tools and goods if only it is organized logically.
It doesn't have to cost a fortune and most of these ideas can be done in anywhere from minutes to an hour. These are hacks that anyone can do, so jump right on it. You will be happy that you did.
Share with friends and family, and don't forget to leave us some feedback or comments!