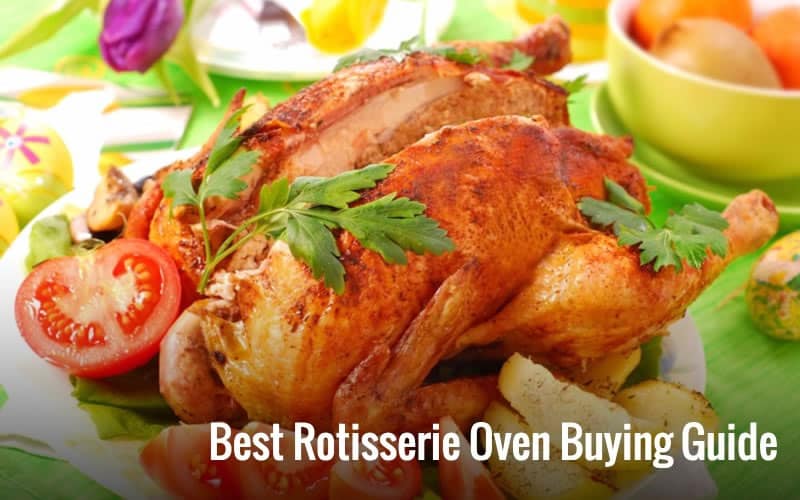 If you think a rotisserie oven is just for chicken, think again. Rotisseries come in all shapes and sizes these days, and chicken is just a small sampling of what they can cook. From full meals to tasty desserts, there is no limit to what you can cook in them, which is why so many people are buying them for their homes.
Easy to use, efficient and space savers, these ovens transform how you cook, elevating meals from ordinary to extraordinary. If that sounds good to you then check out my best rotisserie oven buying guide. It will explain what these ovens can do, breakdown the 5 best ovens on the market and analyze the pros and cons of owning one. So read on and discover everything you need to know.

How Does a Rotisserie Oven Do?
For those not familiar with rotisserie ovens, they are small, counter-top ovens that cook meats and other foods on a spit or skewer. The meat spins on the skewer, allowing it to roast evenly and quickly, as heat hits it on all sides.
Rotisserie cooking gives you juicy meats and crispy skin in a lot less time than conventional ovens, and also cut down on prep time and cooking steps. Plus, some are quite versatile, with trays and basket inserts that allow you to bake breads or roast vegetables, for a complete meal in one easy step.
Basically, they are an upgraded version of a conventional oven, offering convenience and improved cooking features that result in mouthwatering food that will have everyone coming back for seconds.
Now that you know what a rotisserie can do, let's see what the top models have to offer.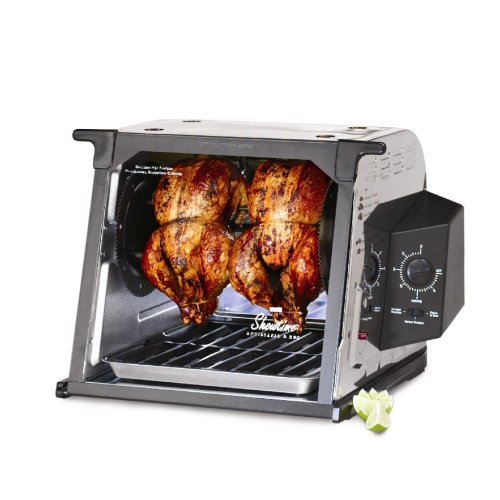 I found this model to be the best value for your money, as it comes in at under $100, yet still offers all the features of more expensive models.
Designed out of polished stainless steel, this rotisserie looks great in any kitchen, and performs just as well with variable settings. It's biggest selling feature is the 3-way control that lets you choose between normal rotation, no-heat rotation or pause-to-sear.
This feature gives you a wider range of foods to cook and also expands how you can cook them. So you can get a nice char on meats with the sea option or have them rotate without overcooking using the no-heat one.
It can hold up to a 15-pound turkey, so holiday dinners are a breeze and comes with a rotisserie basket for cooking delicate fishes and burgers.
A good choice for anyone looking to save without sacrificing quality.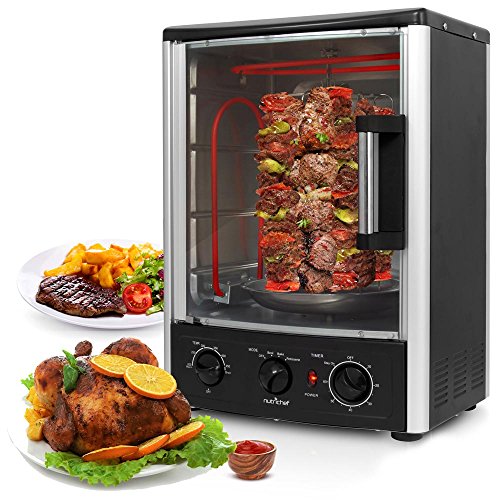 Health enthusiasts will love this oven, which has been proven to cut down on fat without sacrificing flavor.
With a 1500 watt output and 464 °Fahrenheit (240℃) max cooking degree, the NutriChef offer rotisserie style cooking that is ideal for kebabs, fish and medium sized cuts of meat.
Dual heating elements help eliminate fat
without drying out foods and provides thorough cooking throughout that is tasty and good for you.
Priced at under $100, it comes with skewers and a multi-purpose basket, so it works well for those looking to eat right and those cooking meals for 1 or people.
Ronco Versus NutriChef Rotisserie – What are the Differences?
Design and Body
Ronco's compact design works great in any home. With its sleek stainless steel design and glass-door, it is easily the best oven on the list.
Anyone looking for pure rotisserie cooking and have limited space will want to check out this vertical oven by NutriChef.
NutriChef Upright model fits if you have narrower space on Countertop. It gets the job done, turning out crisp, but tender slices of meat, chicken and vegetables in no time.
Size
Built to be a convection oven and rotisserie, there's nothing you can't make in this extra-large Ronco oven (13-inch tall x 18-inch wide), which has racks for pizza and a spit to cook chicken, ham and more.
It can hold up to 2 full chickens or 2 large cake pans, so you will get great use out of it.
NutriChef
Unique Features
If you are looking for the best overall oven then this one from Ronco is your best bet. Packed with features, this rotisserie does it all, producing yummy food time after time thanks to its self-basting feature locking in flavor and sealing in meat juices.
Power
Ronco has a high-powered heating element that evenly distributes heat for precise cooking. It also ensures fat will drip off, for succulent, but non-greasy foods and comes with a drip tray for simple cleaning.
With 1050 watts of power, NutriChef delivers even, uniform cooking packed with flavor.
Accessories
Ronco comes with a full range of accessories, including the skewers, multi-purpose basket, oven mitt and ties, giving you all the essential tools you need to create perfect meals.
It has a simple, push-button style and comes equipped with a vegetable, burger/fish basket, 8 skewers, spit and roast rack. It is good for apartment dwellers and gives you a variety of food options.
NutriChef comes with Kebab skewer rack, grill racks and a bake pan. It's perfect for those making Kebab at Home.
Price
NutriChef is $70+ less than Ronco. The most budget-friendly model on this list, this oven is big on versatility and convenience.
The rotisserie mode lets meats self-baste, and there are bake and broil features when using the traditional oven. In addition, the convection setting speeds up the cooking process, so there's more eating and less time in the kitchen.
A bargain price and well worth it for those curious about rotisseries or those looking for more features.
What to Look for in a Rotisserie Oven?
To make sure you choose the right oven from this list, here are the factors to consider when buying one:
Price: You want a model that won't break the bank or hurt your budget. Don't go for extras you don't need if it is going to hike the price up. Extras mean nothing if you never use them. While most models are affordable, there are some expensive options, so choose wisely.
Features: Consider what you need the rotisserie for. If you want to lose weight, consider the NutriCchef; if you're looking to make full meals opt for one of the Ronco models. Things like searing options and rotation controls will determine of the oven is a good fit for you.
Make sure the features fit your lifestyle, or you won't get enough use out of it.
Size: A rotisserie is only good if it does what you need for as many people as you intend to use it for. If you have a large family or host a lot of parties, you will need one that can hold a large cut of meat or cook entrees and desserts. Those who live alone will want a no-fuss, smaller style. Again, pick the machine that will simplify your cooking time; don't be distracted by all the bells and whistles.
The Benefits of Owning a Rotisserie-Oven
What exactly, are the benefits of owning a rotisserie of your own? Let's take a look:
Better Quality Foods: Rotisserie's provide tastier meats and other foods thanks to their unique cooking style. The spinning motion ensures even cooking, so you always get a tender, juicy slice every time. They also develop crisp skin that is never burnt.
Controlled Cooking: These ovens have various controls that you can use to dictate exactly how your food cooks. You can slow the skewer for more intense roasting, or pause it to get a nice sear on your meat. They allow you to control how your food cooks, so it comes out just how you like it.
Healthy Cooking: the spinning motion of these ovens allows fat to drip away, so meat is not sitting in oil or grease. That means you get savory, juicy meats (cut by easy tools), minus the extra fat and calories.
Convenience: Preparation and coking down are shaved almost in half when you use these ovens. All you need to do s season your food, place it in the oven and you're ready to go, for quick meals whether you're serving one person or 10.
These ovens can also be used indoors or out, making them a year-round asset and are easy to clean, for quick cooking and clean-up.
Space-Savers: A rotisserie can fit on almost any countertop, making it a great fit for apartments and homes alike. You can roast a leg of lamb with potatoes or cook up a Bundt cake in any home- no restrictions.
Pros and Cons of Using a Rotisserie Oven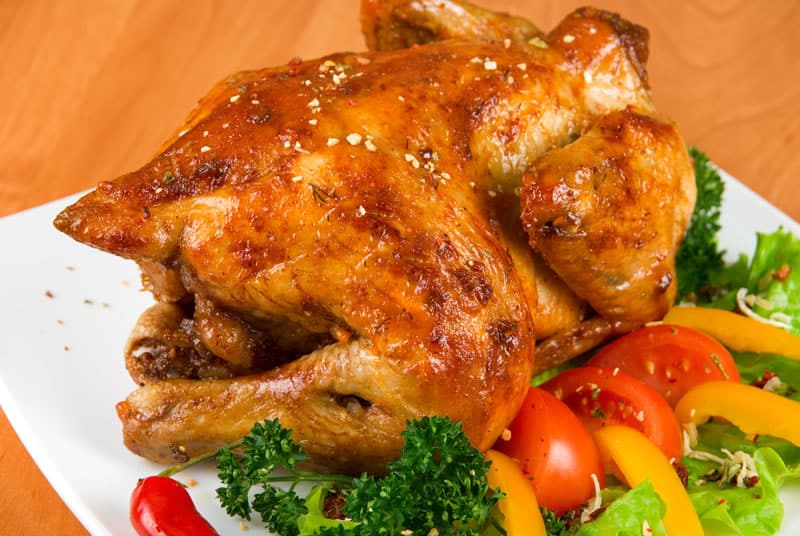 Sometimes, seeing the pros and cons of why to buy and item can help you make a final decision. Here are the good and bad selling features of rotisserie ovens:
Pros
Rotisserie ovens give users a wide range of cooking options in an affordable package. The provide restaurant quality food that is healthier and easier to cook. With the ability to moderate the speed and heat that foods are prepared, they let you eat what you like exactly how you like it.
They are versatile as well as convenient, a big asset on this fast-paced world we live in.
Cons
Rotisserie ovens can be hard to clean if the parts don't detach and some are small, making cooking for large families a hassle.
Q & A
Here are some of the most frequently asked questions:
Q. Can a rotisserie really be used to bake?
A. Yes. The size of the oven will dictate what it can bake. Smaller models can make cookies and tarts n the basket while larger models can make cupcakes or whole cakes.
Q. Are these ovens safe?
A. Yes, they are just as safe as a regular oven and some are safer thanks to built-in shut-off features.
Q. Can you taste the difference when you cook using one?
A. Absolutely. Meats are more tender and have a stronger scent. They have less unevenly cooked pieces also.
My Final Thoughts on the Best Rotisserie Oven Buying Guide.
After reading my best rotisserie oven buying guide I think you'll agree with me that they are a must for any home cook. Their straight-forward design and elevated cooking style let you prepare gourmet, home cooked meals using minimal time and effort.
These ovens are well-priced and give you healthy, delicious foods traditional ovens just can't provide. Quick cooking times and even quicker clean-up times let you spend more time enjoying your food instead of making it. These ovens are truly revolutionary and will forever change how you cook, so make the smart choice and buy one- NOW!