Who goes there?! Yes, you, the one standing on my doorstep. I can see you through my video doorbell. What, you mean you don't have one? A video doorbell lets you see your front door from anywhere in the world! And a couple of the best ones out there are the ones made by Vuebell and Zmodo. Which is why we've decided to do an in-depth comparison of the Vuebell Vs Zmodo Video Doorbell for you right here.

For just under $100, you can own VueBell's beautiful video doorbell. This aesthetically pleasing option uses the best in technology to protect your home. Some of its key features are:
Remote Viewing: This product lets you keep eyes on your front door no matter where you are. You connect this doorbell to your home's WiFi so that it can send a signal to your smartphone, tablet, or personal computer and show you a live feed of your doorstep.
Alerts with Snapshots: You can even set up your camera to send you alerts whenever motion is detected in front of your house. This way, you will never miss an unexpected visitor or delivery man.
Two-Way Communication: This doorbell features a combination speaker and microphone so that you can hear and speak to whoever is at your door. Because of this, you can answer your door even when you aren't around.
Easy Installation: The installation for this VueBell product is as simple as it is convenient. Just use the existing wiring of your doorbell to power up the doorbell, use the VueBell app on your smartphone or tablet to connect the product to your home's WiFi, and you are set to go!
Multiple User Configuration: You could choose to configure the app to communicate with several different phones so that several members of your family could keep your home safe.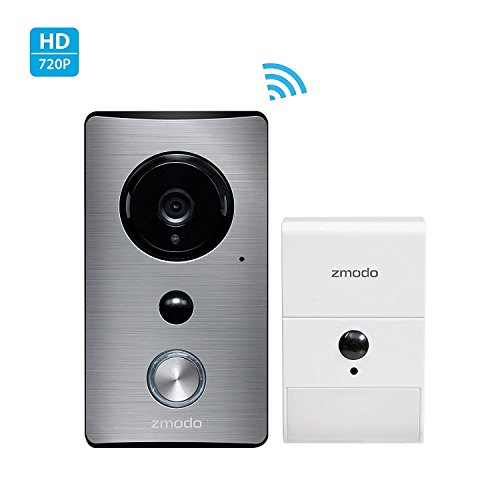 The Zmodo video doorbell is a formidable competitor up against the Vuebell product. With this doorbell installed, your visitors will always feel your presence when they come to your door. For under $90, you can choose to enjoy features like:
Simple Setup: This product is easy to set up to watch over your front door. It is powered by the existing wiring of your current doorbell and connects to your home's WiFi via the Zmodo app installed on your smartphone or tablet.
Greet Your Visitors from Anywhere: This doorbell is equipped with both a microphone and speaker so that you can contact whoever is at your door right when they are there. Scare off a burglar, give the delivery man special instructions, or tell your friend you will be home in a minute!
Motion Detection: This camera detects motion so that you won't ever miss a visitor – expected or unexpected. You'll receive a recorded video clip of the visitor to your phone or tablet just after the action ends.
Record a Message: If you can't answer the door (physically or remotely), you can at least have a message recorded to greet them with. You have a message recorded for your phone so why not have one for your doorbell?
 Vuebell versus Zmodo: How are They Similar?
Admittedly, these two products are similar in a lot of ways, which is what makes them both a great option. Both products allow you to access a live feed from the front of your house, so you will always be able to check in. They both even send you alerts when motion is detected, letting you stay up on when someone comes to your door.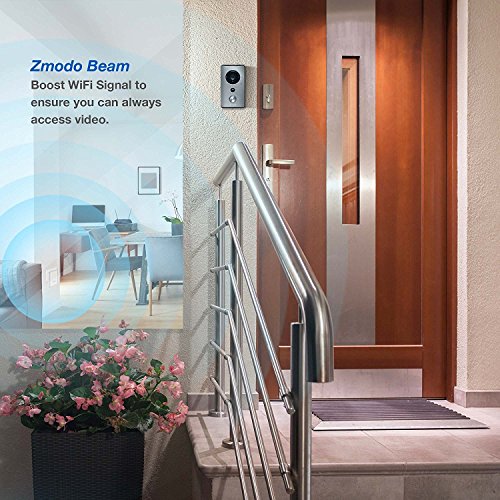 And both products let you talk to your visitors through a two-way speaker and microphone combination. All of these attributes are things you should expect out of a video doorbell in the first place, so these similarities are not alarming.
Compare Vuebell and Zmodo: What Sets Them Apart?
It's the differences in the battle of the VueBell WiFi Doorbell versus the Zmodo WiFi Doorbell that we came for, right? So, let's explore what makes these two products different so that you can decide which purchase is best for you.
Amazon Echo Capability: The VueBell doorbell has built-in capability meant for use with Amazon's Echo. If you desire another smart product to add to your "ecosystem," then the VueBell is the better choice. You'll be able to access an array of skills with Alexa that let you operate your doorbell with your voice. While the Zmodo option will still work as a perfectly worthwhile smart doorbell, it is truly meant for use with your home's WiFi and not as a smart home appliance for use with a hub.
Warranty Information: The Vuebell product has a warranty that lasts for one year, and the company goes out of their way to mention that they provide excellent service that they are proud of creating. Zmodo also has a warranty on their video doorbell – but it beats the competition since it is three years long.
WiFi Extender Included: Vuebell's doorbell package does not come with a WiFi extender. This may pose a problem if your home's WiFi network is a significant distance from your front door, as you may experience connection issues. On the other hand, Zmodo's doorbell comes with a WiFi extender so that this won't be a concern for you. And, of course, your WiFi network will be stronger in general.
Recorded Message Ability: Zmodo's doorbell has the capability to record a message and play for visitors whenever you can't answer the door whereas Vuebell's does not. While this may not be your primary concern when you make your decision, we like to mention that having your voice play to any potential malicious visitor adds a level of personality to your home that just might scare them off.
Vuebell and Zmodo: Which One is Better?
To figure out who is the winner in the Vuebell WiFi Doorbell versus the Zmodo WiFi Doorbell competition, you need a clear understanding your personal situation. If you are looking for a doorbell to sync with the rest of your Amazon "ecosystem," then it sounds like the VueBell option is the way to go. That way, your doorbell will integrate into the rest of your home like a dream.
If you don't have Amazon's products set up in your home, it may be more prudent for you to purchase Zmodo's doorbell. Their warranty is longer, and their doorbell has almost all of the features that Vuebell's does. Additionally, you'll get a free WiFi extender that will not only help your doorbell find your network but will also support other devices. Altogether, both of these doorbells are outstanding options, and you would be lucky to own either.

[rwp-review id="0″]