Are you thinking of replacing your old roof? Then it means you need a roofing contractor to take on the job. Since it is a huge task in terms of financial investment, you do not need someone who will do a shady job. Therefore, here are a few tips to help you in the hiring process.
How to Hire a Roofing Contractor in Broomfield?

1. Find out how long they've been doing Business
Most people will only replace their roofing once in their lifetime. Hence, it is not a trivial matter. It is a rather sensitive part of the building. Your heart is equally a sensitive part of your body, and you would not allow an inexperienced surgeon to operate on your heart. In the same vein, you do not need to allow a contractor without a track record to work on your roofing.
We strongly advise that your selection should not be a solely on how much your Broomfield roofer charges. This is a mistake that many homeowners make. While striking a bargain is great and fine, it should not be at the expense of quality. 
Furthermore, avoid questionable contractors that shut down the business after receiving a lawsuit. Such companies are fond of reopening with another name some months later to avoid payment of damages. One way to avoid such roofers is to deal with companies that have been doing business for at least a decade.
2. Verify Insurance and License
Roofing can be quite dangerous especially if you are not trained to do so. Hence, it is not a DIY task that homeowners can undertake. Even contractors know the risk associated with this profession. As a result, good roofing contractor companies provide their employees with insurance to protect them in case of accidents. 
Such companies not only protect their employees, but they also protect you from any payment in case a worker gets hurt while roofing your house. Therefore, companies that provide such insurance cover are the only ones you should work with. 
Another thing you must verify is whether the contractor is licensed to operate. Do they possess the necessary permit required by law? You can visit https://cdle.colorado.gov/ to see if your potential contractor is licensed. You can even check employee insurance there. 
3. Check past Work
Businesses thrive on reputation which is what brings referral. This is why many businesses do their best to ensure the work they undertake for customers is done perfectly. 
These days, apart from word of mouth which is the traditional and basic way of promoting or referring a business, online reviews equally exist. These reviews allow customers who have been serviced by a business to drop their reviews about the service provided. Therefore, take advantage of such reviews to determine whether a contractor is good enough to work for you. 
We advise that you apply caution when it comes to those companies that only have or show their 5-star ratings. In most cases, it does not accurately represent their work; no company is that good to have no single negative review.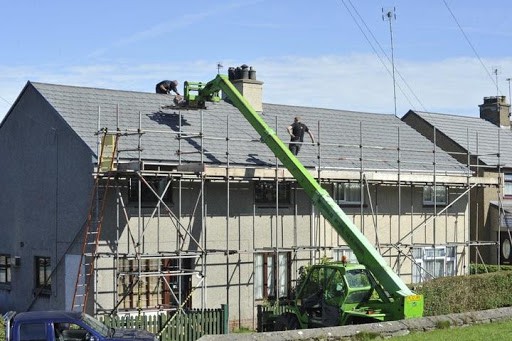 4. Get all the Relevant Information
Some people advise that you get more than one estimate from different companies when hiring a contractor. Some even recommend that you get at least three to properly help you determine the best deal. 
However, from our careful research, there should not be a particular limit to the number of estimates you can get. You can get less than 3 or more than 3, but make sure you get all the relevant information that will allow you to make the right decision.
5. Ensure that all Agreements are in Writing   
Do not make or settle on verbal agreements. Instead, ensure that all forms of agreement are in writing. Also, before you sign any contract, ensure that you fully understand the detail of the contract. Do not be shy about asking questions about any part of the contract you don't understand.
Having the agreement in writing will protect you from any legal breach. It will also give you solid evidence when it comes to any legal issues. Click here to learn why a written contract is necessary.
6. Ask about the Crew that will perform the Roofing
This bit is all about security. The roofing contractor is going to send a crew to carry out the roofing. You must have adequate information about the crew that will be coming to do the job: Ensure you do this. 
Some contractors tend to outsource to third-party contractors. Hence, in cases like this, it becomes difficult to determine the qualification of these independent outsourced contractors. Therefore, you need to confirm and investigate if the contractor you plan to hire uses this kind of strategy. 
7. Inquire what will be done if the Job is Unsatisfactory  
Unforeseen circumstances do occur even in a well-planned job. Hence, you must confirm what the contractor will do if things do not go as planned and the job ends up being unsatisfactory. This will ensure that you are protected when such happens. Make sure that you get them to put all these in writing.
8. Inquire about Unintended Repairs
At times when it comes to home improvement, you usually get more than you bargained for. The possibility of finding additional problems while working on the roof is quite high. Sometimes, the decking might be rotten or there is some form of water damage. 
You need to ask your roofer how they plan to deal with such unintended repairs. This will give you an idea of what you will expect in case such happens. As with other agreements, ensure it is in writing.
9. Will they Completely Remove the Old Roof?
Instead of removing the old roof, certain contractors fix new shingles on the old roof. This technique is not the best. It adds more weight to the already aging roof. Also, it does not truly fix unseen problems. Avoiding such can lead to additional future repairs. 
Therefore, find out if the company will be removing the roof completely or just installing new shingles. 
Confirm and verify if the roofer is authorized to install the shingle you intend to use. This will help you maintain the shingle's warranty.
Conclusion
We do not doubt that the tips above will help you hire the best roofing contractor for your home improvement job.