There are certain things homeowners must do to ensure that their houses are safe from damage and one of those things is waterproofing the house. In this article, we are going to be discussing extensively the things you ought to know about waterproofing.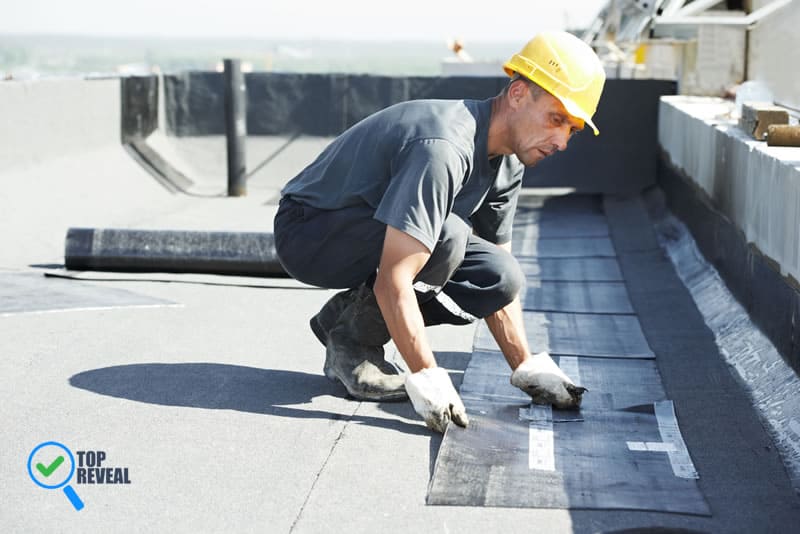 Why You Need to Waterproof Your Home
When moisture enters your home, it causes damages like spots on the wall, damp patches, and sometimes green fungus which in turn ruins the beauty of your home and reduces its life span. It also causes health problems for the people living in the house because dampness left alone allows for fungus, bacteria, and mold to foster. Click here to learn more about dampness and mold. You must curb this from happening by waterproofing your home.
Important Parts of Your Home to be Waterproofed
The following are important parts of your home you need to waterproof…
Roofs
When it rains, hails or snows, the roof bears all the liquid burdens, so it is paramount that it is not overlooked. It is almost certain that when water passes through this part of the house, it will enter the building structure and cause issues. Therefore, every house owner must ensure they waterproof their roofs.
Balconies
Balconies are always unprotected from direct wind, rain, and snow, this makes them prone to seepage. You must waterproof it to avoid damages.
Bathrooms
This is a part of the home that needs thorough waterproofing. This is expected because of its daily exposure to water. Make sure your floors and walls are tiled, waterproof your shower and toilet recesses.
Basement
When there is a heavy storm, one of the places likely to flood is your basement. This kind of water damage can cause harm to the house's foundation. To prevent your home from getting destroyed, it is vital to waterproof your basement thoroughly. Professional waterproofers have to be employed for this.
Other parts of the house like the kitchen need to be waterproofed also, but make sure you work on the aforementioned parts because they are easily affected by water.
Factors to Consider When Waterproofing Your Home
These are some of the factors every homeowner must consider when waterproofing their homes:

Weather Condition
It is vital to put temperature and relative humidity into consideration when waterproofing your home's exterior and interior. Using a flexible but breathable membrane and moisture barrier with a complete solution is always best because it ensures proper control of moisture. Check out this link https://en.wikipedia.org/wiki/Waterproofing to know more about the waterproof membrane. It cancels out the prospect of condensation.
Surface of Application
Before applying the coating, it is essential to assess the surface, it must be thoroughly cleaned. Proper cleaning techniques include grit blasting and high-density water treatment, aggressive methods like scrubbing are not recommended.
Best Methods for Waterproofing Your Home
Cementitious Waterproofing
This is the easiest method; the materials can be found easily at any masonry shop. It is used widely for indoor areas susceptible to water like the bathroom, toilet, and kitchen.
Liquid Membrane Waterproofing
This involves applying a coat of thin primer with a topcoat. A roller, spray, or a trowel can be used to apply it. Liquid membrane waterproofing offers flexibility.
Bituminous Waterproofing Membrane
This method is most suitable for concrete foundations as it has a shielding coating agent.
Things to Lookout for in a Waterproofing Contractor
If you are considering waterproofing your whole house, you must hire help. And before you hire any contractor, you need to be certain that they will provide effective service. Hence, it is important to research your potential contractor to aid you in making the right choice.
Here are things to look out for when hiring a contractor:
An Outlined Estimate
You need to know if your potential contractors are going to back up their work. For example, some waterproofers might propose a quick and inexpensive fix, but would not be willing to provide a warranty which might not be best. Try to get as many offers as you can get, but make sure to consider the quality when comparing prices.
A Contractor that Knows Damage Signs
Some water damage signs are not obvious and are hard to detect. When hiring a contractor, you must be sure that they know the damages made by water; this is a sign that they are experienced.
Detailed Contract and Proposal
Your potential contractor must be able to provide a detailed contract and proposal that has everything for the work in a list to you. Make sure you understand everything so that you will not pay for what was not agreed on later. Ask for it to be written out in detail for it to be more accessible and easier for you. This will also help to protect you if the job is not done as expected.
Good Reputation
Hiring a reputable contractor is very important. Asking family and friends for recommendations of a company that has worked well for them is a nice idea.
You can also do research online for potential contractors and check out their reviews. Click here to learn how to check a company's review. It is advisable to inquire if there had been any criticisms against the contractor you are thinking of hiring.
Find out if they are bonded, licensed, and insured. You must authenticate the info they give to you to avoid hiring unqualified contractors.
Conclusion
Now you know about waterproofing and its benefits, you can now decide on what to do regarding waterproofing your home.