When I first decided to turn my house into a smart home, a funny thing happened: I realized I wasn't "smart" enough to put it all together. Turns out, setting up a smart home can be a bit of a nightmare if you don't know what you're doing, or think you know and do it wrong. From seemingly simple heating systems to intricate switch plates, one wrong move can have you blowing a fuse- your own and the ones in your home.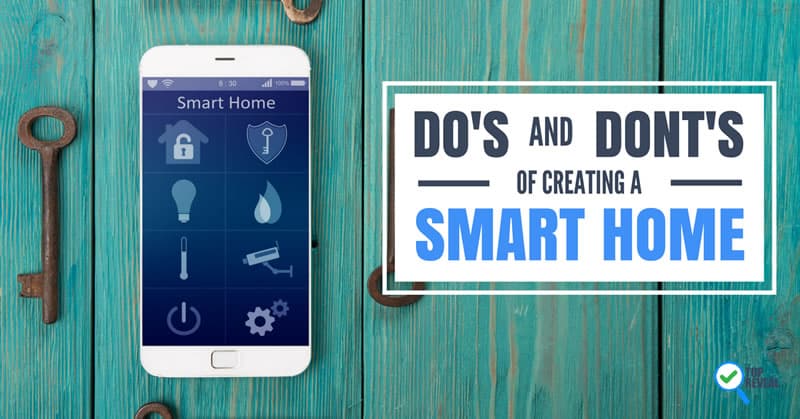 Which is why I am sharing this guide of Smart Home Setup Do's & Don'ts with you. I'll help you differentiate between WiFi and Z-Waves, rate the level of difficulty for the most popular devices and tell you when you should call in an expert, so your installation goes smoother than mine!
Communicating With Your Smart Devices: Z-Wave, Bluetooth, and ZigBee, Oh My!
Before you buy that electric grill or smart bed, you need to know the various ways they communicate if you hope to use them effectively- or at all. It turns out many of these gadgets don't use WiFi because it is too strong for most of these low-powered devices. Instead they operate on one of 3 different systems, or protocols: Bluetooth LE (or Bluetooth Smart), Z-Wave, and ZigBee; and naturally, to make things even more complicated, they often are not compatible with each other.
For instance, if a device runs on Bluetooth, odds are you can control it with your smartphone. But if you install a thermostat that communicates over Z-Wave, you'll need a hub or controller to use it. Yeah, sounds complicated, but it's not as daunting as it seems. There are some products that work across all protocols and hubs that can control multiple devices. You just need to be aware of what the device you're buying uses, which will get into in greater detail in my do's and don'ts.
Smart Home Do's and Don'ts Basics
Before I get into specific do's and don'ts by category, let me share with you some ground rules to get you started on a positive note.
Do: Map out what gadgets you want. Do you plan on automating your whole house or do you want to dabble with a few smart items you just can't live without to get through the day? Knowing the scope of what you plan to do and what devices you will make the whole process easier, as you can match protocols
Do: Group devices. Having a plan, or list of devices, lets you eliminate the issue of using multiple systems. While not every device you need will use the same protocol, you'll probably be able to group a majority of them on one, for fewer headaches.
Don't: Buy without researching. Smart devices can be pricey, so know what you're buying before it's too late. For example, smart washers are a great convenience, but if a majority of your clothes need special care or dry cleaning, it may not be worth the investment.
Don't: Do it all by yourself. There is no shame in asking for help. If you don't know a red wire from a blue one, then use a professional. The cost will be minimal compared to having to replace a broken device or repair any damage to your home.
Do: Invest in the basics: a good hub, switch plates, home security system, lock, and thermostat are more than enough in most cases. Extras, like digital crockpots or ambiance lighting, can come later.
Smart Home Do's & Don'ts Setups
Now that you have an idea of where to start let's look at what to do and not do when it comes to home setup by category. We'll explain what you need and the best approach to take or device to use. We'll also grade the degree of difficulty to install and use these gadgets on a scale of 1-10; 1 being easy and 10 being you need a Harvard grad.
Hubs & Controllers
Degree of difficulty: 2
The first thing you need to do is invest in a quality hub or controller. As I said earlier, you will most likely need one to operate some of your new devices; plus, most hubs can do a myriad of fun and convenient tasks, like play music, look up movie times or walk you through a simple home repair.
The main "do" here is to look for one that is easy to use and works with multiple protocols as the home automation center. Samsung's SmartThings and Amazon's Echo, featuring Alexa, both work across all the protocols, making either a wise investment.
Home Security System/ Home Smart Lock
Degree of difficulty: 4-7
Unless you work in the security industry, I strongly suggest you use an expert. Today's smart home security systems go a long way to providing you with peace of mind. They can send alerts to your phone if there is suspicious activity, provide live video footage, allow you to lock or unlock doors and windows remotely, and more.
However, the wiring and placement of the sensors and locks can be tricky, so you should use a pro. Besides, most of these systems have monthly subscriptions to monitor your house and will install for a nominal fee.
A home smart lock, on the other hand, is relatively straightforward and many can slide over your existing lock. If it is simple and doesn't need to be wired, odds are you can do it yourself.
Smart Thermostat
Degree of difficulty: 5
Smart thermostats are one of my favorite devices. Today's offerings, like the Ecobee3, don't just let you control the temperature; instead, they take things a step further, using sensors to make sure the house is heated or cooled uniformly throughout the house. There is some electrical work involved, so if you're not handy, you should have a pro- or friend who knows what they're doing install it.
Switchplates/Sockets
Degree of difficulty: 8
Smart switches and sockets that let you control whatever you plug into them are ingenious; Plug in a lamp, and you can turn it on and off anytime using a simple program. The main advantage here is that you can use a standard bulb with these switches or even turn your washing machine on or off from the office if it's plugged into one of these sockets. With all the wiring, you should call in a pro.
As you can see from my guide of Smart Home Setup Do's & Don'ts, automating your house can be simple once you know what to do and how. Having a plan and using the right devices will go a long way to making your home smarter and more efficient. Just remember: calling in an expert when you need one makes you "smarter" than you think.