If you're at CES 2018, you need to go down and see the LG booth. And if you're not at CES 2018, you need go get to CES so that you can go down and see the LG booth – because it is that good. Their revolutionary products are about to change the way we use our kitchen appliances so here's our inside look at the CES 2018/ LG InstaView ThinQ Refrigerator and more.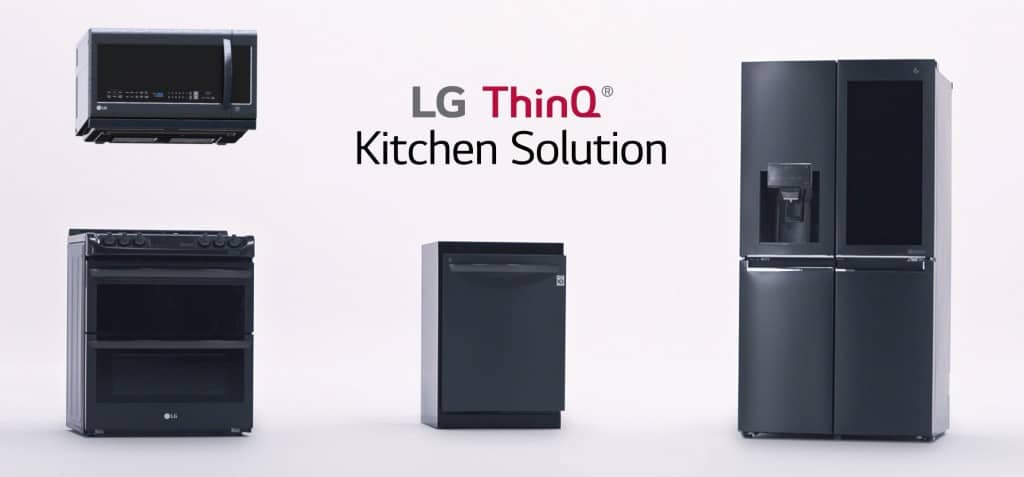 Share via LG.
What is CES?
CES refers to the Consumer Electronics Show that is held in Las Vegas, Nevada. For over 50 years, CES has been the gathering place for large and small companies to come together and show off their innovative technologies that are meant for the general public. Innovations include smart car tech, smart home gadgets, and new-age toys for the techie consumer in you. The trade show features booths, speakers, and much more. In 2017, 185,000 people, 4,000 companies and 1,200 speakers were present at the event.
LG ThinQ Products
The LG InstaView ThinQ Refrigerator
2-in-1 LCD Display/Window
The 29-inch screen on the front of this fridge is not just any touchscreen. With two knocks, it turns into a window so that you can see what is inside it. The fridge can also tell you what is inside and which ingredients you have to make which meals. No longer will anyone be stumped by the age-old question "What's for dinner?"
Set Up an Entire Meal with One Touch
When connected to your smart home hub, the fridge will set your oven to preheat to the correct temperature and tell the dishwasher just how to wash your dishes depending on which type of meal you choose. Additionally, when hooked up to an Alexa enabled product, Alexa can guide you through the steps of cooking your food.
Inventory System
Yes, the future has finally arrived. Your fridge knows what is in itself. Not only this but users can add tags, stickers, and expiration dates to each food item. But the fun (and tech wizardry) doesn't stop there. Users can then check their smartphone and find their grocery list on their phone through their LG sponsored app. That makes this CES 2018/ LG InstaView ThinQ Refrigerator a sweet piece of tech.
LG EasyClean Oven
Automatic Preheats
As mentioned above, this oven knows what you're up to before you even do it. Once you have chosen your desired recipe on your fridge, your oven will automatically start preheating to the perfect temperature. Efficiency and ease the name of the game here, leading to an easier job cooking for you.
Smartphone Alerts
Ladies and gentlemen, we hate to break it to you but the self-cleaning oven hasn't quite arrived – yet. However, this oven will do the next best thing and let you know when it does need to be cleaned. You'll get a smartphone alert so that you can maintain your kitchen and food safety at home.
Automatic Light and Hood
Just to keep your workspace well-lit and at a comfortable temperature, the rest of this oven's features are automatic. The light will come on and the over-the-range hood will suck some heat away from the rest of your kitchen so that you can enjoy cooking your family's meal just a little bit more. Again, this is just another feature that lets you focus on the food rather than a million other things.
LG QuadWash
Automatic Cycle Setting
By communicating with your other LG devices, this dishwasher knows precisely what it needs to do to get your dishes clean. It knows what you cooked so it can set itself to be hotter or clean for longer if you were cooking an especially greasy dish. No longer do you have to worry about dishes coming out of the dishwasher with grime still on them.
4 Motion Activated Spray Arms
This is just what the banner says, folks. Between these four jets, you're going to see an awesome sheen on all of your dishes, no matter how dirty they came to your washer. Your dishes will get cleaned from every angle in every way, shape, and form – and you'll be happy to never need to a dish ever again.
Voice Commands
Just like the other smart appliances on this page, this dishwasher can be used via voice. You can monitor how clean your dishes are by asking several different questions. You'll receive your answer through the LG CLOi Hub Bot which serves as the computer that answers all questions from your LG kitchen system.
ThinQ in Your Home
As we have already alluded to, the change in your cooking habits with these installed in your home is immense. These appliances can single-handedly improve the quality of your meals by giving you less to worry about as you cook as well as make sure you set everything up right. Instead of worrying about if the oven is ready yet, just prepare your ingredients and your smart home appliances will let you know. You'll be able to get everything done quicker, smoother, and more efficiently with this tech around.
Additionally, all three of these devices connect with each other – but also other smart home devices. Have an Amazon product that is equipped with Alexa or a Google Home product? Excellent! These smart home appliances work with those (and many more) smart home gadgets to create a universal and simplified smart home experience.
Wrap Up
If you want to see all of these products on display, visit the LG tent at CES. They're putting on full demos of these products that have surprised even the savviest consumer electronic enthusiasts. The CES 2018/ LG InstaView ThinQ Refrigerator is probably the main attraction since that is where every meal starts in an LG kitchen but the other two products mentioned above are also top of the line. To see the future of your kitchen, find the LG logo at the Consumer Electronics Show.