With the recent trend of smart homes on the rise, you should be wising up as well. After all, you don't want your house to out"smart" you. Many (smart) people choose the Amazon Echo as the hub for their smart home for a variety of reasons. From the outstanding connectivity to other smart appliances to the speaker system to Alexa's virtual assisting, the advantages of owning an Echo for your smart home are immense. So, if you were intelligent enough to buy an Echo, we'll help you be clever enough to set it up and add some "smarts" to your home and you.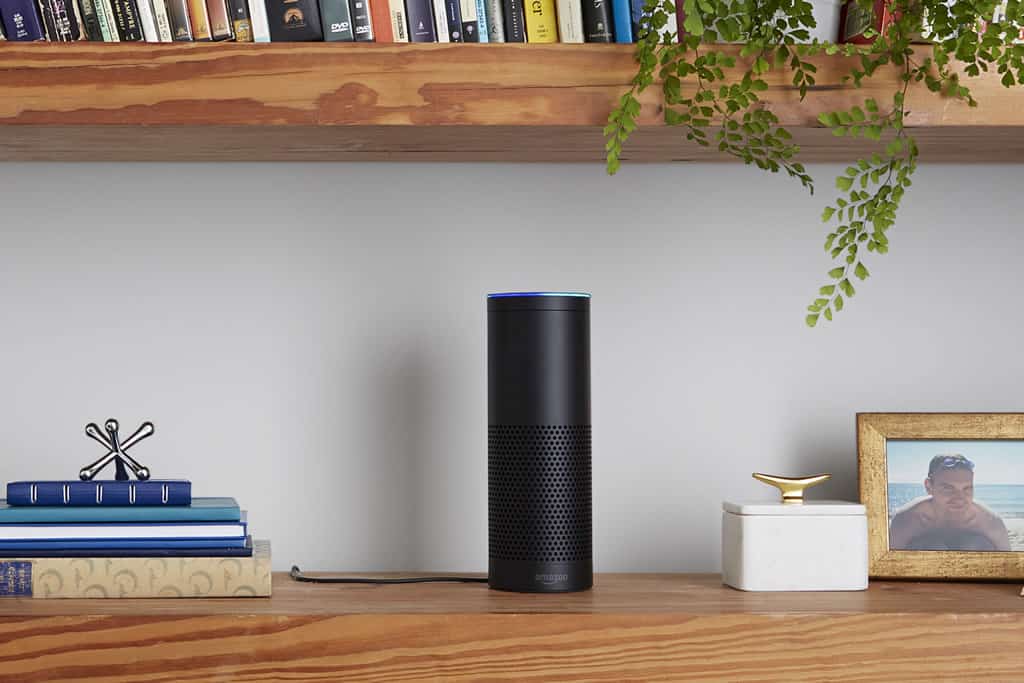 Wait, what's an Echo?
On the off chance that you live under a rock in a cave under another bigger rock, let's start by telling you what an Amazon Echo is. The Echo is a forward- thinking piece of technology that you can utilize in your home for a variety of things. At its heart, it is a bumping Dolby speaker to play your favorite tunes using apps like Spotify, Amazon Music, iTunes, or Pandora.
(Mine plays Cher's Greatest Hits all day, every day. Is anyone else getting this bug?) But streaming music, as great as it is, is just a small part of the Echo's repertoire.
The Echo also gives you access to Alexa, Amazon's cloud-based virtual assistant who is a master of an always growing list of useful skills, like reading headlines, setting timers, and ordering Ubers. And since all that wasn't enough for Amazon, the Echo can also operate as a hub for your smart home, letting you control any of the smart-enabled devices in your home using Alexa. All of these useful benefits help the Echo change your household from a boring, lame one to something out of a science fiction book.
Wow! How do I install an Amazon Echo in my house?
The steps to setting up an Echo in your house are actually quite simple:
Plug in your Echo so that it turns on, genius' the ring around the top will first glow blue. Then, it will turn to orange and greet you, waiting to be connected to a Wi-Fi network.
Download the Alexa app onto your phone or tablet. This will allow you to control the Echo once your app has found it. You will be prompted with steps to connect the Echo to your home's Wi-Fi network. With the app, you can control various settings on your Echo so make sure to keep it handy.
Yell "Alexa" at the top of your lungs. No, not really. Like a normal person, say "Alexa" and your new virtual assistant will start listening for your directives.
It really is that easy. Now, you may find a bit of a learning curve with barking commands at Alexa and figuring out the best ways to get her to follow them.  Don't worry, through Amazon's cloud, Alexa can usually figure out what you want her to do. Hint: Even robots like manners.
Neat! What smart appliances can I use with the Echo?
Amazon has placed a great deal of pride in making sure that the Echo is compatible with numerous smart appliances. The Echo uses Z-wave technology to be able to talk to all sorts of smart home devices across different brands and makes the process extremely straightforward. Some of the most popular smart appliances to use with an Echo are:
Lighting: Just imagine being able to say "Alexa, turn the lights off for me because I'm too lazy to get up" and having them magically turn off? With the right set up, this can be your reality. Popular lighting brand Philips has created the most popular series of lighting options that can be configured to be voice controlled by Alexa.
Switches: Pretty much anything that you turn on and off can be aligned with Alexa for voice control. Place a switch on a ceiling fan or garbage disposal and you'll be able to turn them on and off without moving any of your precious muscles. Belkin has proven to be making the best Alexa-enabled switches so far.
Smart Locks: Yes, you can even unlock doors with Alexa's permission. The August Smart Lock is currently the only smart lock that can lock by telling Alexa a PIN code. You can even ask Alexa if your door is locked or unlocked if you aren't too rude to her.
Thermostats: You're all bundled up with a blanket in the middle of the sixth hour of your Friends binge watch when all of a sudden you start to feel too cold. With the popular Nest thermostat, you could simply ask Alexa to turn the heat up without having to leave the precious warmth of your blankie.
Garage doors: With a Garageio device, you can open and close up to three garage doors by simply asking Alexa. Sorry, but you'll have to ask your real life butler to close your fourth garage door, moneybags.
Awesome! How do I set up those smart appliances so that Alexa controls them?
Connecting your smart appliances to let Alexa control them is also quite simple. You will need to work with your phone or tablet a little more in order to connect your new toys to Alexa, but this process is still very easy.
Every device is different, though, so you will want to consult any user manual you get with the item for specifics on the process. In general, the process follows a few similar steps:
Download the manufacturer's companion app to complement the Alexa app already on your phone or tablet.
Use the manufacturer's app to set up your smart device onto the same home Wi-Fi network that your Echo is connected to.
In the Alexa app, go the "Menu" and select "Smart Home." On this next screen, find "Get More Smart Home Skills."
Browse or search for the skill you are looking for and select "Enable Skill."
If prompted, you may need to make an account with the manufacturer and follow a few more prompts.
Done! Painless, once again. The Echo will use a combination of your Wi-Fi network and Z waves to effortlessly utilize your new smart home devices. (Note: If you can't seem to find the skill you want on the "Get More Smart Home Skills page, you might want to check that your device really is compatible with Alexa. For Philips Hue devices with Bridge technology and Belkin Wemo Devices, all you have to do is physically set them up and say "Alexa, discover devices.") Echo is the truly Top Smart Home Hub.
Welcome to the Future!
With your smart home all set up, you will find a brand new ease to your life. Without moving from your couch, you can have Alexa set an alarm to wake you from your nap, turn the lights off, and set your thermostat to a comfortable sleeping temperature. Then, once you wake up, you can tell Alexa to read you the news, turn the fan on (Why did you think 85 degrees was a good temperature?), and order your favorite Domino's order, still on the couch.
We know what you are thinking and yes, dreams do come true. You're welcome for telling you how to set up an Amazon Echo system with smart appliances in your home.