If you struggle to keep your bathroom shiny and spotless, you're not alone. Next to the kitchen, it is the most used room in the house, which can make it hard to keep everything neat and clean. From toothpaste stains and soap scum to hair products all over the counters, there is always work to be done.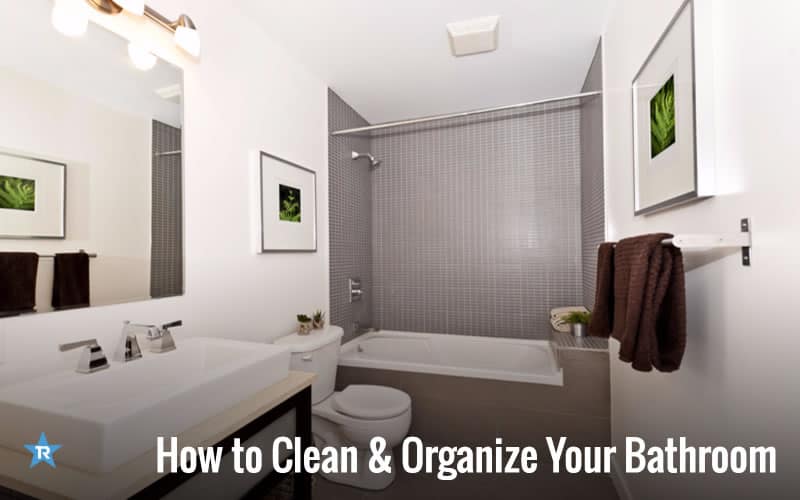 And while I don't have a way for your bathroom to magically clean itself, I do have something just as good: Proven Tricks and Tips to Organize and Clean Your Bathroom. From clever storage solutions to effective cleaning methods, I'll help you make your bathroom tidy and pristine. Because if the place you go to get clean isn't clean, then what's the point?
Bathroom Cleaning 101: From Grout to Grime
A dirty bathroom is not only unsanitary, but unsightly. Who wants to wash, brush, or poop, in a room where there are soap rings around the toilet or grout that looks gray?
To combat these common stains and have floors clean enough to eat off of (not really, but you get the point) we found simple, effective mixtures that will get the job done. Read on and find out the answers to your most stubborn cleaning problems.
Toilets
It makes sense that toilets, the place where we empty out tummies, are one of the hardest to clean parts of the bathroom. Plus, standing water can cause lime build-up and mineral deposits, making it hard to keep fresh. Luckily, there is an easy way to keep it clean, using household baking soda.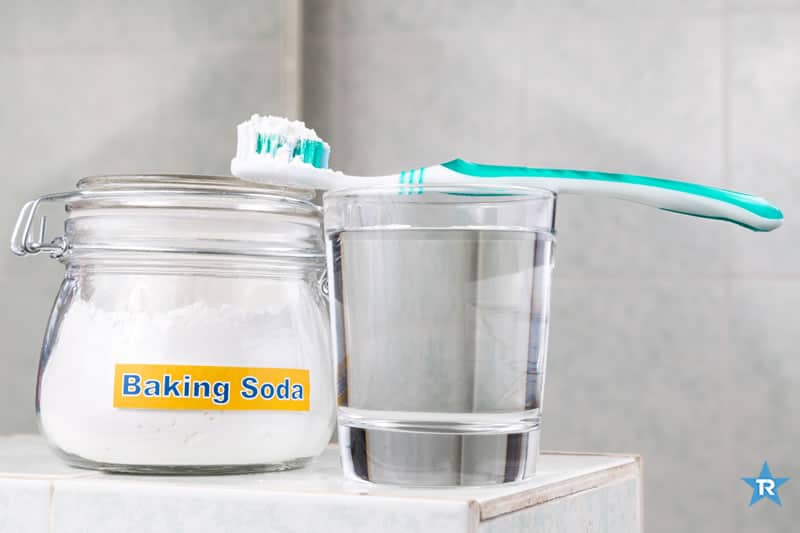 For daily cleaning: pour a cup of baking soda into your toilet, let sit for 5-10 minutes, then brush gently around the sides using a soft-bristle brush and flush. You can also use this solution on the outside of the toilet and the seat, using a rag to wipe and rinse.
For built-up stains and caked-on grime: use the same amount, but allow it to soak longer and use a damp pumice stone to scrub clean. Pumice stones work well without scratching the toilet surface.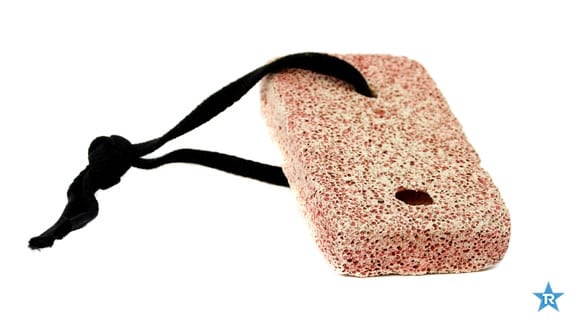 Bonus tip: A toothbrush works great around the hinges and other hard to clean areas.
Tiles/Walls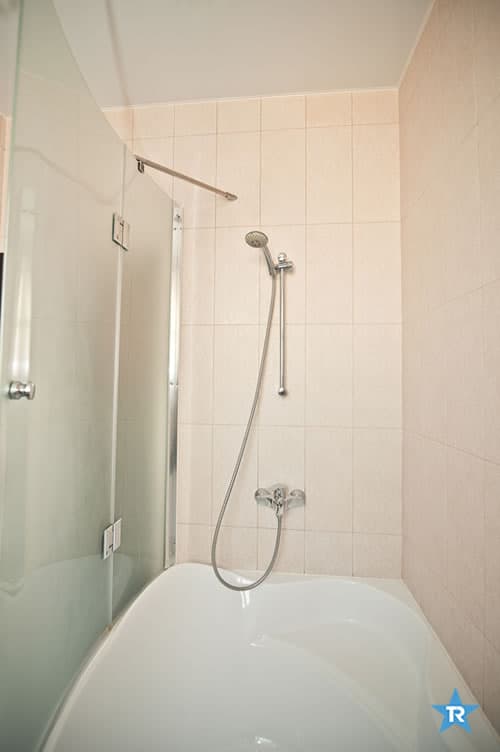 Tiles can be a pain to keep clean, as every splatter and fingerprint tends to show. A quick, efficient way to clean them involves just 3 items: a rag, bathroom cleaner and your shower.
Simply spray the walls and ceiling with a basic bathroom cleaner, then run a hot shower and let the room steam up. Close the door, keeping the steam in, for about 20 minutes, then go back and wipe down the walls and ceiling with a rag.
Shared via House Beautiful
The steam loosens and moistens the tiles, getting it cleaner than ever. One can use one of the top rated steam cleaners to steam up the tiles even more throughly.
Shower
While the trick above works great for shower walls, it won't do much for your shower head, tub, or doors, which are breeding grounds for bacteria.
To get your shower head clean, fill a Ziploc bag with white vinegar, then submerge the head in it, securing it with a rubber band. Leave it to soak overnight, then rinse with warm water. This can be done weekly for a deep cleaning.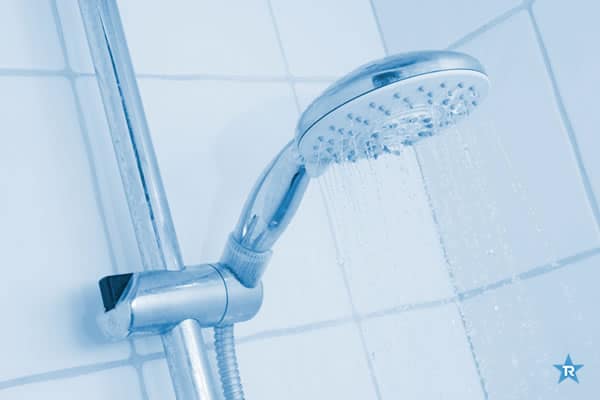 For shower doors, make a paste, using a few drops of distilled white vinegar and baking soda, then apply to the door. The paste should be thick so it sticks to the door. Let sit for an hour, then rub it off using a microfiber cloth. Rinse with water and dry.
Tubs are usually okay with soap and water, but the paste can be used for deep cleanings.
Most of Heaters can be installed out of your bathrooms like in Garage or Outdoor.
Bathtub
Bathtub's can be an annoyance to keep clean since they are used so frequently. An easy solution is to mix pack of baking soda with vinegar to lightly scrub the tub, then rinse with warm water.

Shared via Tried and Twisted.
This solution is also very effective for removing stains from the bathtub surface. Just spot clean before cleaning the whole tub. 
Sink
Sinks are one of the most used areas, so keeping them clean is essential. To keep the faucet and water knobs sparkling and germ-free, use disposable cleaning wipes. Soap and water will not kill germs.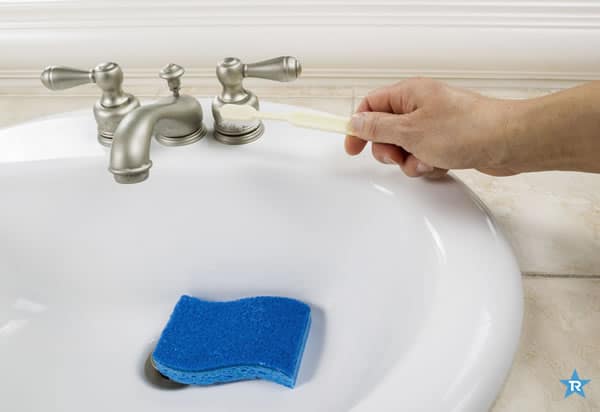 For the drain, pour white vinegar down the drain and flush with hot water.
Grout
Cleaning grout is tedious but necessary. To get it white and looking new, dip a toothbrush or brush in bleach and rub over it. For small grout lines you can use a Q-tip.
Rinse after with water to prevent yellowing. Or simple use a powerful steam-mop and strong vacuum to do the work.
Bathroom Organizing Made Easy
Here are some simple, easy to-do organizing tricks on Top Reveal to keep the bathroom tidy and everything in place:
Plastic Bins
Use ordinary plastic bins to hold hairsprays, gels, beauty products, and other products over/under the sink. The bins not only keep them upright and neat, they keep everything in order so you can find what you need quickly.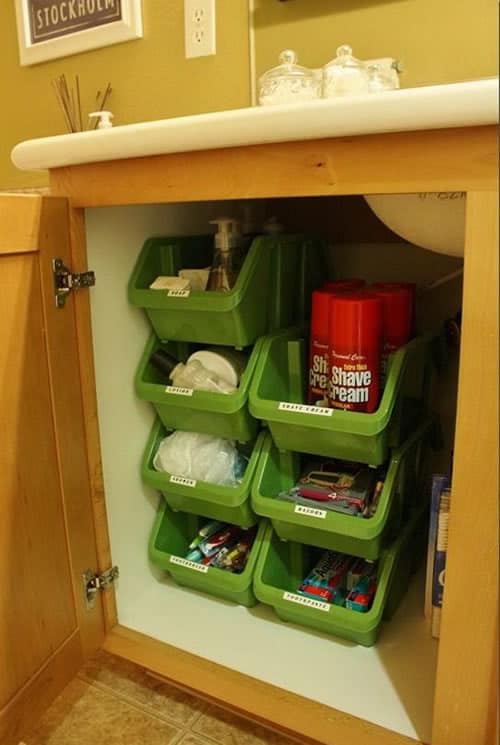 Shared via Idea Stand
You can even use old Chinese food plastic soup containers to hold hair bands or Q-tips.
Shelves / Caddy
Above the toilet, add a small caddy, cabinet or shelves to hold essentials, like hand towels and cloths. You are utilizing unused space, making room in drawers and closets for other must-haves.
Shower Caddy
Add a shower caddy in your shower to hold your shampoos, soaps, loofahs and more, so you don't have to scramble when your wet to go get them.
If you follow my Proven Tricks and Tips to Organize and Clean Your Bathroom, I promise life won't just be cleaner, but a lot less stressful. These tips will have your bathroom in tip-top shape in a snap, giving you more time to enjoy your house- and the people in it.