Buying gifts is never easy, no matter how well you know the person. When the holidays roll around, the pressure really starts to mount. But this year you can sit back and relax. If you know anyone who loves to sew, quilt or knit, we have an all-inclusive list of the best gifts for sewers. Put the guesswork aside and take a look at some creative ideas for the people you love.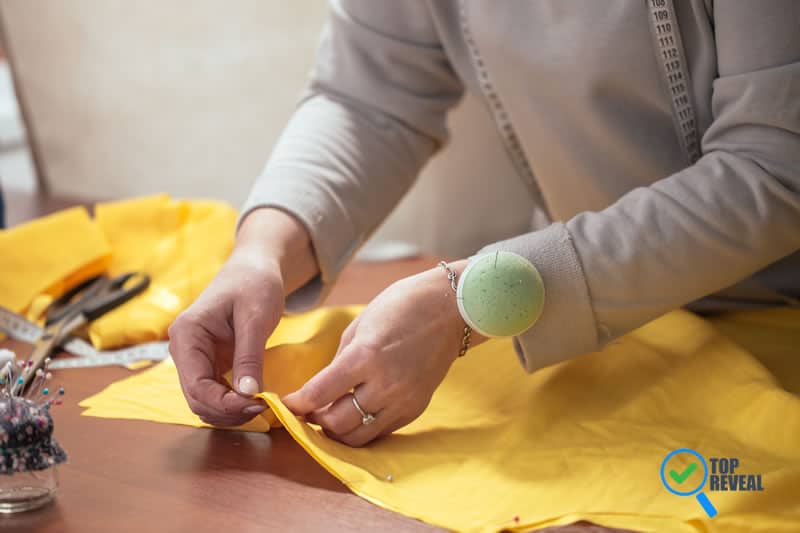 Sew Up Your Christmas List
Christmas is the perfect time to get some meaningful gifts for your family and friends. When it comes to the seamstresses in your life, you have a lot to work with.
There are so many holiday-themed materials, sometimes there's no better gift than a fun project! In addition, there are some fun yarn colors that can be made into a very lovely sweater.
Birthday Sewing Magic
As we all know, there are plenty of other gift-giving occasions other than Christmas. Birthdays are a great time to give fun gifts, and they encompass a lot more categories as well.
Whereas the holidays are usually themed, birthdays are open to all sorts of presents. Gifts for sewers don't just have to be directly related to the craft. Feel free to find some cute knitting and quilting themed items, like jewelry or coffee mugs.
When it comes to giving gifts, there is a plethora of gift categories to choose from. All you have to do is vaguely know what the recipient likes. Do they enjoy weekend camping trips? Then perhaps an outdoor themed present will go a long way. Some categories are gendered. Women will almost always appreciate a piece of jewelry to add to the collections. Whereas men may prefer fun gadgets or anything to make the man cave even more excellent. Those are just some vague examples, there are so many more categories that you can peruse.
Gifts for Sewers

This charm bracelet is an adorable and thoughtful gift for the quilter in your life. With cute little sewing-themed charms, this silver bangle is both thoughtful and classy. The sewer you know is sure to love it.

These cones of color are a dream gift for any sewer. There are 50 colors of polyester embroidery thread, plenty of fuel for the creative mind. An extra plus is that these spools are pre-wound for sewing machines such as Janome, Babylock, and Brother. This amazing set is sure to make any sewer happy.

Do you know an avid sewer? If so, you have found the perfect gift. Sewing machines are heavy and cumbersome, but with this amazing case, it can be wheeled anywhere. It contains some great features like extra pockets for organization and inside straps that secure the machine. When you're done using it, the case collapses so it can be easily stored.

If you want to give the ultimate gift to anyone who sews, then this is it. This amazing sewing machine has so many functions and features, you won't be able to remember them all. What makes this the perfect gift is the fact that you can change the language, meaning it can be a present for anyone around the world! With 67 sewing stitches and 70 embroidery design options, you really can't go wrong.

This may seem like a strange idea for a gift, but a little iron is great if you think about it. It's extremely convenient for any seamstress who is working with large bolts of fabric. The best thing about it is its size! Since the iron is much smaller than a normal sized one, it's
easier to use and transport
.

A clapperboard may seem like something that went out of style a long time ago, but some things will always have a purpose. This is one of those things. It would make a great gift for the dedicated seamstress, or anyone who works with large swaths of material.

If you know a sewing and wine lover, then your present hunting has come to an end. You really can't go wrong with this gift. Acceptable for a sewer, knitter, or quilter, this themed wine glass combines the best of both worlds. The cute design is etched in, so it will never fade!

This pen is a must-have for any sewer, whether they are beginners or seasoned veterans. This is a product that will always be in demand. Now they can draw all over dark and colored fabrics to make the job even easier. The best part is that it will come right out when you wash the finished product!
Buying Considerations
As with any gift, there are a lot of things to consider before buying any of these things for the sewing fiend in your life. The most important thing to consider is what their focus is in regards to sewing.
Do they prefer quilting to sewing? If so, perhaps the bracelet would be the best option. If they do love to sew, then which item will they use the most?The more creative sewers would love 50 colors of fun, while the more serious seamstress may prefer an iron or white marking pen. It's all about knowing the audience!
In the end, you really can't go wrong with any of these items. Any sewer would love any and all of the options listed above, they're easily some of the most creative and best gift ideas for sewers. The great thing is that these would work for any occasion, whether it was Christmas, a birthday, or bridal shower.
When it comes to gifts, giving something that is meaningful is what's important, and will make the person feel cherished, which is why we give gifts in the first place, right? Make someone you know and love feel special with these tailored presents.