Holidays and birthdays can be a stressful time for spouses trying to find their wives the perfect gift. Most wives won't ask, or eve hint, at what they want. You're their spouse- you're supposed to KNOW what to get! So, before you can go find the perfect gift, you must figure out what the perfect gift is. Hint: it is NOT a new vacuum.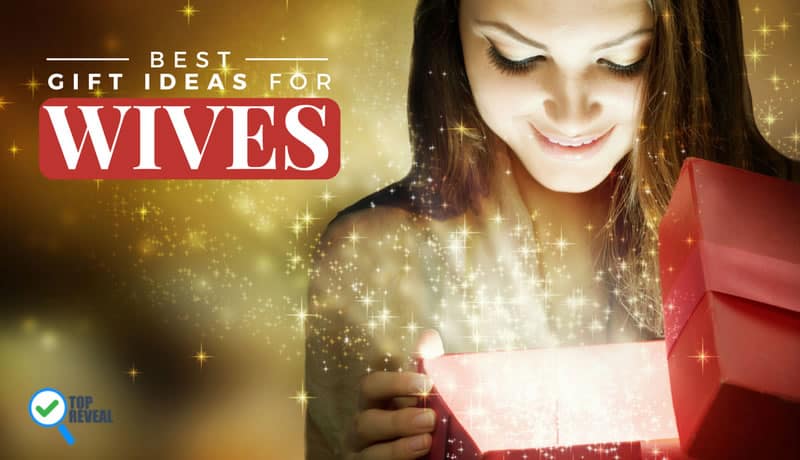 But all is not lost, because my Top 15 Gifts for Wives this Holiday Season is full of unique, affordable gifts your wife will love. There are gifts for every lifestyle and interest, so no matter which one you pick, you can't go wrong!
Top 15 Gifts for Wives this Holiday Season
Below, you'll find 15 gifts any wife would be thrilled to get. There are gifts for all budgets, styles, and occasions, and each one has my seal of approval. Happy Shopping!
A tablet is a great gift for wives who want (or need) a little me time to watch a good movie and relax. They're also great for women who need to shoot off a quick email to the office or love to travel.
You can upload pictures, her favorite music, or a subscription to her favorite magazine before you give it to her for extra brownie points!
If your wife loves going to the salon, but can't always get there, this is the gift for her. This blow-dryer kit will have her hair looking like it was done by a professional stylist. Powerful, simple to use and it comes with attachments and products for perfect results every time.
This gift hits all the right notes, as it'sfun and sentimental. This digital camera, with integrated printer, lets her quickly capture and print all her most precious moments. She can snap and save every big event.
Available in fun colors, these on-ear headphones by Skullcandy are specifically designed for women. They are shaped to fit their head perfectly and are cushioned for the ultimate in comfort. Great for listening to musicwhile out on a jog or a good book while snuggled on the couch. Affordable at just under $60.
Every day will feel like a spa day with this full body massager. Equipped with attachments for the body and face, as well as massage oil, your wife can unwind and pamper herself after a long day. You can even give her a massage for bonus points!
You can never go wrong with chocolate, so why not get her this "sweet" cocoa and cookie set? It comes with 2 mugs,hot chocolate and cookies, so you can curl up with her for a quiet movie night.
Perfect with the hot cocoa set
or alone, this set is a must for TV fanatics. Just in time for the Gilmore Girls revival series happening this Thanksgiving on Netflix, fans can relive their favorite moments, or new fans can binge before it starts.
Perfect for the cold winter months, these snow boots will keep her warm and in-style. Available in multiple colors, they are sporty and trendy, so she can wear them for work or play.
The ultimate symbol of love, this sterling silver locket from Pandora will pull at her heart strings. Inside there is a cubic zirconia heart on one side and a space for her favorite picture on the other.
What I Know for Sure- Oprah Winfrey Book
Great as a stocking stuffer or her birthday, this book from Oprah is a smart pick for book lovers. Full of inspirational quotes and advice form the Queen of TV, it is something she'll appreciate. Just $15 for the hardcover.
If you're looking to pamper her, look no further than this luxurious robe from UGG. Made of plush fleece, it's soft and cozy, making her feel relaxed and refreshed the minute she puts it on.
For the wife who loves to snap photos on her phone, this cute digital printer will do wonders for her. Using Bluetooth, she can print all her picture from her saved pics or social media, adding borders and other fun extras.
The pinnacle of spa products is right here with this basket. Filled with lotions, soaps, slippers, brushes and more, your wife will have all the tools she needs to look and feel her best.
For the wife who wants to look great while getting in shape, this dazzling tracker from Kate Spade is a no-brainer. Slim and sophisticated, it shimmers and shines like a diamond, making women WANT to wear it. It tracks all her activities, but since it resembles a watch more than a tracker, no one will know that but her.
Make her professional
life and personal time
smooth and easy
with this laptop from Asus. She can stream books, movies and handle all her work duties 1-2-3.
How to Choose the Gifts for my Wives?
To choose the ultimate gift, there are some things you should consider. Here's what to consider when choosing a gift for the woman in your life:
Will it Make Her Life Easier? Yes, a vacuum WILL make her life easier, but Christmas is not the time to give her one. You want something that is needed, but decadent. Think a tablet or a smartwatch. They can help organize and make her day smoother, but they are also fun.
Will She Be Able to Use It? Yoga lessons are great, but if she works 80 hours a week, odds are she is not going to have time to go to the classes. Be creative, but practical when choosing.
Does it Have Meaning? Wives love gifts that speak to the heart. Sentimental gifts, like a scrapbook of pictures of your life together are inexpensive and an instant hit. You can also get her a tablet and load it with personal pictures, making it useful and sentimental.
Is it Something She Wouldn't Buy for Herself: Wives are notorious for taking care of everyone but themselves, so a gift that pampers her, like a spa day, is always a good choice. Getting her something she wouldn't normally indulge in makes her feel special.
Wives never spend on themselves for those little extras, so do it for her using my Top 15 Gifts for Wives this Holiday Season. Packed with gifts perfect for holidays, birthdays, anniversaries and more, she'll be moved by how thoughtful and sweet your gifts for her are. She'll also be thrilled there's no broom or pots n' pans in the box! These gifts will make her happy, and as the saying goes, "A happy wife's a happy life."