I don't know about you, but for me, spring and summer are my favorite times of year; mainly because I get to spend most of my time outside grilling, lounging, and swimming. From having an early morning cup of Joe on the patio while watching the news (yes, we have an outdoor TV) to barbecues on the weekend with family and friends, it's all about outdoor living.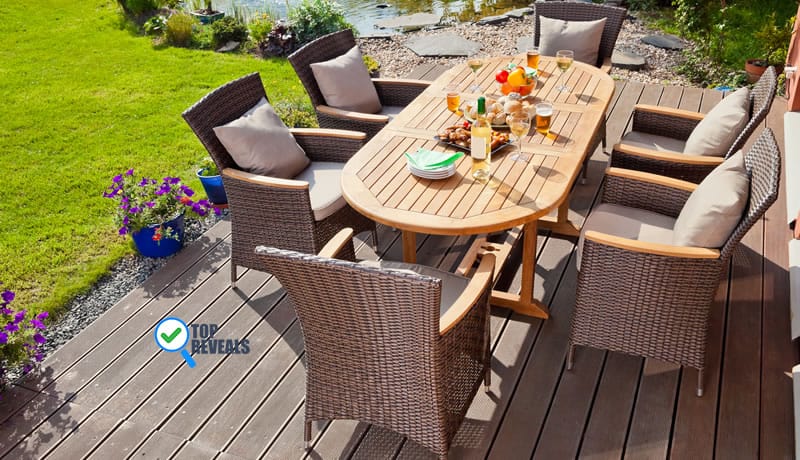 If this is something you do, or want to, I can help you. My list of 20 DIY Outdoor furniture ideas will help you get your space, whether it's a big yard or a small terrace, ready for the warm weather! So read up, grab a hammer, and get moving.
Beautiful and Fun DIY Outdoor Furniture Ideas
Swing-spiration for Balmy Days
Read a book or watch the kids run wild with this super fun and super comfy hammock chair from Indulgy. The beauty here is you can use any fabrics or colors you want; just be sure you have a strong base for support.
2) Dinner is Served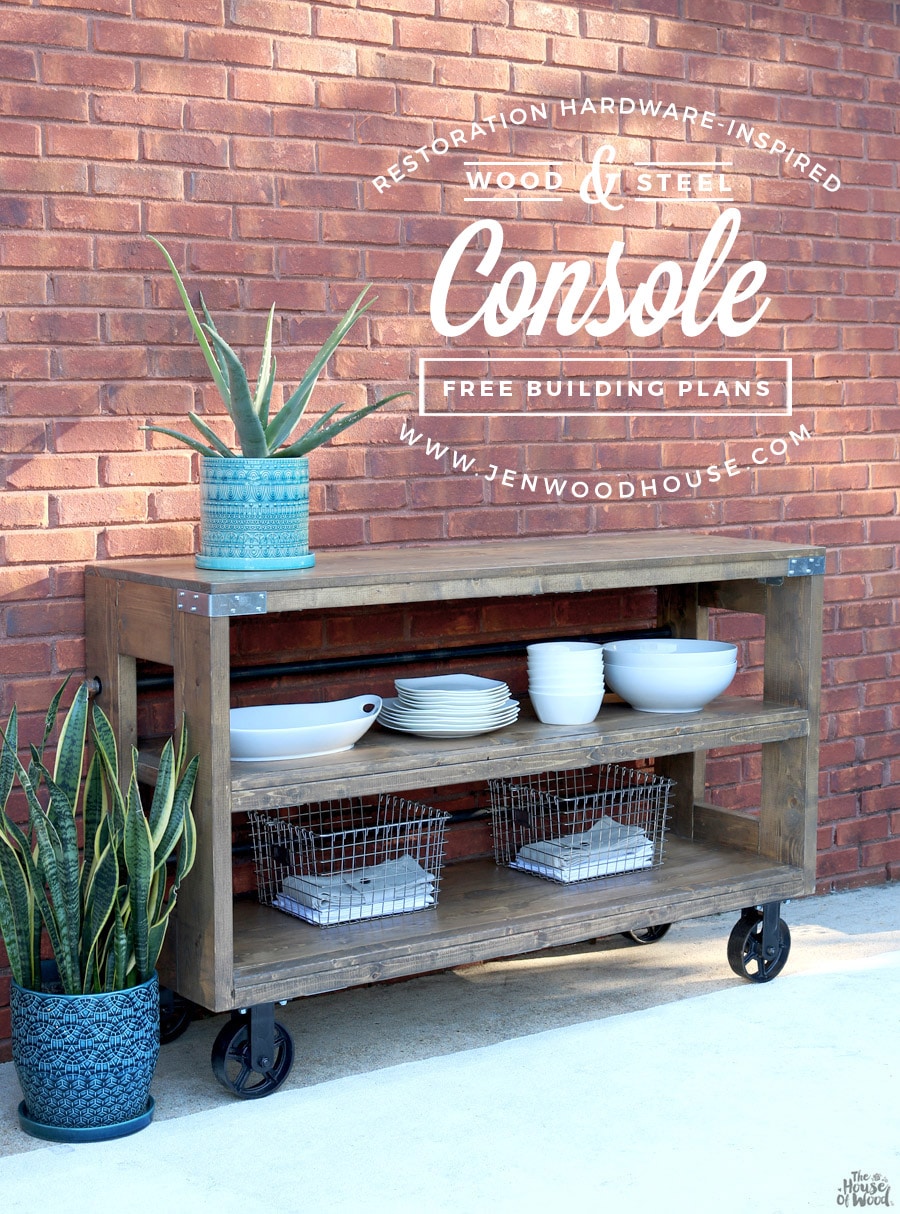 This clever DIY from The House of Wood is ideal for those who love to entertain. It lest you have access to all your dining needs, so you can grill and serve without running back and forth.
3) Drink Up
You'll never need to worry about running in for drinks, or running out of them while eating with this ingenious table from Remodelaholic; and it's easier to make than you think.
4) Got Milk?
For smaller outdoor spaces, or to create a more intimate feel, this table from Girl Inspired, using an antique milk jug, will add instant charm; it's also great for sitting at with a glass of wine and watching the sunset.
5) Throw Some Shade
Perfect poolside, this umbrella table from the Family Handyman lets you enjoy a drink or snack in the shade, then dive right back into the refreshing water. One shall be more effective for this project with this type of saw.
6) May I Take Your Order?
If you want to save space or add some versatile seating to a deck this "bar" from Cleverly Inspired is the way to do it. Cheap, fast, and simple, it will transform the space instantly.
7) Outdoor Getaway
Create the perfect hideaway from the kids and hubby… or a cozy retreat for "date night" without having to leave home with this DIY via Build, Paint, Sew.
8) Siesta Surprise
Look, Linger, Love's rustic swing actually holds a twin mattress, so you can sit or lie down for an afternoon nap. This is great for anyone with a large porch/deck.
9) Table For Two…or Three?
If you have kids this is a fun project from Lil Bit Funky because the table has space underneath to hang a small hammock, so kids can read or sleep on those lazy summer days. And if you don't have lil ones you can make it a space for your pet or storage.
10) Cocktail Concoction
Take an old door, any door, and turn it into a chic outdoor drinks station like Finding Home did.  You can install multiple shelves and the mix of wood and metal creates an industrial yet antiquated feel.
11) Ring Around the Tree
If you have limited space or a tree in your front yard you want to utilize this is a cute project that will have you sitting watching the birds fly by. Designed by This Old House, the instructions are easy to follow and the octagon shape maximizes every inch around your tree.
12) Crazy Cafe
Another fun-inspired project if you have kids, this "cafe" from Mommo will keep boys and girls entertained for hours. You can even let them get in on the fun and help you paint it once it's built.
13) Concrete Jungle
If your outdoor space is all metal and concrete and you are craving some lush green grass then check out this DIY from My Modern Met.  And you can build this to any size you need so it would work in a smaller yard too; perfect for laying down on and gazing up at the stars.
14) Drumroll Please…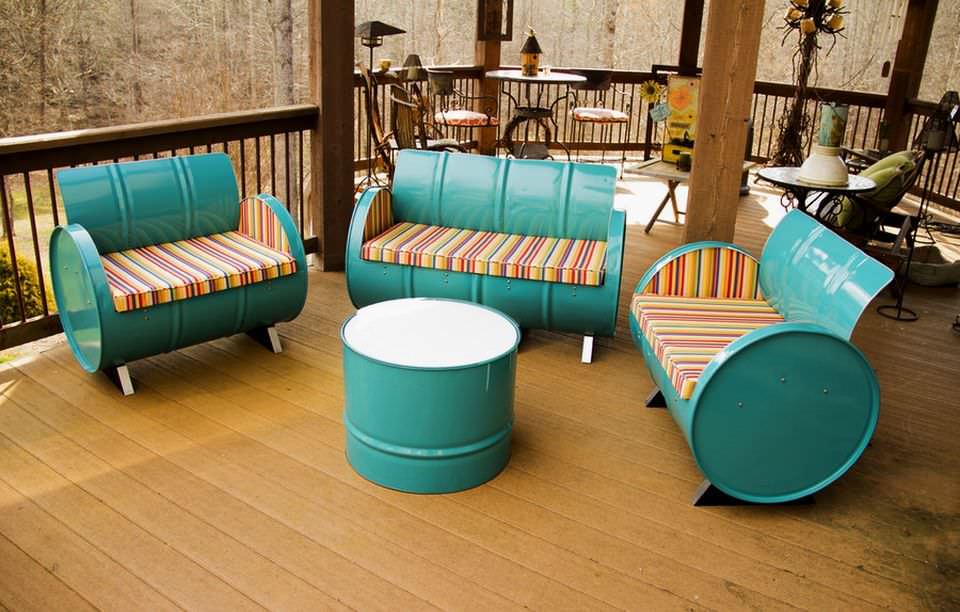 Home Crux turns shabby into chic with these trendy steel drum seats that are surprisingly comfortable. You can paint them any eye-catching color you choose and they work on a porch, deck or garden.
15) Comfy Couch
Bring the comforts of indoors outside with this easy project by Remodelaholic. You can use weatherproof fabric for a stylish sectional everyone will swear you got at a store.
16) Lounge Around
By the pool, fire pit, or by the deck this over-sized chaise from Black + Decker is perfect for a cool summer night or drying off after a dip in the pool. And if you are even a tiny bit handy it is super simple to build too.
17) Float Away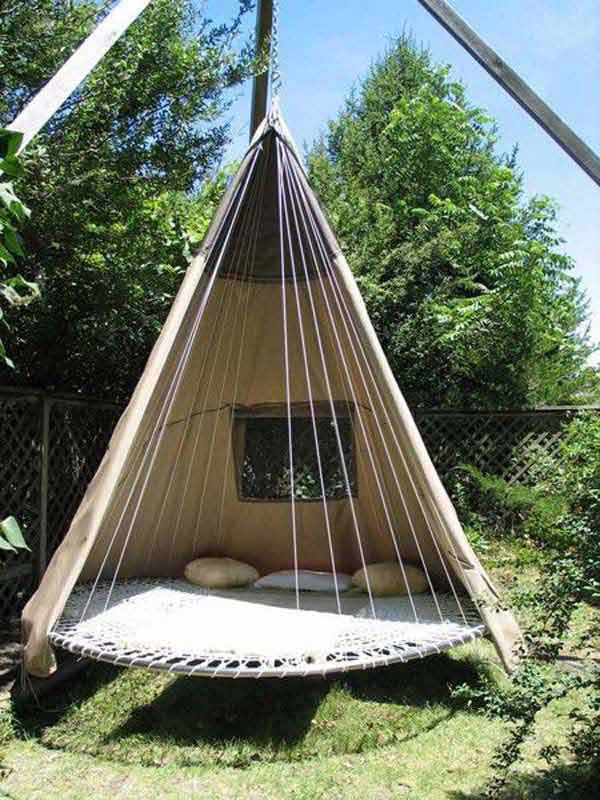 Create an outdoor oasis like this one inspired by Floating Bed.  The size depends on the space you have and where you want to hang it but otherwise, you can go as large as you need and use fabrics and materials that blend with what you already have.
18) Checkmate
Have the space for an outdoor entertainment area? Then put together this quick project from Taringa and turn your yard into a life-sized checkers board.
19) No Kids Allowed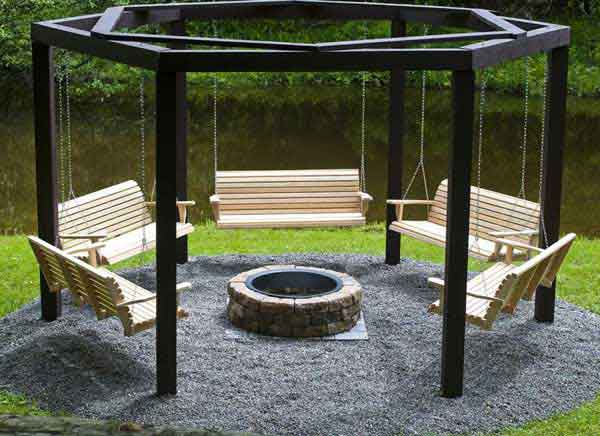 Adults need their own play space too, and these swings surrounding a fire pit by Good House Design are just that! This project requires a few hands on deck and a bit of skill, but once it's done you can sit back with an ice cold drink and enjoy.
20) Patio Nirvana
Last, but not least is this masterpiece by Bird Blog Ideas, a must for anyone who loves to be outdoors or lives in a warmer climate. Not for the faint of heart, this patio has everything you need to eat, dine, and relax in style.