It is springtime! Which means spring cleaning, refurbishing, and pretty flowers! My favorite DIY projects are always the ones that celebrate the current season we are in. Which is why I am all for DIY window boxes this year. If you are looking for a way to lighten up your home and embrace the exciting new season, keep reading for some of my favorite DIY window box ideas.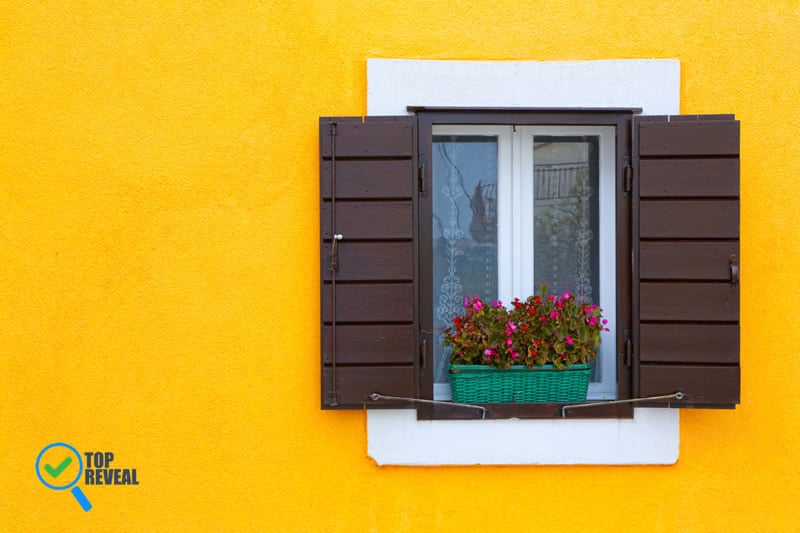 23 DIY Window Box Ideas
Basic Window Box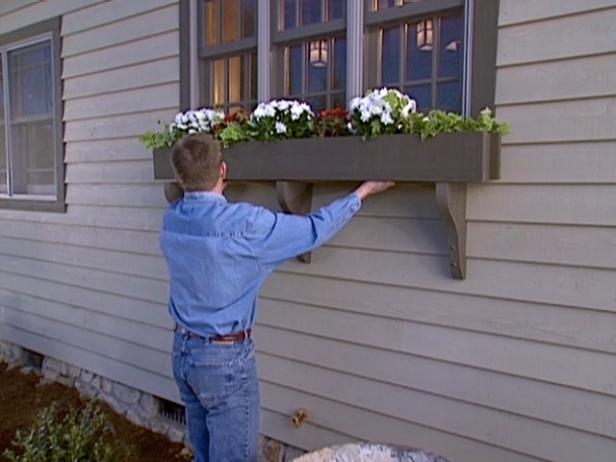 This is a great place to start when thinking about building a window box. Go basic and with a reliable source like the DIY Network to help you get it done!
Simplicity at its Finest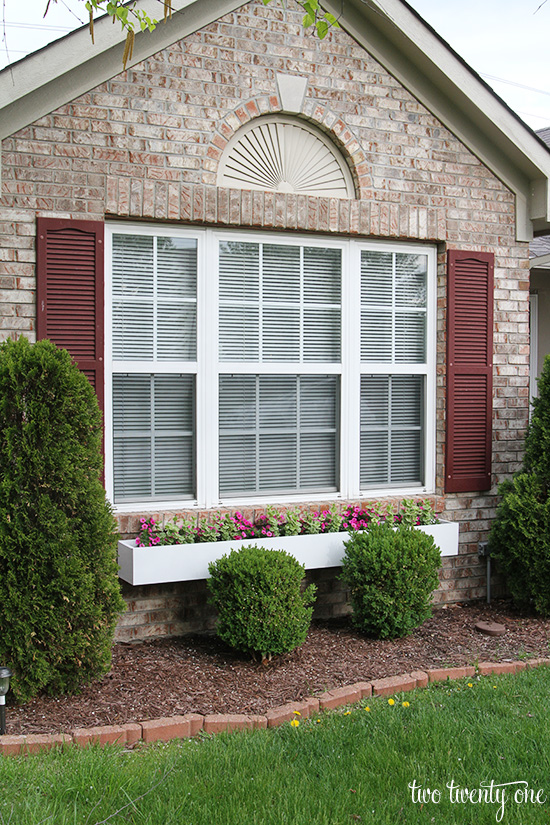 twotwentyone.net
Check out this window box on Two Twenty One for a simple look that won't steal the show! Let the flowers do all the talking and paint it in a simple neutral color.
Cheap DIY Window Box
I fell in love with this DIY on How Does She because of the price. This one advertised it being $3.12 per window box and could easily be done in 30 minutes. Is that not the best Sunday home improvement project?
Beautiful Cedar DIY Window Box
I found these window boxes by Shanty 2 Chic to be absolutely beautiful. Granted, they are a bit hard to see because of the bloggers choice of flowers but take a look around and you will quickly fall in love.
Mystery Window Box
Look at this image, courtesy of Our Fairfield Home and Garden and just try to guess what it is made out of!? No clue? It is that cute. This recycled DIY uses rain gutters to transform your boring window into a beautiful accent point in any home.
Fairy Tale Window Boxes
These window boxes from Lowes take the cake when it comes to character. I love the cheeky green they were painted and the character of support on each side. How can you not just fall in love with flower boxes after seeing these?
From Door to Window Box
DIY'ers are the most creative people on the planet and this DIY via Thrifty Decor Chick proves it! This blogger took a boring everyday object and turned it into a window box. How nifty is that?
Upcycled Window Box
I appreciate this DIY window box on Hostess With the Mostess because it gives you a bit of wiggle room to be creative. The blogger gives you the basics but leaves enough room for creativity to add your own personal style to the boxes!
A Whole New Meaning to the Term Window Box
This window box from the Family Handyman is as cute as it is creative. It makes planting different varieties a cinch, while also making care and maintenance easy. Such a refreshing take!
Super Simple DIY
While window boxes may look different, even the smallest tweak can make all the difference in giving your home the right look. It can also be super important when it comes to your DIY capabilities. Here is another simple DIY on Houzz that gives you some variety from some prior easy window box ideas.
The Cutest Little Window Boxes That You Ever Did See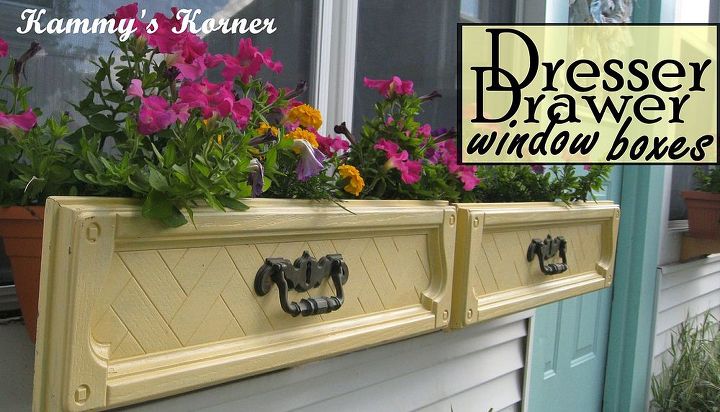 These window boxes by Hometalk will just make your heart melt. Perfect for an eclectic style or someone who has always dreamed of living out of a quaint little cottage. This one is for you.
Detailed Window Box
Home at Home's window box is all about the details. The instructions are just as detailed as the window box and can be a bit overwhelming, but it will be worth it once you see how beautifully it all comes together.
DIY Window Box, on video
Not all of us learn the same way, which is why I can always appreciate a DIY project that helps you get the project done with multiple types of support. A video like this one from Renovate Yout World,  for example, is a great way for some to follow along and understand what needs to be done.
Decorate Your Box
This DIY from Improvised Life is not so much about the box, but creative ways to decorate your window box.
It gets your juices flowing and can help you learn how to create unique looks that will best compliment your home.
Pro Tips: we recommend you steam-clean your home with this helpful appliance.
Succulent DIY Window Box
This DIY window box from Shelterness throws out the flowers and brings the dessert vibes in! Super simple and unique.
Professional looking DIY Window Box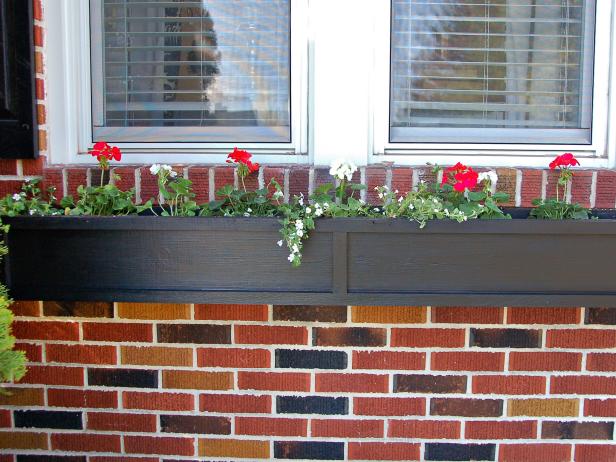 Not only do these window boxes on the DIY Network look super professional, but the design is put together by the DIY network, so you know they did their homework on how to best explain everything.
Window Box for the Modern Home
This window box by Censational Style is essential for the modern home. It takes a step away from the charming or shabby look, to embrace a clean fresh look with bold lines.
The Fixer Upper Window Box
This window box from Beneath My Heart looks like it was pulled straight from a Fixer Upper episode. It combines the pretty look of charming wood with the contrast of metal supports. Yes, please!
Wine Box Window Box
This one by Pretty Handy Girl is for the lady who has just too many leftover boxes of wine and is looking for a new way to embrace her love of the grape.
Already Got a Box?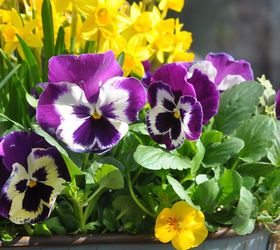 This is a sweet DIY by Hometalk because it utilizes a container you may already have and love. This blogger uses a sweet tin with the word, 'garden' in French, for your pretty French garden.
Dual Plank Window DIY
Most window boxes use a whole plank to build their window boxes, but this one from the Idea Room utilizes two just to give it a slightly more interesting look. It is not much more challenging than the normal window box but just as pretty!
Rustic Window Box
This rustic window box via Make Life Lovely is perfect for the shabby chic home. Grab that leftover wood and build a pretty little window box.
Bring on The Color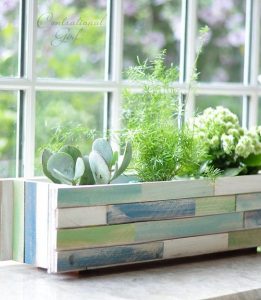 If you are looking to keep with a certain color scheme, this pretty window box on Maker Crate emphasizes whatever colors you are looking to bring out in your home.
Did you enjoy the article? I love how spring flowers can brighten up a home. So why not start this new season that focuses solely on the best way to celebrate spring. Let me know what you think in the comments below and share it with a friend who loves spring just as much as you do!