Like many, my kitchen is one of the most utilized parts of my home. It is the center for family gatherings, we often start our mornings with coffee, and ending our evenings with dish clean up. But how do we keep them looking as shiny as the day those cabinets were put in? What happens when we begin to outgrow our kitchens? Turns out, I have found there are plenty of budget-friendly DIY kitchen cabinet ideas to help you deal with common cosmetic and storage issues.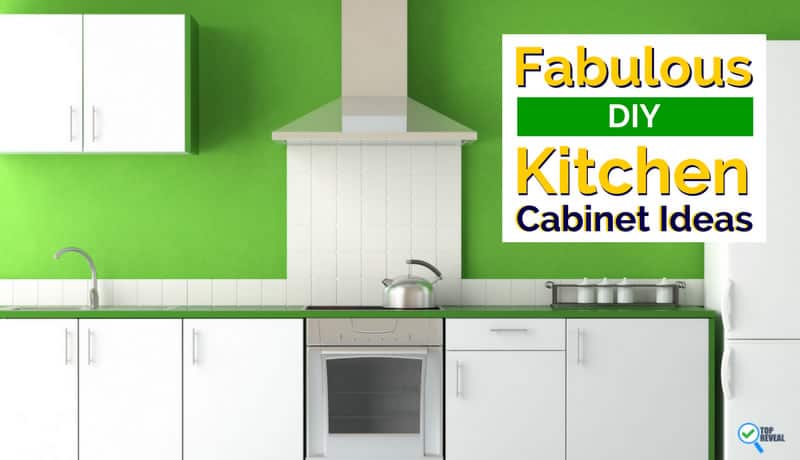 DIY Kitchen Cabinet/Shelf Ideas
Trash Cabinet
Picture courtesy of Dawn Nicole
Cabinets are also a great way to compliment an unsightly trash can. If you do not have a cabinet already built in your countertops or there is no space below the sink, consider this option.
Spice Cabinet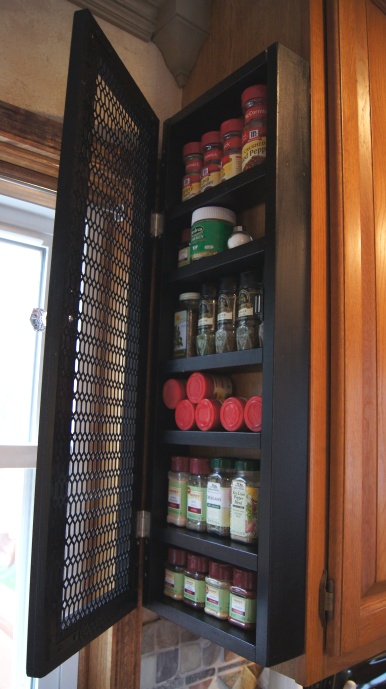 Project from Confessions of a Serial DIYer
Spices are one of those items that are not only difficult to store, but storage options do not allow for easy use while cooking. This cabinet can solve a lot of those cooking woes. It is fairly simple to put together and allows for easy viewing.
Faux Cabinet
Project from Cottage4C
This is another solution to help hide some eyesores in the kitchen. This cabinet cover-up can make your dishwasher visually disappear.
Appliance Storage Cabinet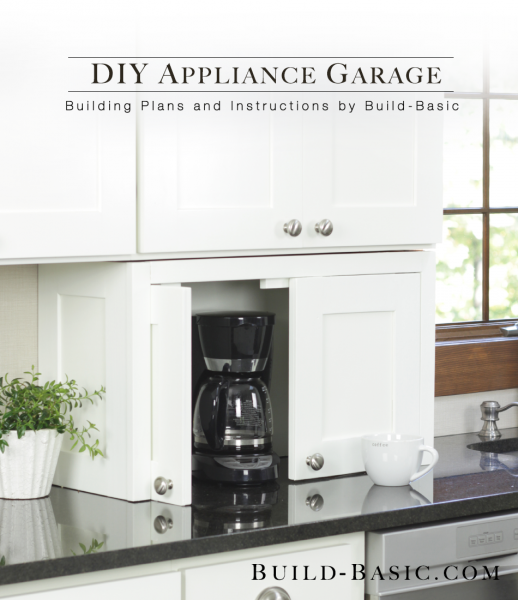 Project courtesy of Build Basic
This is an especially creative design for those of us who cannot stand clutter. Create countertop cabinets to easily hide appliances like coffee makers and blenders.
Cabinet Door
Picture courtesy of Scrapality
Sometimes cabinets just need a little TLC to look good as new or completely change the style of your kitchen. Redo or upgrade your cabinet doors with this DIY.
Side Fridge Cabinet
Project and picture from DIY Passion
This cabinet is perfect for the person with only a little bit of space but a big need for storage. You can easily store small items like spices, or large boxes of cereal and flour.
Clean Open Cabinet Island
Project courtesy of Jessica of Mom 4 Real and Wayfair
An island is not just an ideal solution for additional cooking space. It can also provide cabinet and shelf storage for tons of cooking items. Try this DIY island to add some functionality to your home.
Rustic Island Cabinet
Courtesy of My Love 2 Create
If you are looking for an island with a little bit more character or style, go for this shabby chic option. You can get creative with hooks, apple crates, and unique wood stains.
Floating Shelves
Picture from Chanty 2 Chic
Floating shelves are a beautifully clean way to display some of your prettiest dishes. They allow for guests to easily help themselves and can provide a very clean look for any kitchen.
Open Pipe Shelving
Courtesy of Joanna Gaines
Not all open shelves need to be floating. There are some creative ways to add some character and unique installing options. Try metal piping for a bit of a modern look that can fit into many different home types.
Over The Fridge Cabinet
Picture courtesy of Young House Love
When looking to create storage with cabinets begin by looking for space not yet utilized. One space often left open in many peoples homes, is the area above the fridge. With just a few simple steps and diligent measuring, you can create a stylish way to add very useful storage to your kitchen.
Extended Space Shelf
From Organizeit.com
This shelf is especially useful for when you are getting cooking in the kitchen. Sometimes you need just a bit more space or you are looking for a clear space to do some chopping.
This DIY is a perfect solution that is easy to implement with your favorite chopping block.
Ceiling Cabinets
Some homes already come equipped with beautiful cabinets, but they leave an open space between the cabinets and the ceiling. Sometimes it adds character, other times we could totally use that open space.
If you need that extra room check out these useful cabinets. Project & picture courtesy of Thrifty Decor Chick
Open Bracket Shelving
Courtesy of Christina's Adventures.
If you are looking for a way to mount some open shelves but the modern look is not for you, go for this simple more traditional option. This is a very easy DIY shelving option and all you need is a quick visit to your local hardware store.
Great Idea to store your steel woks and pans.
Floating Box Shelves
From OhOh Blog.
DIY does not necessarily mean you have to sacrifice high-end style. These DIY shelves can add a classy, modern, and sleek look to any room in your home. Display some fancy dish wear or cooking ingredients you frequently use.
Over The Sink Shelving
Courtesy of Stow and Tell U
This is such a clever DIY shelf, you will be wondering why you never thought of it sooner. It is a simple put together and you can easily decorate it with pretty soap bottles or plants.
Knife Against-The-Wall Shelf
Courtesy of Little Things
In the midst of a great recipe, the last thing you want to have to deal with is sifting through a drawer for a knife. This cool display is sure to surprise guests while adding simplicity to even the most difficult recipes. It's a brilliant idea to store knives.
Dish Drying Shelf
From Indestructables
This shelf idea is truly one of the best unique ideas I have ever found. It is a shelf that allows you to dry your dishes while keeping your countertops clear! Such a clever idea that when cleared can easily blend in with the rest of your cabinets.
Storage Cabinet

Kitchen storage cabinets are an excellent way to store those dishes you use for family gatherings, parties, or special holidays. This beautiful cabinet can be painted or stained any pretty or chic color. Check out the how-to plan in details.
Below Table Shelf
Courtesy of Remade Just Right 
This shelving can be added for additional storage or if you are just looking to add a bit of festive decoration for any season. It is simple to add to any table and can be super useful for many needs. See other DIY Kitchen Decorating projects.
New or revamped kitchen cabinets and shelves can make a shabby looking kitchen look shabby chic. I love creating unique spaces in my home with simple additions. All you need is a little bit of creativity to add storage, style, and utility to an otherwise ordinary cookie cutter kitchen. Did you enjoy the list? Let me know what you think in the comments and share the article with your friends if you enjoyed it!