When it comes to bringing Christmas cheer into the home, decorations are the way to go! The heart of the home is the kitchen, so start your decorating here. You can use a combination of lighting, fragrances and DIY decor to bring the space to life. This holiday season, prepare food and enjoy meals surrounded by festive beauty.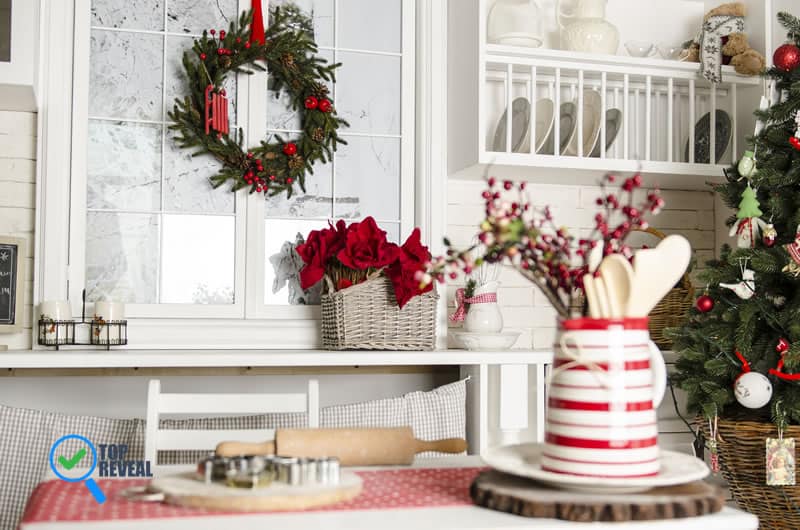 1 Wreaths Can Go In the Kitchen Too
You can spread the natural, festive beauty of wreaths throughout the house and into the kitchen. This most classic of Christmas kitchen decor ideas is sure to enhance your holiday theme.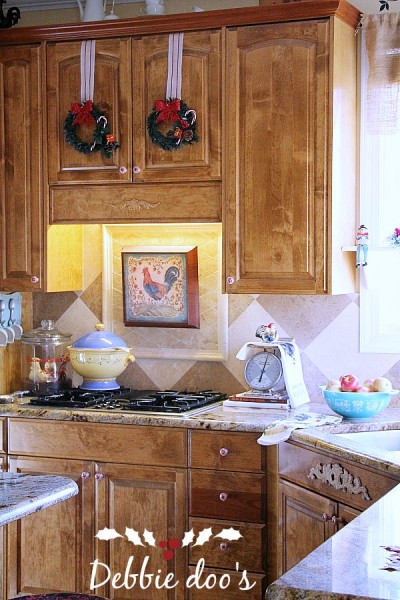 Debbie Doos
2 Use Mini Christmas Trees to Spread the Christmas Spirit
You probably have a magnificent, full-sized Christmas tree set up in your family room already. A mini Christmas tree can serve as a glorious centerpiece in your kitchen. You can also use it to brighten up kitchen corners pleasantly.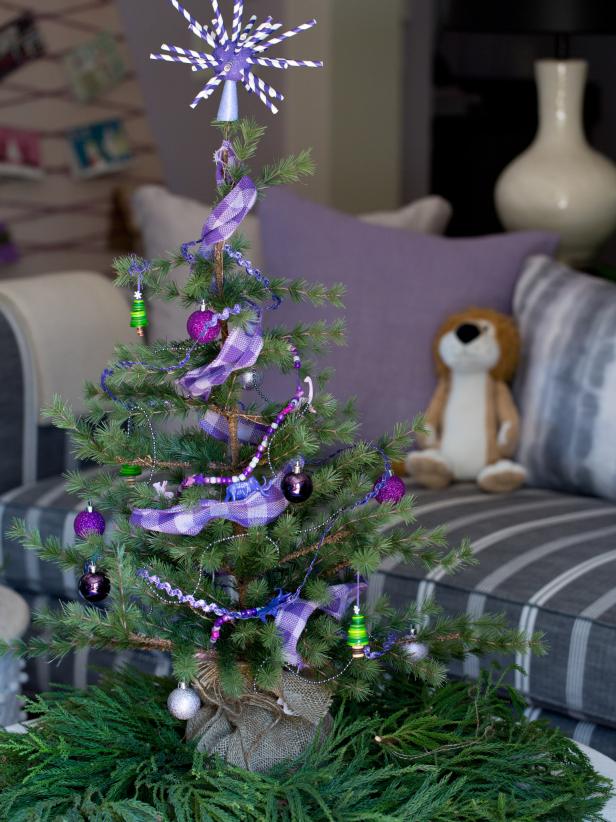 Debbie Doos
3 Christmas Themed Hand Towels are a Nice Touch
Hand towels with a Christmas theme can accent any decor. Read a Christmas message each time you dry your hands. You can buy these festive towels, or home-make them yourself.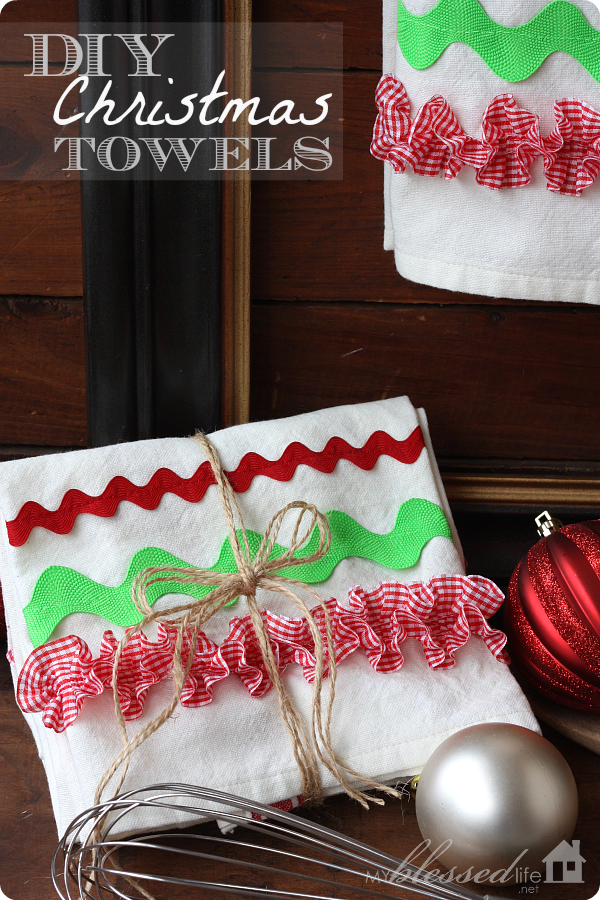 My Blessed Life
4 Bonsai Trees Are a Unique Twist on a Christmas Classic
Mini bonsai trees are cute, picturesque, and decorative. Dress up a bonsai tree or two just like you would a Christmas tree. These little guys can really shine as a centerpiece.


Bonsai Outlet
5 Make a Hot Cocoa Station for Some Holiday Cheer
A cute hot cocoa station can serve as beautiful holiday decor, as well as a handy area to let the festive drink flow! This is one of the most creative -and tasty- Christmas kitchen decor ideas out there.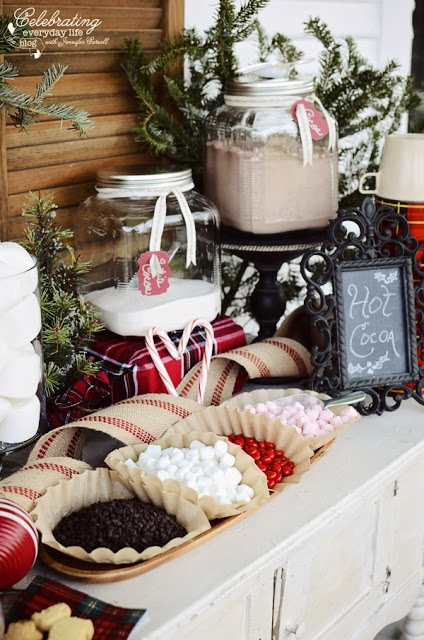 Sunny Side Up
6 Star Lights Are One of the Most Beautiful Christmas Kitchen Decor Ideas
If you are looking to make your home shine -literally- include star lights in your decor. These can be lanterns, 2D lights, and more.


Christmas Lights Etc
7 Hang Baubles in Your Kitchen to Catch the Eye
Baubles are gorgeous ornaments that are typically used on a Christmas tree. You can also use them in the kitchen! Hang these shiny decorations from the ceiling to catch the eye, and to bring holiday cheer to the space.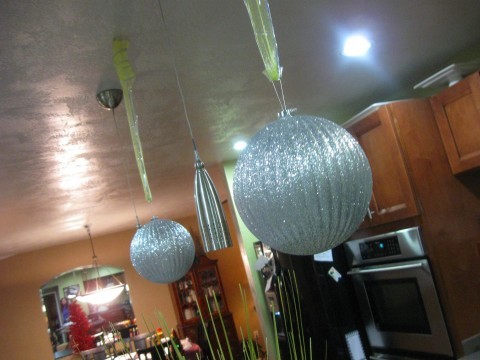 Reluctant Entertainer
8 Make A Beautiful Centerpiece with Holiday Greenery
You can use real live plants to decorate your kitchen for the Christmas season. Go out and find some pine, holly or the like, and make a naturally beautiful centerpiece of your very own.


BHG
9 Christmas Curtains for Festivity
If your kitchen has a window, consider putting Christmas themed curtains up. Watch the design add some color and festivity.


Youthsparkchallenge
10 Bake a Traditional Yule Log for Your Family
This is one of the Christmas kitchen decor ideas you'll want to wait until just before Christmas for -because it won't last long! Yule logs serve as both decorations, and as delicious desserts you can enjoy with family.


Morning Chores
11 Put Your Fine Christmas China in a Showcase
It's a shame how rarely Christmas China is used and shown-off. Include a plate display in your list of Christmas kitchen decor ideas, to decorate your kitchen beautifully and give the proper recognition to your dishware.


Between Naps On The Porch
12 Create a Homemade Wreath Chandelier for Christmas
A homemade wreath chandelier is a really classy way to spread the festivity. You can make this stunning decorative piece at home. Use it as the crowning decor in your kitchen, above the dining table or the like.


WM
13 Have Fun Making and Displaying a Gingerbread House
Gingerbread houses are a holiday favorite. You can use gingerbread, frosting and a variety of candy to craft your own festive gingerbread home. Both a Christmas decoration, and a fun activity.


Momsandmunchkins
14 Popcorn Garlands Are Decorative and Tasty
If you are a popcorn lover, give this most toothsome of Christmas kitchen decor ideas a try. You can make these out of all kinds of popcorn, use them as decor, and eat them later on.


Kings River Life
15 Use Candles that Look and Smell Festive
Nothing says cozy quite like candles. Make them extra-festive with decorative holders and seasonal fragrances.


BHG
16 Make Your Kitchen Floor Mat Decorative
Most have a floor mat in their kitchen to catch spills, near the sink. Use this as an opportunity to decorate! Make or buy a special mat in Christmas colors, or with a festive phrase.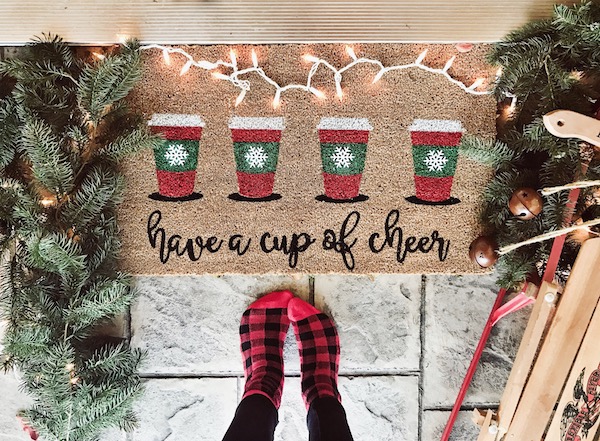 Kaylamakes
17 Use a Calendar that Counts Down to Christmas Each Day
Counting down to Christmas will prolong the excitement and holiday joy. Not only this, these calendars can make fantastic decorative pieces. Your list of Christmas decor ideas should definitely include one of these.



Ideastand
18 Draw Festive Art on a Kitchen Chalkboard for Christmas
Use a chalkboard to draw whatever festive things you like: snowmen, Christmas trees, gifts, reindeer… erase, and drawn again whenever you want to. This is one of the best Christmas kitchen decor ideas out there in terms of flexibility.


Clean And Scentsible
19 Dress the Halls with Boughs of Holly
You've heard about holly in songs and stories. Hang some in your home to bring the holidays to life! You can also use the infamous mistletoe, or holly.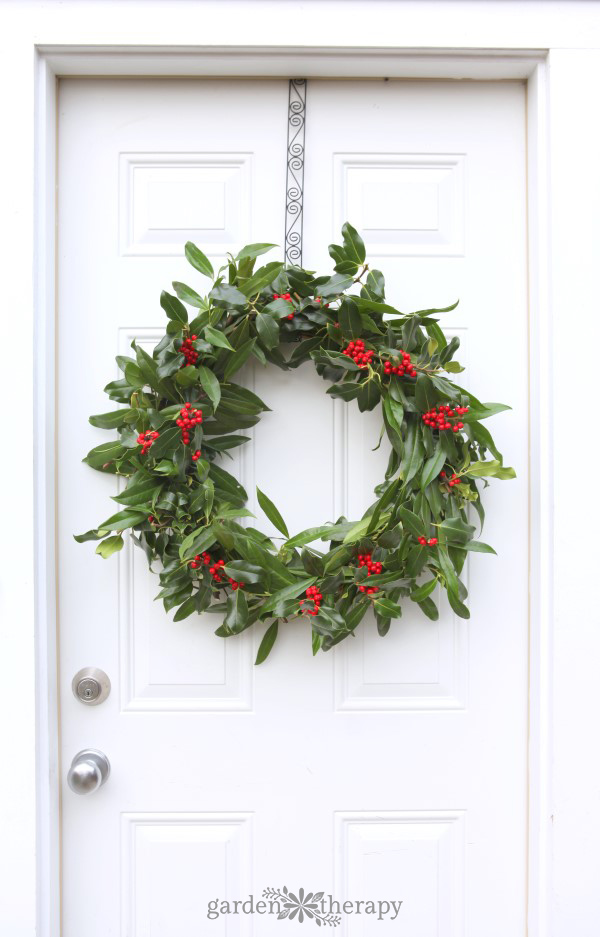 Garden Therapy
20 Turn Your Kitchen into a Winter Wonderland With Icicles
Some opt to decorate their Christmas trees with little icicles, making it look cold and snowy -and pretty. You can bring these icicles into the rest of the house, including the kitchen! Hang some over the fridge or windows, for accents perfect for the winter theme.


Make Zine
21 Make Christmas Decorations Out of Polymer Clay
Polymer clay can be used to make Christmas decorations that are very professional-looking, and super cute. Make some snowmen, some reindeer, some little clay presents… whatever you desire. This is decor you can treasure for years to come.


Family Holiday
22 Fairy Lights Are Magical and Festive
You can put these around table legs or on the table, on cupboards, lining the ceiling, in containers… there are lots of ideas. The effect of these lights is truly a magical one.


Ideal Home
23 Cut-Out Paper Snowflakes Yourself
This makes for another fun holiday activity! Cut out your own snowflakes at home. Play around with designs and fill the entire kitchen with magical paper snow!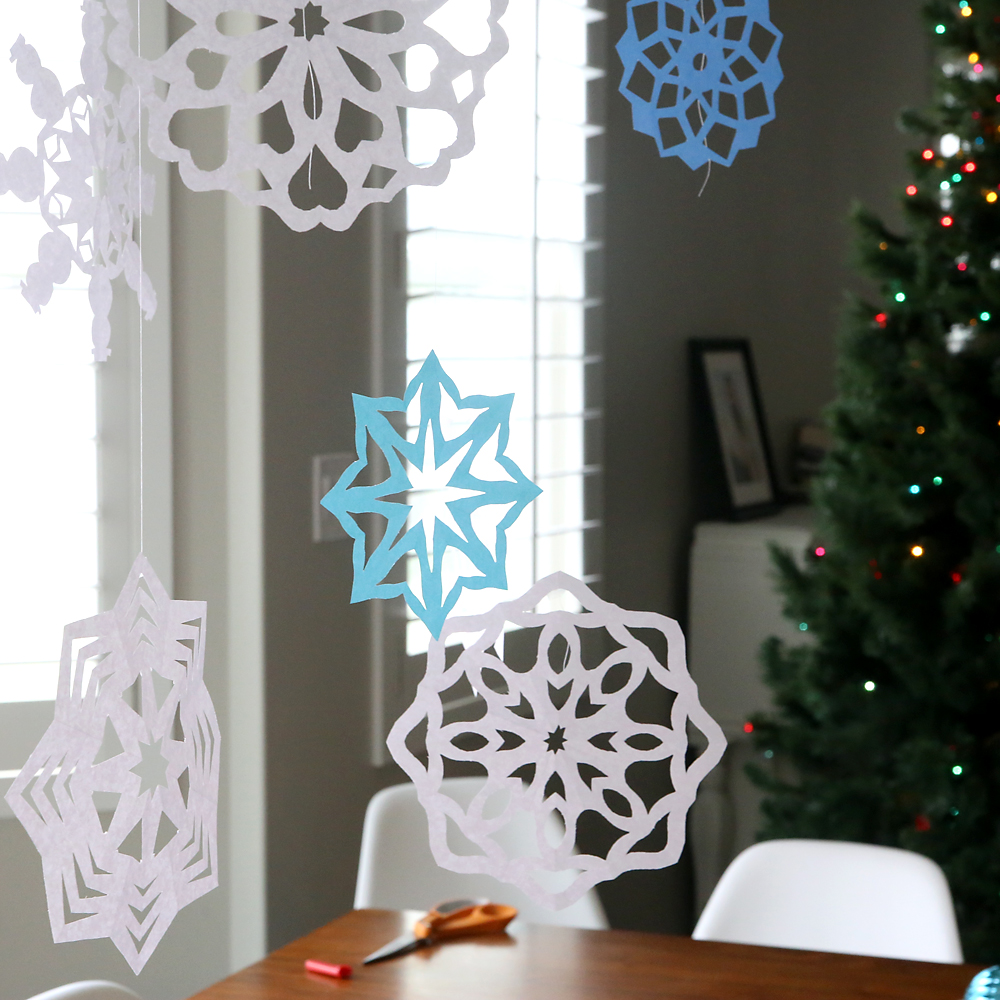 Its Always Autumn
24 Craft Some Pretty Snow-Covered Pine Cones
As with baubles, pinecones can be hung from the ceiling, or placed as general decor here and there. Frost them in paint and glitter, and bring the spirit of winter into your kitchen and home.


Ellaclaireinspired
25 Potpourri Pine Cones are Festive and Full of Nostalgia
Use potpourri pine cones, made with seasonal spices and scents. Scent has a powerful effect on nostalgia. Classic Christmas fragrances can you take you back to happy holiday memories and times.


By Brittany Goldwyn
26 Put Magnet Stockings on Your Fridge
Stockings scream Christmas. These do not have to be limited to the mantle! Make some DIY magnet stocking for your fridge. These are a really fun and unique idea.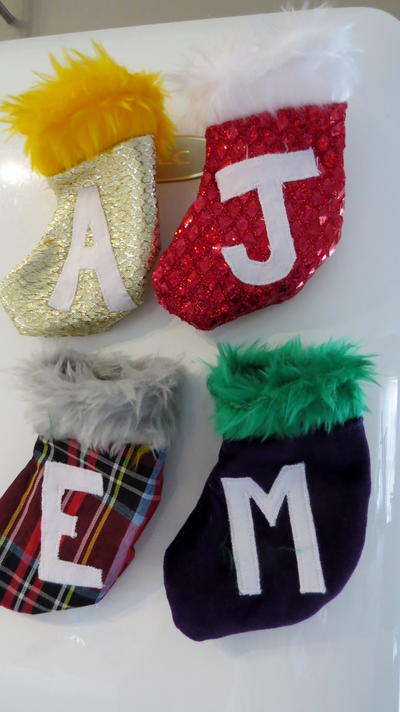 Allfreesewing
27 Use Jingle Bells to Make Your House and Kitchen Merry
Put bells everywhere! These are a super cheery decorative piece. Consider putting bells on the door handle of your kitchen pantry. The merry jingle each time you open it is sure to brighten your day.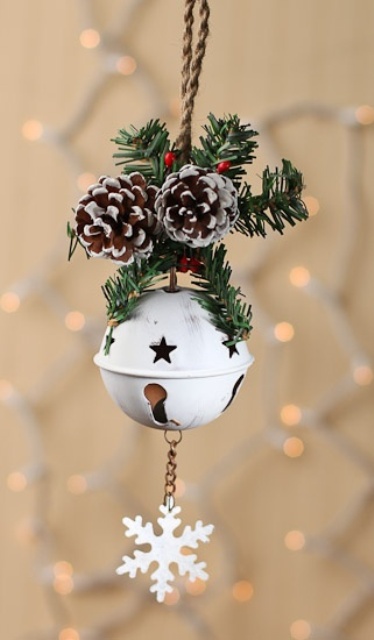 Digs Digs
28 Get Creative With Christmas Candy
You can put candy canes on the Christmas tree, and all over in the kitchen, too. In fact, there are many extraordinary candy Christmas kitchen decor ideas. Take a look.


BHG
29 Garlands Can Be Used to Decorate Anywhere
This most versatile of Christmas kitchen decor ideas can be used on banisters, table legs, kitchen cabinets, and more. There are also endless kinds to choose from. Just like your Christmas tree, you can dress your house up to the T.


BHG
30 Nutcrackers are a Holiday Classic
Place one of these smartly-dressed little guys somewhere in your kitchen. This item will add lots of Christmas vibes, not to mention that nutcrackers are also practical and handy. Keep some nuts ready-to-go nearby.


Curbly
As you can see, the Christmas kitchen decor ideas are endless, really! Make the best of the holiday season and embrace the festivity. Include some natural decor, some lights, some paper crafts… the limit is your creativity. Use these Christmas kitchen decor ideas to bring some Christmas spirit and joy to you and the entire family.