For me, my bathroom is my everything. It's where I get ready for work, escape from the kids, and well, do my business. It's also where family and friends do their business when they come to visit. So it's important, extremely important, that it be neat, tidy, and sparkling clean at all times. Not to mention fully stocked with lots of hand towels, TP, soaps, and lotions.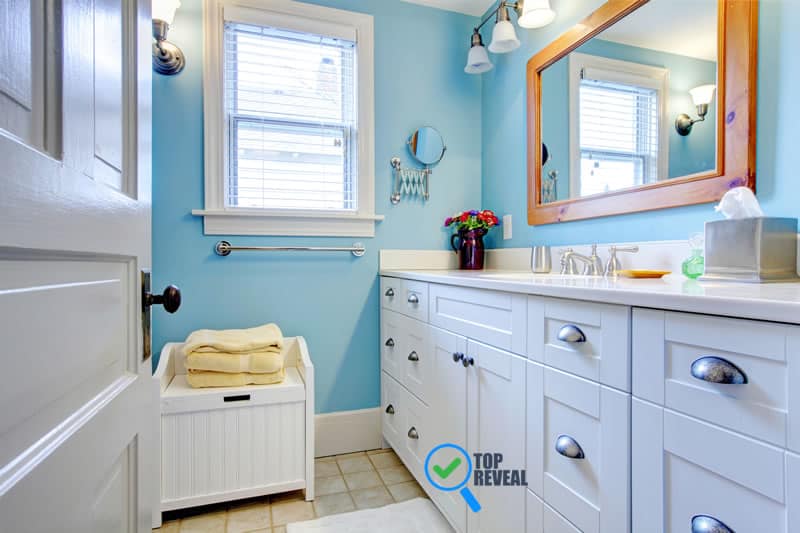 To make sure there's plenty of space for all of that I recently added some much-needed shelving and storage- for mere pennies! If you're in need of some extra space or just want to get organized without breaking the bank then check out my list of 20 mind-blowing DIY bathroom storage ideas.
DIY Bathroom Storage Hacks and Ideas
1) Down the Rabbit Hole
If you have a small bathroom or just no space to add shelving then this hidden cubby from Donna Dufresne is just what you need. Not to mention, if you put it near the toilet you'll never have to worry about running out of TP again!
2) Rush-Hour Time Saver
Instead of just throwing everything under the sink keep it neat and tidy with this easy DIY from Remodelaholic. Makes getting ready in the morning and finding your hairbrush a 100 times easier.
3) Be Our Guest, Be Our Guest….
Grab some cute, inexpensive shelf brackets and varnish some plywood like Craftsman Drive to create an elegant shelving system that can hold toiletries and other must-haves for guests.
4) Handy-Dandy Toy Storage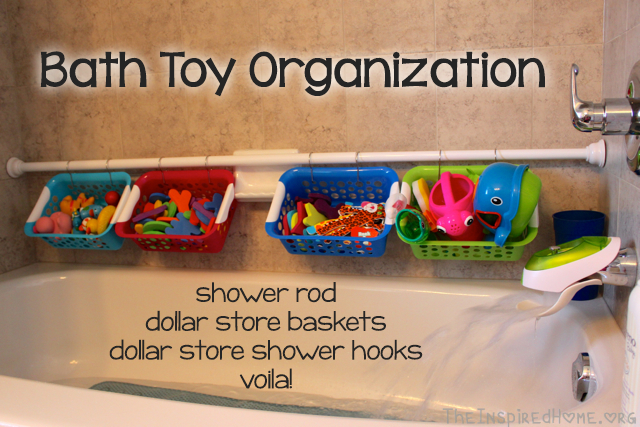 Never slip on a foam letter again with this genius DIY from The Inspired Home.  Using a shower rod and some dollar store baskets you can keep your kids sharks, boats and other water toys safe and dry.
5) Mason Jar Magic
No need to run out and buy toothbrush holders when you can use some mason jars you already have. With some paint and this tutorial from Mason Jar Crafts, you can quickly organize while giving your bathroom a rustic chic look.
6) Hide and Seek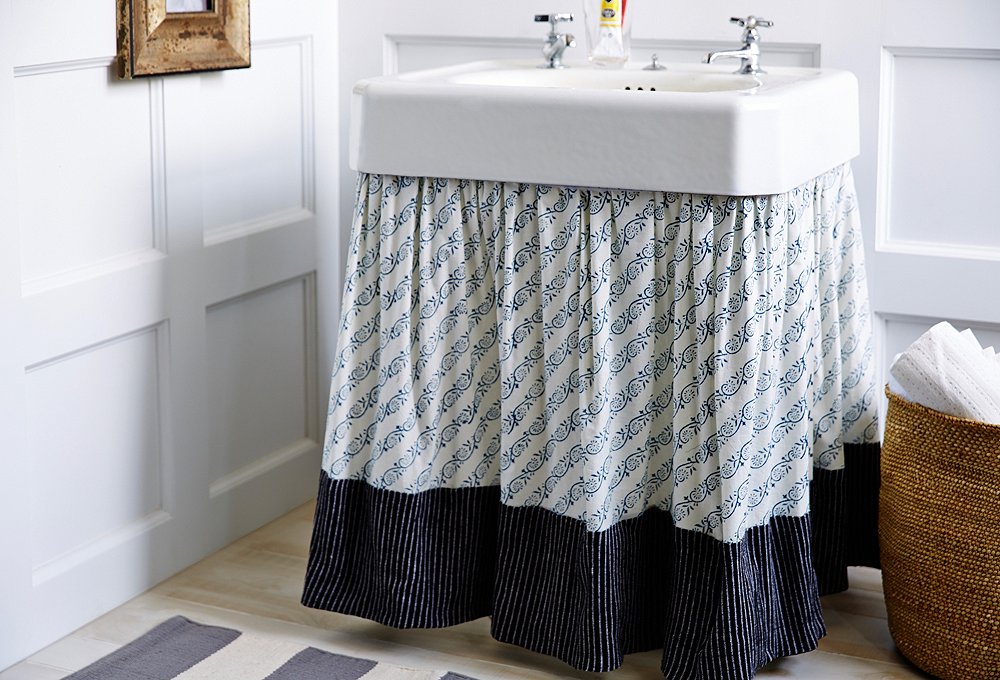 One of the easiest and cheapest ways to organize and create storage when you have a pedestal sink is to wrap a curtain around and hide baskets behind it like One King's Lane. Costs next to nothing and also adds a little glam to the space.
7) Hang it Up
A shower rod is great not just for hanging curtains, but other essential as well, like shampoos and a loofah. Just attach some caddy's or wire baskets like Good Housekeeping to easily reach for the conditioner!
8) Shelves. Shelves, and More Shelves..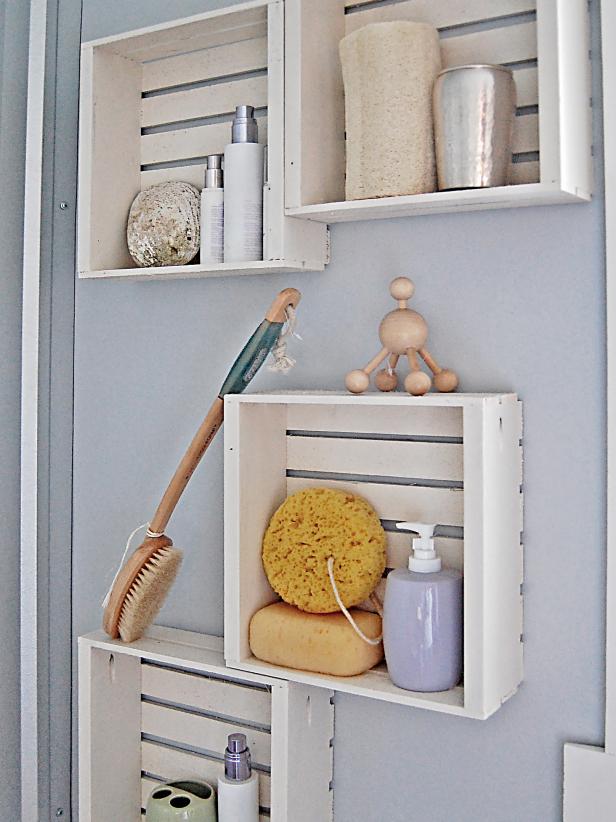 For me, the best way to get organized without making the bathroom feel cramped is by adding shelving like these from HGTV. The beauty here is you can use old wood or crates you already have and paint or stain them any color you want. And each shelf can hold something different so it looks neat and tidy.
9) No Tools Needed
Camping World came up with this quick, simple, inexpensive way to store shower must-haves. Now, everything has a place and you don't have to worry about them sliding off of shelves when they are all wet and soapy.
10) Cute Cubby Containers

Do something different using simple old tin cans and a little imagination. DIY Enthusiasts has an easy tutorial to follow and you can decorate the coffee cans and more using any pattern or colored material you want. Oh, and you can alternate sizes to hold hand towels, washcloths and more.
11) Rolling, Rolling, Rolling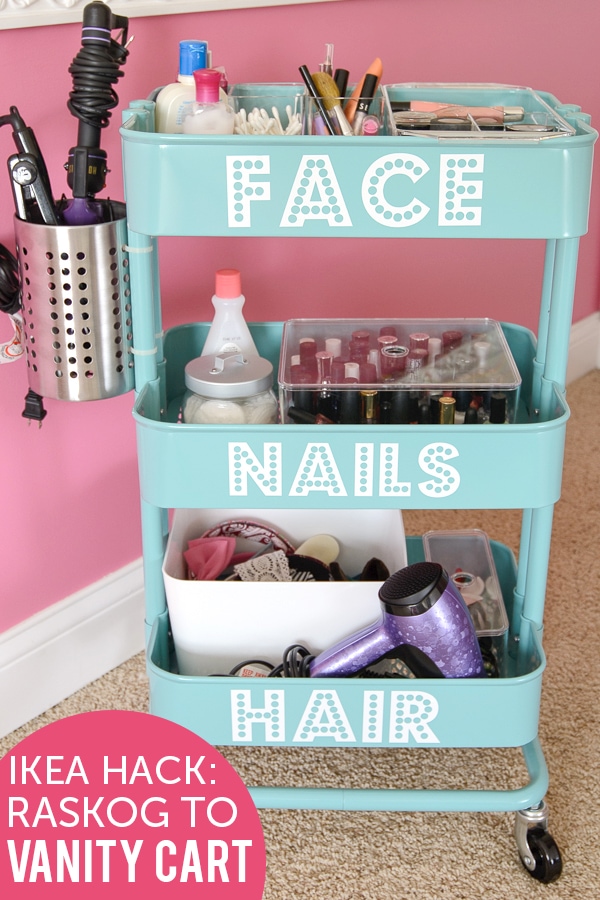 Portable storage like this one from Polka Dot Chair is great if you share a bathroom and need to move your stuff around. And it costs under $20 to make it!
12) Make-Up Made to Order
Ladies, you'll never scramble to fin your eyeliner or favorite shade of lipstick again with this drawer organizer from LandeeLu. No more throwing all your makeup in a drawer with cotton balls and other bathroom items, which can also be organized using this system.
13) Cozy Cottage Container
 
Who said organizing was expensive? Using a diaper box and old sweater you can create a cozy and stylish storage bin like the one here from Thrifty & Chic.
14) Basket Bonanza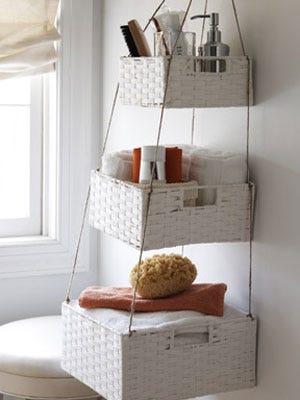 Baskets are everywhere and the great thing about them is most can be customized, using paint and other craft tools, to look exactly the way you want them to. This project from Woman's Day lets you organize without taking up valuable counter space.
15) Nail Polish Nirvana
As someone who has tons, and I mean tons, of nail polish, this DIY was a winner for me. Using old spice racks, This Mom's Gonna Snap came up with this brilliant way to keep them neat, tidy, and to stop them from rolling around under the sink.
16) Small Space Storage
Take advantage of tiny spaces by either buying or making these floating shelves from Desert Domicile. At $15 each, they are a steal!
17) Everything But the Bathroom Sink
It doesn't cost much to keep everything in order under the sink with this tutorial from A Bowl Full of Lemons. Believe me, you'll wonder why you didn't do this sooner.
18) Looking Up
Maximize space by putting non-essentials above the bathroom door with this DIY from cozycottagecute. Use it to add a personal touch or hold extra rolls of TP.
19) Tie A Rope Around It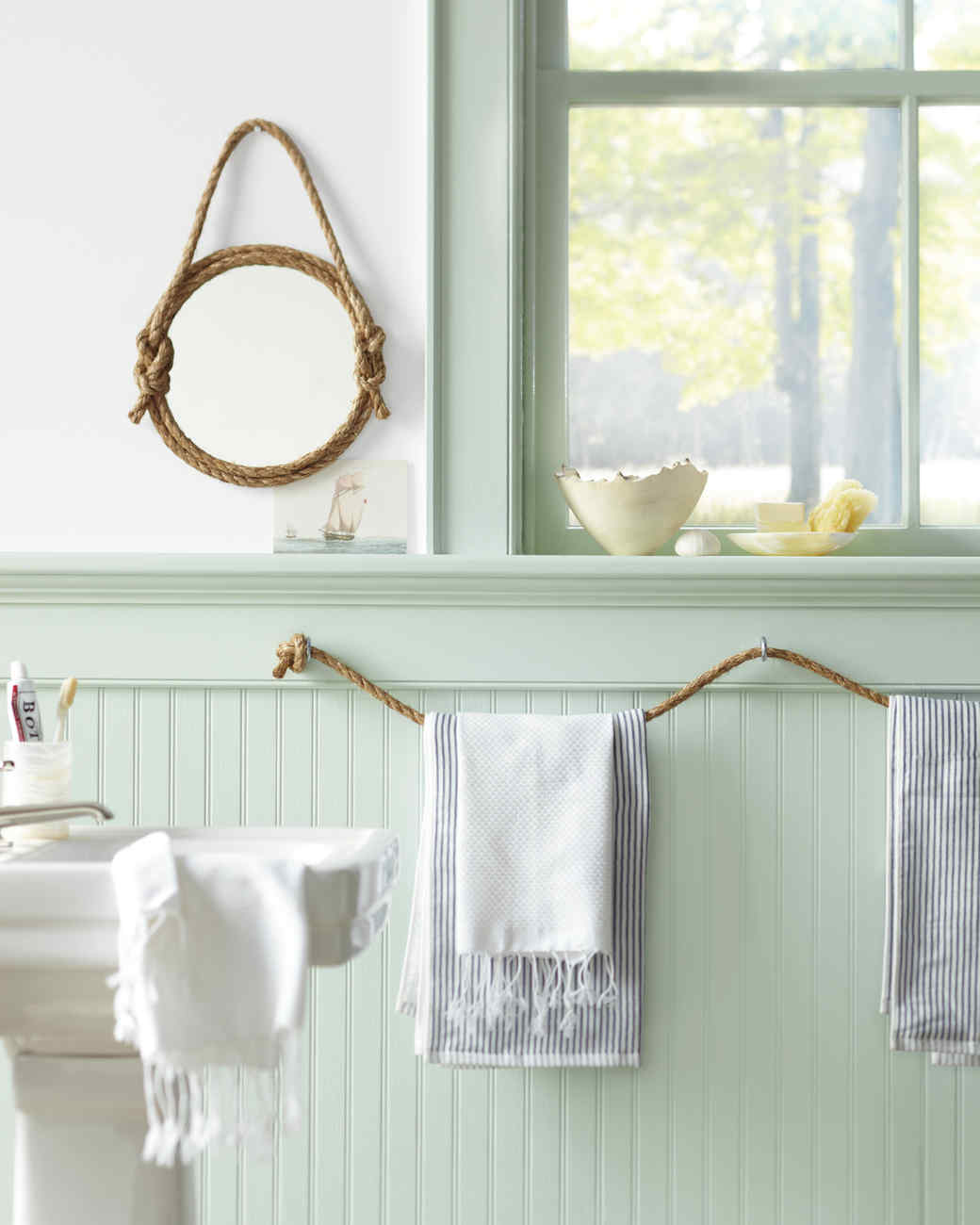 If you have some rope in your home you can use it to hang towels and add some rustic flair to your bathroom like Martha Stewart. And rope costs almost nothing, so this is a win all-around.
20) The Ladder of Excess
Easy to make and quite stylish, this ladder from Our Hopeful Home is a classy way to hold bath items and keep them within reach.
And there you have it, my list of DIY bathroom storage ideas. What did you think? Do you have some tips of your own? Share your thoughts with us and be sure to share this article with family and friends!