We know: There might not be a worse feeling than sitting in a pool of your own sweat when you aren't even doing anything. That's why you've got to beat the heat with the best tower fan that you can find. This may seem like a bit of a task but you're lucky. You found us and our loads of knowledge to help you out. So let's get to it and see what these tower fans are all about.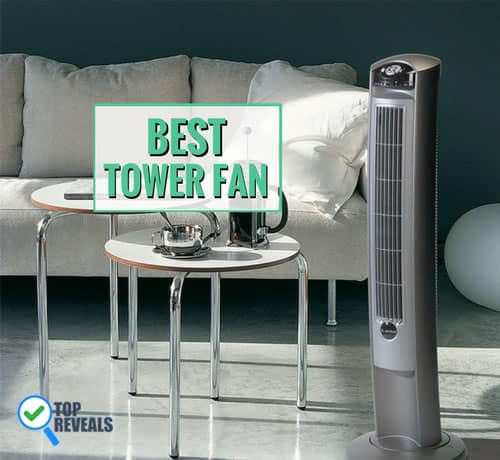 Our Top Recommendation
Read no further if you simply want to know who our favorite tower fan is because we're choosing the Lasko Wind Curve Fan. From its elegant design to its excellent performance there's just no way to do better with a tower fan than this product.
What are the Benefits of a Tower Fan?
There are tons of great reasons to get a tower fan instead of some other kind. The combination of mobility that a tower fan has can be really helpful for when you want to take your fan into a different room. However, the ease of moving it doesn't sacrifice much in the performance department. That's because you're getting a medium sized fan with better than average capabilities to cool down your indoor spaces.
Getting the best of both worlds here is a definite plus with tower fans. If you get a bigger fan that you can't move around, you won't get to use your fan in other rooms to get that great windstream. However, if you get a small fan (like a tabletop fan), then you can move your fan in the palm of your hand but won't get the most air moving around that you can. This is where tower fans come into play: easy to move around yet still moderately powerful.
Top Rated Tower Fan Product Reviews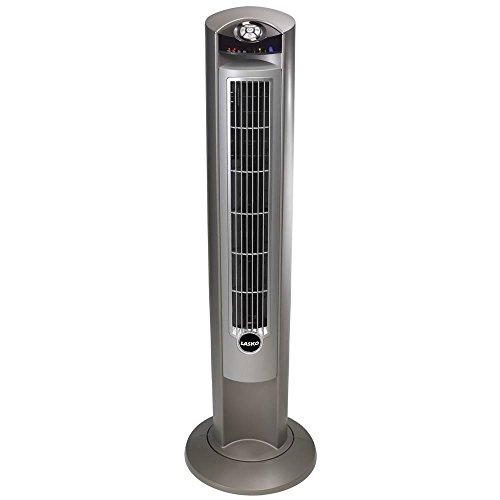 Clean While Cooling
Who says that air coming from your fan has to be dusty, allergenic, and downright dirty? Lasko thinks otherwise, giving you a tower fan with a fresh air ionizer that is CARB compliant. If it seems like you've always got a nagging cough or just can't have a completely un-phlegm-filled airway, it may just be your fan that is bugging you.
Three Quiet Speeds
Whether you set this fan on low, medium, or high, you won't find yourself interrupted by a fan that is too loud. The tower itself is designed for the highest in efficiency and the best air delivery that you can find. This makes it perfect for any situation where you don't want to elevate your energy bills and use a perfectly good, quiet fan.
Compact Yet Powerful
At just 42.5 inches tall, this fan packs a powerful punch. You would be right to be surprised by just how powerful this fan can be despite its smaller stature. And, even with its reduced size, it has so many features that you'll come to appreciate the more you use your fan.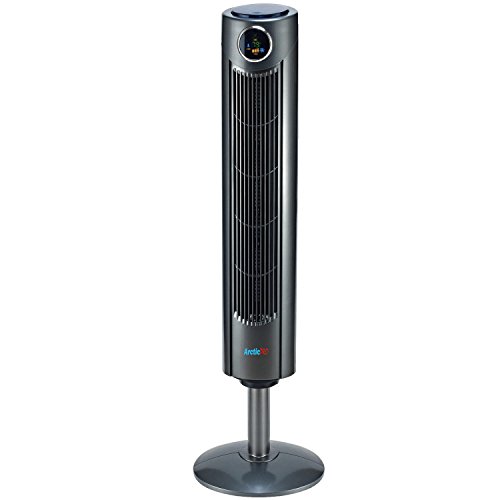 Features
Night mode, oscillation, three different speeds, and so much more are all great parts of what makes this fan so unique. You can really turn it into a high-performance machine that spreads the air in your room in the exact way that you want it to happen.
Two Configurations
Want your fan to scoop up the coolest air in the room off the floor? Just attach it to its base and it will. Alternatively, you can utilize the pedestal function of this fan and it will be raised up off of the floor to push air more directly to a higher point. Perfect for when you're lying in bed!
Remote Control
With the handy remote control, you can fiddle with all of the outstanding features that we talked about earlier without even having to get up. You're using a fan because you're already hot. Let's avoid making you break even more of a sweat by having to get up.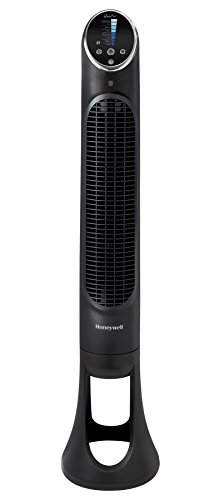 Different Speeds
We all know the displeasure of a fan that doesn't so enough to cool you on low – but makes you too cold on medium. Well, with this fan, that isn't going to be a problem. That's because it has 8 different speeds so that you can get the perfect amount of breeze for your preference.
Timers, Dimmers, and Oscillation
Set your fan to turn off after a given time frame with the Auto Shut-Off Timer. We know what it's like to want to fall asleep with the fan on but wake up in the middle of the night because you're too cold. The dimming feature can also help you sleep by turning the lights down low so you can hibernate. And, of course, the beautiful oscillation to keep a whole room cooler is a part of this baby.
Remote Control
Simply put, the best tower fans have remote controls just like this Honeywell product does. As nice as having a tower fan is in the first place, it's a million times better being able to control it without even getting up. You'll appreciate this fans remote the first time that you want to be cooler but don't want to get up.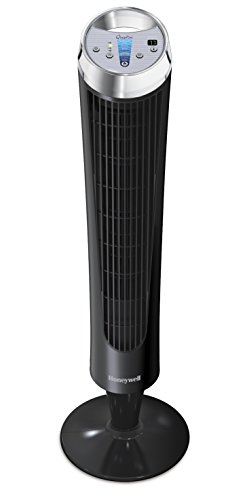 Touch Button Digital Display
The convenient and easy to use settings controls positioned right on the top of this fan gives you access to all of its amazing features. You can read the temperature right on the LCD display and the lights above the timer button will show you how long your fan is set to run for.
8 Amazing Speeds with Oscillation
Most fans just have 3 settings – which just isn't enough. You could end up with a setting that is too hot and the next one which too cold. With 8 fan speeds, you'll be able to get the exact amount of cooling that you are looking for. No more flipping your fan on and off to try to stay the right temperature!
Oscillation and Breeze Settings
Get the right kind of cooling that you are looking for with the oscillation setting. You'll be able to cool a whole room with the swinging power of this fan or keep it in one place to point at just you. With the breeze setting, you can just push air around the room to keep stuffiness away, too.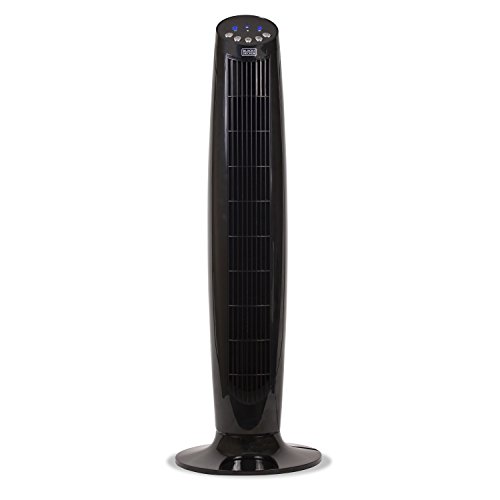 Perfect for Anywhere
If you're indoors, this fan will work for your space. You can put this fan in your office, garage, bedroom, or living room. The best part? You can move this fan around wherever you need it since it is a tower fan.Mobility is a key with these fans!
Digital Display for Settings Adjustments
This fan features a digital display that can be used easily by anyone. The buttons make things easy to fix to your liking and the display tells you exactly what you need to know about your fan's current settings. You'll know which of the three speeds your fan is on and how you need to adjust things to your liking.
Remote Control
The remote control (which runs on batteries) is a great way to run your fan, too. You can adjust what speed your fan is on, turn it on and off, fix the oscillation, and adjust the shut-off timer all to your exact liking.
Some Things to Consider
Of course, there is always a lot to consider when you make a new purchase – and finding the best tower fan is no different. A few of the keys we are going to point you to as most important are:
Remote Control – Having a remote control for your fan is important for some people – but not to others. Check in on whether your chosen model fits your needs!
Price – There is a wide range of prices with tower fans so make sure that you get one that is appropriate for your wallet size.
Physical Size – Tower fans are generally the same size and shape. However, all models are different so think about where you plan on putting your tower fan before you buy!
Wrap Up
If you're still hot, you've probably broken a mental sweat by now. But just sitting there, you seem to have broken a physical sweat, too! That's probably a good reminder as to why you were looking for the best tower fan out there in the first place. The good news is that you did find that very tower fan in the Lasko Wind Curve Fan right here on this page – but the bad news is that you're still reading!
Go out and get yourself your favorite new toy that will keep you comfortable on all those hot days that you know you will be getting soon.