When you're baking, the last thing you want is to have to dig around for spices, vanilla, or the flour. You may even have trouble finding the mixing bowl. Organize your kitchen cabinets to create an environment that is beautiful, and to keep track!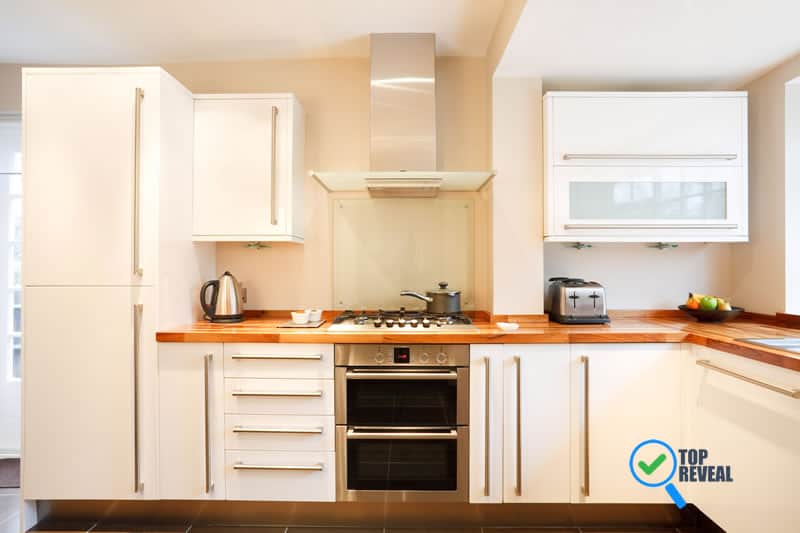 Genius and Clever Kitchen Cabinet Organization Ideas
Get started with 21 genius ways to organize kitchen cabinets listed below:
1. Make Room In Your Kitchen Cabinets With A Canned Food Organizer

Classy Clutter
Though canned food is important food storage to have, it can really take up a lot of space. Make room in your kitchen cabinets with this brilliant, homemade canned food organizer!
2. Use Labels To Keep Track

Martha Stewart
You have just organized your kitchen cabinets perfectly. Unfortunately, they will probably be out of order again soon. Labeling where things go can solve this problem, by helping everyone in the household easily keep track!
3. Make A Cutlery Drawer Organizer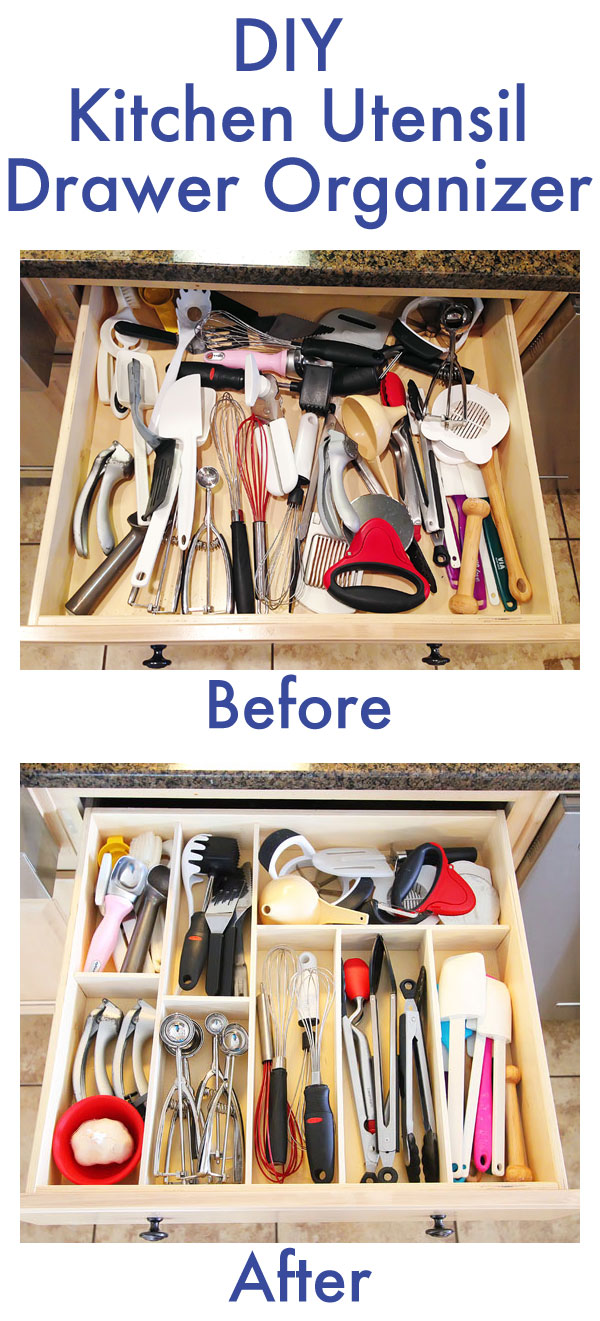 Kevin And Amanda
If you are going without a cutlery drawer organizer, stop now. This is a real lifesaver!
4. Use Baskets To Organize Your Lazy Susan

Inspiration For Moms
Lazy susans can be very useful, taking kitchen cabinet space to the max. Unfortunately, they can also be a source of clutter. A basket or two can make organizing a much easier task!
5. This Drawer Knife Holder Can Be A Real Lifesaver

Laura's Crafty Life
While knife blocks are a great idea, they do tend to have a bit of bulk. A more space-efficient way to organize the knives in your kitchen is with a holder in a drawer. Check out this DIY!
6. Mason Jars Kitchen Cabin Organization DIY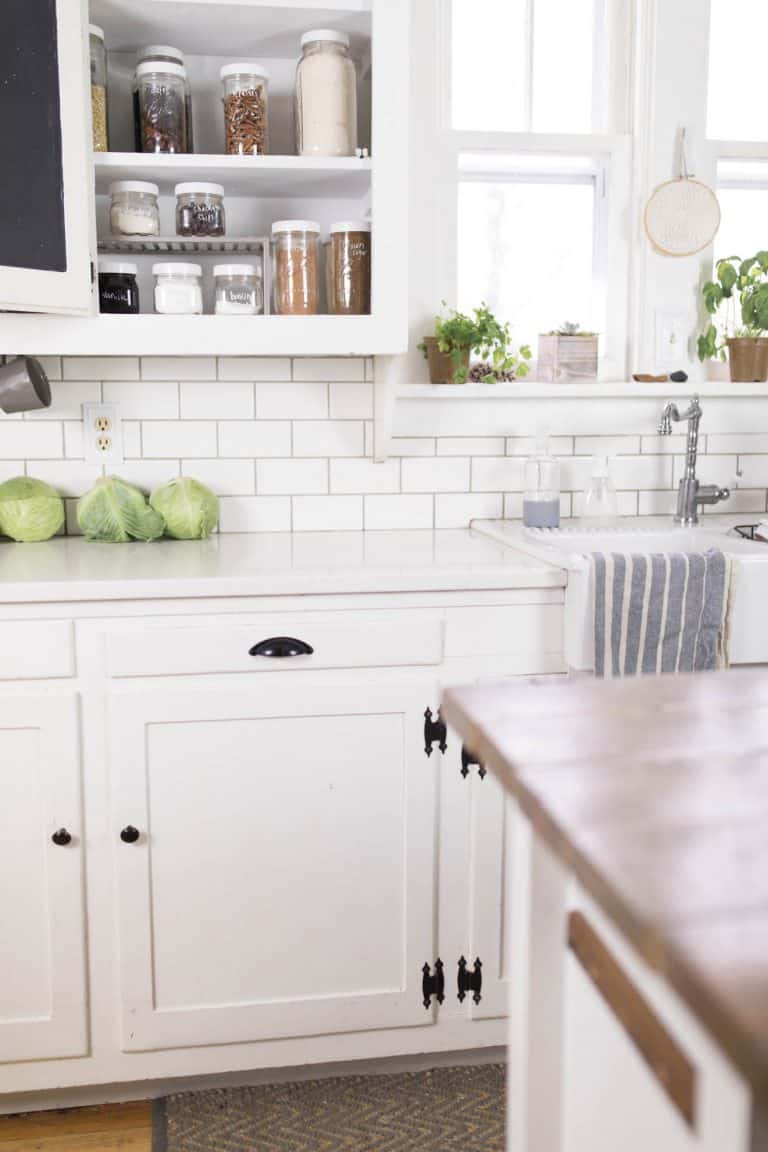 Farmhouse On Boone
Most people seem to have a surplus of mason jars. And they are so nice looking… how to put them to use? Easy! Store food in them. Get rid of bulky packaging and organize your kitchen cabinets by using the handy mason jar.
7. Keep Track of Your Measuring Cups With An Organizer Rail

The DIY Playbook
I never seem to be able to find the measuring cup I need quickly when I bake! The teaspoon is particularly elusive. You can solve this problem by making a basic measuring cup organizer, with a wooden rail.
8. Create Your Own Convenient and Pretty Lazy Susan DIY

The Twin Cedars
If you are looking for a genius way to organize your kitchen cabinets, look no further. Make the most of your cabinet space with this convenient and pretty lazy susan DIY. Who says organizing can't be fun?
9. Storing Large Cutlery In A Vase Is Lovely and Practical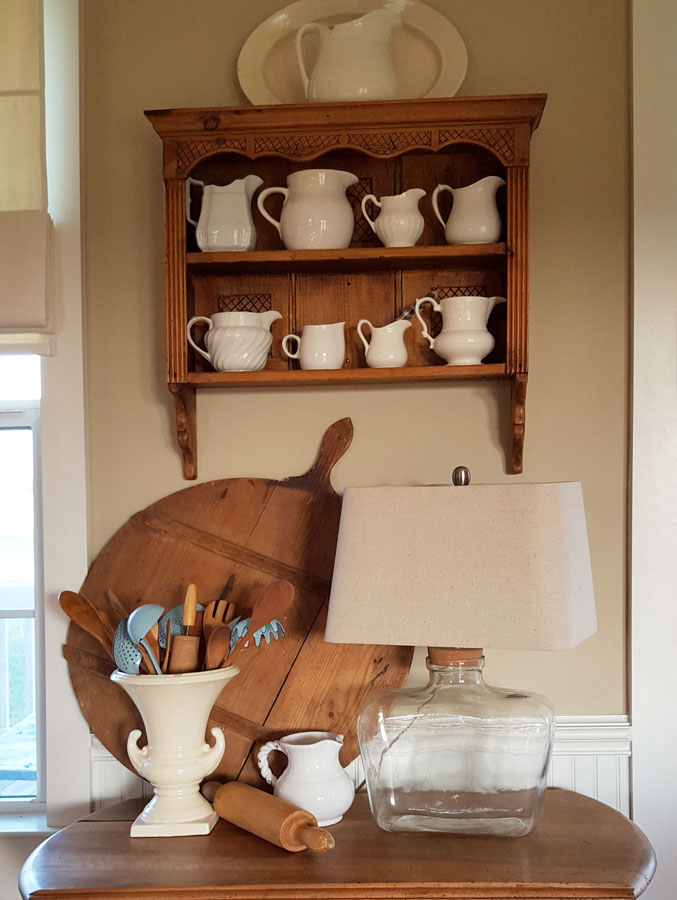 Cader Hill Farmhouse
More likely than not, you have a few spare vases or decorative teapots around your home. You can breathe new life into these items by using them as holders for wooden spoons, salad tongs, and other large cutlery that takes up space in a drawer!
10. Use Hooks To Store and Display Your Mugs DIY

The Coffee Table
Do you collect fun, beautiful, or unique mugs? You can hang these on hooks for storage and display. The mugs will be easy to access, and you will also gain some cute decor.
A win-win.
11. Repurpose A File Box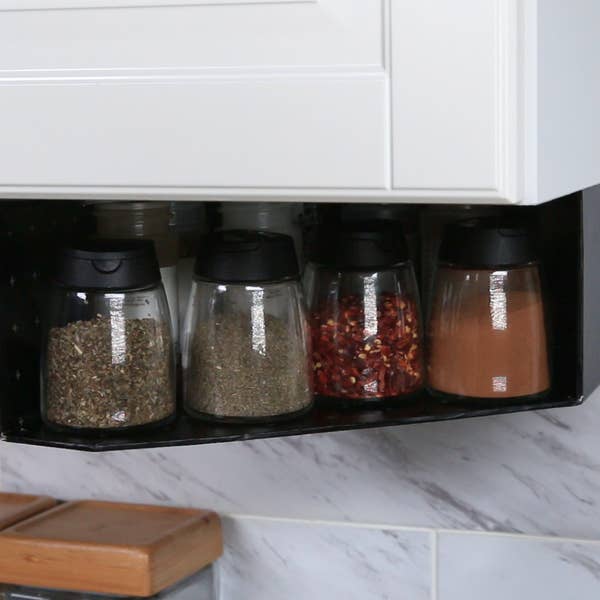 Repurpose a file box for a quick-and-easy food organizer. Attach one under a kitchen cabinet to create a super convenient, lightweight storage rack.
12. Homemade Basket Drawer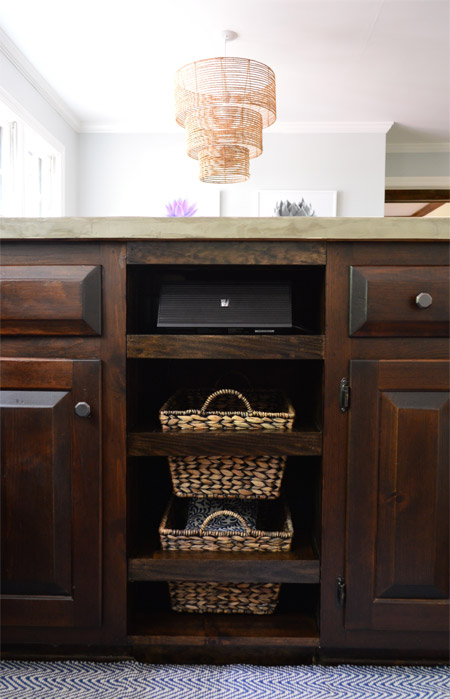 Young House Love
If you have empty space under your kitchen cabinets, you can use this homemade basket drawer to maximize storage space, and organize their contents further.
13. Declutter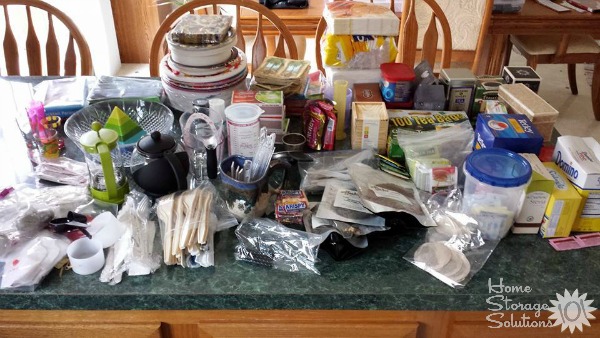 Home Storage Solutions
One of the top organizing tips is to declutter. Throw out any items that are worn or broken, etc.
14. Spinning Spice Rack

The Owner Builder Network
Digging around for spices can be really tiresome. Not to mention, these tiny bottles sure take up a lot of space. They are also impossible to organize. The solution? A spinning spice rack!
15. Turn A Ladder Into An Ingenious Pot Rack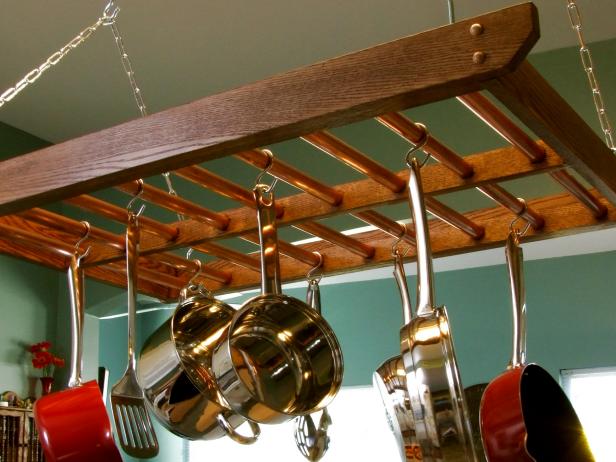 DIY Network
Ah, the medieval pot rack. This will give your kitchen a truly productive, as well as rustic feel. Pots and pans will be easy to grab when you cook. Make a pot rack yourself, and clear out kitchen cabinet space with a ladder!
16. Hanging Fruit Basket Decor DIY

Homedit
Produce is one of those items that is so hard to organize. While fresh fruits are wonderful, they sure have a lot of bulk. Luckily, you can create a hanging fruit basket to keep them out of the way… and turn them into lovely decor as well!
17. Use A Tension Rod To Free Up Kitchen Cabinet Space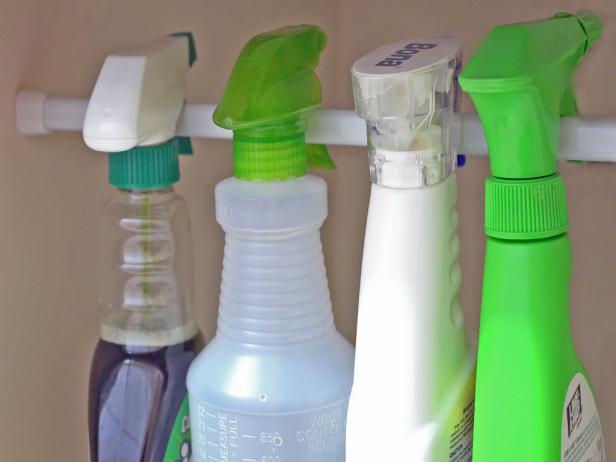 Hgtv
Most of us have some loose cleaning supplies in our kitchen. We use them so often, after all. However, they can sometimes get in the way. Tension rods can be the perfect place to hang these, to free up valuable kitchen cabinet space for food, dishware, and the like.
18. Box Shelf

Family Handyman
A super convenient organizer is a box-shelf. This will provide several cubicles to safely store whatever food and decor that you like!
19. Pants Hangers Can Hang Food Bags From Your Pantry Shelf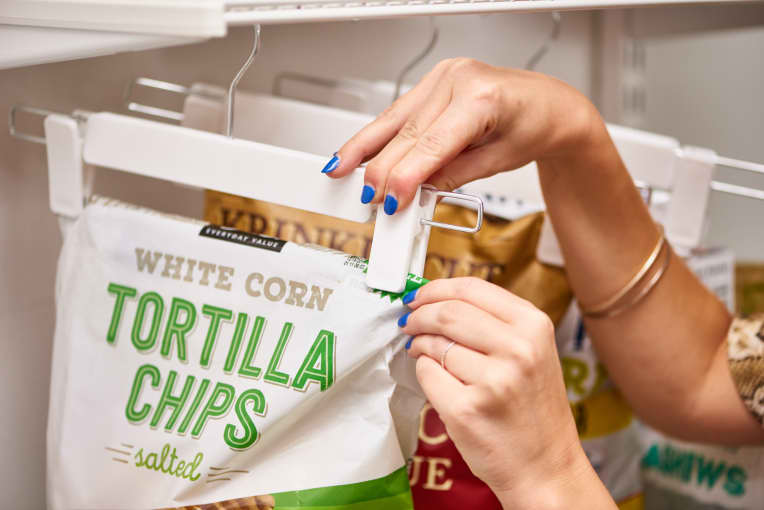 The Kitchn
Now, this is an especially unique one. Many of us have plenty of spare hangers at home. To help organize your kitchen cabinets, you can hang your food bags with these, from a pantry shelf.
20. Organize Your Kitchen Cabinets With A Fun Magnetic Spice Rack

Garden Betty
Have you ever heard of a magnetic spice rack before? Me neither! But it's true, the side of the fridge is rarely used, if ever. And spices take up so much kitchen cabinet room. So… magnetic spice rack!
21. Super Handy Pegboard Kitchen Cabinet Organizer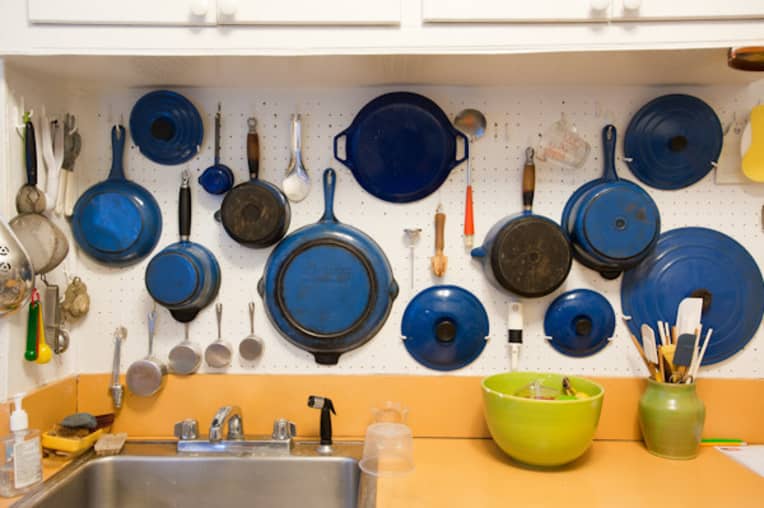 The Kitchn
You can hang almost anything from a pegboard. In a kitchen, this can prove invaluable. Use a pegboard to hang pans, measuring cups, and more!
So, what do you think? Do any of these genius ways to organize kitchen cabinets appeal to you? Employing just a few of the unique and crafty ideas can truly transform your kitchen… and turn you into an extraordinary organizer!