Wouldn't it be great if you could make your favorite meal just like they do at your favorite restaurant? Well, guess what? You can, and all you need is a little kitchen appliance called "sous vide." I know, it sounds complicated, but don't be fooled by that fancy French word because the process is pretty simple. It works by vacuum-sealing food in a plastic bag and then simmering it at an exact temperature in water.
Chefs at high-end restaurants have been using it for years, and now you can get one to use in your home! Check out my Best Sous Vide Precision Cooker Comparison Reviews to find out all about this ingenious appliance and find the best one for you!
What are the Benefits of Using Sous Vide?
There are a lot of advantages to using this machine, the biggest being that there are just three steps to making a delicious meal: 1) Attach the sous vide inside a pot of water and set the time and temperature, 2) Put the food in a sealable bag and clip it to the side of the pot, 3) If you want to make it crispy on the outside, such as for a steak, you can briefly sear, broil, or grill it before serving. Other benefits include the following:
The only other tools needed are resealable bags or canning jars for cooking food.
Precise temperature control resulting in cooking that cannot be achieved any other way.
Food won't ever lose flavor, get overcooked, be too dry, or hard to chew.
Meats cook in their juices turning out moist, tender, and juicy.
It does not require your constant attention – just turn it on and do something else.
Timing and temperature are so precise that you will get the same results every time.
Listed below are five reviews of sous vide machines that were found to be the best, plus some recipes for you to try with your machine.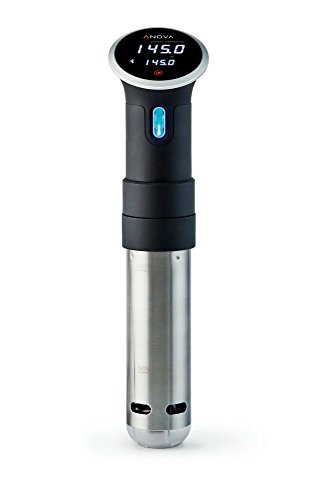 The Anova lets you get out of the kitchen when you use their app with Bluetooth connectivity. You will get over 1,000 recipes from famous chefs and you can share your favorites with friends using the app. A great feature is the video tutorials to help you with the recipes. You will get notifications on the status of your cooking without being in the kitchen.
Your cooking is guided by Anova as you pick the level of doneness that you want and just press start. It has a temperature range from 77 degrees to 210 degrees with a pump speed of 1 to 1.2 GPM (7-8 LPM) and directional pump of 360 degrees. The tank capacity is 4-5 gallons (15-19 liters) and the timer goes to 99 hours.
It runs on 110-120VAC with a heating power of 800 watts. The Anova 800 is simple, yet powerful, flexible and accurate. Most customers were very happy with the Anova 800 giving it a 4.4 out of 5-star rating.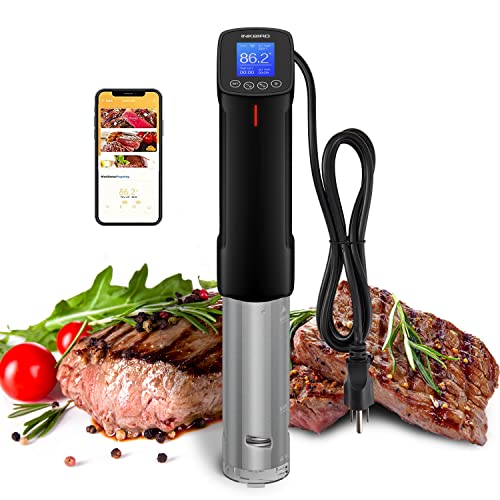 The New Inkbird Precision Cooker 900 Watt has Wi-Fi and Bluetooth. You can enjoy a cooking technique made famous by professional chefs producing restaurant quality results. The Sous Vide Precision Cooker gives you restaurant quality results that cannot be achieved through any other way of cooking.
The food is evenly cooked from one side to the other side without worrying about overcooking. It heats and circulates water in the pot so that everything cooks evenly to a precise temperature with perfect results. It only takes a few steps to start it cooking. Just attach the cooker to any pot, add water, drop in items to be cooked sealed in a bag or a glass jar, and push the start button. You can set the time and temperature manually or use the Anova Culinary app to find the cook setting.
With the Wi-Fi, you can monitor or adjust your food or start and stop it wherever you are. The cooking machine will connect to your phone or laptop so you spend less time tied to the kitchen. Customers were very satisfied with this new Anova giving it a rating of 4.4 out of 5 stars.
What are the Difference Between Anova Culinary Sous Vide Precision Cooker and Inkbird Sous Vide Cooking Machine?
This precision cooker is the fastest at heating water on the market with 1100 watts of power and hyper-exact temperature control. It is precise to 0.2 F / 0.1 C. It will work in any size pot with a variety of water levels from 1.5 inches up to 10 gallons. No special equipment is needed. The ChefSteps CS20001 is the smallest sous vide available being only 11 inches tall and 1.1 pounds. It is small enough to fit in your top drawer.
Side Clip
It has a magnetic base and side clip that works in any pot. It is made of seamless polycarbonate and comes in solid white or white with stainless steel trim. It has 1100 watts of heating power and you must use only 120 V outlets.
The App is simple, smart and easy to use and is compatible with iOS, Android, and Fire OS. You can see how you want the food to turn out and with notifications and WiFi, you can control the cooking from anywhere. You will get hundreds of ChefSteps recipes and sous vide guides.
Work with Smart Speakers
You can also use Echo or Echo Dot to control Joule with your voice by asking Alexa to set the temperature or check the status of your cooking or use Chat on Facebook Messenger to get it all set up.
The coooker is a premium quality stainless steel stick with a resilient ABS handle. It has a built-in thermostat, time, and temperature control with a digital LCD screen for reading easily. It is safe, compact, handheld, submersible, and has lightweight precision. It will clamp onto all deep pots and containers and will have a precise and even immersion circulator. You will get precise restaurant-like meals with any cut of meat of any thickness and never have it get dried out or overcooked. Enjoy awesome cooking results every single time.
The NutriChef is portable and significantly less expensive than other brands. It has a built-in thermostat and the temperature control that ensures perfect cooking that is restaurant style. It is easy to clean and store away for the next meal. Customers are happy with this product giving it a rating of 4.3+.
This cooking machine has an ergonomic sleek designed digital design while cooking up to 10 gallons and includes a free recipe book. This Circular Precision Cooker has a superior quality compact alternative to sous vide water ovens that are self-contained. It easily clips to most pots and containers for easy use. All you need to do is set the dial and then relax while the GSV140 cooks a five-star meal from a steakhouse.
The new user-friendly display lets you enjoy a hassle free cooking experience. The GSV140 has a quiet running motor and is the most powerful sous vide on the market with a secure stand-up design that is built to last. It has 1200 watts making the setup and recovery time fast and simple. It pumps up to 2.1 GPM for a perfect result every time you cook.
The free recipe book has hundreds of healthy recipes will save you from the high cost of going out to eat. The GVS140 comes in five different colors and has earned great customer feedbacks.
What to Look in a Sous Vide Cooker?
Before buying sous vide there are some important factors to consider. Listed below are a few:
• The Water Container: Consider if you want one included that will be insulated to save energy or is an immersion circulator that fits any pot or container that may not be insulated satisfactory.
• The Capacity of Water Container: You need enough space for the water to circulate the food pouches so consider how much food you will be putting in the container as to what size you need.
• Stable Temperature: You want the sous vide to have a stable temperature with no more than 0.05 C degrees variation.
• The Size of Equipment: All-in-one temperature controlled water containers can be bulky so consider what kind of space you have to use and to store. Immersion circulators are small, but some come with a stand to keep it in.
• The amount of Heat Power: The higher the watts, the faster the water will heat up so determine the importance of that.
• Safety Factors: Does the immersion circulator have a protective shield to keep cooking bags from touching the heating pump or coil? Do you want an alarm that gets triggered when the water is too low due to evaporation?
Recipes Using Sous Vide Machine
Listed below are some easy and yummy recipes using the sous vide machine.
Juicy Chicken Breasts
Time (from start to finish): 1-1/2 to 4 hours
Ingredients: 2 bone-in, skin on chicken breast halves, salt and pepper, 4 sprigs of thyme or rosemary, lemon slices, and 1 tablespoon of oil.
Directions
Preheat water to 160 F (71 C) for firm, juicy meat.
Season chicken using salt and pepper, then put in a vacuum-sealed bag or zipper-lock bag.
Add fresh herbs or lemon slices to the bag, then cook for 2 to 4 hours. When done, take the chicken out of the bag and heat a cast iron or stainless steel skillet with one tablespoon of oil; sear the chicken with skin side down until skin is golden brown and crispy, then remove, drain and let cool for two minutes.
Carve chicken into thick slices diagonally and serve immediately.
Lobster Tails
Time: 1 hour
Temp: 131 F  for 20 to 40 minutes
Ingredients: 4 lobster tails, shell removed, 4 tablespoons butter, 8 basil leaves, salt & pepper, 1 lemon (separated into 8 pieces)
Instructions: Preheat water to 131 degrees F.
Place lobster meat, butter, and basil leaves in the sous vide bags, season with salt and pepper and close the bags. Place the bag in water and let cook 20 to 40 minutes. Then, remove from bags and place on plate, taking the juices from bags and putting them into dipping dishes.
Squeeze some lemon over the top, sprinkle with salt and serve.
Pulled Pork Sliders
Prep time: 10 min
Cook time: 24 hours
Temp: 159.8 F
Ingredients: one pork shoulder, 6 tablespoons BBQ sauce, 1 cup coleslaw mixture or julienned cabbage, 4 tablespoons Mayo, and 6 slider buns
Place pork in a large bag and cook for 24 hours.
Shred pork meat and mix in with BBQ sauce
Mix coleslaw mix with mayo and put in slider buns
Add pork and serve.
Verdict
Writing this review has made me hungry, and I'm ready to run out and buy a sous vide so I can have a meal at home that is as good as going to a really great restaurant. I can't wait to cook a meal like one of the above recipes for family and friends and listen to them rave about how good it was!
I hope this review of the best sous vide machines helps you buy one that you will be happy with. Wishing you an enjoyable cooking and eating experience with your sous vide machine!