If you have a friend or loved one who likes to work with their hands, get down and dirty, or just likes to do their own repairs around the house, then you should think about Bosch tools this holiday season. They are some of the best quality tools on the planet and thanks to all the great Bosch Black Friday/ Cyber Monday Deals you can get them at a great price.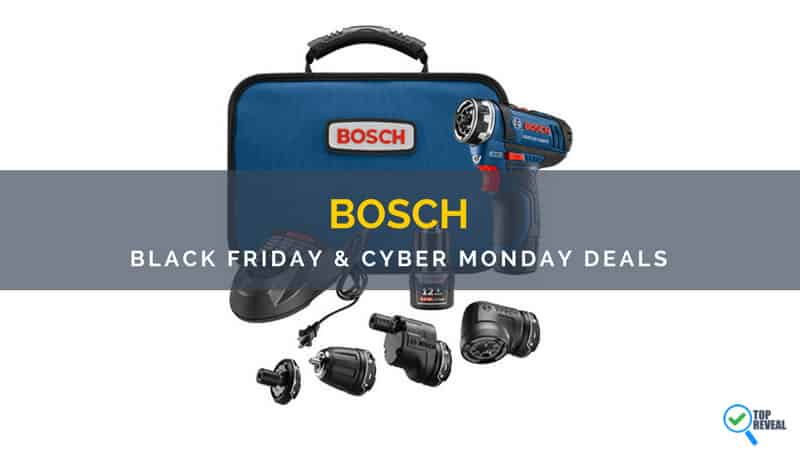 Bosch Who?
If you are not familiar with Bosch, the German engineering and electronics giant, I'll give you a little background. They have been around since the 1800s, making automotive parts, home appliances, and power tools. If you look in any professional tradesman's tool box, you are likely to find some Bosch tools; in fact, I had a Bosch distributor on my 1970 Volkswagen Beetle! Today, they are one of the largest manufacturers of hand held power tools in the world both for the professional and the do-it-yourselfer.
There are some great deals on Bosch tools on Black Friday and Cyber Monday, so check your newspaper circular or your favorite on-line outlets.
Best Bosch Black Friday/ Cyber Monday Deals
We have listed here some great Bosch deals that you can take advantage of on Black Friday or Cyber Monday. The tools on this list are great options for experienced professionals, or for those just starting out who need good, quality tools that will last a long time.
For those smaller jobs and jobs with a tight fit, the Bosch Flexi Click Drill/Driver is a great option. Its 5-in-1 design
delivers outstanding versatility
in a compact, high-quality drill/driver. It has four attachments for working in tight spaces, even at right angles. It weighs less than two pounds, and still manages 265 in/lbs. of torque.
Bosch Gravity Rise Miter Saw Stand
If you are constantly moving your heavy miter saw from place to place, then you need this stand. It works with a variety of saws, and its gravity rise system uses the power of gravity to lift your saw to a comfortable working height. It has pneumatic wheels and adjusts to work with material up to 18 in. wide. This would make a great gift for your hard-working professional.