When toddlers first learn to feed themselves, it is a messy experience, to say the least. Dishes flip over, cups spill, and food ends up everywhere! For me, it is also one of the most rewarding times as a parent, because we are teaching them to be more independent. And, as a bonus, all that independence for them means a little more me time for you!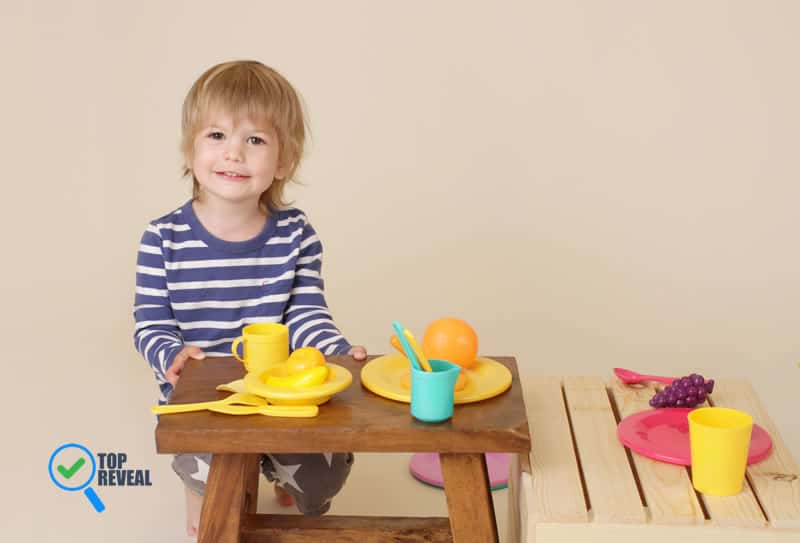 But it's not all spaghetti and rainbows. Teaching your toddler how to hold a fork, or drink from a cup takes patience and the right tools. Yeah, it turns out, any old cup or plate just won't do. The correct shape or weight of a spoon or cup can improve their grasp and coordination, while the right materials ensure they are germ-free and the food's not too hot.
Sounds complicated, but it's not. Or it won't be after you read my Buying Guide For The Best Toddler Utensils, Dishes & Cups. I'll explain what you kids need, why, and give you a list of the best products in each category. Cheers!
Toddler Buying Considerations: Matching Your Kid to the Right Utensil
Most toddlers start learning to feed themselves between 15 and 24 months: some learn quick, while other need more guidance to get the hang of it. And that's okay. It requires a lot of arm strength, and hand-eye coordination, to get it right. It takes practice, patience (I'm going to be saying that word a lot), and preparation, which means choosing the right utensils.
When I was a kid, everyone ate with the same forks and spoons. The only difference was the kids had little utensils, and the adults had big ones. Yes, I learned, but I also poked myself a lot of times and dropped tons of food. These days, it is much different. There are materials to detect hot or cold, ergonomic handles, and weighted bases to help your toddler stabilize their plate or cup. Plus, some materials are safer than others. To help you sort it all out, here is a checklist of things to consider before buying:
Plates
Stability: The dish your child uses can have a significant impact when they're first learning. Toddlers tend to have a hard time keeping things from toppling over, which is why a weighted plate or one that has a silicone/suction bottom is great. These dishes stay put when you place them on their highchair or table, so they can concentrate on eating, instead of trying to stop the bowl from sliding. Plus, it makes it easier for your toddler to scoop up food.  But I warn you- you may have to fight with the dish to get it unstuck.
Material: Plastic bowls are safe because they won't break, but many soft plastics are porous. Which means they can hold germs, or absorb the odors from the food you put in it. Opt for hard plastics when possible,  and make sure they are PBA free and made with non-toxic materials.
Access: For items like snack dishes, they should keep food contained, but allow for easy access. Little hands shouldn't get stuck, and the material should be soft and not scratch.
Utensils
Size: One of the most important factors when choosing a fork or spoon is the size- of the handle and the head. If the head is too big, your child won't be able to place the food in his mouth and will drop most of it. It can also hurt them and make them not want to eat. Same goes for the handle. It needs to be long enough for them to get a good grip and pierce food easily. If it's too short, they may have a hard time transferring from the fork to their mouth.
Shape: Shape is essential for making your child comfortable while he or she learns and improving hand-eye coordination. The handle should have an ergonomic design, and mold to their palm, which will encourage them to grip the correct way and make it easier to pick up their food. The head should have a round shape, and the spoon's tip should be slightly flat, making scooping quicker and simpler.
Materials: This one's a bit tricky, and there are a few options. To me, the most important factor is what will make it easier for your child, especially when it comes to forks. While I thought it was safer to have all plastic forks, my son became very frustrated because they make piercing meats and vegetables almost impossible. So I switched to metal tines. Metal, even if it has a round shape, makes it easier to grab onto foods. Also, metal isn't porous like plastic is, so it's cleaner and more hygienic. My personal recommendation is to pick a plastic handle (better grip) with a metal head.  If you do go for all plastic, use the ones that change color if the food's too hot. It will save your child, and you, a lot of tears.
Cups
When it comes to cups, it is a bit simpler. The most important factor when choosing one is size: it shouldn't be too big or weigh a lot. It's hard enough for toddlers to get the cup up to their lips. You don't want them to drop it because it's too heavy, or too large for their tiny hands. As with plates, hard plastic is ideal. And, if you're not ready for a big kid cup, and all those spills, you can opt for one with a cover that has a slot or built-in straw to drink. Just be aware that the straw can get moldy, so check and clean it with a mini brush.
The Top Rated Toddler Utensils, Dishes & Cups
Now that you know what to look for to help your child eat independently, let's put that knowledge to use and review the best products in each category.
Best Toddler Plates
This dish/placemat hybrid is one of my favorites, for several reasons. The biggest plus with this item is the
built-in placemat
. It cuts down on messy tables and floors, and makes clean up 1-2-3.
Lift the whole thing up
, and your done.
There are 3 compartments so you can separate the different food groups, and there is also a holder for your kid's spoon, so you don't have to worry about it falling on the floor between bites. And since it sticks to the table, your little one can eat without it sliding out from under them.
This 4-pack of bowls is colorful and cool because they come with lids, so you can take them on car rides, to the park, or anywhere else. The lid clicks to let you know it's locked on, so you never have to worry about it spilling all over your bag or the car.
Made of BPA-free hard plastic, they are safe in your dishwasher, microwave, or freezer. Which means you can use them for ice cream, soup, or anything else your kid is craving.
Make snack time mess-free with these ingenious snackers from Munchkin. Shaped like cups, with handles on both sides, they can run, jump, and turn it over without spilling a Cheerio. The soft top opens so your child can put their hand in, then closes right back up when they pull it out. Easy to clean, they are perfect for walks in the stroller, or movie time in front of the T.V.
Utensils
These are by far my favorite fork and spoon set, since they are so easy for little hands to handle. Light, but sturdy, they have a natural curve that make them comfortable to hold, and also prevents them from falling into a bowl.
The tines of the fork are metal, to quickly stab food, and round, so your child won't stick themselves. And the spoon head is thin but has enough depth to hold the perfect amount of food. Best of all, the handles are made from BPA-free soft plastic so kids can use a firm grip without squeezing too hard.
For smaller kids, or parents who are adverse to metal, this set of 5 spoons, with bonus fork from KiddieBob is the way to go. Made of 100% FDA approved, BPA- free plastic the tips of these spoons are soft, so you never have to worry about your kid biting down and hurting themselves.
You'll also never have to worry about them burning their mouth, as the tios are heat sensing, and will turn white if the food is too hot. Durable, with an ergonomic handle, this is a great training spoon for young toddlers.
For toddlers just starting to learn, or kids who this 5-pack of spoons does the trick. The handle is curved and metal, with a nice, light feel toit. The slim handle is ideal for small hands, as is the soft, heat sensing spoon tip. It changes colors when spooning hot foods, and has a tapered shape for easy eating. Dishwasher safe, it is a good value for your money.
Cups
This cup is a smart choice for your toddler and can grow with them as they go from sippy cup to big kid cup. Made from BPA, phthalate and pvc free clear plastic, it has a training lid insert, to control how much liquid comes out when they sip. And once they get the hang of it, you can remove the insert and it turns into a regular glass.
There is a soft grip band that prevents slipping when they hold it, and since it's clear, you can see how much liquid there is. Finally, the tipped design means that when your kid knock's it over (and they will), the liquid will spill out slower.
These cups are great because they are guaranteed not to spill and make sipping easy. Plus, using a straw can help strengthen jaw and tongue muscles, a plus for children with speech delays. And since they work with or without the lids, they are perfect for babies, toddlers, and big kids.
Free from BPA and PVC, they can be stacked when you're not using them, and the lids and straws are interchangeable. The straws are soft and can be removed to clean, so you don't have to worry about mold and germs. The lid flips open, and when it's closed, it doesn't leak or pop off. Dishwasher safe on the top rack, it is easy to grip and durable.
For young kids not quite ready for a big kid cup, this sippy cup is the way to go. For many, including me, sippy cups can be a hassle because they tend to leak. Not this one. The valve they sip from in guaranteed not to leak, releasing pressure when it overturns to prevent liquid from seeping out.
The handles are non-slip, and angled, so little ones don't have to tilt is too much to sip from it. And once they can drink well from it, you can remove the handles- making the feel like a big kid! I like that there are ounce measurements on the side, so you always know how much you're giving your kid. BPA-, phthalate-, and PVC-free, it is top rack safe for the dishwasher.
I hope my Buying Guide For The Best Toddler Utensils, Dishes & Cups helped you figure out what you need for your toddler. Feeding time should be messy and fun, not messy and frustrating. These utensils eliminate that frustration- for your child, and you, so they can learn to be independent and feed themselves. Safe and affordable, all of these products will cater to your child's needs, leaving your floors clean and your toddlers smiling.