As your baby grows older, the food that you will feed him/ her will change, as will their taste buds. Breast milk or any infant milk will not be enough, and you'll need to introduce them to semi-solid foods.  And the best way to do that is with one of our best baby food makers.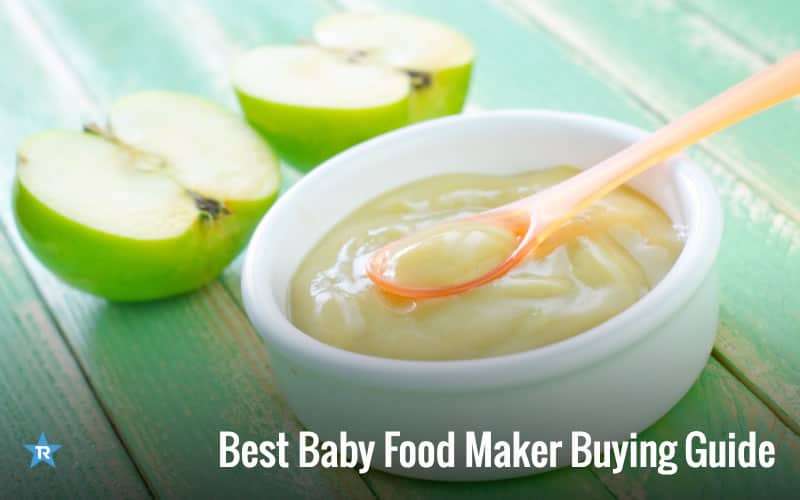 A baby food maker is like a blender–only smaller. It performs the same function of grinding and mashing solid food until it becomes smooth, making it great for creating purees. However, it can also perform other functions, such as steaming, defrosting, and reheating stuff. Best of all, using one of these machines puts you in control of the vitamins and nutrients your baby gets. No hidden ingredients that can harm your precious little one.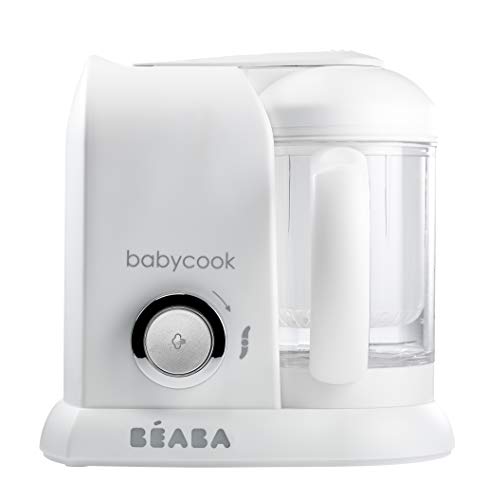 The Beaba Babycook is similar to the first Beaba we introduced, with small differences. It is still has a large cooking capacity and extremely durable materials, which you can expect to last long. However, it also has unique features on its own–making it as one of the ideal baby food makers for you.
Puree Quality
This baby food maker from Beaba can produce fresh and preservative-free purees in 15 minutes or less. It can process different varieties of food–from ground chicken to blueberries, and won't stop until you get a smooth, even texture! Also, take note that this food maker has a 4.7 cup capacity.
Easy To Use
This product is extremely useful, even for parents who are not really good in the kitchen. It can perform the four functions you need in a food maker–steam, reheat, defrost, and blend. Moreover, you can do all of this by just using your one hand.
Durable and Safe Construction
Aside from being easy to use, it has also a safety feature that shuts it off when it's done cooking and an audible alert system that will notify you when the food is almost finished.
This food maker contains no traces of lead, phthalate, and BPA, which are all harmful to your baby. Also, its water reservoir is pure stainless steel, so that any hazardous elements can pass through it.
Pros
Large cup capacity; can produce 17 servings in one go
Can process food in different means
Quick to clean and easy to use
Free from any harmful chemicals
What Users Say
Just like the first Beaba Food Maker, this product is also receiving overwhelming recommendations from its users. Aside from being inexpensive, this baby food maker has a sturdy and durable construction, which makes it ideal for long uses. Moreover, people love the useful features it possesses, such as the alert system and the auto shut down mechanism.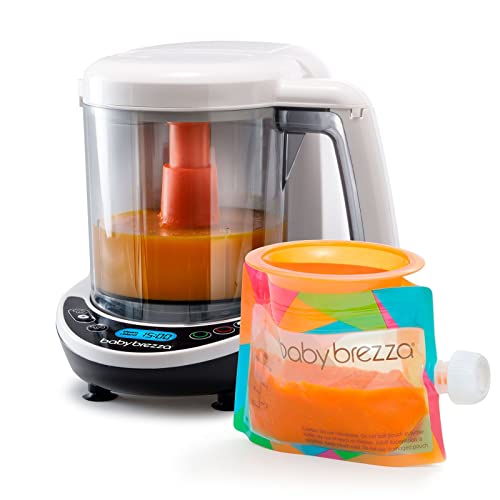 I dare any parent not to love the Baby Brezza food maker. This product has a compact size and possesses several features that are essential for creating delicious and safe-to-eat food for your child. It can blend, chop, steam, and reheat, handling all your baby's needs. Also, the Baby Brezza is quite easy to clean and create several recipes.
Puree Quality
When it comes to creating purees, you can trust the Baby Brezza to do its job. It can blend and steam different food such as peas, sweet potatoes, rice, ground chicken, and even apples. Moreover, this baby food maker produces sufficient heat to kill all the dangerous bacterias, without overcooking.
Ease of Use
One of the finest features of this machine is that it is easy to use. You don't have to be a cooking expert; As long as you have the manual that comes with it, you'll be fine.
It even has separate instructions for reheating food, to ensure you do it right.
Capacity
When it comes to cooking capacity, Baby Brezza's performance is great. It can hold up to 2 1/2 cups of puree per serving, so you don't have to constantly make more. Given that it has a smaller capacity comparing to other food makers, this product also creates a smaller footprint in the kitchen.
Pros
Inexpensive and versatile food maker
Easy to use and clean
Sturdy and built to last long
Cons
It doesn't have built-in steamer
What Users Say
The Baby Brezza is one of the most sought-after food makers on the market today. Several users already said that they can use this food maker like a pro on their first try. Moreover, people love the quality and smoothness of purees it can produce.
BEABA Babycook versus Baby Brezza Differences
In general, the Beaba Babycook Pro is an ideal food maker for your baby. This product, aside from being stylish, can produce quality food for your child. Among all the baby food makers here, the Beaba Babycook is the best when it comes to creating purees.
Performance
If there is one thing that separates the Babycook Pro from the rest, it would be the quality of its puree. This machine effortlessly blends and grinds fruits and veggies until they are as smooth as silk.
Plus, its base and blades have only a small space between them, preventing large chunks of food from lodging beneath the blade.
Durability
The Babycook Pro has a superb overall construction. The materials used on this product can last a long time, so you get your money's worth. Constructed from a material called Tritan, it is a variant of plastic and more resilient than most other materials. Plus, its blades and interior reservoirs are all stainless steel, so no rusting or breaking.
Easy To Clean
Despite the presence of several parts, the Beaba is easy to clean. Its blades are removable, so you can thoroughly clean every part- safely!
Capacity
It has large capacity to hold up the baby food after processing.
Detachable Blades
The blades can be dissembled for easier cleaning.
Overall, the Beaba Baby Food Maker is receiving thousands of positive feedback from those who tried it already. Most of the users love the durability of this food maker. They say that if you take care this product properly, it could last up to 5 years without sustaining any defects!
Benefits of Having A Baby Food Maker
You Can Avoid Commercial Food
You can always opt to buy commercial baby food to elude the hassle of cooking. However, commercial products contain sugar, salt, and other agents like starches that don't have nutritional value at all.
A baby food maker allows you to cook the food for your child and gives you the freedom to choose healthy and less-expensive ingredients.
It Is Economical
Are baby food makers worth it? One of the benefits of having a baby food maker is that saves you money, as pre-packaged and commercialized food are expensive. You can always use any ingredients available in your home in making purees.
If you have a garden in the backyard, picking squash, carrots or apples won't take too much of your time or budget!
It Teaches Your Kid How To Eat With You
Eating is one of the fundamental things that your children should learn. However, it is more important that we can teach them the pleasures of eating together with the family. A baby food maker enables you to do this.
They can eat with you at the same table, with the same food–only in the form of puree.
Features to Consider: How To Choose A Baby Food Maker?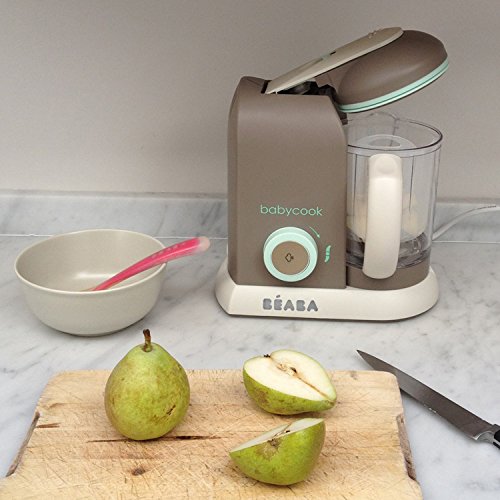 Capacity
When buying a baby food maker, pay attention to the capacity. Usually, a food maker can create 2 1/2 cups of serving in one cooking. However, several brands like Beaba can exceed this serving, making less work for you.
Ease of Use
Many of us are new to this whole process of creating homemade foods so choose a baby maker that makes it easier. The machine should be as simple to use as a blender, so you quickly and efficiently create wholesome foods.
Ease of Cleaning
In choosing a baby food maker, make sure that it is easy to clean. Always pick the one that has removable parts for separate cleaning. Moreover, make sure that the brand you choose is dishwasher safe.
Availability of Helpful Features
Look for a baby food maker that can do functions other than blending and grinding. If you like to make huge servings in one go, then you should look for a food maker that has reheating and defrosting features. Check if your baby food maker is bpa free. Moreover, some units can perform steaming, which allows you to cook recipes aside from purees.
How To Clean A Baby Food Maker?
1. Fill the baby food maker with warm water. Then pour several drops of liquid dish soap. Let it blend for a couple of minutes. Afterward, pour the mixture and rinse thoroughly.
2. If you need to remove all the stains, you can pour lemon drops to the water and dish soap mixture. However, some stains are stubborn. You need to scrape them manually using a rough sponge.
3. After finally cleaning the blender of the food maker, let it dry in an upside-down position.
4. You will also need to clean the base of the blender. You should do this often so that you can prevent food and liquid from staining the surface.
5. The blades should be separated if they are still dirty after being cleaned by the mixture (water, lemon, and soap). You can unscrew the blades from the blender so that you can wash them by your hands thoroughly.
If there are tough bits, use a toothbrush to scrape them off.
Baby Food Recipes
1. Mango & Banana Puree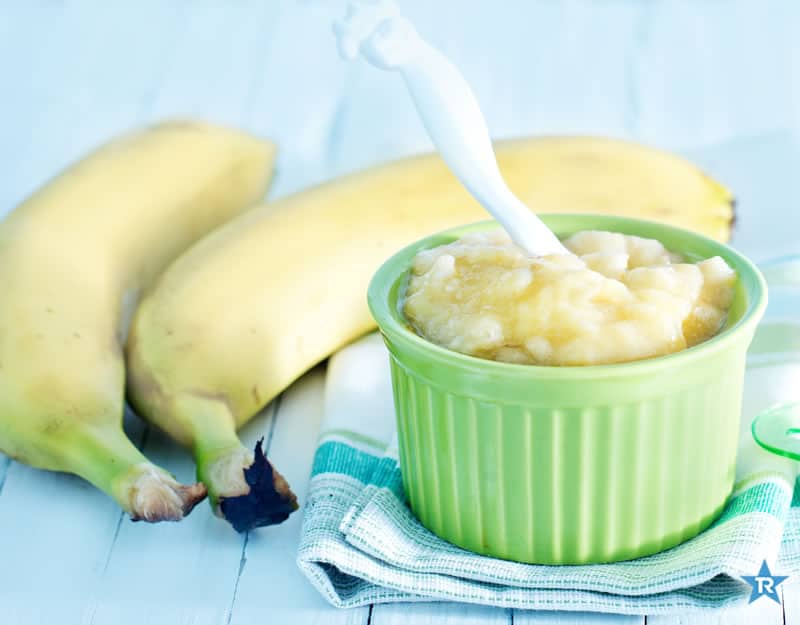 The most basic food that you should prepare for your baby is a fruit puree. It is healthy, and it is not hard to digest.
Ingredients:
– 1 mango
– 1 banana
1. Peel the skin of the mango and banana. Afterward, you can cut these fruits into chunks.
2. Pour the pieces in the food maker. Let it blend until you can form a smooth mixture of puree. If your child is still young, then avoid producing chunks because he/ she might not be able to chew it.
2. Turkey and Chicken Puree
You should take not that protein is an essential nutrient for your baby. Therefore, letting them eat chicken or turkey is edible to make all these happen.
Ingredients:
1/2 pounds or 250 grams of ground chicken or turkey (dark meat preferably)
1. You should heat the meat first in a frying pan (medium heat). Put the ground meat there and stir it with three tablespoons of water. Cook until you can see no pinkish color in the meat.
2. After cooking, let it cool a bit then pour it into the baby food maker. Let it blend until you can produce a puree that has a texture chewable for your child. If you want a finer texture, add water or breast milk.
3. Yogurt & Berry Swirl
This puree recipe is for babies six months and older. Yogurt and dairies are not yet suitable for children below this age.
Ingredients:
– 1 cup of fresh blueberries
– 1 cup of fresh raspberries
– Whole milk yogurt
1. Mix the raspberries and blueberries in the food maker until you can produce a very smooth puree. After blending, you should pour the puree into a saucepan via a fine-mesh sieve.
2. Let the pot simmer under a medium-heat setting. Let it simmer until you notice that the puree starts to get thick. After 5 minutes, pour the puree into a bowl and let it cool. Moreover, you need to stir it frequently.
3. You can pour some yogurt to puree when serving it to your child. This would enhance the flavor of this recipe.
Conclusion
Your baby will need more sustenance as he/ she continues to grow. Having a good baby food maker will make things easier for you. It can produce finely textured and chewable purees for your child, without taking much effort from you.
This is the reason that having a baby food maker in your kitchen is a necessity already. There are a lot of brands of baby food makers, but by all means, try first our recommended products first. They are tested and proven and possesses the features that you need in creating healthy and delicious food for your child!
They are also durable and built to last without compromising their cost. Therefore, you can assure that they won't tear a hole in your pocket!
Reference
– http://weelicious.com/2009/08/02/baby-beef-stew
– http://fortworth.citymomsblog.com/2013/08/02/cookin-up-baby-food-in-my-kitchen/
– http://mommybunch.com/cuisinart-baby-easiest-baby-food-will-ever-make/
– http://www.thephotographerswife.com/easy-homemade-baby-food-sweet-potatoes/
[rwp_box id="0″]