A salad is one of the most nutritious, and versatile. meals there is. Whether you are on diet, or just looking for something healthy to eat, you can have it as an appetizer, main course, or even dessert. And while salads look simple, they actually require a bit of preparation if you want them to be tasty and crisp. If the veggies are not properly washed and dried, the salad can become soggy, and it could lose some taste.
Having to wash and dry your vegetables one at a time can be time consuming, not to mention, unhygienic.  But not to worry, there is a simple way to make preparing a decent salad quick and easy: a salad spinner.
What is a Salad Spinner?
Salad spinners are the fastest and easiest ways to prepare your vegetables for a delicious salad. A salad spinner is a portable kitchen utensil that dries out salad vegetables by spinning out the water after they have been rinsed. All you need to do is wash your veggies under running water, pop them into the salad spinner, and watch it spin them dry.
Using the right spinner aerates the veggies, quickening the drying process and preventing them from retaining water and becoming limp. It is also more sanitary. Drying by hand can spread germs, as the towel you use may have germs on it. With the spinner, the chance of contamination is eliminated, as they are dried using just air.
If you are interested in buying a salad spinner and are wondering what using one is like, rest assured that they are easy to use. Learning to operate a spinner is not a challenge, but figuring out which one to buy is.  There are so many brands on the market, and they come in so many shapes and sizes, that purchasing one may be a bit confusing. Luckily, we're here to help you sort it all out and make the process easier.
Benefits of owning a salad spinner
Owning a salad spinner has different advantages, some of which you might not even realize.
The main reason people use a spinner is because of the difference it makes in the taste of your salad. When your veggies are wet, they can absorb and retain water, making them soggy. Soggy vegetables have a diluted taste, do not absorb seasonings as well, and lose their crunchy, delicious taste. With a salad spinner, you get rid of all the excess water quickly, allowing the veggies to remain nice and crisp, and also retain their delicious taste.
In addition, a spinner can help you with storage and in preparing other foods. For instance, most of them have a large bowl and a tightly fitted lid, so you can use it to store food in the refrigerator.
And a good spinner can also be used for a variety of other foods, like drying fresh herbs after washing them, draining water from pasta after boiling, or removing excess water from cooked beans.
Top 5 Salad Spinners to Make Your Choice Easier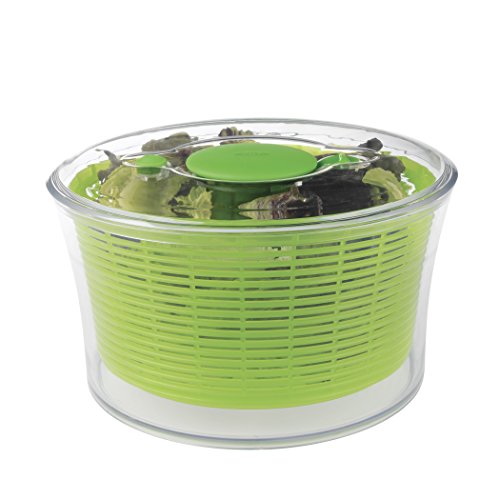 The OXO good grip salad spinner is quite easy to operate. All you need is just one hand. Even if you are new to using salad spinners, this one will have you spinning your veggies like a professional. Smaller than other spinners, it has a non-slip ring and wide base, to ensure it stays stable while in-use.
The OXO is big on convenience, with a button to start and stop it
whenever you want it to. Dishwasher safe, it is easy to keep clean: all you need to do is put it in the dishwasher when you are done using it.
Most spinners come in big sizes, which some people find inconvenient, as they can take up too much room. This model from OXO is a nice size and can fit comfortably in your refrigerator. If you are making a salad for your family this model can contain 4.5 quarts of salad, so its the ideal size.
Most other salad spinners require two hands to hold it in place while in motion, but with this design you don't have to worry about it wobbling. The clear bowl can be used for storing or serving, and you can use the interior basket as a colander when you need one. The plastic is BPA-free, which makes it safe and durable for your family, and it's dishwasher safe.
Pros
Cons
Some may find it a bit small; if you are catering for a lot of people the size is not ideal.

The Culina salad spinner is one of the larger models, holding up to 5 quarts. This size spinner is ideal if you host large parties or have a big family. Simple to use, it has a crank that you turn manually to get it to spin and remove the excess water from your veggies.
When all the water has been spun off the veggies, just press a button on the lid and the spinner will stop. It removes excess water with a centrifugal force and spins very fact, so your veggies will be bacteria free.
Pros
This unit is affordable and we guarantee you'll be satisfied.
The pieces come out easily, which makes it easy to use and clean.
The lid locks securely.
It has a stop button so you don't have to worry about opening the lid and having the salad fly out.
Cons
You may find that it is too big to store in the refrigerator if it is a small unit or you don't have a lot of space.

This model, made of stainless steel, has a lot to offer in terms of function and quality. The stainless bowl is a higher quality than the plastic one, so it will last longer and withstand daily usage. It is also more attractive looking, and can double as a serving dish. The smithy co. salad spinner comes with a sealed storage lid so you can store your dried salad vegetables and pasta. The internal basket can also be used as a colander to drain pasta or dry out freshly washed herbs when you need it.
This stainless-steel salad spinner comes with a pull cord that you pull to get the veggies spinning, and this design allows more space for your veggies. It spins fast and dries out all the vegetables completely, and you can store your dried vegetables for days in it and retain their freshness. And thanks to the non-slip silicon base, it does not move or tip over when it is on.
Pros
Tightly sealed lid that allows the dried salad to stay fresh for days when put in the refrigerator
Spins fast and rids the veggies of all the water
Silicon base that grips the work surface to ensure the spinner does not move out of place
Cons
Because it has a pull cord that you have to pull to get the salad spinning, if you pull too hard the cord could break and you will have to get a replacement.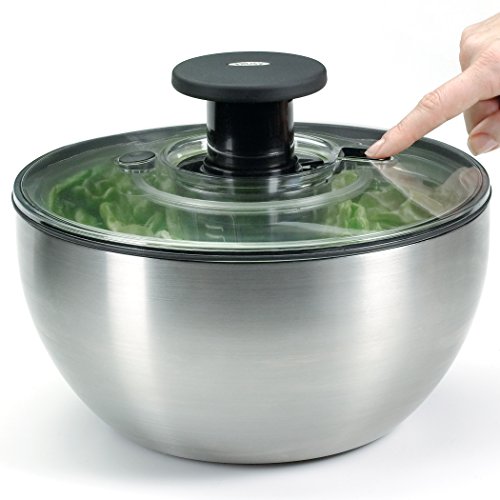 The OXO steel salad spinner is a simple and elegant salad spinner with a stainless steel serving bowl. It has a soft pump that starts the basket spinning and a break button to stop it. It is sturdy and you don't need to hold it in place when using it; just push the start button and go ahead and do anything else you need to do. When they are spun enough, just push the stop button and your veggies are ready to go.
This unit has a clear lid so you can see the inside while it spins. The lid can also be removed to make cleaning easy. It has a non-slip base that grips your work surface in order to keep the unit steady and the basket and bowl can be used separately when you need it. What I like is that the handle can be locked in the down position for easy storage, and the lid sits tightly so you can store your dried veggies in the refrigerator for days and they stay fresh.
The OXO steel spinners bowl capacity is 6.34quart and the basket capacity is 4.95 quarts, so it can be used for jobs big and small. It is also BPA free, making it safe for you and your family.
Pros
Its size is very convenient for storage
Spins off the excess water in your veggies efficiently
Does not require you to hold it in place as it grips your work surface
All you need to do is push a button to start and to stop it from spinning
Glass lid so you can watch your salad spin.
Cons
You may find that the bowl is too small for large portions of veggies so if you are making a lot you may have to spin them in different batches.

The Presto 02910 salad electric slicer/shredder is one of the most versatile models on this list. In addition to spinning veggies, it can slice and shred veggies, cheese, fruits and more for preparing salads, pizza, desserts, soups etc.  It chops nuts, grates chocolates and makes cracker and bread crumbs easily and quickly. It is easy to store and clean and requires little or no assembly.
It is dishwasher safe, so this unit is easy to clean and compact enough to store anywhere. It is perfect for those who like homemade salads, pizzas and desserts.
This salad shooter simply shoots out your sliced chopped or grated food directly into the bowl or wherever you want it. Comes with sharp, stainless steel cutting blades, and two cones that are interchangeable: one is for slicing and the other is for shredding. Whichever cone you use, the food goes in and out of the chute and with a twist lock ring they are secured in place. It cuts food into cubes or lengths that fit into the food compartment. This unit requires no assembly and it comes with a user manual to help instruct you on how to use it and also shows you which cone is for what.
It is very easy to operate: hold the handle of the shooter, put on the power switch, then use the other hand to press down the food guide so that the output of your shredded and sliced food is steady. You can shred your lettuce, cucumber, carrot, cheese and more one after the other without having to wash the parts in between processing the different vegetables.
All of its parts are dishwasher safe, except the motor base, which can be wiped clean. It measures 9-1/2 by 7 by 3-1/2 inches and has a five-foot cord. It also has a one year limited warranty.
Pros
Cons
May find it a bit noisy when it runs
Types of Salad Spinners
There are at least four different types of spinners
Crank spinners – this one has a crank that you turn to spin the vegetables, and you have to keep turning it until they are dry.
Pump spinners – the pump spinners are built with a button on top of the lid that you push down to get it to spin. If it stops spinning and there is still water in the vegetables, you just have to push the button down again until all the water is gone.
Spinners with cords – these models come with a cord that you get to pull to make it spin until all the water is gone. Spinners with cords are the least expensive. However, the cord could break easily.
Battery operated spinners – all this model requires is for you to press a button to get it to spin all the excess water off the veggies. They are the most expensive spinners and equally the easiest to use.
Things to Consider when Choosing the Best Salad Spinner
In order for you and your family to always enjoy nice and crispy salads, you should look for a spinner that spins fast and drains as much water out of the veggies as possible.
One that is dishwasher safe so cleaning is made easy.
It is also advisable to buy one that comes with a warranty, because the pump mechanism could fail or break, especially if there is a mistake in production.
Also, check that the capacity suits you and your family, so you are not buying one that is too small or too big for your household.
The material the spinner is made of is also a vital aspect to consider. If it is made with plastic invest in a higher quality plastic which will not break or crack. Finally, ensure it is BPA free in order to protect you and your family from harmful chemicals.
Common Questions from Customers
Q: Is this spinner bpa free?
A: Most salad spinners are bpa free.
Q: After spinning out the water can it be drained without removing the top?
A: No. The top must be removed before the water can be drained out.
Q: If the pull cord breaks can it be replaced?
A: This spinner has a life time warranty. If the cord breaks take a picture of it and email it to the support and they will send you a replacement.
Q: Is it possible for the spinner to be removed, cleaned and checked for wear?
A: Yes.
Q: Is every component of this salad spinner dishwasher safe?
A: Yes and you should put the plastic component in the top rack of the dishwasher.
In conclusion, getting a salad spinner means you don't need to buy pre-cut greens anymore, which are expensive and tend to lack flavor and nutrients because of the way they are packaged. Buying the loose ones are cheaper and last longer when they are spun dry. Fresh washed and dried veggies make a delicious salad dish because they don't go mushy, stay nice and crisp, and the dressing clings to the green better.
These five best salad spinners reviews should help you make the right choice in choosing the one that is suitable for you and your family.