If you want to enjoy homemade pizza that tastes like it cam out of a brick oven, a pizza stone is a must for your kitchen. Made of natural stone, they fit easily in any conventioanl oven and will have you cooking pizzas like a pro. A baking stone will give you almost the same results as a brick oven, as the stone absorbs the heat in the oven and it transfers it to the pizza, helping it to cook evenly and quickly. It also pulls in the moisture from the crust, making it crispy and light. The result? Professional pizzas, right in your own kitchen!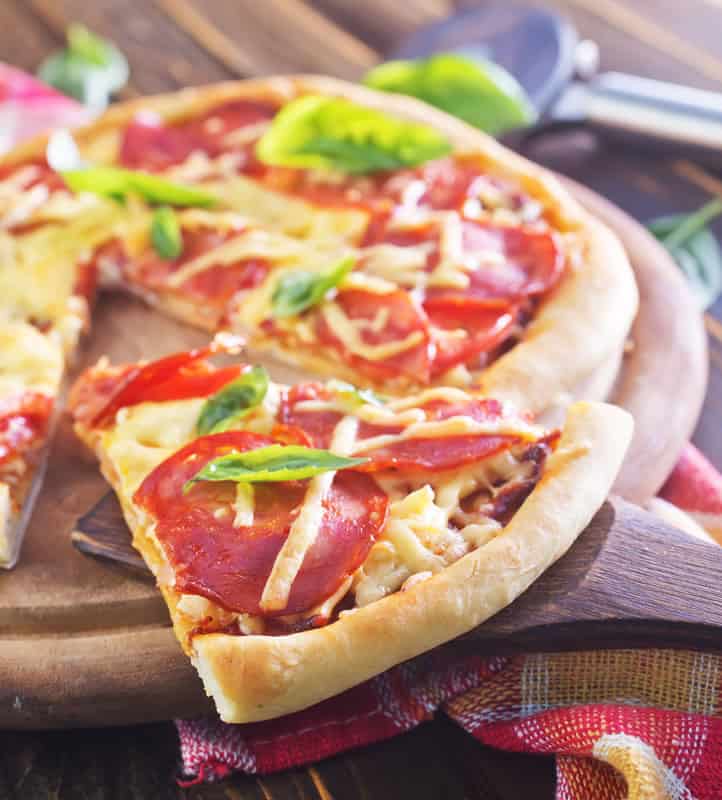 A baking, or pizza stone, is a simple, yet effective tool mainly used for baking.  These kinds of stones come in different shapes and sizes, including square, round and rectangular,  with the thickness of the best pizza stones ranging between 1/2 inch to 1 inch. When cooking, this stone is simply placed in the bottom or middle rack of the oven and preheated for at least 30 minutes  before placing the pizza on top of the stone. If your stone is very thick, you may have to preheat your oven for up to an hour.
Now, making an exceptional homemade pizza requires a few other tools too, like a good dough recipe, mixing bowl, and measuring spoons to whip it all up. With the right tools, and the right stone, making professional grade pizza at home will be a cinch!
Top Rated Pizza Stones to Consider
If you are a pizza lover and want to get yourself a pizza stone, here are 5 best pizza stone reviews to help you make the right choice.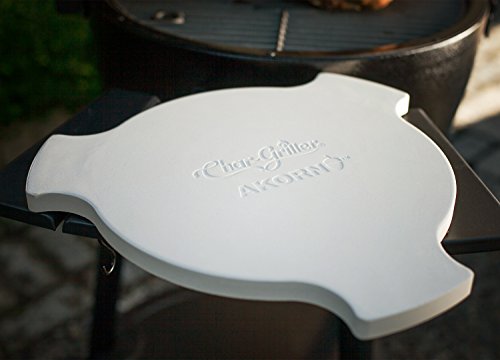 The Char-griller 6201 is versatile and efficient, making it a great value for your money. Besides making pizza, it can be used as a heat deflector when cooking ribs or meat, making it an invaluable kitchen tool. Made with cordierite material, it can withstand temperatures over 1200 degrees, evenly distributing heat to produce a well cooked pizza with a nice and crispy golden brown crust.
It has a dimension of 15.8 x 17.8 x 6.3 inches, weighs 25.6 pounds, and is made to be used with the Char-Griller AKORN Kamado.
Pros
This product works as a smoker, oven and a charcoal grill.
It heats up to 1200 degrees while providing you with adequate heat to cook your pizza perfectly and quickly.
It absorbs moisture and produces a golden crispy crust.
This stone is durable, and distributes heat evenly.
The people who have used this product are mostly happy about its ability to produce a well-cooked pizza and they also confirm how well it smokes their meat.

If you are looking for the perfect stone to make your own delicious pizza at home, the Pizzacraft 15″ is the right one for you. This stone will not only make your pizza, it will also bake your bread, pastries, cookies and more.
The Pizzacraft 15 inch square cordierite baking stone does not need seasoning or conditioning, so you can just buy it and use it in your home oven.
It eliminates hot spots when cooking, distributing heat evenly,to produce a nice browned crust just like with a traditional brick oven. It also thermal shock resistant, so it will not crack, even if you use it every day.
This stone has another great feature: it cleans easily. All you have to do is scrape off the excess food from the stone with a spatula and after the stone has cooled, run it under hot water, and scrub with a brush.
Do not use soap to wash this stone because it is very absorbent. This could leave a soapy after taste or smell which could ruin your pizza. You do not want your stone absorbing all the soap scum.
Pros
This product is thermal shock resistant, this means that it will hardly break or crack.
It can be used to make cookies, bread and other crusty pastries.
The pizzacraft 15 inch stone can be used on a grill, charcoal or propane.
At 15 inches, it is big enough to make a good size pizza for your entire household
Cons
Customers who used this stone complained that it has a smell. But this smell wears off after a few uses.
What customers love most about the Pizzacraft 15″ square cordierite baking stone is its durability and thickness. They have confirmed that it does not crack and it heats up evenly providing them with a crispy crust and thin pizza.

This folding aluminum pizza peel and cleaning brush are important tools you should have to help you maintain your pizza stone or oven. The pizza peel will make transferring pizzas a breeze and it conveniently folds for storage and portability. The stone brush is perfect for getting the baking stone clean and has a built-in scraper to help remove baked-on toppings and cheese.
The brush should be used to keep the stone smooth, clean and debris free. Wash the brush by hand with water and soap. This brush and aluminum peel are compatible with Pizzeria Pronto Pizza Oven PC6000 and PizzaQue Pizza Oven PC6500. The pizza peel measures 12.3 by 15.3 by 1.3 inches and the brush measures 21 by 1.5 by 1.7 inches.
Pros
This peel is light weight .
The peel is foldable so can be stored easily.
The peel will get the pizza in and out of the oven easily.
It does not require much assembly only one screw to tighten.
The brush will sweep burnt cheese and debris off the stone in-between pizzas
Cons
A customer complained that after several uses the handle of the peel broke.

This stone is 3/4 inch thick and has a high heat capacity. With these features, this stone is able to distribute heat evenly and retain it so your pizza comes out with a nice and crispy crust every time. You don't have to worry about uneven crusts ot soggy centers ever. It can be used to make artisan bread, biscuits, cookies and other crispy pastries in home oven, along with tasty pizzas the whole family will love.
Made from materials that are good at retaining and absorbing heat, even under a naked flame, it can be used in gas and charcoal grills. The cordierite stone has undergone routine tests and has passed the FDA, RoHS, EC, LFGB standards.
This unit comes with a care and maintenance instruction manual to help you understand and care for your stone. It includes 1 pizza and an artisan bread recipe. It also has a dimension of 14″ x 0.8 14 inches
Pros
The 3/4 inch stone distributes heat evenly to produce a crispy crust.
It is FDA, RoHS, EC, AND LFGB approved. So this item is safe to come in contact with food.
This product comes with an instruction manual to help you care and maintain your stone.
It is well packaged, with a high quality foam to prevent hidden cracks that can occur during shipping; those cracks can lead to your stone actually cracking or breaking prematurely.
Cons
Some customers complained that the stone broke after several uses.

This baking stone is not only perfect for baking pizzas,iIt is also perfect for baking bread, pastries and other foods. The Pizzacraft baking stone absorbs moisture while distributing even heat to produce a brown and crispy crust for your pizza all the way around. This stone is also thermal shock resistant, so it will not crack under high heat. It is a big stone that will allow you make a nice large pizza for the entire household or if you have friends coming over.
For your first time use, preheat the oven or grill to 500 degrees Fahrenheit and place stone in the middle of the oven on the bottom rack for 30 minutes, then bake on. This product dimension is 16 x 16 x 0.6 inches and it weighs 11.6 pounds. This product is 100%satisfaction guaranteed.
Pros
It is thermal shock resistant and durable so your stone is protected against cracks.
Can bake bread and other crusty pastries.
You do not need to season this stone or condition it.
If you have any concerns about this pizza stone the pizzacraft will replace or refund you.
Benefits of Owning a Pizza Stone
It produces a nice crispy crust
The best reason for using a pizza stone is that it makes your pizza crust nice and crispy, and also cooks it evenly.
The pizza will be thinner and healthier
A pizza stone will give you a crispy crust, as well as a thinner and healthier pizza. With a pizza stone, you can use less dough, which is better for your waistline, and overall health.
It is versatile
These baking stones can be used to bake cookies, bread and other crispy pastries. When you use a stone to bake bread your bread will have a crispy crust and a large, fluffy inner volume.
Pizza stones are generally affordable
Pizza stones are not expensive kitchen utensils. The price range is from as low as $18 to as high as $60.
What to Consider When Buying a Pizza Stone
Buy a stone that is Absorbent
There are various stones out there that do not have absorbent properties. These stones are just glorified pizza pans and will never give you the result you want. An absorbent pizza stone will absorb all the moisture in your pastry and leave you with a golden, crispy crust. A good stone must be absorbent if you want a firm, flaky crust.
Avoid non-stick stones and dishwasher safe stones
Watch out for models that can easily move from the oven to the table. These kinds are mostly highly glazed stones, and glazing reduces the absorbency of the stone. Stones that are dishwasher safe are also questionable because a natural stone should not be dishwasher safe.
Your pizza stone should be at least 1/2 inch thick
Also, be aware that a thin pizza stone is likely to crack or break over time. The difference in cost between the thick stone and the thin stone is nominal. so it is advisable to spend a little bit more to get the thicker model, which will last longer.
And remember: natural stone is quite heavy, so make sure your stone has a bit of weight on it.
Consider the size of your oven
The size of your stone should depend on the size of your oven or grill. Do not buy a large stone if you have a small oven. It obviously will not fit.
Care and maintenance
Here are the things you need to know about caring for your pizza stone.
Use a spatula to scrape off any excess foods or debris
Allow the stone to cool, then scrub it with a bristle brush while you run it under hot water.
Do not use soap to wash your stone because the stone could retain the scent of the soap and leave a soapy after taste on your crust.
It is natural for the stone to darken and spot with age. Do not try to remove the discoloration to avoid damaging the stone.
Do not allow the stone to remain wet for a long time.
This stone should be air-dried immediately after washing and stored in the oven.
Pizza Stone Recipes
There are lots of tasty things you can create with a pizza stone- both savory and sweet! Sure, you can make pizza- but why stick to just pizza when there is so much more you can do? Here are some great recipes to get you started:
Pizza Stone Giant Cookie
I love chocolate chip cookies, homemade and store-bought! For this recipe, you can make your own cookie dough from scratch or use one you buy in the store. You can even buy a mix from the store and add brown sugar or caramel to it to make it your own. Here are the instructions:
Preheat your oven to 350 degrees and place your pizza stone on the middle rack; you do not need parchment paper since the stone is non-stick but if you want to, make sure to cut it to the exact size of the stone and spread your dough on the paper as thin as possible before placing it in the oven on the stone.
If you're not using parchment paper, use gloves to remove the hot stone from the oven, spread your dough quickly but evenly and place it back in the oven.
Let the dough cook 15-18 minutes, then take it out of the oven and let it cook an additional 5 minutes before removing it from the stone.
Remove the cookie using a large spatula and leave it to cool on a cookie rack. Cut it into slices using a knife or pizza cutter.
Baked Potato Chips
Healthy, tasty potato chips? Yes, there is such a thing and you can make bags of them using your pizza stone.
Ingredients
3 or 4 white potatoes

Olive Oil

Salt/sea salt and pepper

Additional herbs and spices, such as parsley, garlic powder, parmesan cheese, thyme or any other seasoning you love.
Here are the instructions:
Preheat the oven to 400 degrees and place the pizza stone inside on the middle rack to pre-heat.
Peel your potatoes then slice them as thin as possible using a mandoline or spiral machine if you have one; if you don't have any of these use a sharp knife and slice slowly and as close together as possible to get thin, even slices.
Place your potato slices in a bowl and season; mix 1 tablespoon of olive oil and a sprinkling of salt, pepper, spices and any other seasoning you choose, then coat the chips in the mixture.
Place the slices on the pizza stone, making sure that they don't overlap. Bake for about 15 minutes; chips should have a gloden brown color on the edges and be slightly white in the middle.
There is no better way to make pizzas than with a pizza stone. If you are a pizza lover and intend to start making pizzas in your home, or you are the type that buys a lot of frozen pizzas, using the best pizza stone can help you heat up or create a delicious, golden, crispy, and healthy pizza.
[rwp-review id="0″]