A day on the job is never easy, but difficult doesn't have to equal messy. A good dust collector can go a long way towards keeping your workspace clean and safe- giving you one less thing to worry about. Today, we'll look at some of the best ones out there with our Best Dust Collector Reviews and help you with your buying decision.
In the proceeding paragraphs, we will be taking a look at many products, but if you like a good spoiler, I can tell you now that for my money, the DeWalt comes out on top here. It's a great product with solid features and a long history of performing well. Hey, that's just my pick. You can decide for yourself as we take a look at what is out there.
Benefits of Using a Dust Collector
If you aren't quite even sold on using a dust collector let's take a look at a few of the reasons why it's a great buy.
Clean: One of the obvious benefits of the dust collector is of course that it will help you keep a clean shop, even when working with larger debris. Clean equals orderly, which makes finding a missing screw or misplaced paper easier to find.
Safer: Keep in mind that dust particles don't just sit there; they get in the air and then you breathe them into your lungs. Using a good dust collection system is important for your health.
Do you really need any more reasons? Spending a little bit of money on a solid dust collection system now will save you lots of clean up time in the long run, but most importantly it can literally add years to your life. Since dust particles have been linked to an increased risk of cancer, there is no point in taking any chances.
5 Top Rated Dust Collector: Which one is Better?

You remember the DeWalt, right? It was my pick for best dust collector on this list, and once we go over the features, I am sure you will see why.
Features:

Thorough: The filter on this model is capable of capturing up to 99.97% of the dust that you collect. And with all the health risks associated with dust you want as much protection as possible.
Easy to Clean: The filter on the DeWalt can be treated with tap water.
Great Battery: The battery on this (and in fact most DeWalt products) is known to run for a long time, meaning you won't have to worry as much about regularly changing it out.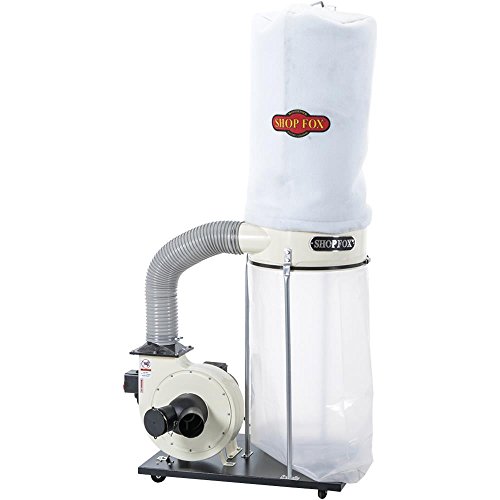 This heavy-duty dust collection system offers a thorough, powerful clean that should do well to fit the needs of any shop. Of course, you can make your own decisions about it as we take a look at the features.
Features:

Safety Switch: The Shop Fox features a large safety switch that turns the unit off immediately should the need present itself. If for whatever reason the Shop Fox is running when you do not want it to, correcting the issue is as simple as flipping a switch.
Large Storage: Of course, you are going to want your dust collection system to be able to store a large volume of dust. The bag volume on this model is five cubic feet.
Powerful: This model also features an air suction capacity with an CFM of 1280 for a thorough, in-depth clean.

The Festool is portable and compact, but powerful, making it a great asset to any shop. Once again, let's take a look at some of the features.
Features:
Portable: You aren't always going to need to travel with your dust collection system, but when you do, you're certainly going to appreciate how easy this unit is to carry.
Antistatic Hose: The hose featured here is designed to reduce static so that dust does not collect in the interior. This feature will increase both the function of the model, as well as the lifespan of the hose.
Storage System: The Festool also features an internal storage system so that you can keep a tidy workspace.

The Festool 583492 CT is one of the more expensive models that we will look at on this list, but it is also loaded with features that should make many potential buyers overlook the cost.
Features:
Variable Suction: The rate of suction is adjustable to ensure that it will be able to accommodate any clean-up for any job.
Antistatic Hose: Like the last Festool model we looked at, this unit features an antistatic hose that will eliminate the buildup that would otherwise reduce the function and lifespan of your hose.
Thorough: The filter and seal retains 99.9% of all dust particles to ensure the best possible results.

The last product that we will look at is another high-grade dust collection system built with both quality and longevity in mind. As always, let's take a close look at the features so you can decide for yourself if it is something you would like to add to your shop.
Ease of Use: The Jet is designed to be simple to use for years of hassle free operation.
Quality Filter: The filter is designed to resist clogging for many years of use. The parts on the Jet are all designed with quality in mind to ensure that you don't encounter any unnecessary problems.
Quick Connect Bags: The bags are made to be easy to installand remove so you don't waste any time that could be spent on the job.
Dust Collector Ultimate Buying Guide
Buying Considerations
Now that you know what is out there, here are a few things to consider before you buy your new dust collection system.
Personal Needs: As I am sure you noticed from the list above, dust collectors come in many different shapes and sizes. Depending on how much you work, you may not need the largest unit on the market.
You should also take into consideration if, or how often you will need to transport with your dust collection system.
Thoroughness: Features are great but what you really want is a reliable dust collector. Cleaning your workspace and providing safe, breathable air should be the primary function of any dust collector. Chose a model that will keep you safe, and your workspace clean.
Price: Price is another thing to consider when making any buying decision. As you most likely noticed from the list above, price can vary pretty significantly when it comes to dust collection systems.
Pay attention to what you paying for. Frilly features you may be able to do without, but you definitely don't want to skimp when it comes to actual dust collection.
One of the things that I like about the DeWalt is that it delivers quality results for a really affordable price.
How to Use/ Safety
Of course, once you pick up your new dust collector you are going to want to make sure that you know how to use it. Fortunately operating a dust collector is relatively simple, but just to make sure you are ready for yours the day you get it, here are a few things you can do to make sure things go smoothly.
Connect to Equipment: While there are central dust collection systems, the ones that we have observed on this list all hook up directly to your equipment. Just make sure that it is securely fastened to ensure optimal performance.
Keep it Clean: Once you get your dust collection system, you need to make sure that you keep it clean. The filter and the hose will work great right out the box, but over time it will eventually get clogged. Keep it clean for optimal function.
Watch out for Static Buildup: We talked earlier about how static buildup will lead to clogging which will in turn impact the function of your hose. More importantly though, static buildup can also result in fire, and or other extensive damage to your equipment.
Regularly cleaning your equipment will help you to avoid extensive risk.
Besides keeping your dust collector clean, there are few safety concerns to consider. Now that you have it, just be sure to use it for the sake of your own health.
Conclusion
Well, that's it. Like I said, I favor the DeWalt, but everything that we have looked at here is a quality example. At the end of the day you will have to make the decision that best suits your own personal needs.
No matter what you decide on, you will be getting a great device that will keep your workspace cleaner, and your lungs healthier.
[rwp_box id="0″]