Expectant moms (and dads) here's a little secret: giving birth is the easy part- it's what comes after that's the hard part! Believe me, it's true. As exciting as it is to bring your baby home, it can also be overwhelming and a bit scary because there is so much you need to know and so many things you need to have in the house.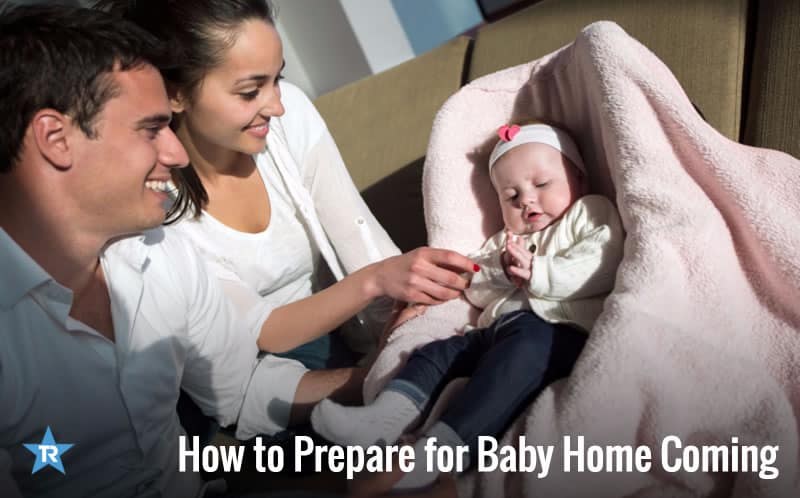 Which is where we come in. We're going to show you how to prepare for your baby's homecoming. From essential toys and furniture to clothing and feeding supplies, will give you a checklist of what you need and why, so everything will be ready when you walk through the door with your little bundle of joy.
A Little Welcome Party
When a baby comes home, it is a good idea to throw a little party. Not a big party with a DJ or anything, just a simple event where family members and close friends are present. Make sure that the ambiance is cool and subtle so that you can produce a welcoming atmosphere for your newborn. Plus, mom and child are going to be exhausted and adjusting, so a low-key gathering is best. Dad can organize it and other family memebrs can help.
Do not spend too much, after all, everyone will be focusing on you guys and the baby. Just decorate your house with anything you may have, like stuffed toys and other cuddly things that would enhance the "baby-friendly" environment. You could even use the decorations you had in your baby shower!
Also, do not forget to include older siblings, who may feel a bit jealous when you bring their brother/sister home. Let them join in decorating your house and let them understand that the same was done when they were born. 


Shared via Trisopure Baby Wash
What Babies and Mothers Need At Home
For a baby's homecoming, it is always important to prepare all the items and equipment needed ahead of time. Having everything you and your child needs will alleviate your fears and stress and ensure your infant feels nurtured.
There are a lot of things that your baby needs. It is not just a matter of being too over compulsive. After all, your child requires extra attention and care.
Here are some of the items that you need for your baby's homecoming:
Bottles (the number and size depend if you are planning to breastfeed)
Nursing bras
Nursing or Feeding Pillows
Bottle Brush
Breast Pumps
Nursing pads
Blankets
Bassinet sheets
Pacifiers
Diapers
Wipes
Diaper Cream
Sleep dresses
Beanies
Onesies
Pants
Standard Baby Crib and Matress
Safety Baby Car Seat
To save you some precious time, go shopping for baby clothes for some great selections and options. In addition, you should also have infant medicine and creams on hand too. Thermometers, Baby Tylenol, and Vitamin D are some of the most important things that should be found in your cabinet. Just be sure to speak with your pediatrician before giving them any medicine.
Cleaning Your House
A good top to bottom house cleaning is a good idea before the baby's homecoming. Go ver all the surfaces, furniture and floors, but try to use natural cleaners and avoid chemicals. You also need to clean all your baby's clothing, blankets, and towels. The last thing you want to do is clean until 3 am once you bring the baby home. Having everything clean and tidy will make it easier to find what you need. For instance, you don't want to be looking for a clean crib sheet after your lil one falls asleep in your arms.
Quit Smoking
You already know that smoking is bad for your child, so if anyone in your family smokes, tell them nicely, but firmly that they can't smoke in your home or hold the baby. Smoke sticks to hair and clothing- so if they pick up the baby he or she will inhale the harmful nicotine smell.
Take note that babies–especially those that have difficulties in breathing– are in great danger if you expose them to cigarette smoke. According to AAP Committee On Environmental Health, there are a lot of dangers a baby can get from secondhand smoking. Among these are the low growth of the respiratory system, weakening of the lungs, and development of respiratory diseases. And you should take note that it is not the only respiratory system that suffers from contact with cigarette smoke.
Several studies have linked smoking to ear infections, pneumonia, and  Sudden Infant Death Syndrome (SIDS). Therefore, if you really love your child, you should be strong enough to quit the habit- and keep anyone away who doesn't.
Animals and Pets
There is no need to abandon your pets just because your baby will be coming home. Pets and babies go together like peanut butter and jelly; They will be each other's greatest company and playmate as they grow! You just need to get them used to each other and use a little caution.
When your baby arrives home, observe the behavior of your pets. Since your child is a stranger in their eyes, your animals can be jealous and aggressive. It may take some time before your pet realizes that the new baby is the newest addition to the family. Eventually, they will understand.
Just be alert and never leave your child alone while your cat and dog are in the vicinity.
As a piece of advice, keep your pets out of your child's bedroom. This will prevent furs and dander, which can cause allergies and irritations, from bothering your infant.
Also, make sure your pet receives proper health care, such anti-rabies injections so that it won't pose any threat to your child.
Prepare For Your Emergency
I don't want to scare you, but preparing for an urgent trip to the hospital is an essential step once you bring your baby home. I know you are asking yourself what kind of situation will make you rush you baby to the hospital. And for that, I got the answer.
If your baby came from the Natal Intensive Care Unit (NICU), then his/ her chance of being re-hospitalized is big. Apparently, the re-hospitalization rate of NICU babies is higher compared to the healthy newborns.
There are a lot of reasons why hospital readmissions are likely to happen for NICU babies. Such of these are dehydration, hernia complications, respiratory infections, shunt infection, or the presence of apnea.
Also, some babies, no matter how healthy, can get very sick with the flu or pneumonia, requiring a trip to the hospital, so being prepared is a good thing.
Before you take your baby home, choose the best children emergency room  you can take your child to and familiarize yourself with the area; This should include knowing where the emergency entrances are and closest parking lots. Always prepare yourself to call the EMS landline of the hospital if you find your child in a critical conditional. You should keep your calm and avoid panic at all cost.
In addition, you should have a sturdy and comfortable emergency bag packed. This way, you won't miss anything before you rush your baby to the hospital. You should bring any insurance information and hospital forms, along with diapers, wipes, bottles, toiletries and personal items.
Conclusion
Knowing how to prepare for a baby's homecoming is essential to start a healthy and loving family. Your little angel is your new source of joy; hence it is entirely necessary to shower him/ her with extra care and affection. The tips I mentioned above will help you to adjust your home, as your family is growing bigger.
If your child has older siblings, try to spend special time with them. In this way, they won't feel any jealousy towards your baby!