Are you losing sleep because your cat wants an early breakfast?   I used to have a cat that would sit on me, waiting for my eyes to open and as soon as I peeked out through half-closed eyelids, he would start meowing to let me know he was hungry. Not all cats have such good manners. I'm sure all cat owners have experienced a cat's hungry cry at 5 am and would love to know how to get them to stop that annoying habit.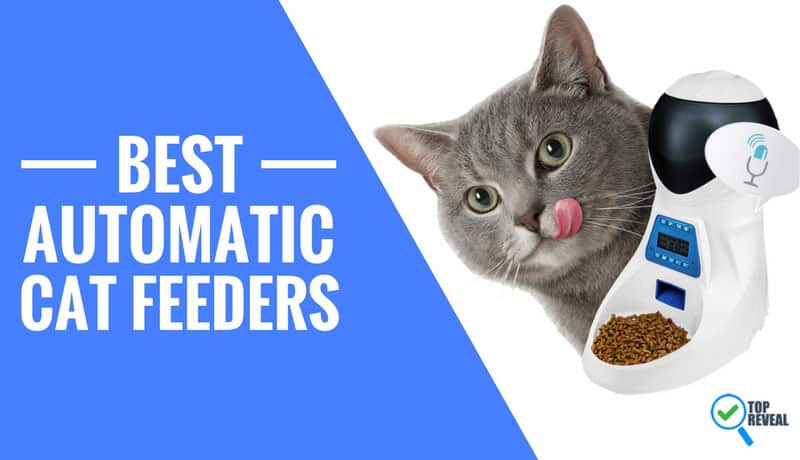 Well, I have the answer…get a cat feeder! This will allow your cat to be more independent while you get your sleep, work, or go on vacation! If you've never used any type of automatic cat feeder, you will be surprised and just a bit overwhelmed by what they can do. But I will help you with that. I'll go over the types of dispensers, what to consider when buying and descriptions of the best cat feeders so you can see what will work for you and your furry friend.
Types of Cat Feeders
Besides having a cat feeder to feed your cat when you're not home, there are other reasons to have one, such as dietary needs. My cat could eat all day long; having a dispenser prevented her from overeating. There are several types of cat feeders so before you start shopping, let's check out each and their different uses and benefits.
Basic gravity feeders are good for being away for a day or two. They consist of a hopper that holds one or two pounds of dry cat food that fills the dish a little at a time as the cat eats the food. This type is good for cats that don't overeat and are the lowest cost.
Feeders with battery-operated timers will spring open and give access food tray that can be used for wet food. It is good for daily use and can be set for 48 hours.
Electric feeders with timers are programmable, for automatic portion control that can be set on the LCD display panel.
Electric feeders for wet canned cat food or dry food with programmable timers.
The 5 Best Cat Feeders
The list below will review five of the best cat feeders available based on their functionality and popularity.
You can free up your to-do list with the Healthy Pet Simply Feed automatic feeder.  You can program it to feed your cat up to 12 meals a day, with portions measured from 1/8 cup to 4 cups. It will also dispense either dry or semi-moist food slowly, over 15 minutes, so that your cat won't eat too fast, which can sometimes cause vomiting. I like that you can see when the food is running low through the translucent hopper, which stores up to 24 cups of food. It is made of BPA-free plastic and stainless steel and comes with a stainless steel bowl that is dishwasher safe. It is battery-powered with an average battery life of a year and has an optional power adaptor that is sold separately.
The Home Intuition Automatic Pet Feeder is easy to use and can be programmed for up to six meals a day of dry food only; It can also be programmed to set portions according to your cat's weight. The LCD screen has a clock and you can even record a personal message to call your cat at feeding time. The design is circular, with six large food trays and each of the six meals can be portioned according to your cat's size or appetite. It requires four C batteries.
The Cat Mate C20 is not electrical, but the food tray lid of the feeder automatically opens when the timer goes off. It has two independent, 48-hour battery-operated timers that can be set independently. The timers will run on one AA battery for about one year. The Cat Mate has two large square food bowls with lids and serves one or two meals a day, holding up to a pound of wet food in each. An ice pack is included to place under the food trays to help keep the food fresh; you need to refreeze the packs after using the feeder for 48 hours. Placement of the feeder should be out of the way of any sunlight to keep it from heating up the food.
The Crown Majestic can be operated with electricity or with four AA batteries. It may be used for cats or dogs and is a two-in-one food and water unit that holds up to 4.4 pounds of dry food that will dispense up to four times a day. However, the disc-shaped or kibble that is prescribed by a Vet is not recommended. It has a water bowl with a water bottle that is optional and can function on its own. It comes with a stainless steel tray that is custom fitted and has a backlit LCD display of the time and number of quarter cups per meal. Note that in the main hopper, there is a 'cup size adjuster' that needs to be set for the type of kibble that will be used so that it will flow freely. The Crown Majestic lets you record a twelve-second message to be played to call your cat to come and eat when the food is dispensed. Some assembly is needed but is easy and no tools are required. A 6V power adapter is included.
The Arf Pets Automatic Pet Feeder is an electronic programmable dispenser, providing up to 10 portions a day in the amount you set for your cat. You can use dry food only and set up is simple: just fill the food compartment, then align the rotary impeller with the slot. It has a blue lit LCD clock and displays providing adjustable settings and a magnetic lock on the lid.  It can be used by plugging it in or by going cordless using three D-sized batteries.
You can record your voice to call your cat at mealtime and you can enjoy stress-free feedings thanks to an easy to clean serving tray.
Things to Consider When Buying a Cat Feeder
Deciding which type to buy can be a challenge, but this guide can help you determine what the best cat feeder is for you and your bundle of fur. Here are some questions to ask:
Does your cat wake you up in the morning before your alarm? Having an automatic feeder would certainly give you a better night's rest.
How many cats do you have or plan to have? Some feeders are good for multiple cats but others are not.
Does your cat have any special diet needs? An automatic feeder can help but if your cat gets a prescription type of food, it may not fit in some feeders.
Does your cat vomit after eating? This is usually a sign that the cat is eating too fast or eats too much. Some automatic feeders can measure the portion you want and dispense it slowly into the feeding tray to help stop that from happening.
Do you have a cat that will only eat fresh dry food? When you have an automatic feeder, the food is fresher and your picky eater will be happy.
How many hours are you away from home every day? You can set an automatic feeder to feed your cat in the evening if you plan to work late.
Are there other reasons you may need a timer? If you have a kitten or your cat needs to eat more than once or twice a day, you can program some automatic feeders for up to 12 feedings a day.
How much are you willing to pay for a good feeder? The feeders that have manually operated timers are reasonably priced. The electrically programmable ones can be a bit pricey but may be worth it to you for peace of mind. You can also search for coupons online to get cat feeder discounts.
Conclusion
When the basic pet feeder came out years ago, I jumped for joy because I thought it was a wonderful invention but when I see what amazing feeders have come out since then, it makes me want to go out and get another kitty.
The electrical ones are great but not everyone can afford them so they buy the basic style or the one that has two timers (#3); #3  actually works pretty well, except that it only holds two meals for a 48-hour period. The most expensive one is #1 but it also holds the most food and you can program it to make flexible sized meals. So it's a matter of what is most important to you. You may need to slowly introduce your new cat feeder to your cat; but don't worry, no matter how independent or stubborn your furry friend is, he will come around. Once he realizes that the only place to get food is in your choice for the best cat feeder, he will think it, and you are just purrfect!
You are probably wondering where you could get more ideas for interesting cat care products such as these, then go to bestselfcleaninglitterbox.com for more information.