The Amazon Echo is a useful home automation device that has taken the world by storm. You've probably seen or heard of them before—you might even own one, but did you know that a new one is about to be released?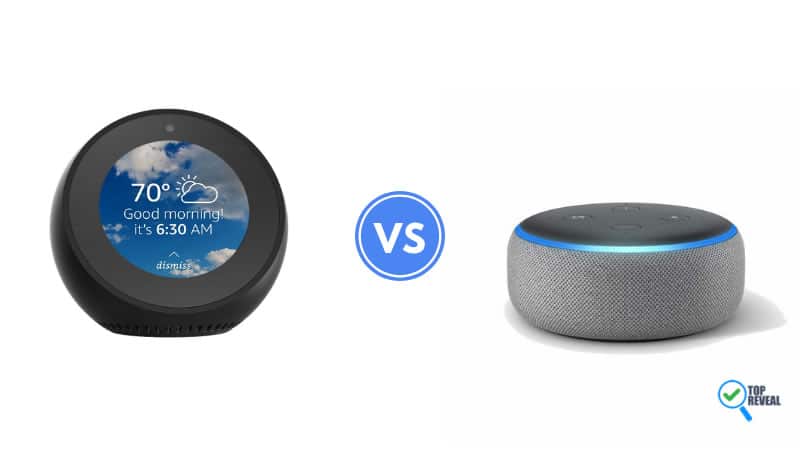 That's right, there is a new Echo making it's debut, so of course we had to find out all about it and let you know if it's worth your time and money. And the best way to do that is bu comparing the all-new Amazon Echo Dot 3rd Generation to Amazon's other hot seller, the Echo Spot.
If you want a device that takes everything you like about the Echo, and shrinks it down into a sleek, compact design complete with new features, these 2 devices are the way to go. Read on for a comprehensive comparison between the Echo Dot 3rd Generation and the new Echo Spot!
Before we dive into this meat of this article, I should mention that while both of these products are of a very high-caliber, I have to say that my money will be going to the new Amazon Echo Dot 3rd Generation.
It's fresh, innovative, and it expands upon the already impressive features of the Dot. Hey, that's just my opinion. You can decide for yourself what you prefer as we now dive into the details of both of these incredible devices.

Of course you will recall the Echo Spot. It's upcoming release is the reason we gather to look at these products in the first place, and it also happens to be my pick for the best purchasing opportunity. It isn't available quite yet, but it features a projected release date of December 19th—making it a perfect Christmas gift to give to a loved one, or even yourself.
Let's now take a look at some of the features that make this product special.
Spot Key Features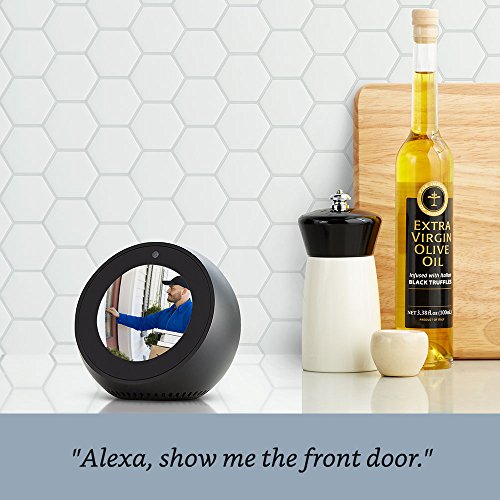 Fits Anywhere: The Spot is designed to be easily nestled anywhere in your home. You don't even need to worry about placing it close to where you normally relax. The Spot features a far-reaching voice recognition system that will allow you to issue your voice commands from afar.
Alexa Enabled: In keeping up with the idea of total home automation , the Spot uses Alexa provide comprehensive service. Alexa will allow you to listen to music, hear news feeds, and sync up with other home automation devices that are compatible with the Bluetooth.
Voice Control: Of course, we have already touched a little bit on the voice control components of this device, and indeed that is a large part of its appeal, but we have yet to examine it more closely.
In order to listen to some music or news information, you need only to say the words, and the Echo Spot will oblige your request. You can even listen to audio books through audible via a simple voice command.
Speaker Options: Of course, this Spot features built-in speakers through which you will be able to listen to the media of your choosing. However, if you want a little bit more power, you can also sync the Spot up with a system that you already own for more comprehensive access to sound.
The Amazon Echo Spot allows you to have access to as many speakers as you want in any room.
Automation: We've also touched briefly on the home automation components of this device, though not nearly to the extent that it deserves. When you sync this device up with other Bluetooth enabled products you will be gifted with unlimited control of your home.
Turn your baby monitor on or off with a simple voice command. Activate your security cameras with ease, adjust your thermostat, arm your home security system, or even command your sprinkler system.
You'll have never ending options with the Spot.
Call Anyone: The Spot also features a voice control option that allows you to make hands-free phone calls from anywhere in your house. Using the camera and high-resolution video screen, you will even be able to make video calls with a simple voice command. It will be like the Jetsons in your own home!
It's Learning: Amazon is also always updating its tech so you can count on getting a host of new features down the line. With tech that improves continuously, you will never need to settle for less than the very best on the market.

The Echo Dot 3rd generation is exceptional in both looks and function, packing a 1-2 punch for such a small device.  is an oldy but a This innovative piece of technology will make an excellent addition to your home, thanks to improved speakers and a stylish casing that looks great in any home. Let's now take a look at the features of this home automation classic to see if it is right for you.
Features:
Alexa: Like the last device that we looked at, the Dot is able to use Alexa to unleash a wide variety of voice control options. With this device, you will be able to set alarms, listen to music, and get news updates all by making requests out loud.
Improved Speaker Options: The speaker on this new generation is great, allowing for crisp playback that sounds smooth and clear as well as enabling you to speak from anywhere in the room and be heard loud and clear. It's also 70% louder according to Amazon, so you can use it without hooking it up to other speakers to jam out, something earlier models could not do.Also, like the Spot, you are getting a lot of speaker options with this device as well. The choice is yours: you can listen to music or audiobooks via the built-in speakers of the Dot, using Bluetooth enabled headphones,  supplemental speakers, or even other Amazon Dots.
Be Heard: You aren't going to need to shout or run all around your house to get the attention of the Dot. The device features very powerful receiving microphones that will allow you to be heard easily from across the room so that you can relax on the couch while the Dot accommodates your requests. Unlike the previous models, this new Dot has 4 strategically placed microphones so you can practically whisper and still be heard!
Updated Look: The 3rd generation is one of the nicest looking devices you'll find; in fact, it looks more like a piece of art than a speaker. The fabric has a fresh, classic look that compliments any decor. And the new shape, which resembles a spaceship thanks to the elongated and rounded edges, softens its features and gives it a cozy feel.
Control the Whole House: Finally, the Dot is also empowered to provide home automation the same way that the Echo Spot is. If you have other Bluetooth and home automation empowered devices, the Dot will be able to use its Alexa technology to communicate with them so that you can control your home using only your voice.Whether you are looking to control your television, answer or place a phone call, or utilize any other comforts of your home, the Dot will have you covered.
Echo Spot and Echo Dot Comparison: How are they Different?
While it may be nice to know what the two devices have in common, their differences are what will really inform your buying decisions. Let us now take a look at how these devices are different.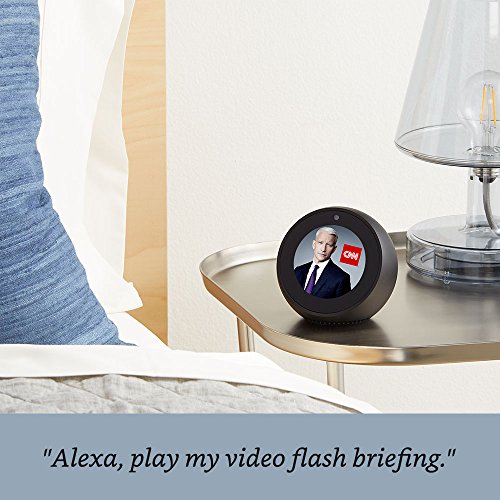 Screen: The first, and most obvious distinction between these two devices is in the presence of a screen. The Echo Spot has one, while the Echo Dot does not. The screen allows for customized options, like personalized clock faces and picture displays, as well as a handful of other nifty features that we will also look at.
Indeed, it is the presence of the screen that unlocks the majority of the key differences between these devices.
Video Call: In keeping with the theme of the benefits of the Spot's screen, with Amazon's latest upcoming device you will be able to make and receive video phone calls.
While the Amazon Spot can be used as a hands-free phone, it is unfortunately limited by its lack of a screen and camera.
With the Spot, you will be able to see your friends and family members when you talk to them, making for a nice personal touch.
Video Updates: The Echo Spot is also able to use its screen to take video updates to the next level. Whether you want to see the trailer for the latest Marvel movie, or you are looking to get a news fix the Echo will be able to meet your demands. All you have to do is ask.
Security: Using its camera and screen technology, the Spot is also able to enhance the security of your home in a way that the Dot simply can't. You can use these features to view the feed from one of your security cameras, or even check in on your child in their nursery by wirelessly connecting with their baby monitor.
How They Are Alike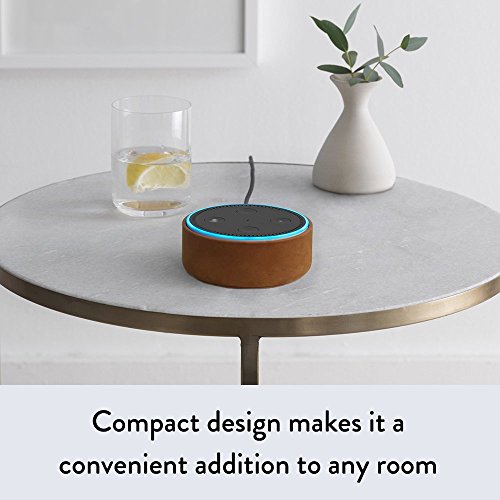 Alexa: Both models benefit from the virtual aid technology of Alexa—the means through which all the demands you give the echo are met.
Voice Responsiveness: With either of these nifty devices you need only speak your requests out loud to have them fulfilled—whether you are looking to lock your doors, change the channel on your television, or adjust the thermostat, the Echo will allow you to control your home via the power of your voice.
Receptive: The Dot and the Spot both also feature high-caliber receivers that will pick up your requests from a long distance so that there is no need to shout.
Listen Through Anything: Finally, both devices also give you the ability to play your media through any Bluetooth capable speaker so that you have access to your favorite music, audiobooks, and news updates wherever, and however, you like.
Echo Dot 3rd Generation (2018) vs Echo Dot 2nd Gen
When it comes to the newest Dot model, there are several upgrades that may or may not make it a better buy than the 2nd generation Dot. (You shall check out Studio versus Echo 3 in 2019 too). The 2 main differences lie in the design and the speaker quality. The new 3rd generation has improved speakers which provide loud, bass-induced sounds that are great when you're home cleaning or having a party with family and friends. The 2nd gen is decent, but you really need an outside speaker for higher volumes.
In addition, the new 3rd generation has a more modern look that people are raving about. The fabric is chic and gives it a polished look, while the more orbital shape lends a softer touch to it. Altogether, these changes make it a more elegant-looking device than it's predecessors.
Conclusion
As you can see, both of the products that we have looked at today are really cool. My personal opinion is that the awesome upgrades that the 3rd Generation Dot offers are worth the slight hike in price that they yield.
Of course, if you are trying to stay within a specific budget, or just aren't quite sold on the value of all of those cool video related features, that's ok too. With either device, you are going to get an awesome new addition to your home that enhances the way you live.
[rwp-review id="0″]