No one can say for sure when people started using curtains. But according to some archeological findings in sites like Herculaneum, Pompeii, and Olynthus, curtains were hung on the doorway and they seemed to have served as dividers for rooms.
While we may not have enough data about the history of curtains, we do know that they have come a long way from what they used to be. You can visit https://en.wikipedia.org/ to learn more about the history of curtains.
Now, we have several curtain types that do not just provide privacy in our homes and block out sunlight but also serve as aesthetic additions to the home. Sometimes, some people even ditch functional curtains for purely decorative ones like translucent lace curtains.
Luckily, you don't have to give up style for function either because several curtain styles can combine both aesthetics and functionality. You simply have to know what you're looking for.
This is why before you go shopping for curtains; you need to do a bit of digging to know the various types available to you. Hence, we recommend that you read this article carefully to the end to find out all the important curtain types that you could choose from for your home.
Below we've listed curtain types based on style, attachment, and opacity.
A. Style
1. Single Panel
Single panel curtains just as the name implies have just one panel. This single panel is made to adequately cover the whole window. To open it, you'd need to pull the panel to either the right or the left.
If you want to get an asymmetrical modern look with this, simply tie back the curtain after pulling it to one side. Single panel style is both modern and timeless, so you don't have to worry about it going out of style.
2. Panel Pair
Again, we are sure you've guessed what this style looks like just from its name. Typically 2 separate panels are put on one rod. This curtain type is common in both contemporary and classic home styles.
One panel will be on 1 side of your window, while the other will be on the other side. When you want to open them, you'd simply pull the two panels apart, and then to close them, you'd pull them together. You can achieve a symmetrical look with this style by tying them back after they are drawn.
3. Window Tier
A window tier typically is used in places where privacy is needed and enough sunlight is also needed, like your kitchen window. A window tier will cover the lower part of your window while the upper part will be open.
4. Valance
Valances are short curtains that are hung at the upper part of the curtains. They are decorative additions and you may choose to add them or not. However, they give a complete appearance to your window treatment.
5. Window Scarf
Window scarves are almost like valances because they are both optional small fabrics hung on the upper part of windows. However, window scarves are thin and long fabrics that can be used to make your window look more dramatic.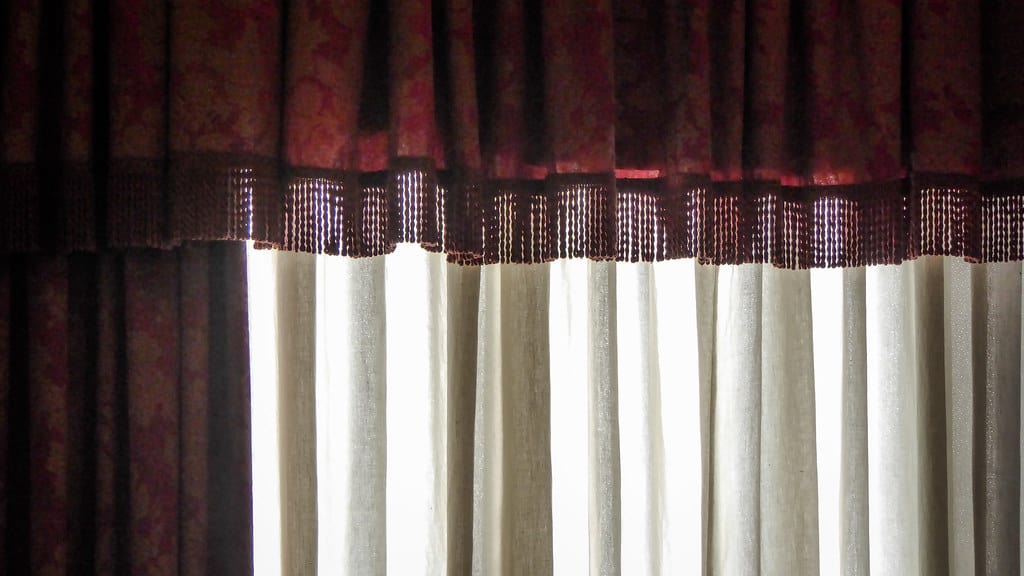 B. Attachment Type
You can hang your curtains in different ways. Below are some popular styles which you can select from:
1. Pinch Pleated
This can have between two to five pinch pleats based on what you prefer. The pleats are used to give your curtain folds a decorative finish; they typically create a formal look.
2. Box Pleated
This also give off a formal appearance so they are best suited for formal areas like dining areas and studies. The pleats are well-tailored and neat creating perfect folds that run down through the curtain's length.
3. Rod Pocket
This is a casual style. To achieve this style, a pocket is sewn on top of the curtain fabrics, and then a rod is pushed through the pocket until it comes out in the other end. To make it more formal, you can choose to have the pocket embellished.
4. Tab Top
This hanging style involves hanging the curtain solely on the rods. Fabrics are used to sew loops that are then attached to the curtain. Then, the rods are fed through the fabric loops. Decorative embellishments such as buttons may be added to the loops.
This hanging style is common in casual décor. Some contemporary country decors also feature them.
5. Goblet Pleated
Curtains like these are typically used in extremely formal areas like formal dining rooms and ballrooms. The pleats are made in the shape of a wine bottle turned upside down.
6. Eyelet
These easy to open or close curtains feature big eyelets that have rings around them. The curtain rods are passed through the eyelets. You can use this hanging style to add a flourish to the treatment; this style is also a great alternative for a valance.
They are also popular in modern and contemporary styles. Read this article to learn the difference between modern and contemporary designs.
C. Opacity
Curtains can also be classified based on their opacity. The 2 major types under this classification are discussed below:
1. Black Out
As you can tell from the name, curtains that fall under this category are used to block out sunlight. Since this is their purpose, they are often made with heavier materials. They are also typically long, with at least a few inches longer than your floor-length.
Because of their function, they are often used in areas in the home where too much sunlight isn't needed such as bedrooms.
2. Sheer
Sheer materials that are almost see-through are used for these curtains. They are more decorative than functional as they do not block out sunlight. Due to this, they are best suited in areas in the home where blocking out sunlight isn't required, like the living areas. They give the rooms where they are used an open, airy feel.
Conclusion
Curtains are of various types and all these types fall under 3 broad categories; attachment type, opacity, and style. Your choice of the kind of window treatment you need in your home should be based on your preference as well as your home décor style.