Black Friday may be over but that doesn't mean all the best deals are gone. Truth is, there are still plenty of Christmas and New Year's sales to take advantage of, especially if you're in the market for a steam cleaner; either for yourself or someone on your list. Steam cleaners are not only practical, but they give users peace of mind by eliminating bacteria and harmful germs.
And to make sure you find the best device at the best price we've put together this list of Smokin' "Hot" Christmas & New Year's Steam Cleaner Deals. Happy Shopping!
Steam Cleaners: Your Secret Weapon Against Germs
Don't know what a steam cleaner is or why it makes such a great gift? Well. Let us tell you all about them. These machines resemble a vacuum, but instead of sucking up dirt, they put out hot steam to not only clean but sanitize any surface they come in contact with. From rugs to wood, tile, marble and more, they eliminate dirt and bacteria, penetrating all the way down to the deepest layer of whatever you're cleaning. And since the vapor is so hot, it kills any germs it comes in contact with, no chemicals needed.
So, floors, countertops, bathroom tiling and other areas will be sparkling clean all the way through! To us, there is no greater way to say you care than by giving a gift that will keep the recipient and their loved ones' germ-free!
Just be aware that some areas, like painted surfaces, may not be good for steam cleaning. Also, some models work in multiple places while other are made specifically for rugs and carpets. Read the product description before buying to be sure.
The Best Holiday & New Year's Steam Cleaner Deals
From traditional to cannister style devices, here's a look at the Top Steam-Cleaner Sale.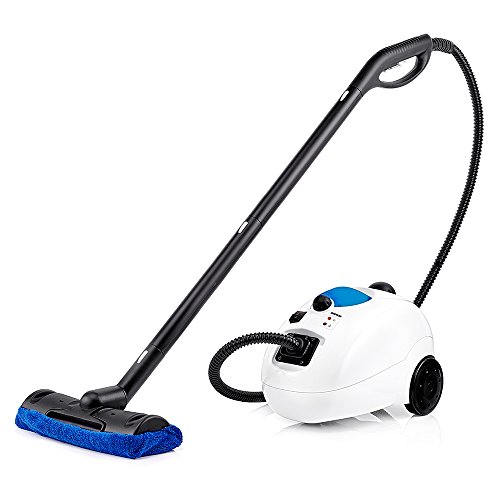 Like the little engine that could, this steamer does it all, holding enough water to provide 40-minutes of cleaning every time you use it. Even better, the cannister is so lightweight you can carry it around if you need to.We love how compact yet efficient it is and think it is a smart fit for apartments and medium-sized homes. There are 14 different accessories and it heats up to 293-degrees, sanitizing as it goes. It works on hard surfaces as well as fabrics, so you can use it on drapes, couches, car interiors and more.

If you want a device that can be used on different surfaces, the Hoover FH50150 is a good fit thanks to custom settings and easy to use features. For us, the main selling points are its SpinScrub Technology and wash/rinse settings.  SpinScrub encases every fiber of whatever your cleaning in a 360-degree circle, ensuring it is 100% clean. Meanwhile, the wash/rinse setting gives you another level of cleaning, as you can soap up rugs and then rinse; there's also a detergent setting for proper mixing. And best of all, you can customize every aspect of it thanks to 4 different carry handles and the Dual V nozzle.

If you prefer to use chemicals or detergents when cleaning this model from Homegear is a good buy. Economical in terms of pricing and function, it can go for 38 minutes at a time and hold up to a quarter gallon of water. It can heat up to 140 degrees, which is a bit less than other machines, s we recommend it for areas that don't see a lot of traffic or require a deep cleansing, like small apartments or a vacation home. And it comes with 14 accessory pieces, so you can use it for your car, outdoor furniture, floors and more.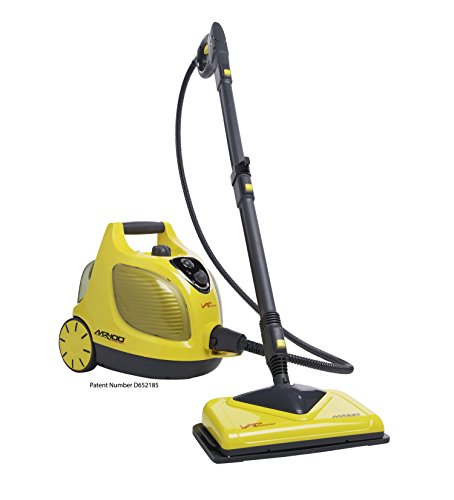 Our choice for larger homes is the Vapmore,  an industrial-strength machine that boasts a 1-hour run time and an oversized floor head to cut down on work time. This machine emits steam up to 220 degrees, so it will kill almost any bacteria or parasite as it sanitizes your walls, floors, bathroom, countertops and any other hard surface. But for us, the big plus here is that it works without chemicals or other harmful ingredients, so it's ideal in homes with small children or pets. The large wheels give a smooth ride and make it easy to maneuver around while the accessories help you to clean grout and other intricate areas without a hassle.

Considered the Cadillac of steam cleaners, grease and grime don't stand a chance against the McCulloch MC1385. With a 58 psi, it can blast away dirt and germs with ease. And there's a variable speed control, so you can go as hard, or soft as you want in any given area; which is great if you gave more delicate fabrics and textiles. The MC1385 heats up in under 12 minutes and with a 64-gallon tank it can go for 120 minutes straight, so you can get all your cleaning done at the same time. For us, we found it to be a top performer and excellent value with over 20 different attachments.

Looking for a machine to disinfect and sanitize every part of your home without being too rough or abrasive? Then add this model from STX to your Christmas wish list. It heats up to 230 degrees, but the soft attachment covers allow it to penetrate and remove stubborn stains without scratching or damaging hardwoods, tiling and more. Best of all, it works on hard and porous surfaces, like couches and fabrics, so you can clean from top to bottm- and all at a great price
We hope our list of Holiday & New Year's Steam Cleaner Deals helps you find the perfect gift at the perfect price! All these models are affordable, high-quality, and can be given to just about anyone on your shopping list.